Abstract
Somatic mutations drive the development of cancer and may contribute to ageing and other diseases1,2. Despite their importance, the difficulty of detecting mutations that are only present in single cells or small clones has limited our knowledge of somatic mutagenesis to a minority of tissues. Here, to overcome these limitations, we developed nanorate sequencing (NanoSeq), a duplex sequencing protocol with error rates of less than five errors per billion base pairs in single DNA molecules from cell populations. This rate is two orders of magnitude lower than typical somatic mutation loads, enabling the study of somatic mutations in any tissue independently of clonality. We used this single-molecule sensitivity to study somatic mutations in non-dividing cells across several tissues, comparing stem cells to differentiated cells and studying mutagenesis in the absence of cell division. Differentiated cells in blood and colon displayed remarkably similar mutation loads and signatures to their corresponding stem cells, despite mature blood cells having undergone considerably more divisions. We then characterized the mutational landscape of post-mitotic neurons and polyclonal smooth muscle, confirming that neurons accumulate somatic mutations at a constant rate throughout life without cell division, with similar rates to mitotically active tissues. Together, our results suggest that mutational processes that are independent of cell division are important contributors to somatic mutagenesis. We anticipate that the ability to reliably detect mutations in single DNA molecules could transform our understanding of somatic mutagenesis and enable non-invasive studies on large-scale cohorts.
Relevant articles
Open Access articles citing this article.
Yichen Wang

,

Philip S. Robinson

…

Michael R. Stratton

Nature Genetics Open Access 26 January 2023

Zeliha Gözde Turan

,

Vincent Richter

…

Uwe Ueberham

Acta Neuropathologica Communications Open Access 30 November 2022

Manuel Solís-Moruno

,

Laura Batlle-Masó

…

Ferran Casals

European Journal of Human Genetics Open Access 27 October 2022
Access options
Subscribe to Nature+
Get immediate online access to Nature and 55 other Nature journal
Subscribe to Journal
Get full journal access for 1 year
$199.00
only $3.90 per issue
All prices are NET prices.
VAT will be added later in the checkout.
Tax calculation will be finalised during checkout.
Buy article
Get time limited or full article access on ReadCube.
$32.00
All prices are NET prices.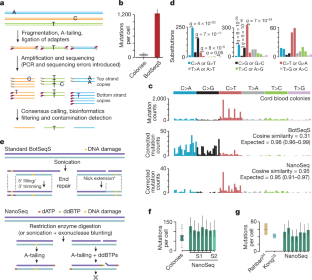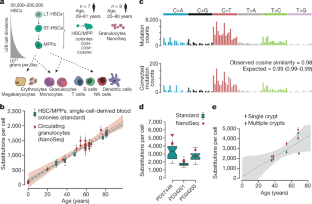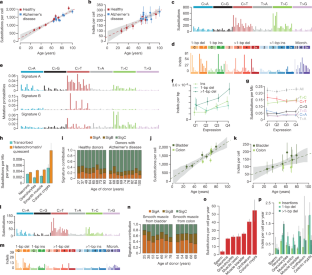 Data availability
Information on data availability for all samples is available in Supplementary Table 1. NanoSeq sequencing data have been deposited in the European Genome-phenome Archive (EGA; https://www.ebi.ac.uk/ega/) under accession number EGAD00001006459. Sperm samples are available from the EGA under accession number EGAD00001007028. Standard sequencing data have been deposited in the EGA under accession number EGAD00001006595. For publicly available samples, references to the original sources are provided in Supplementary Table 1. Substitution and indel rates are available in Supplementary Table 4. Substitution and indel calls for samples sequenced with NanoSeq are available in Supplementary Tables 5, 6. Trinucleotide substitution profiles are available in Supplementary Table 7. A detailed NanoSeq protocol is available in Protocol Exchange53.
Code availability
The bioinformatics pipeline to process NanoSeq sequencing data comprises all steps including processing sequencing data, mapping, calling mutations and calculating corrected burden estimates and substitution profiles. This code is available from https://zenodo.org/record/4604537 (https://doi.org/10.5281/zenodo.4604537). Pipelines to call indels, perform signature extraction and signature fitting with sigfit, simulate the efficiency of the NanoSeq protocol, calculate the mutation burden in specific genomic regions and reproduce most of the main plots are also available from https://zenodo.org/record/4604537. Analyses in R were done with R v.3.3 and v.3.6. R libraries used include: GenomicRanges54 (v.1.38.0), Rsamtools (v.2.2.3), MASS (v.7.3-51.5), sigfit52 (v.2.0), readxl (v.1.3.1), deconstructSigs (v.1.8.0), lsa (v.0.73.2), deepSNV55 (v.1.32.0), lme4 (v.1.1-26), afex (v.0.28-1), lmerTest (v.3.1-3), bootpredictlme4 (v.0.1) and Biostrings (v.2.54.0). Our pipeline makes use of samtools56 v.1.9, bcftools57 v.1.9, bwa v.0.7.5a-r405 and bedtools58 v.2.29.0. We also used the following software: CaVeMan (v.2020), Pindel (v.2020) and MPBoot v.1.1.0.
References
Kennedy, S. R., Loeb, L. A. & Herr, A. J. Somatic mutations in aging, cancer and neurodegeneration. Mech. Ageing Dev. 133, 118–126 (2012).

Vogelstein, B. et al. Cancer genome landscapes. Science 339, 1546–1558 (2013).

Martincorena, I. et al. High burden and pervasive positive selection of somatic mutations in normal human skin. Science 348, 880–886 (2015

Martincorena, I. et al. Somatic mutant clones colonize the human esophagus with age. Science 362, 911–917 (2018).

Yizhak, K. et al. RNA sequence analysis reveals macroscopic somatic clonal expansion across normal tissues. Science 364, eaaw0726 (2019).

Lee-Six, H. et al. The landscape of somatic mutation in normal colorectal epithelial cells. Nature 574, 532–537 (2019).

Brunner, S. F. et al. Somatic mutations and clonal dynamics in healthy and cirrhotic human liver. Nature 574, 538–542 (2019).

Li, R. et al. Macroscopic somatic clonal expansion in morphologically normal human urothelium. Science 370, 82–89 (2020).

Welch, J. S. et al. The origin and evolution of mutations in acute myeloid leukemia. Cell 150, 264–278 (2012).

Blokzijl, F. et al. Tissue-specific mutation accumulation in human adult stem cells during life. Nature 538, 260–264 (2016).

Franco, I. et al. Somatic mutagenesis in satellite cells associates with human skeletal muscle aging. Nat. Commun. 9, 800 (2018).

Lodato, M. A. et al. Somatic mutation in single human neurons tracks developmental and transcriptional history. Science 350, 94–98 (2015).

Lodato, M. A. et al. Aging and neurodegeneration are associated with increased mutations in single human neurons. Science 359, 555–559 (2018).

Brazhnik, K. et al. Single-cell analysis reveals different age-related somatic mutation profiles between stem and differentiated cells in human liver. Sci. Adv. 6, eaax2659 (2020).

Xing, D., Tan, L., Chang, C. H., Li, H. & Xie, X. S. Accurate SNV detection in single cells by transposon-based whole-genome amplification of complementary strands. Proc. Natl Acad. Sci. USA 118, e2013106118 (2021).

Petljak, M. et al. Characterizing mutational signatures in human cancer cell lines reveals episodic APOBEC mutagenesis. Cell 176, 1282–1294.e20 (2019).

Salk, J. J., Schmitt, M. W. & Loeb, L. A. Enhancing the accuracy of next-generation sequencing for detecting rare and subclonal mutations. Nat. Rev. Genet. 19, 269–285 (2018).

Schmitt, M. W. et al. Detection of ultra-rare mutations by next-generation sequencing. Proc. Natl Acad. Sci. USA 109, 14508–14513 (2012).

Kennedy, S. R. et al. Detecting ultralow-frequency mutations by duplex sequencing. Nat. Protocols 9, 2586–2606 (2014).

Hoang, M. L. et al. Genome-wide quantification of rare somatic mutations in normal human tissues using massively parallel sequencing. Proc. Natl Acad. Sci. USA 113, 9846–9851 (2016).

You, X. et al. Detection of genome-wide low-frequency mutations with paired-end and complementary consensus sequencing (PECC-seq) revealed end-repair-derived artifacts as residual errors. Arch. Toxicol. 94, 3475–3485 (2020).

Costello, M. et al. Discovery and characterization of artifactual mutations in deep coverage targeted capture sequencing data due to oxidative DNA damage during sample preparation. Nucleic Acids Res. 41, e67 (2013).

Kong, A. et al. Rate of de novo mutations and the importance of father's age to disease risk. Nature 488, 471–475 (2012).

Rahbari, R. et al. Timing, rates and spectra of human germline mutation. Nat. Genet. 48, 126–133 (2016).

Wyles, S. P., Brandt, E. B. & Nelson, T. J. Stem cells: the pursuit of genomic stability. Int. J. Mol. Sci. 15, 20948–20967 (2014).

Lee-Six, H. et al. Population dynamics of normal human blood inferred from somatic mutations. Nature 561, 473–478 (2018).

Nicholson, A. M. et al. Fixation and spread of somatic mutations in adult human colonic epithelium. Cell Stem Cell 22, 909–918.e8 (2018).

Pleguezuelos-Manzano, C. et al. Mutational signature in colorectal cancer caused by genotoxic pks+ E. coli. Nature 580, 269–273 (2020).

Poduri, A., Evrony, G. D., Cai, X. & Walsh, C. A. Somatic mutation, genomic variation, and neurological disease. Science 341, 1237758 (2013).

Alexandrov, L. B. et al. The repertoire of mutational signatures in human cancer. Nature 578, 94–101 (2020).

Rheinbay, E. et al. Analyses of non-coding somatic drivers in 2,658 cancer whole genomes. Nature 578, 102–111 (2020).

Gabella, G. Cells of visceral smooth muscles. J. Smooth Muscle Res. 48, 65–95 (2012).

Yoshida, K. et al. Tobacco smoking and somatic mutations in human bronchial epithelium. Nature 578, 266–272 (2020).

Lawson, A. R. J. et al. Extensive heterogeneity in somatic mutation and selection in the human bladder. Science 370, 75–82 (2020).

Gao, Z., Wyman, M. J., Sella, G. & Przeworski, M. Interpreting the dependence of mutation rates on age and time. PLoS Biol. 14, e1002355 (2016).

Kucab, J. E. et al. A compendium of mutational signatures of environmental agents. Cell 177, 821–836 (2019).

Matsumura, S. et al. Genome-wide somatic mutation analysis via Hawk-seq™ reveals mutation profiles associated with chemical mutagens. Arch. Toxicol. 93, 2689–2701 (2019).

Ellis, P. et al. Reliable detection of somatic mutations in solid tissues by laser-capture microdissection and low-input DNA sequencing. Nat. Protocols 16, 841–871 (2021).

Olafsson, S. et al. Somatic evolution in non-neoplastic IBD-affected colon. Cell 182, 672–684 (2020).

Krishnaswami, S. R. et al. Using single nuclei for RNA-seq to capture the transcriptome of postmortem neurons. Nat. Protocols 11, 499–524 (2016).

Li, H. Aligning sequence reads, clone sequences and assembly contigs with BWA-MEM. Preprint at https://arxiv.org/abs/1303.3997 (2013).

Tischler, G. & Leonard, S. biobambam: tools for read pair collation based algorithms on BAM files. Source Code Biol. Med. 9, 13 (2014).

Gerstung, M. et al. Reliable detection of subclonal single-nucleotide variants in tumour cell populations. Nat. Commun. 3, 811 (2012).

Karczewski, K. J. et al. The mutational constraint spectrum quantified from variation in 141,456 humans. Nature 581, 434–443 (2020).

The 1000 Genomes Project Consortium. A global reference for human genetic variation. Nature 526, 68–74 (2015).

Zhang, F. et al. Ancestry-agnostic estimation of DNA sample contamination from sequence reads. Genome Res. 30, 185–194 (2020).

Benjamini, Y. & Speed, T. P. Summarizing and correcting the GC content bias in high-throughput sequencing. Nucleic Acids Res. 40, e72 (2012).

Robinson, P. S. et al. Elevated somatic mutation burdens in normal human cells due to defective DNA polymerases. Preprint at https://doi.org/10.1101/2020.06.23.167668 (2020).

Jones, D. et al. cgpCaVEManWrapper: simple execution of CaVEMan in order to detect somatic single nucleotide variants in NGS data. Curr. Protoc. Bioinformatics 56, 15.10.1–15.10.18 (2016).

Raine, K. M. et al. Cgppindel: identifying somatically acquired insertion and deletion events from paired end sequencing. Curr Protoc Bioinformatics 52, 15.17.1–15.17.12 (2015).

Hoang, D. T. et al. MPBoot: fast phylogenetic maximum parsimony tree inference and bootstrap approximation. BMC Evol. Biol. 18, 11 (2018).

Gori, K. & Baez-Ortega, A. sigfit: flexible Bayesian inference of mutational signatures. Preprint at https://doi.org/10.1101/372896 (2020).

Lensing S. V. et al. Somatic mutation landscapes at single-molecule resolution. Protocol Exchange https://doi.org/10.21203/rs.3.pex-1298/v1 (2021).

Lawrence, M. et al. Software for computing and annotating genomic ranges. PLOS Comput. Biol. 9, e1003118 (2013).

Gerstung, M., Papaemmanuil, E. & Campbell, P. J. Subclonal variant calling with multiple samples and prior knowledge. Bioinformatics 30, 1198–1204 (2014).

Li, H. et al. The sequence alignment/map format and SAMtools. Bioinformatics 25, 2078–2079 (2009).

Li, H. A statistical framework for SNP calling, mutation discovery, association mapping and population genetical parameter estimation from sequencing data. Bioinformatics 27, 2987–2993 (2011).

Quinlan, A. R. & Hall, I. M. BEDTools: a flexible suite of utilities for comparing genomic features. Bioinformatics 26, 841–842 (2010).

Kundaje, A. et al. Integrative analysis of 111 reference human epigenomes. Nature 518, 317–330 (2015).
Acknowledgements
We are grateful to the live donors and the families of the deceased organ transplant donors. We thank L. Anderson, K. Roberts, C. Latimer, Q. Lin, members of the CGP-lab, R. Vicario, F. Geissmann, N. Angelopoulos, G. Tischler, T. Bellerby, M. Abascal and K. Chatterjee for assistance in the development of NanoSeq or with this manuscript; all NIHR BioResource Centre Cambridge volunteers for participation; the NIHR BioResource Centre Cambridge and staff for their contribution; the National Institute for Health Research and NHS Blood and Transplant; the Cambridge Blood and Stem Cell Biobank for sample donation and support of this work; the Cambridge Brain Bank for sample donation; and the participants and local coordinators at the TwinsUK study. This research was supported by the Cambridge NIHR BRC Cell Phenotyping Hub. I.M. is funded by Cancer Research UK (C57387/A21777) and the Wellcome Trust. P.J.C. is a Wellcome Trust Senior Clinical Fellow. R.R. is a recipient of a CRUK Career Development fellowship (C66259/A27114). E.L. is supported by a Wellcome/Royal Society Sir Henry Dale Fellowship (grant number 107630/Z/15/Z), the European Hematology Association, BBSRC and by core funding from Wellcome (grant number 203151/Z/16/Z) and MRC to the Wellcome-MRC Cambridge Stem Cell Institute. D.G.K. is supported by a Bloodwise Bennett Fellowship (15008), the Bill and Melinda Gates Foundation (INV-002189) and an ERC Starting Grant (ERC-2016-STG–715371). The TwinsUK study was funded by the Wellcome Trust and European Community's Seventh Framework Programme (FP7/2007-2013). The TwinsUK study also receives support from the National Institute for Health Research (NIHR)-funded BioResource, Clinical Research Facility and Biomedical Research Centre based at Guy's and St Thomas' NHS Foundation Trust in partnership with King's College London. The views expressed are those of the author(s) and not necessarily those of the NHS, the NIHR or the Department of Health & Social Care.
Ethics declarations
Competing interests
A patent application on NanoSeq has been filed that includes R.J.O., F.A. and I.M.
Additional information
Peer review information Nature thanks John Dick and the other, anonymous, reviewer(s) for their contribution to the peer review of this work. Peer reviewer reports are available.
Publisher's note Springer Nature remains neutral with regard to jurisdictional claims in published maps and institutional affiliations.
Extended data figures and tables
Supplementary information
About this article
Cite this article
Abascal, F., Harvey, L.M.R., Mitchell, E. et al. Somatic mutation landscapes at single-molecule resolution. Nature 593, 405–410 (2021). https://doi.org/10.1038/s41586-021-03477-4
Received:

Accepted:

Published:

Issue Date:

DOI: https://doi.org/10.1038/s41586-021-03477-4
Comments
By submitting a comment you agree to abide by our Terms and Community Guidelines. If you find something abusive or that does not comply with our terms or guidelines please flag it as inappropriate.