Abstract
The initiation of cell division integrates a large number of intra- and extracellular inputs. D-type cyclins (hereafter, cyclin D) couple these inputs to the initiation of DNA replication1. Increased levels of cyclin D promote cell division by activating cyclin-dependent kinases 4 and 6 (hereafter, CDK4/6), which in turn phosphorylate and inactivate the retinoblastoma tumour suppressor. Accordingly, increased levels and activity of cyclin D–CDK4/6 complexes are strongly linked to unchecked cell proliferation and cancer2,3. However, the mechanisms that regulate levels of cyclin D are incompletely understood4,5. Here we show that autophagy and beclin 1 regulator 1 (AMBRA1) is the main regulator of the degradation of cyclin D. We identified AMBRA1 in a genome-wide screen to investigate the genetic basis of  the response to CDK4/6 inhibition. Loss of AMBRA1 results in high levels of cyclin D in cells and in mice, which promotes proliferation and decreases sensitivity to CDK4/6 inhibition. Mechanistically, AMBRA1 mediates ubiquitylation and proteasomal degradation of cyclin D as a substrate receptor for the cullin 4 E3 ligase complex. Loss of AMBRA1 enhances the growth of lung adenocarcinoma in a mouse model, and low levels of AMBRA1 correlate with worse survival in patients with lung adenocarcinoma. Thus, AMBRA1 regulates cellular levels of cyclin D, and contributes to cancer development and the response of cancer cells to CDK4/6 inhibitors.
Relevant articles
Open Access articles citing this article.
Christian Pangilinan

,

Xiaowei Xu

…

Chengyu Liang

Current Treatment Options in Oncology Open Access 21 January 2023

Matteo Tiberti

,

Luca Di Leo

…

Elena Papaleo

Cell Death & Disease Open Access 15 October 2022

Lei Chen

,

Yin Sun

…

Chawnshang Chang

Cell Death Discovery Open Access 22 March 2022
Access options
Access Nature and 54 other Nature Portfolio journals
Get Nature+, our best-value online-access subscription
$29.99 per month
cancel any time
Subscribe to this journal
Receive 51 print issues and online access
$199.00 per year
only $3.90 per issue
Rent or buy this article
Get just this article for as long as you need it
$39.95
Prices may be subject to local taxes which are calculated during checkout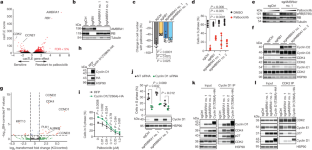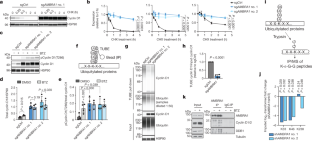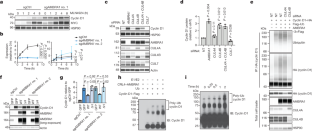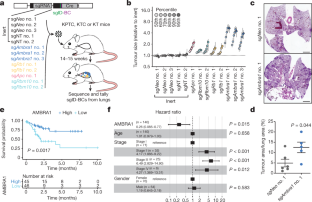 Data availability
Sequencing data from Tuba-seq experiments and RNA-sequencing data from AMBRA1-knockout U2OS cells are available from the Gene Expression Omnibus under accession numbers GSE146303 and GSE159920, respectively. Mass spectrometry data from shotgun proteomics experiments and analysis of ubiquitylated proteins are available through the ProteomeXchange Consortium, with dataset identifiers PXD021789 and PXD022111, respectively. Public nonprotected RNA-sequencing, copy number alteration, exome sequencing and reverse-phase protein array lung adenocarcinoma datasets from the TCGA were downloaded from https://gdc.cancer.gov/. Clinical data were obtained from a previous publication36 (PMID: 29625055). Gene dependency data from the Cancer Dependency Map are publicly available at www.depmap.org. Protein sequences for mass spectrometry analysis were obtained from the NCBI Homo sapiens protein database (ftp://ftp.ncbi.nlm.nih.gov/refseq/release/release-notes/archive/RefSeq-release86.txt, downloaded 05/11/2018) (shotgun mass spectrometry) and from Uniprot (https://www.uniprot.org/uniprot/?query=proteome:UP000005640%20reviewed:yes, downloaded 02/28/2020) (ubiquitin remnant profiling). All other data are available in the Article and Supplementary Information, or from the corresponding author upon reasonable request. Source data are provided with this paper.
References
Deshpande, A., Sicinski, P. & Hinds, P. W. Cyclins and cdks in development and cancer: a perspective. Oncogene 24, 2909–2915 (2005).

Sherr, C. J. Cancer cell cycles. Science 274, 1672–1677 (1996).

Malumbres, M. & Barbacid, M. Cell cycle, CDKs and cancer: a changing paradigm. Nat. Rev. Cancer 9, 153–166 (2009).

Kanie, T. et al. Genetic reevaluation of the role of F-box proteins in cyclin D1 degradation. Mol. Cell. Biol. 32, 590–605 (2012).

Qie, S. & Diehl, J. A. Cyclin D degradation by E3 ligases in cancer progression and treatment. Semin. Cancer Biol. 67, 159–170 (2020).

Sherr, C. J., Beach, D. & Shapiro, G. I. Targeting CDK4 and CDK6: from discovery to therapy. Cancer Discov. 6, 353–367 (2016).

Walter, D. M. et al. RB constrains lineage fidelity and multiple stages of tumour progression and metastasis. Nature 569, 423–427 (2019).

Wander, S. A. et al. The Genomic landscape of intrinsic and acquired resistance to cyclin-dependent kinase 4/6 inhibitors in patients with hormone receptor-positive metastatic breast cancer. Cancer Discov. 10, 1174–1193 (2020).

Schoninger, S. F. & Blain, S. W. The ongoing search for biomarkers of CDK4/6 inhibitor responsiveness in breast cancer. Mol. Cancer Ther. 19, 3–12 (2020).

Fimia, G. M. et al. Ambra1 regulates autophagy and development of the nervous system. Nature 447, 1121–1125 (2007).

Antonioli, M. et al. AMBRA1 interplay with cullin E3 ubiquitin ligases regulates autophagy dynamics. Dev. Cell 31, 734–746 (2014).

Cianfanelli, V. et al. AMBRA1 links autophagy to cell proliferation and tumorigenesis by promoting c-Myc dephosphorylation and degradation. Nat. Cell Biol. 17, 706 (2015).

Montaudon, E. et al. PLK1 inhibition exhibits strong anti-tumoral activity in CCND1-driven breast cancer metastases with acquired palbociclib resistance. Nat. Commun. 11, 4053 (2020).

Alt, J. R., Cleveland, J. L., Hannink, M. & Diehl, J. A. Phosphorylation-dependent regulation of cyclin D1 nuclear export and cyclin D1-dependent cellular transformation. Genes Dev. 14, 3102–3114 (2000).

Lin, D. I. et al. Phosphorylation-dependent ubiquitination of cyclin D1 by the SCFFBX4-αB crystallin complex. Mol. Cell 24, 355–366 (2006).

Ewen, M. E. et al. Functional interactions of the retinoblastoma protein with mammalian D-type cyclins. Cell 73, 487–497 (1993).

Jahn, S. C. et al. Assembly, activation, and substrate specificity of cyclin D1/Cdk2 complexes. Biochemistry 52, 3489–3501 (2013).

Chytil, A. et al. Construction of a cyclin D1–Cdk2 fusion protein to model the biological functions of cyclin D1–Cdk2 complexes. J. Biol. Chem. 279, 47688–47698 (2004).

Jansen, V. M. et al. Kinome-wide RNA interference screen reveals a role for PDK1 in acquired resistance to CDK4/6 inhibition in ER-positive breast cancer. Cancer Res. 77, 2488–2499 (2017).

Herrera-Abreu, M. T. et al. Early adaptation and acquired resistance to CDK4/6 inhibition in estrogen receptor-positive breast cancer. Cancer Res. 76, 2301–2313 (2016).

James, M. K., Ray, A., Leznova, D. & Blain, S. W. Differential modification of p27Kip1 controls its cyclin D-cdk4 inhibitory activity. Mol. Cell. Biol. 28, 498–510 (2008).

Guiley, K. Z. et al. p27 allosterically activates cyclin-dependent kinase 4 and antagonizes palbociclib inhibition. Science 366, eaaw2106 (2019).

Pagano, M., Theodoras, A. M., Tam, S. W. & Draetta, G. F. Cyclin D1-mediated inhibition of repair and replicative DNA synthesis in human fibroblasts. Genes Dev. 8, 1627–1639 (1994).

Chen, S. H. et al. CRL4AMBRA1 targets elongin C for ubiquitination and degradation to modulate CRL5 signaling. EMBO J. 37, e97508 (2018).

Xia, P. et al. WASH inhibits autophagy through suppression of beclin 1 ubiquitination. EMBO J. 32, 2685–2696 (2013).

Rogers, Z. N. et al. Mapping the in vivo fitness landscape of lung adenocarcinoma tumor suppression in mice. Nat. Genet. 50, 483–486 (2018).

Simoneschi, D. & Pagano, D. CRL4AMBRA1 is a regulator of D-type cyclins. Nature (2021).

Maiani, E., Milletti, G., Bartek, J. & Cecconi, F. AMBRA1 regulates cyclin D to guard S-phase entry and genomic integrity. Nature (2021).

Santra, M. K., Wajapeyee, N. & Green, M. R. F-box protein FBXO31 mediates cyclin D1 degradation to induce G1 arrest after DNA damage. Nature 459, 722–725 (2009).

Burkhart, D. L. & Sage, J. Cellular mechanisms of tumour suppression by the retinoblastoma gene. Nat. Rev. Cancer 8, 671–682 (2008).

Finn, R. S. et al. PD 0332991, a selective cyclin D kinase 4/6 inhibitor, preferentially inhibits proliferation of luminal estrogen receptor-positive human breast cancer cell lines in vitro. Breast Cancer Res. 11, R77 (2009).

Gong, X. et al. Genomic aberrations that activate D-type cyclins are associated with enhanced sensitivity to the CDK4 and CDK6 inhibitor abemaciclib. Cancer Cell 32, 761–776.e6 (2017).

Finn, R. S. et al. Biomarker analyses of response to cyclin-dependent kinase 4/6 inhibition and endocrine therapy in women with treatment-naïve metastatic breast cancer. Clin. Cancer Res. 26, 110–121 (2020).

DeMichele, A. et al. CDK 4/6 inhibitor palbociclib (PD0332991) in Rb+ advanced breast cancer: phase II activity, safety, and predictive biomarker assessment. Clin. Cancer Res. 21, 995–1001 (2015).

Xue, Y. et al. CDK4/6 inhibitors target SMARCA4-determined cyclin D1 deficiency in hypercalcemic small cell carcinoma of the ovary. Nat. Commun. 10, 558 (2019).

Liu, J. et al. An integrated TCA pan-cancer clinical data resource to drive high-quality survival outcome analytics. Cell 173, 400–416 (2018).
Acknowledgements
We thank S. Rubin and J. Skotheim for critical reading of the manuscript; A. Koff, V. Dulic and K. Keyomarsi for helpful discussions; and all of the members of the laboratory of J.S., and especially G. Coles, for their help and support throughout this study. Research reported in this Article was supported by the NIH (J.S., R01CA228413 and 1R35CA231997; A.C.C., 1F99CA245471-01; E.E.J., 2T32CA009302; R.C., 5T32GM007276; M.M.W. and D.A.P., R01CA2344349; and N.J.K., P50AI150476 and U54CA209891), the California TRDRP (J.S., 28IR-0046) and the NSF (GRFP, to A.C.C.). E.E.J. and M.C.L. were supported by a Stanford Graduate Fellowship. S.L. was supported by a Boehringer Ingelheim Fonds MD Fellowship. C.L. is the Connie and Bob Lurie Fellow of the Damon Runyon Cancer Research Foundation (DRG-2331). J.S. is the Harriet and Mary Zelencik Scientist in Children's Cancer and Blood Diseases and the Elaine and John Chambers Professor in Pediatric Cancer.
Ethics declarations
Competing interests
J.S. has received research funding from Stemcentrx/Abbvie, Pfizer and Revolution Medicines. M.M.W. and D.P. have equity in, and are advisors for, D2GOncology. C.C. is a scientific advisor to GRAIL and reports stock options as well as consulting for GRAIL and Genentech. N.J.K. has received research support from Vir Biotechnology and F. Hoffmann-La Roche. The authors declare no other competing interests.
Additional information
Peer review information Nature thanks Marianne Bronner, Piotr Sicinski and the other, anonymous, reviewer(s) for their contribution to the peer review of this work. Peer reviewer reports are available.
Publisher's note Springer Nature remains neutral with regard to jurisdictional claims in published maps and institutional affiliations.
Extended data figures and tables
Supplementary information
About this article
Cite this article
Chaikovsky, A.C., Li, C., Jeng, E.E. et al. The AMBRA1 E3 ligase adaptor regulates the stability of cyclin D. Nature 592, 794–798 (2021). https://doi.org/10.1038/s41586-021-03474-7
Received:

Accepted:

Published:

Issue Date:

DOI: https://doi.org/10.1038/s41586-021-03474-7
Comments
By submitting a comment you agree to abide by our Terms and Community Guidelines. If you find something abusive or that does not comply with our terms or guidelines please flag it as inappropriate.