Abstract
When intense lightwaves accelerate electrons through a solid, the emerging high-order harmonic (HH) radiation offers key insights into the material1,2,3,4,5,6,7,8,9,10,11. Sub-optical-cycle dynamics—such as dynamical Bloch oscillations2,3,4,5, quasiparticle collisions6,12, valley pseudospin switching13 and heating of Dirac gases10—leave fingerprints in the HH spectra of conventional solids. Topologically non-trivial matter14,15 with invariants that are robust against imperfections has been predicted to support unconventional HH generation16,17,18,19,20. Here we experimentally demonstrate HH generation in a three-dimensional topological insulator—bismuth telluride. The frequency of the terahertz driving field sharply discriminates between HH generation from the bulk and from the topological surface, where the unique combination of long scattering times owing to spin–momentum locking17 and the quasi-relativistic dispersion enables unusually efficient HH generation. Intriguingly, all observed orders can be continuously shifted to arbitrary non-integer multiples of the driving frequency by varying the carrier-envelope phase of the driving field—in line with quantum theory. The anomalous Berry curvature warranted by the non-trivial topology enforces meandering ballistic trajectories of the Dirac fermions, causing a hallmark polarization pattern of the HH emission. Our study provides a platform to explore topology and relativistic quantum physics in strong-field control, and could lead to non-dissipative topological electronics at infrared frequencies.
Relevant articles
Open Access articles citing this article.
Jiaojian Shi

,

Haowei Xu

…

Aaron M. Lindenberg

Nature Communications Open Access 16 August 2023

Ofer Neufeld

,

Nicolas Tancogne-Dejean

…

Angel Rubio

npj Computational Materials Open Access 23 March 2023

Soonyoung Cha

,

Minjeong Kim

…

Jonghwan Kim

Nature Communications Open Access 04 November 2022
Access options
Access Nature and 54 other Nature Portfolio journals
Get Nature+, our best-value online-access subscription
$29.99 / 30 days
cancel any time
Subscribe to this journal
Receive 51 print issues and online access
$199.00 per year
only $3.90 per issue
Rent or buy this article
Prices vary by article type
from$1.95
to$39.95
Prices may be subject to local taxes which are calculated during checkout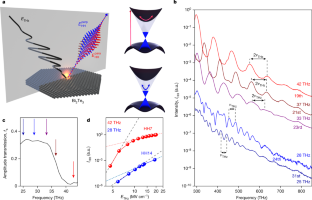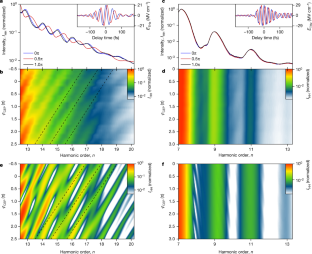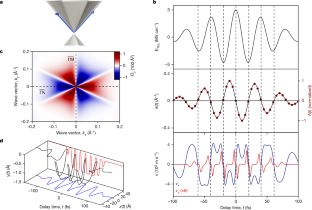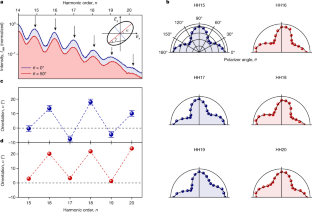 Data availability
The data supporting the findings of this study are available from the corresponding authors upon request. Source data are provided with this paper.
References
Chin, A. H., Calderón, O. G. & Kono, J. Extreme midinfrared nonlinear optics in semiconductors. Phys. Rev. Lett. 86, 3292–3295 (2001).

Ghimire, S. et al. Observation of high-order harmonic generation in a bulk crystal. Nat. Phys. 7, 138–141 (2011).

Schubert, O. et al. Sub-cycle control of terahertz high-harmonic generation by dynamical Bloch oscillations. Nat. Photon. 8, 119–123 (2014).

Hohenleutner, M. et al. Real-time observation of interfering crystal electrons in high-harmonic generation. Nature 523, 572–575 (2015).

Luu, T. T. et al. Extreme ultraviolet high-harmonic spectroscopy of solids. Nature 521, 498–502 (2015).

Vampa, G. et al. Linking high harmonics from gases and solids. Nature 522, 462–464 (2015); corrigendum 542, 260 (2017).

Garg, M. et al. Multi-petahertz electronic metrology. Nature 538, 359–363 (2016).

Yoshikawa, N., Tamaya, T. & Tanaka, K. High-harmonic generation in graphene enhanced by elliptically polarized light excitation. Science 356, 736–738 (2017).

Sivis, M. et al. Tailored semiconductors for high-harmonic optoelectronics. Science 357, 303–306 (2017).

Hafez, H. A. et al. Extremely efficient terahertz high-harmonic generation in graphene by hot Dirac fermions. Nature 561, 507–511 (2018).

Floss, I. et al. Ab initio multiscale simulation of high-order harmonic generation in solids. Phys. Rev A. 97, 011401(R) (2018).

Langer, F. et al. Lightwave-driven quasiparticle collisions on a subcycle timescale. Nature 533, 225–229 (2016).

Langer, F. et al. Lightwave valleytronics in a monolayer of tungsten diselenide. Nature 557, 76–80 (2018).

Chen, Y. L. et al. Experimental realization of a three-dimensional topological insulator, Bi2Te3. Science 325, 178–181 (2009).

Giorgianni, F. et al. Strong nonlinear terahertz response induced by Dirac surface states in Bi2Se3 topological insulator. Nat. Commun. 7, 11421 (2016).

Bauer, D. & Hansen, K. K. High-harmonic generation in solids with and without topological edge states. Phys. Rev. Lett. 120, 177401 (2018).

Reimann, J. et al. Subcycle observation of lightwave-driven Dirac currents in a topological surface band. Nature 562, 396–400 (2018).

Silva, R. E. F., Jiménez-Galán, A., Amorim, B., Smirnova, O. & Ivanov, M. Topological strong field physics on sub-laser cycle timescale. Nat. Photon. 13, 849–854 (2019).

Baykusheva, D. et al. Strong-field physics in three-dimensional topological insulators. Phys. Rev. A 103, 023101 (2021).

Wilhelm, J. et al. Semiconductor-Bloch formalism: derivation and application to high-harmonic generation from Dirac fermions. Phys. Rev. B 103, 125419 (2021).

Higuchi, T., Heide, C., Ullmann, K., Weber, H. B. & Hommelhoff, P. Light-field-driven currents in graphene. Nature 550, 224–228 (2017).

McIver, J. W. et al. Light-induced anomalous Hall effect in graphene. Nat. Phys. 16, 38–41 (2020).

Kuroda, K., Reimann, J., Güdde, J. & Höfer, U. Generation of transient photocurrents in the topological surface state of Sb2Te3 by direct optical excitation with midinfrared pulses. Phys. Rev. Lett. 116, 076801 (2016).

Wu, L. et al. Quantized Faraday and Kerr rotation and axion electrodynamics of a 3D topological insulator. Science 354, 1124–1127 (2016).

Mahmood, F. et al. Selective scattering between Floquet–Bloch and Volkov states in a topological insulator. Nat. Phys. 12, 306–310 (2016).

Braun, L. et al. Ultrafast photocurrents at the surface of the three-dimensional topological insulator Bi2Se3. Nat. Commun. 7, 13259 (2016).

Berry, M. V. Quantal phase factors accompanying adiabatic changes. Proc. R. Soc. Lond. A 392, 45–57 (1984).

Luu, T. T. & Wörner, H. J. Measurement of the Berry curvature of solids using high-harmonic spectroscopy. Nat. Commun. 9, 916 (2018).

Banks, H. B. et al. Dynamical birefringence: electron–hole recollisions as probes of Berry curvature. Phys. Rev. X 7, 041042 (2017).

Cheng, B. et al. Efficient terahertz harmonic generation with coherent acceleration of electrons in the Dirac semimetal Cd3As2. Phys. Rev. Lett. 124, 117402 (2020).

Sell, A., Leitenstorfer, A. & Huber, R. Phase-locked generation and field-resolved detection of widely tunable terahertz pulses with amplitudes exceeding 100 MV/cm. Opt. Lett. 33, 2767–2769 (2008).

Michiardi, M. et al. Bulk band structure of Bi2Te3. Phys. Rev. B 90, 075105 (2014).

Austin. I. G. The optical properties of bismuth telluride. Proc. Phys. Soc. 72, 545–552 (1958).

Kokh, K. A. et al. Melt growth of bulk Bi2Te3 crystals with a natural p–n junction. CrystEngComm 16, 581–584 (2014).

Liu, C.-X. et al. Model Hamiltonian for topological insulators. Phys. Rev. B 82, 045122 (2010).

Xiao, D., Chang, M.-C. & Niu, Q. Berry phase effects on electronic properties. Rev. Mod. Phys. 82, 1959–2007 (2010).

Gradhand, M. et al. First-principle calculations of the Berry curvature of Bloch states for charge and spin transport of electrons. J. Phys. Condens. Matter 24, 213202 (2012).

Kane, E. O. Zener tunneling in semiconductors. J. Phys. Chem. Solids 12, 181–188 (1960).

Lange, C. et al. Extremely nonperturbative nonlinearities in GaAs driven by atomically strong terahertz fields in gold metamaterials. Phys. Rev. Lett. 113, 227401 (2014).

Junginger, F. et al. Nonperturbative interband response of a bulk InSb semiconductor driven off resonantly by terahertz electromagnetic few-cycle pulses. Phys. Rev. Lett. 109, 147403 (2012).

Kira, M. & Koch, S. W. Semiconductor Quantum Optics (Cambridge Univ. Press, 2012).

Mikhailov, S. A. Non-linear electromagnetic response of graphene. Europhys. Lett. 79, 27002 (2007).

Huard, S. Polarization of Light (Wiley, 1997).

Junk, V., Reck, P., Gorini, C. & Richter, K. Floquet oscillations in periodically driven Dirac systems. Phys. Rev. B 101, 134302 (2020).

Krückl, V. Wave Packets in Mesoscopic Systems: From Time-dependent Dynamics to Transport Phenomena in Graphene and Topological Insulators. PhD thesis, Univ. Regensburg (2013).
Acknowledgements
We thank P. Merkl, J. Freudenstein, C. Lange, D. E. Kim, M. Nitsch and I. Floss for helpful discussions. The work in Regensburg has been supported by the Deutsche Forschungsgemeinschaft (DFG, German Research Foundation) through Project ID 422 314695032-SFB 1277 (Subprojects A03, A05 and A07) as well as project HU1598/8. Work in Marburg has been supported by the Deutsche Forschungsgemeinschaft (DFG) through Project ID 223848855-SFB 1083 and grant number GU 495/2. O.E.T. and K.A.K. have been supported by the Russian Science Foundation (project number 17-12-01047) and the state assignment of IGM SB RAS and ISP SB RAS. The work of J.C. was supported by the NSF (National Science Foundation) DMR-1828489.
Ethics declarations
Competing interests
The authors declare no competing interests.
Additional information
Peer review information Nature thanks Olga Smirnova, Ryusuke Matsunaga and Alexander Kemper for their contribution to the peer review of this work.
Publisher's note Springer Nature remains neutral with regard to jurisdictional claims in published maps and institutional affiliations.
Extended data figures and tables
About this article
Cite this article
Schmid, C.P., Weigl, L., Grössing, P. et al. Tunable non-integer high-harmonic generation in a topological insulator. Nature 593, 385–390 (2021). https://doi.org/10.1038/s41586-021-03466-7
Received:

Accepted:

Published:

Issue Date:

DOI: https://doi.org/10.1038/s41586-021-03466-7
Comments
By submitting a comment you agree to abide by our Terms and Community Guidelines. If you find something abusive or that does not comply with our terms or guidelines please flag it as inappropriate.