Abstract
Genome-wide association studies (GWAS) have identified thousands of noncoding loci that are associated with human diseases and complex traits, each of which could reveal insights into the mechanisms of disease1. Many of the underlying causal variants may affect enhancers2,3, but we lack accurate maps of enhancers and their target genes to interpret such variants. We recently developed the activity-by-contact (ABC) model to predict which enhancers regulate which genes and validated the model using CRISPR perturbations in several cell types4. Here we apply this ABC model to create enhancer–gene maps in 131 human cell types and tissues, and use these maps to interpret the functions of GWAS variants. Across 72 diseases and complex traits, ABC links 5,036 GWAS signals to 2,249 unique genes, including a class of 577 genes that appear to influence multiple phenotypes through variants in enhancers that act in different cell types. In inflammatory bowel disease (IBD), causal variants are enriched in predicted enhancers by more than 20-fold in particular cell types such as dendritic cells, and ABC achieves higher precision than other regulatory methods at connecting noncoding variants to target genes. These variant-to-function maps reveal an enhancer that contains an IBD risk variant and that regulates the expression of PPIF to alter the membrane potential of mitochondria in macrophages. Our study reveals principles of genome regulation, identifies genes that affect IBD and provides a resource and generalizable strategy to connect risk variants of common diseases to their molecular and cellular functions.
Relevant articles
Open Access articles citing this article.
Tiago C. Silva

,

Wei Zhang

…

Lily Wang

Alzheimer's Research & Therapy Open Access 15 September 2022

Yinqiao Wu

,

Yuedong Zhang

…

Yaping Zhang

Journal of Animal Science and Biotechnology Open Access 04 July 2022

Niels J. Rinzema

,

Konstantinos Sofiadis

…

Wouter de Laat

Nature Structural & Molecular Biology Open Access 16 June 2022
Access options
Subscribe to Nature+
Get immediate online access to the entire Nature family of 50+ journals
Subscribe to Journal
Get full journal access for 1 year
$199.00
only $3.90 per issue
All prices are NET prices.
VAT will be added later in the checkout.
Tax calculation will be finalised during checkout.
Buy article
Get time limited or full article access on ReadCube.
$32.00
All prices are NET prices.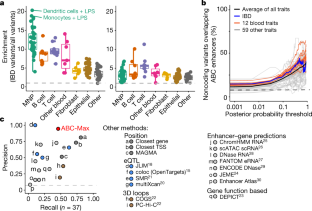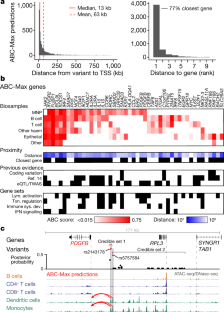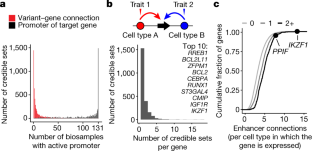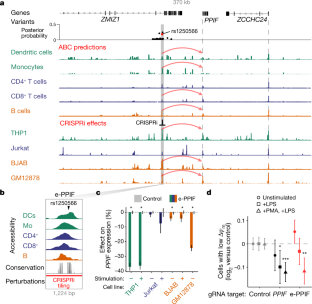 Data availability
Data for the immune cell line ATAC-seq and H3K27ac ChIP–seq analyses can be found in the NCBI GEO under accession number GSE155555. gRNA counts from CRISPRi screens can be found in Supplementary Tables 3, 14. UK Biobank fine-mapping data for 71 traits are available from https://www.finucanelab.org/data. ABC predictions in 131 biosamples can be found at https://www.engreitzlab.org/abc/.
References
Claussnitzer, M. et al. A brief history of human disease genetics. Nature 577, 179–189 (2020).

Farh, K. K.-H. et al. Genetic and epigenetic fine mapping of causal autoimmune disease variants. Nature 518, 337–343 (2015).

Maurano, M. T. et al. Systematic localization of common disease-associated variation in regulatory DNA. Science 337, 1190–1195 (2012).

Fulco, C. P. et al. Activity-by-contact model of enhancer-promoter regulation from thousands of CRISPR perturbations. Nat. Genet. 51, 1664–1669 (2019).

Westra, H.-J. & Franke, L. From genome to function by studying eQTLs. Biochim. Biophys. Acta 1842, 1896–1902 (2014).

Gasperini, M., Tome, J. M. & Shendure, J. Towards a comprehensive catalogue of validated and target-linked human enhancers. Nat. Rev. Genet. 21, 292–310 (2020).

van Arensbergen, J., van Steensel, B. & Bussemaker, H. J. In search of the determinants of enhancer–promoter interaction specificity. Trends Cell Biol. 24, 695–702 (2014).

The ENCODE Project Consortium. An integrated encyclopedia of DNA elements in the human genome. Nature 489, 57–74 (2012).

Huang, H. et al. Fine-mapping inflammatory bowel disease loci to single-variant resolution. Nature 547, 173–178 (2017).

Maller, J. B. et al. Bayesian refinement of association signals for 14 loci in 3 common diseases. Nat. Genet. 44, 1294–1301 (2012).

Ulirsch, J. C. et al. Interrogation of human hematopoiesis at single-cell and single-variant resolution. Nat. Genet. 51, 683–693 (2019).

Fulco, C. P. et al. Systematic mapping of functional enhancer–promoter connections with CRISPR interference. Science 354, 769–773 (2016).

Rescigno, M. & Di Sabatino, A. Dendritic cells in intestinal homeostasis and disease. J. Clin. Invest. 119, 2441–2450 (2009).

Graham, D. B. & Xavier, R. J. Pathway paradigms revealed from the genetics of inflammatory bowel disease. Nature 578, 527–539 (2020).

Mountjoy, E. et al. Open Targets Genetics: an open approach to systematically prioritize causal variants and genes at all published human GWAS trait-associated loci. Preprint at https://doi.org/10.1101/2020.09.16.299271 (2020).

Buniello, A. et al. The NHGRI-EBI GWAS Catalog of published genome-wide association studies, targeted arrays and summary statistics 2019. Nucleic Acids Res. 47, D1005–D1012 (2019).

Stacey, D. et al. ProGeM: a framework for the prioritization of candidate causal genes at molecular quantitative trait loci. Nucleic Acids Res. 47, e3 (2019).

Chun, S. et al. Limited statistical evidence for shared genetic effects of eQTLs and autoimmune-disease-associated loci in three major immune-cell types. Nat. Genet. 49, 600–605 (2017).

Carvalho-Silva, D. et al. Open Targets Platform: new developments and updates two years on. Nucleic Acids Res. 47, D1056–D1065 (2019).

Barbeira, A. N. et al. Integrating predicted transcriptome from multiple tissues improves association detection. PLoS Genet. 15, e1007889 (2019).

Hauberg, M. E. et al. Large-scale identification of common trait and disease variants affecting gene expression. Am. J. Hum. Genet. 100, 885–894 (2017).

Javierre, B. M. et al. Lineage-specific genome architecture links enhancers and non-coding disease variants to target gene promoters. Cell 167, 1369–1384 (2016).

Pers, T. H. et al. Biological interpretation of genome-wide association studies using predicted gene functions. Nat. Commun. 6, 5890 (2015).

Cao, Q. et al. Reconstruction of enhancer–target networks in 935 samples of human primary cells, tissues and cell lines. Nat. Genet. 49, 1428–1436 (2017).

Liu, Y., Sarkar, A., Kheradpour, P., Ernst, J. & Kellis, M. Evidence of reduced recombination rate in human regulatory domains. Genome Biol. 18, 193 (2017).

Granja, J. M. et al. Single-cell multiomic analysis identifies regulatory programs in mixed-phenotype acute leukemia. Nat. Biotechnol. 37, 1458–1465 (2019).

Andersson, R. et al. An atlas of active enhancers across human cell types and tissues. Nature 507, 455–461 (2014).

Sheffield, N. C. et al. Patterns of regulatory activity across diverse human cell types predict tissue identity, transcription factor binding, and long-range interactions. Genome Res. 23, 777–788 (2013).

Thurman, R. E. et al. The accessible chromatin landscape of the human genome. Nature 489, 75–82 (2012).

Gao, T. & Qian, J. EnhancerAtlas 2.0: an updated resource with enhancer annotation in 586 tissue/cell types across nine species. Nucleic Acids Res. 48, D58–D64 (2020).

Whalen, S., Truty, R. M. & Pollard, K. S. Enhancer-promoter interactions are encoded by complex genomic signatures on looping chromatin. Nat. Genet. 48, 488–496 (2016).

GTEx Consortium. Genetic effects on gene expression across human tissues. Nature 550, 204–213 (2017).

Engreitz, J. M. et al. Local regulation of gene expression by lncRNA promoters, transcription and splicing. Nature 539, 452–455 (2016).

Wainberg, M. et al. Opportunities and challenges for transcriptome-wide association studies. Nat. Genet. 51, 592–599 (2019).

Franke, A. et al. Genome-wide meta-analysis increases to 71 the number of confirmed Crohn's disease susceptibility loci. Nat. Genet. 42, 1118–1125 (2010).

Jostins, L. et al. Host–microbe interactions have shaped the genetic architecture of inflammatory bowel disease. Nature 491, 119–124 (2012).

Linares, P. M. & Gisbert, J. P. Role of growth factors in the development of lymphangiogenesis driven by inflammatory bowel disease: a review. Inflamm. Bowel Dis. 17, 1814–1821 (2011).

Wang, X. & Goldstein, D. B. Enhancer domains predict gene pathogenicity and inform gene discovery in complex disease. Am. J. Hum. Genet. 106, 215–233 (2020).

Imielinski, M. et al. Common variants at five new loci associated with early-onset inflammatory bowel disease. Nat. Genet. 41, 1335–1340 (2009).

Elrod, J. W. & Molkentin, J. D. Physiologic functions of cyclophilin D and the mitochondrial permeability transition pore. Circ. J. 77, 1111–1122 (2013).

Ip, W. K. E., Hoshi, N., Shouval, D. S., Snapper, S. & Medzhitov, R. Anti-inflammatory effect of IL-10 mediated by metabolic reprogramming of macrophages. Science 356, 513–519 (2017).

Bick, A. G. et al. Inherited causes of clonal haematopoiesis in 97,691 whole genomes. Nature 586, 763–768 (2020).

Buenrostro, J. D., Wu, B., Chang, H. Y. & Greenleaf, W. J. ATAC-seq: a method for assaying chromatin accessibility genome-wide. Curr. Protoc. Mol .Biol. 109, 21.29.1–21.29.9 (2015).

Zhu, J. et al. Genome-wide chromatin state transitions associated with developmental and environmental cues. Cell 152, 642–654 (2013).

Kundaje, A. et al. Integrative analysis of 111 reference human epigenomes. Nature 518, 317–330 (2015).

Li, H. & Durbin, R. Fast and accurate short read alignment with Burrows–Wheeler transform. Bioinformatics 25, 1754–1760 (2009).

Li, H. et al. The Sequence Alignment/Map format and SAMtools. Bioinformatics 25, 2078–2079 (2009).

Amemiya, H. M., Kundaje, A. & Boyle, A. P. The ENCODE blacklist: identification of problematic regions of the genome. Sci. Rep. 9, 9354 (2019).

Vierstra, J. et al. Global reference mapping of human transcription factor footprints. Nature 583, 729–736 (2020).

Langmead, B. & Salzberg, S. L. Fast gapped-read alignment with Bowtie 2. Nat. Methods 9, 357–359 (2012).

Liu, J. Z. et al. Association analyses identify 38 susceptibility loci for inflammatory bowel disease and highlight shared genetic risk across populations. Nat. Genet. 47, 979–986 (2015).

de Lange, K. M. et al. Genome-wide association study implicates immune activation of multiple integrin genes in inflammatory bowel disease. Nat. Genet. 49, 256–261 (2017).

Loh, P. R., Kichaev, G., Gazal, S., Schoech, A. P. & Price, A. L. Mixed-model association for biobank-scale datasets. Nat. Genet. 50, 906–908 (2018).

Zhou, W. et al. Efficiently controlling for case–control imbalance and sample relatedness in large-scale genetic association studies. Nat. Genet. 50, 1335–1341 (2018).

Benner, C. et al. Prospects of fine-mapping trait-associated genomic regions by using summary statistics from genome-wide association studies. Am. J. Hum. Genet. 101, 539–551 (2017).

Wang, G., Sarkar, A., Carbonetto, P. & Stephens, M. A simple new approach to variable selection in regression, with application to genetic fine mapping. J. R. Stat. Soc. B 82, 1273–1300 (2020).

McLaren, W. et al. The Ensembl variant effect predictor. Genome Biol. 17, 122 (2016).

Fujita, P. A. et al. The UCSC genome browser database: update 2011. Nucleic Acids Res. 39, D876–D882 (2011).

Carrillo-de-Santa-Pau, E. et al. Automatic identification of informative regions with epigenomic changes associated to hematopoiesis. Nucleic Acids Res. 45, 9244–9259 (2017).

Astle, W. J. et al. The allelic landscape of human blood cell trait variation and links to common complex disease. Cell 167, 1415–1429 (2016).

Finucane, H. K. et al. Partitioning heritability by functional annotation using genome-wide association summary statistics. Nat. Genet. 47, 1228–1235 (2015).

Chen, L. et al. Genetic drivers of epigenetic and transcriptional variation in human immune cells. Cell 167, 1398–1414 (2016).

Liberzon, A. et al. Molecular signatures database (MSigDB) 3.0. Bioinformatics 27, 1739–1740 (2011).

Kerimov, N. et al. eQTL Catalogue: a compendium of uniformly processed human gene expression and splicing QTLs. Preprint at https://doi.org/10.1101/2020.01.29.924266 (2021).

de Leeuw, C. A., Mooij, J. M., Heskes, T. & Posthuma, D. MAGMA: generalized gene-set analysis of GWAS data. PLOS Comput. Biol. 11, e1004219 (2015).

Kerpedjiev, P. et al. HiGlass: web-based visual exploration and analysis of genome interaction maps. Genome Biol. 19, 125 (2018).

Rao, S. S. et al. A 3D map of the human genome at kilobase resolution reveals principles of chromatin looping. Cell 159, 1665–1680 (2014).

Novakovic, B. et al. β-Glucan reverses the epigenetic state of LPS-induced immunological tolerance. Cell 167, 1354–1368 (2016).

Donnard, E. et al. Comparative analysis of immune cells reveals a conserved regulatory lexicon. Cell Syst. 6, 381–394 (2018).
Acknowledgements
This work was supported by the Broad Institute (E.S.L.); an NIH Pathway to Independence Award (K99HG009917 and R00HG009917 to J.M.E.); an NHGRI Genomic Innovator Award (R35HG011324 to J.M.E.); the Harvard Society of Fellows (J.M.E.); Gordon and Betty Moore and the BASE Research Initiative at the Lucile Packard Children's Hospital at Stanford University (J.M.E.); NHGRI P50HG006193 (N.H.); NIDDK P30DK043351 (R.J.X.); NIH U01CA200059 (H.P.); NHGRI U01HG009379, NIMH R01MH101244 and NIMH R37MH107649 (A.K.P.); NIDDK K01DK114379 (H.H.); the Zhengxu and Ying He Foundation, the Stanley Center for Psychiatric Research and NIAID K22AI153648 (J.P.R.); NHGRI U24HG009446 (A.K.); an NSF Graduate Research Fellowship (DGE-1656518 to B.R.D.); and a Siebel Scholarship (F.L.). We thank L. Schweitzer, M. Gentili, M. Biton, C. Smillie, A. Regev, M. Kanai, D. Graham, N. Shoresh, S. Gazal, B. Cleary, R. Cui, P. Rogers, V. Subramanian, G. Schnitzler, R. Gupta, M. Claussnitzer, N. Sinnott-Armstrong, T. Majarian, A. Manning and members of the Lander lab, Hacohen lab and Variant-to-Function Initiative for discussions or technical assistance. This research has been conducted using the UK Biobank Resource.
Ethics declarations
Competing interests
J.M.E., C.P.F. and E.S.L. are inventors on a patent application on CRISPR methods filed by the Broad Institute related to this work (16/337,846). Until recently, E.S.L. served on the Board of Directors for Codiak BioSciences and Neon Therapeutics; served on the Scientific Advisory Board of F-Prime Capital Partners and Third Rock Ventures; was affiliated with several non-profit organizations including serving on the Board of Directors of the Innocence Project, Count Me In and Biden Cancer Initiative, and the Board of Trustees for the Parker Institute for Cancer Immunotherapy; and served on various federal advisory committees. E.S.L. is currently on leave from MIT and Harvard. C.P.F. is now an employee of Bristol Myers Squibb. T.A.P. is now an employee of Boston Consulting Group. R.J.X. is a cofounder of Jnana Therapeutics and Celsius Therapeutics. M.J.D. is a founder of Maze Therapeutics. N.H. holds equity in BioNTech and consults for Related Therapeutics. All other authors declare no competing interests.
Additional information
Peer review information Nature thanks Annique Claringbould, Judith Zaugg and the other, anonymous, reviewer(s) for their contribution to the peer review of this work.
Publisher's note Springer Nature remains neutral with regard to jurisdictional claims in published maps and institutional affiliations.
Extended data figures and tables
Supplementary information
About this article
Cite this article
Nasser, J., Bergman, D.T., Fulco, C.P. et al. Genome-wide enhancer maps link risk variants to disease genes. Nature 593, 238–243 (2021). https://doi.org/10.1038/s41586-021-03446-x
Received:

Accepted:

Published:

Issue Date:

DOI: https://doi.org/10.1038/s41586-021-03446-x
Comments
By submitting a comment you agree to abide by our Terms and Community Guidelines. If you find something abusive or that does not comply with our terms or guidelines please flag it as inappropriate.