Abstract
D-type cyclins are central regulators of the cell division cycle and are among the most frequently deregulated therapeutic targets in human cancer1, but the mechanisms that regulate their turnover are still being debated2,3. Here, by combining biochemical and genetics studies in somatic cells, we identify CRL4AMBRA1 (also known as CRL4DCAF3) as the ubiquitin ligase that targets all three D-type cyclins for degradation. During development, loss of Ambra1 induces the accumulation of D-type cyclins and retinoblastoma (RB) hyperphosphorylation and hyperproliferation, and results in defects of the nervous system that are reduced by treating pregnant mice with the FDA-approved CDK4 and CDK6 (CDK4/6) inhibitor abemaciclib. Moreover, AMBRA1 acts as a tumour suppressor in mouse models and low AMBRA1 mRNA levels are predictive of poor survival in cancer patients. Cancer hotspot mutations in D-type cyclins abrogate their binding to AMBRA1 and induce their stabilization. Finally, a whole-genome, CRISPR–Cas9 screen identified AMBRA1 as a regulator of the response to CDK4/6 inhibition. Loss of AMBRA1 reduces sensitivity to CDK4/6 inhibitors by promoting the formation of complexes of D-type cyclins with CDK2. Collectively, our results reveal the molecular mechanism that controls the stability of D-type cyclins during cell-cycle progression, in development and in human cancer, and implicate AMBRA1 as a critical regulator of the RB pathway.
Access options
Subscribe to Journal
Get full journal access for 1 year
$199.00
only $3.90 per issue
All prices are NET prices.
VAT will be added later in the checkout.
Tax calculation will be finalised during checkout.
Rent or Buy article
Get time limited or full article access on ReadCube.
from$8.99
All prices are NET prices.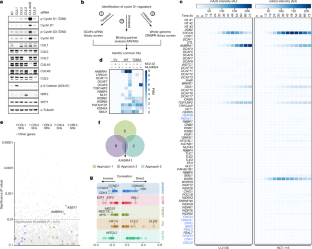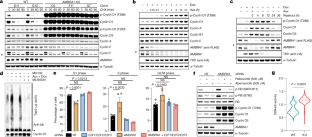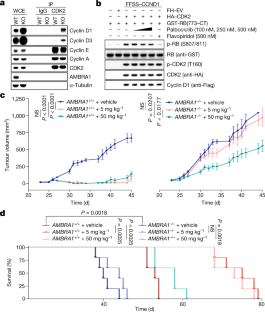 Data availability
All accession codes, unique identifiers, and web links for publicly available datasets are available within the article and in the Reporting Summary. Those who carried out the original analysis and collection of the data generated by the DECIPHER community bear no responsibility for the further analysis or interpretation of the data. Mass spectrometry data for cyclin D1 immunopurifications are provided in Supplementary Table 1. The full scanned images obtained by electrophoretic separation are provided in Supplementary Fig. 1. All original data are available from the corresponding authors upon request. Source data are provided with this paper.
References
1.

Malumbres, M. & Barbacid, M. Cell cycle, CDKs and cancer: a changing paradigm. Nat. Rev. Cancer 9, 153–166 (2009).

2.

Kanie, T. et al. Genetic reevaluation of the role of F-box proteins in cyclin D1 degradation. Mol. Cell. Biol. 32, 590–605 (2012).

3.

Qie, S. & Diehl, J. A. Cyclin D degradation by E3 ligases in cancer progression and treatment. Semin. Cancer Biol. 67, 159–170 (2020).

4.

Reichermeier, K. M. et al. PIKES analysis reveals response to degraders and key regulatory mechanisms of the CRL4 network. Mol. Cell 77, 1092–1106.e9 (2020).

5.

Natsume, T., Kiyomitsu, T., Saga, Y. & Kanemaki, M. T. Rapid protein depletion in human cells by auxin-inducible degron tagging with short homology donors. Cell Rep. 15, 210–218 (2016).

6.

Barbash, O., Egan, E., Pontano, L. L., Kosak, J. & Diehl, J. A. Lysine 269 is essential for cyclin D1 ubiquitylation by the SCFFbx4/αB-crystallin ligase and subsequent proteasome-dependent degradation. Oncogene 28, 4317–4325 (2009).

7.

Fimia, G. M. et al. Ambra1 regulates autophagy and development of the nervous system. Nature 447, 1121–1125 (2007).

8.

Davoli, T. et al. Cumulative haploinsufficiency and triplosensitivity drive aneuploidy patterns and shape the cancer genome. Cell 155, 948–962 (2013).

9.

Behan, F. M. et al. Prioritization of cancer therapeutic targets using CRISPR–Cas9 screens. Nature 568, 511–516 (2019).

10.

Rahrmann, E. P. et al. Sleeping Beauty screen identifies RREB1 and other genetic drivers in human B-cell lymphoma. Mol. Cancer Res. 17, 567–582 (2019).

11.

Reddy, A. et al. Genetic and functional drivers of diffuse large B cell lymphoma. Cell 171, 481–494 (2017).

12.

Chytil, A. et al. Construction of a cyclin D1–Cdk2 fusion protein to model the biological functions of cyclin D1–Cdk2 complexes. J. Biol. Chem. 279, 47688–47698 (2004).

13.

Asghar, U., Witkiewicz, A. K., Turner, N. C. & Knudsen, E. S. The history and future of targeting cyclin-dependent kinases in cancer therapy. Nat. Rev. Drug Discov. 14, 130–146 (2015).

14.

Li, W. et al. MAGeCK enables robust identification of essential genes from genome-scale CRISPR/Cas9 knockout screens. Genome Biol. 15, 554 (2014).

15.

Sanjana, N. E., Shalem, O. & Zhang, F. Improved vectors and genome-wide libraries for CRISPR screening. Nat. Methods 11, 783–784 (2014).

16.

Reynders, M. et al. PHOTACs enable optical control of protein degradation. Sci. Adv. 6, eaay5064 (2020).

17.

Lee, J. & Zhou, P. DCAFs, the missing link of the CUL4–DDB1 ubiquitin ligase. Mol. Cell 26, 775–780 (2007).

18.

Bern, M., Kil, Y. J. & Becker, C. Byonic: advanced peptide and protein identification software. Curr. Protoc. Bioinformatics Chapter 13, Unit13.20 (2012).

19.

Donato, V. et al. The TDH–GCN5L1–Fbxo15–KBP axis limits mitochondrial biogenesis in mouse embryonic stem cells. Nat. Cell Biol. 19, 341–351 (2017).

20.

Jeong, Y. T. et al. The ULK1–FBXW5–SEC23B nexus controls autophagy. eLife 7, e42253 (2018).

21.

Kuchay, S. et al. PTEN counteracts FBXL2 to promote IP3R3- and Ca2+-mediated apoptosis limiting tumour growth. Nature 546, 554–558 (2017).

22.

Ran, F. A. et al. Genome engineering using the CRISPR–Cas9 system. Nat. Protoc. 8, 2281–2308 (2013).

23.

Dragicevic, P. in Modern Statistical Methods for HCI (eds Robertson, J. & Kaptein, M.) 291–330 (Springer, 2016).

24.

Róna, G. et al. Dynamics of re-constitution of the human nuclear proteome after cell division is regulated by NLS-adjacent phosphorylation. Cell Cycle 13, 3551–3564 (2014).

25.

Cecchetelli, A., Kwan, R., Krauter, S. & Chiriboga, L. Minimum concentration of cells required for the preparation of compact plasma-thrombin cell blocks. J. Histotechnol. 35, 68–70 (2012).

26.

Glinsmann-Gibson, B. et al. Recommendations for tissue microarray construction and quality assurance. Appl. Immunohistochem. Mol. Morphol. (2020).

27.

Miki, Y. et al. AMBRA1, a novel α-synuclein-binding protein, is implicated in the pathogenesis of multiple system atrophy. Brain Pathol. 28, 28–42 (2018).

28.

Lewitowicz, P. et al. Tumor digital masking allows precise patient triaging: a study based on Ki-67 scoring in gastrointestinal stromal tumors. Scanning 2018, 7807416 (2018).

29.

Lorenzo-Martín, L. F. et al. VAV2 signaling promotes regenerative proliferation in both cutaneous and head and neck squamous cell carcinoma. Nat. Commun. 11, 4788 (2020).

30.

Tuominen, V. J., Ruotoistenmäki, S., Viitanen, A., Jumppanen, M. & Isola, J. ImmunoRatio: a publicly available web application for quantitative image analysis of estrogen receptor (ER), progesterone receptor (PR), and Ki-67. Breast Cancer Res. 12, R56 (2010).

31.

Shaknovich, R. et al. DNA methylation signatures define molecular subtypes of diffuse large B-cell lymphoma. Blood 116, e81–e89 (2010).

32.

Lenz, G. et al. Molecular subtypes of diffuse large B-cell lymphoma arise by distinct genetic pathways. Proc. Natl Acad. Sci. USA 105, 13520–13525 (2008).

33.

D'Angelo, F. et al. The molecular landscape of glioma in patients with Neurofibromatosis 1. Nat. Med. 25, 176–187 (2019).

34.

Compagno, M. et al. Mutations of multiple genes cause deregulation of NF-κB in diffuse large B-cell lymphoma. Nature 459, 717–721 (2009).

35.

Brune, V. et al. Origin and pathogenesis of nodular lymphocyte-predominant Hodgkin lymphoma as revealed by global gene expression analysis. J. Exp. Med. 205, 2251–2268 (2008).

36.

Cerami, E. et al. The cBio cancer genomics portal: an open platform for exploring multidimensional cancer genomics data. Cancer Discov. 2, 401–404 (2012).

37.

Gao, J. et al. Integrative analysis of complex cancer genomics and clinical profiles using the cBioPortal. Sci. Signal. 6, pl1 (2013).

38.

Tate, J. G. et al. COSMIC: the Catalogue Of Somatic Mutations In Cancer. Nucleic Acids Res. 47 (D1), D941–D947 (2019).

39.

Schmitz, R. et al. Burkitt lymphoma pathogenesis and therapeutic targets from structural and functional genomics. Nature 490, 116–120 (2012).

40.

Clijsters, L. et al. Cyclin F controls cell-cycle transcriptional outputs by directing the degradation of the three activator E2Fs Mol. Cell 74, 1264–1277 (2019).

41.

Yada, M. et al. Phosphorylation-dependent degradation of c-Myc is mediated by the F-box protein Fbw7. EMBO J. 23, 2116–2125 (2004).

42.

Maxwell, P. H. et al. The tumour suppressor protein VHL targets hypoxia-inducible factors for oxygen-dependent proteolysis. Nature 399, 271–275 (1999).

43.

Kubbutat, M. H., Jones, S. N. & Vousden, K. H. Regulation of p53 stability by Mdm2. Nature 387, 299–303 (1997).

44.

Li, Y., Ge, D. & Lu, C. The SMART app: an interactive web application for comprehensive DNA methylation analysis and visualization. Epigenetics Chromatin 12, 71 (2019).

45.

Lin, D. I. et al. Phosphorylation-dependent ubiquitination of cyclin D1 by the SCFFBX4-αB crystallin complex. Mol. Cell 24, 355–366 (2006).

46.

Okabe, H. et al. A critical role for FBXW8 and MAPK in cyclin D1 degradation and cancer cell proliferation. PLoS ONE 1, e128 (2006).

47.

Santra, M. K., Wajapeyee, N. & Green, M. R. F-box protein FBXO31 mediates cyclin D1 degradation to induce G1 arrest after DNA damage. Nature 459, 722–725 (2009).

48.

Wei, S. et al. A novel mechanism by which thiazolidinediones facilitate the proteasomal degradation of cyclin D1 in cancer cells. J. Biol. Chem. 283, 26759–26770 (2008).

49.

Yu, Z. K., Gervais, J. L. & Zhang, H. Human CUL-1 associates with the SKP1/SKP2 complex and regulates p21(CIP1/WAF1) and cyclin D proteins. Proc. Natl Acad. Sci. USA 95, 11324–11329 (1998).

50.

Chen, B. B., Glasser, J. R., Coon, T. A. & Mallampalli, R. K. FBXL2 is a ubiquitin E3 ligase subunit that triggers mitotic arrest. Cell Cycle 10, 3487–3494 (2011).

51.

Chen, B. B. et al. F-box protein FBXL2 targets cyclin D2 for ubiquitination and degradation to inhibit leukemic cell proliferation. Blood 119, 3132–3141 (2012).

52.

Pawar, S. A. et al. C/EBPdelta targets cyclin D1 for proteasome-mediated degradation via induction of CDC27/APC3 expression. Proc. Natl Acad. Sci. USA 107, 9210–9215 (2010).

53.

Crooks, G. E., Hon, G., Chandonia, J. M. & Brenner, S. E. WebLogo: a sequence logo generator. Genome Res. 14, 1188–1190 (2004).

54.

Yang, H. W. et al. Stress-mediated exit to quiescence restricted by increasing persistence in CDK4/6 activation. eLife 9, e44571 (2020).

55.

Cappuccio, G., Ugga, L., Parrini, E., D'Amico, A. & Brunetti-Pierri, N. Severe presentation and complex brain malformations in an individual carrying a CCND2 variant. Mol. Genet. Genomic Med. 7, e708 (2019).

56.

Maini, I. et al. A novel CCND2 mutation in a previously reported case of megalencephaly and perisylvian polymicrogyria with postaxial polydactyly and hydrocephalus. Neuropediatrics 49, 222–224 (2018).

57.

McDermott, J. H. et al. Hypoglycaemia represents a clinically significant manifestation of PIK3CA- and CCND2-associated segmental overgrowth. Clin. Genet. 93, 687–692 (2018).

58.

Mirzaa, G. et al. De novo CCND2 mutations leading to stabilization of cyclin D2 cause megalencephaly-polymicrogyria-polydactyly-hydrocephalus syndrome. Nat. Genet. 46, 510–515 (2014).

59.

Firth, H. V. et al. DECIPHER: Database of Chromosomal Imbalance and Phenotype in Humans Using Ensembl Resources. Am. J. Hum. Genet. 84, 524–533 (2009).

60.

Sameshima, T., Morisada, N., Egawa, T., Kugo, M. & Iijima, K. MPPH syndrome with aortic coarctation and macrosomia due to CCND2 mutations. Pediatr. Int. 62, 115–117 (2020).
Acknowledgements
We thank G. V. Pires, L. Moro, V. Donato, A. Zeke, A. Peschiaroli, M. Swartling, K. Avrampou, J. Wang, E. Hernandez and A. Tsirigos for their contribution to this work, and R. Abraham, S. Dann, K. Nakayama and W. Wei for critically reading the paper. This study makes use of data generated by the DECIPHER community. A full list of centres that contributed to the generation of the data is available from https://decipher.sanger.ac.uk/about/stats and via email from decipher@sanger.ac.uk. Funding for the DECIPHER project was provided by Wellcome. We thank E. Rosser and M. Lees from the Great Ormond Street Hospital for Children NHS Foundation Trust in London, UK, for providing the information on two patients with mutations in CCND2, deposited at DECIPHER (https://decipher.sanger.ac.uk). The Proteomics Laboratory, the Genome Technology Center (GTC), the Experimental Pathology Research Laboratory, the Cytometry and Cell Sorting Laboratory, and the Metabolomics Laboratory at NYU Langone Health are partially supported by the Cancer Center Support Grant P30CA016087 at the Laura and Isaac Perlmutter Cancer Center. The NYULH Center for Biospecimen Research and Development, Histology and Immunohistochemistry Laboratory (RRID:SCR_018304) is supported in part by the Laura and Isaac Perlmutter Cancer Center Support Grant, NIH/NCI P30CA016087, and the National Institutes of Health S10 Grants, NIH/ORIP S10OD01058 and S10OD018338. The authors thank C. I. Silvescu for data acquisition and processing of the mass spectrometry images. D.S. thanks F. Simoneschi, P. Simoneschi, D. Guidi and E. Guidi for continuous support. M.P. thanks T. M. Thor and T. B. Balduur for continuous support. This work was funded by grants from the National Institutes of Health (R01-CA76584 and R35-GM136250) to M.P. and (R01-CA207513-01) to L.B. The F.C. laboratory is supported by grants from the Danish Cancer Society (KBVU R72-A4408, R146-A9364, R231-A14034 to F.C. and R146-A9471 to V.C.), the Novo Nordisk Foundation (NNF13OC0007559, NNF16OC0022544), the Lundbeck Foundation (R233-2016-3360 to F.C. and R209-2015-3505 to V.C.), the LEO Foundation (LF17024 to F.C.), Associazione Italiana per la Ricerca sul Cancro (AIRC project IG 2019 no. 23543 to F.C.), the Italian Ministry of Research (MIUR, project PRIN 2017 Radius), and the Italian Ministry of Health (Ricerca Corrente to F.N.). V.C. is supported by Fondazione Umberto Veronesi. E.M. is an adjunct professor at UniCamillus—Saint Camillus International University of Health Sciences in Rome, Italy. F.B. is supported by a Young Investigator Grant from the Alex's Lemonade Stand Foundation. M.P. is an investigator with the Howard Hughes Medical Institute.
Ethics declarations
Competing interests
M.P. is a consultant for and has financial interests in Coho Therapeutics, CullGen, Kymera Therapeutics and SEED Therapeutics. M.P. is a cofounder of Coho Therapeutics, and is a member of the scientific advisory board of CullGen, Kymera Therapeutics and SEED Therapeutics, and is a consultant for Santi Therapeutics. The other authors declare no competing interests.
Additional information
Peer review information Nature thanks Piotr Sicinski and the other, anonymous, reviewer(s) for their contribution to the peer review of this work. Peer reviewer reports are available.
Publisher's note Springer Nature remains neutral with regard to jurisdictional claims in published maps and institutional affiliations.
Extended data figures and tables
Supplementary information
About this article
Cite this article
Simoneschi, D., Rona, G., Zhou, N. et al. CRL4AMBRA1 is a master regulator of D-type cyclins. Nature 592, 789–793 (2021). https://doi.org/10.1038/s41586-021-03445-y
Received:

Accepted:

Published:

Issue Date:
Further reading
Charupong Saengboonmee

&

Piotr Sicinski

Nature (2021)

Andrea C. Chaikovsky

,

Chuan Li

,

Edwin E. Jeng

,

Samuel Loebell

,

Myung Chang Lee

,

Christopher W. Murray

,

Ran Cheng

,

Janos Demeter

,

Danielle L. Swaney

,

Si-Han Chen

,

Billy W. Newton

,

Jeffrey R. Johnson

,

Alexandros P. Drainas

,

Yan Ting Shue

,

Jose A. Seoane

,

Preethi Srinivasan

,

Andy He

,

Akihiro Yoshida

,

Susan Q. Hipkins

,

Edel McCrea

,

Carson D. Poltorack

,

Nevan J. Krogan

,

J. Alan Diehl

,

Christina Kong

,

Peter K. Jackson

,

Christina Curtis

,

Dmitri A. Petrov

,

Michael C. Bassik

,

Monte M. Winslow

&

Julien Sage

Nature (2021)

Emiliano Maiani

,

Giacomo Milletti

,

Francesca Nazio

,

Søs Grønbæk Holdgaard

,

Jirina Bartkova

,

Salvatore Rizza

,

Valentina Cianfanelli

,

Mar Lorente

,

Daniele Simoneschi

,

Miriam Di Marco

,

Pasquale D'Acunzo

,

Luca Di Leo

,

Rikke Rasmussen

,

Costanza Montagna

,

Marilena Raciti

,

Cristiano De Stefanis

,

Estibaliz Gabicagogeascoa

,

Gergely Rona

,

Nélida Salvador

,

Emanuela Pupo

,

Joanna Maria Merchut-Maya

,

Colin J. Daniel

,

Marianna Carinci

,

Valeriana Cesarini

,

Alfie O'sullivan

,

Yeon-Tae Jeong

,

Matteo Bordi

,

Francesco Russo

,

Silvia Campello

,

Angela Gallo

,

Giuseppe Filomeni

,

Letizia Lanzetti

,

Rosalie C. Sears

,

Petra Hamerlik

,

Armando Bartolazzi

,

Robert E. Hynds

,

David R. Pearce

,

Charles Swanton

,

Michele Pagano

,

Guillermo Velasco

,

Elena Papaleo

,

Daniela De Zio

,

Apolinar Maya-Mendoza

,

Franco Locatelli

,

Jiri Bartek

&

Francesco Cecconi

Nature (2021)
Comments
By submitting a comment you agree to abide by our Terms and Community Guidelines. If you find something abusive or that does not comply with our terms or guidelines please flag it as inappropriate.