Abstract
Cancer cells characteristically consume glucose through Warburg metabolism1, a process that forms the basis of tumour imaging by positron emission tomography (PET). Tumour-infiltrating immune cells also rely on glucose, and impaired immune cell metabolism in the tumour microenvironment (TME) contributes to immune evasion by tumour cells2,3,4. However, whether the metabolism of immune cells is dysregulated in the TME by cell-intrinsic programs or by competition with cancer cells for limited nutrients remains unclear. Here we used PET tracers to measure the access to and uptake of glucose and glutamine by specific cell subsets in the TME. Notably, myeloid cells had the greatest capacity to take up intratumoral glucose, followed by T cells and cancer cells, across a range of cancer models. By contrast, cancer cells showed the highest uptake of glutamine. This distinct nutrient partitioning was programmed in a cell-intrinsic manner through mTORC1 signalling and the expression of genes related to the metabolism of glucose and glutamine. Inhibiting glutamine uptake enhanced glucose uptake across tumour-resident cell types, showing that glutamine metabolism suppresses glucose uptake without glucose being a limiting factor in the TME. Thus, cell-intrinsic programs drive the preferential acquisition of glucose and glutamine by immune and cancer cells, respectively. Cell-selective partitioning of these nutrients could be exploited to develop therapies and imaging strategies to enhance or monitor the metabolic programs and activities of specific cell populations in the TME.
Relevant articles
Open Access articles citing this article.
Jianyun Jiang

&

Hongmei Ying

Journal of Experimental & Clinical Cancer Research Open Access 13 August 2022

Guofeng Ma

,

Zhilei Zhang

…

Haitao Niu

Cell Communication and Signaling Open Access 27 July 2022

Shunjie Yu

,

Xiaotong Ren

&

Lijuan Li

Experimental Hematology & Oncology Open Access 19 July 2022
Access options
Subscribe to Nature+
Get immediate online access to the entire Nature family of 50+ journals
Subscribe to Journal
Get full journal access for 1 year
$199.00
only $3.90 per issue
All prices are NET prices.
VAT will be added later in the checkout.
Tax calculation will be finalised during checkout.
Buy article
Get time limited or full article access on ReadCube.
$32.00
All prices are NET prices.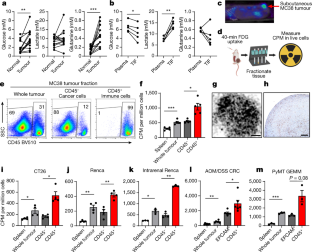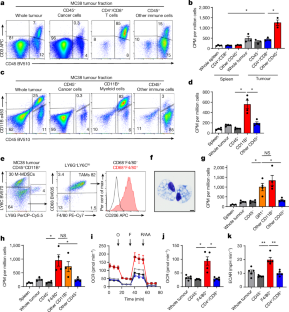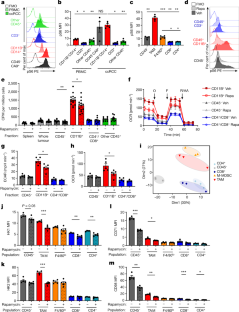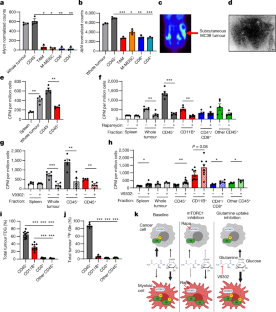 Data availabilty
All data will be made available upon reasonable request to J.C.R. or W.K.R. Tumour mRNA transcript data that support the findings of this study have been deposited in the Gene Expression Omnibus (GEO) with accession number GSE165223. These data are also found in Supplementary Table 4. Source data are provided with this paper.
Code availability
The code used to support tumour mRNA transcript analysis has been previously published (see Methods references) and will be made available upon request to J.C.R. or W.K.R.
References
Vander Heiden, M. G. & DeBerardinis, R. J. Understanding the intersections between metabolism and cancer biology. Cell 168, 657–669 (2017).

Siska, P. J. et al. Mitochondrial dysregulation and glycolytic insufficiency functionally impair CD8 T cells infiltrating human renal cell carcinoma. JCI Insight 2, e93411 (2017).

Ho, P. C. et al. Phosphoenolpyruvate is a metabolic checkpoint of anti-tumor T cell responses. Cell 162, 1217–1228 (2015).

Chang, C. H. et al. Metabolic competition in the tumor microenvironment is a driver of cancer progression. Cell 162, 1229–1241 (2015).

Faubert, B. et al. Lactate metabolism in human lung tumors. Cell 171, 358–371 (2017).

Ma, E. H. et al. Metabolic profiling using stable isotope tracing reveals distinct patterns of glucose utilization by physiologically activated CD8+ T cells. Immunity 51, 856–870 (2019).

Liu, P. S. et al. α-Ketoglutarate orchestrates macrophage activation through metabolic and epigenetic reprogramming. Nat. Immunol. 18, 985–994 (2017).

Johnson, M. O. et al. Distinct regulation of Th17 and Th1 cell differentiation by glutaminase-dependent metabolism. Cell 175, 1780–1795 (2018).

Leone, R. D. et al. Glutamine blockade induces divergent metabolic programs to overcome tumor immune evasion. Science 366, 1013–1021 (2019).

Scharping, N. E. et al. Mitochondrial stress induced by continuous stimulation under hypoxia rapidly drives T cell exhaustion. Nat. Immunol. 22, 205–215 (2021).

Sullivan, M. R. et al. Quantification of microenvironmental metabolites in murine cancers reveals determinants of tumor nutrient availability. eLife 8, e44235 (2019).

Cortese, N. et al. Metabolome of pancreatic juice delineates distinct clinical profiles of pancreatic cancer and reveals a link between glucose metabolism and PD-1+ cells. Cancer Immunol. Res. 8, 493–505 (2020).

Gemta, L. F. et al. Impaired enolase 1 glycolytic activity restrains effector functions of tumor-infiltrating CD8+ T cells. Sci. Immunol. 4, eaap9520 (2019).

Sinclair, L. V., Barthelemy, C. & Cantrell, D. A. Single cell glucose uptake assays: a cautionary tale. Immunometabolism 2, e200029 (2020).

Nair-Gill, E. et al. PET probes for distinct metabolic pathways have different cell specificities during immune responses in mice. J. Clin. Invest. 120, 2005–2015 (2010).

Hesketh, R. L. et al. Magnetic resonance imaging is more sensitive than PET for detecting treatment-induced cell death-dependent changes in glycolysis. Cancer Res. 79, 3557–3569 (2019).

Spranger, S., Dai, D., Horton, B. & Gajewski, T. F. Tumor-residing Batf3 dendritic cells are required for effector T cell trafficking and adoptive T cell therapy. Cancer Cell 31, 711–723 (2017).

Mabuchi, S. et al. Pretreatment tumor-related leukocytosis misleads positron emission tomography-computed tomography during lymph node staging in gynecological malignancies. Nat. Commun. 11, 1364 (2020).

Saxton, R. A. & Sabatini, D. M. mTOR signaling in growth, metabolism, and disease. Cell 168, 960–976 (2017).

Yoshida, G. J. Beyond the Warburg effect: N-Myc contributes to metabolic reprogramming in cancer cells. Front. Oncol. 10, 791 (2020).

Zhou, R. et al. [18F](2S,4R)4-Fluoroglutamine PET detects glutamine pool size changes in triple-negative breast cancer in response to glutaminase inhibition. Cancer Res. 77, 1476–1484 (2017).

Schulte, M. L. et al. Pharmacological blockade of ASCT2-dependent glutamine transport leads to antitumor efficacy in preclinical models. Nat. Med. 24, 194–202 (2018).

Kilgour, M. K. et al. 1-Methylnicotinamide is an immune regulatory metabolite in human ovarian cancer. Sci. Adv. 7, eabe1174 (2021).

Cascone, T. et al. Increased tumor glycolysis characterizes immune resistance to adoptive t cell therapy. Cell Metab. 27, 977–987 (2018).

Li, W. et al. Aerobic glycolysis controls myeloid-derived suppressor cells and tumor immunity via a specific CEBPB isoform in triple-negative breast cancer. Cell Metab. 28, 87–103 (2018).

Chafe, S. C. et al. Targeting hypoxia-induced carbonic anhydrase IX enhances immune-checkpoint blockade locally and systemically. Cancer Immunol. Res. 7, 1064–1078 (2019).

Wenes, M. et al. Macrophage metabolism controls tumor blood vessel morphogenesis and metastasis. Cell Metab. 24, 701–715 (2016).

Jeong, H. et al. Tumor-associated macrophages enhance tumor hypoxia and aerobic glycolysis. Cancer Res. 79, 795–806 (2019).

O'Neil, R. T. et al. Transposon-modified antigen-specific T lymphocytes for sustained therapeutic protein delivery in vivo. Nat. Commun. 9, 1325 (2018).

Tracz, A., Mastri, M., Lee, C. R., Pili, R. & Ebos, J. M. L. Modeling spontaneous metastatic renal cell carcinoma (mRCC) in mice following nephrectomy. J. Vis. Exp. 86, 51485 (2014).

Parang, B., Barrett, C. W. & Williams, C. S. AOM/DSS model of colitis-associated cancer. Methods Mol. Biol. 1422, 297–307 (2016).

Becker, C. et al. In vivo imaging of colitis and colon cancer development in mice using high resolution chromoendoscopy. Gut 54, 950–954 (2005).

Hassanein, M. et al. Preclinical evaluation of 4-[18F]Fluoroglutamine PET to Assess ASCT2 expression in lung cancer. Mol. Imaging Biol. 18, 18–23 (2016).

Canouil, M. et al. NACHO: an R package for quality control of NanoString nCounter data. Bioinformatics 36, 970–971 (2020).

Lê, S. Josse, J. Husson, & F. FactoMineR: A package for multivariate analysis. J. Stat. Softw. 25, 1–18 (2008).

Raudvere, U. et al. g:Profiler: a web server for functional enrichment analysis and conversions of gene lists (2019 update). Nucleic Acids Res. 47, W191–W198 (2019).

Robinson, M. D., McCarthy, D. J. & Smyth, G. K. edgeR: a Bioconductor package for differential expression analysis of digital gene expression data. Bioinformatics 26, 139–140 (2010).
Acknowledgements
We thank members of the J.C.R. and W.K.R. laboratories for their constructive input; the J. Balko, Y. Kim and P. Hurley laboratories for the use of their tumour dissociators; the Center for Small Animal Imaging at the Vanderbilt University Institute of Imaging Science (VUIIS) for support with PET–CT imaging; and the VUMC Radiochemistry core for synthesis and handling of radioactive material. This work was supported by F30 CA239367 (M.Z.M.), F30 CA247202 (B.I.R.), F30 DK120149 (R.E.B.), R01 CA217987 (J.C.R.), NIH T32 GM007753 (B.T.D.), R01 DK105550 (J.C.R.), AHA 20PRE35080073 (A.A.), VA Merit 1I01BX001426 (C.S.W.), Crohn's and Colitis Foundation 623541 (C.S.W.), the American Association for Cancer Research (B.I.R. and W.K.R.), T32 GM007347 (M.Z.M., B.I.R., R.E.B., A.A., A.S. and C.S.W.), K12 CA090625 (K.E.B. and W.K.R.), K00 CA234920 (J.E.B.) and the Vanderbilt-Incyte Alliance (J.C.R. and W.K.R.). The Vanderbilt VANTAGE Core, including P. Baker, provided technical assistance for this work. VANTAGE is supported in part by a CTSA Grant (5UL1 RR024975-03), the Vanderbilt Ingram Cancer Center (P30 CA68485), the Vanderbilt Vision Center (P30 EY08126) and the NIH/NCRR (G20 RR030956). For the MC38 THY1.1 cells, we thank the cell and genome engineering core of the Vanderbilt O'Brien Kidney Center (P30 DK114809). Flow-sorting experiments were performed in the VUMC Flow Cytometry Shared Resource by D. K. Flaherty and B. K. Matlock and were supported by the Vanderbilt Ingram Cancer Center (P30 CA68485) and the Vanderbilt Digestive Disease Research Center (P30 DK058404). This work was supported by grant 1S10OD019963-01A1 for the GE TRACERlab FX2 N and Comecer Hotcell, housed in the VUIIS Radiochemistry Core to synthesize 18F-Gln. The Inveon microPET was funded by NIH 1S10 OD016245. We acknowledge the Translational Pathology Shared Resource supported by NCI/NIH Cancer Center Support Grant 5P30 CA68485-19 and the Vanderbilt Mouse Metabolic Phenotyping Center Grant 2 U24 DK059637-16, as well as the Shared Instrumentation Grant for the Leica Bond RX MicroArrayer (S10 OD023475-01A1) and the VA shared equipment grant for the LCM (IS1BX003154). Figs. 1d, 4k, Extended Data Figs. 2d, 3f were created with Biorender.com.
Ethics declarations
Competing interests
J.C.R. has held stock equity in Sitryx and within the past two years has received unrelated research support, travel and honoraria from Sitryx, Caribou, Nirogy, Kadmon, Calithera, Tempest, Merck, Mitobridge and Pfizer. Within the past two years, W.K.R. has received unrelated clinical research support from Bristol-Meyers Squib, Merck, Pfizer, Peloton, Calithera and Incyte. H.C.M. holds a patent for V9302 (WO 2018/107173 Al). M.G.V.H. is a founder of Auron Therapeutics and is a member of the Scientific Advisory Board for Agios Pharmaceuticals, Aeglea Biotherapeutics and iTeos Therapeutics.
Additional information
Peer review information Nature thanks Kevin Brindle and the other, anonymous, reviewer(s) for their contribution to the peer review of this work.
Publisher's note Springer Nature remains neutral with regard to jurisdictional claims in published maps and institutional affiliations.
Extended data figures and tables
Supplementary information
About this article
Cite this article
Reinfeld, B.I., Madden, M.Z., Wolf, M.M. et al. Cell-programmed nutrient partitioning in the tumour microenvironment. Nature 593, 282–288 (2021). https://doi.org/10.1038/s41586-021-03442-1
Received:

Accepted:

Published:

Issue Date:

DOI: https://doi.org/10.1038/s41586-021-03442-1
Comments
By submitting a comment you agree to abide by our Terms and Community Guidelines. If you find something abusive or that does not comply with our terms or guidelines please flag it as inappropriate.