Abstract
Critical periods—brief intervals during which neural circuits can be modified by activity—are necessary for proper neural circuit assembly. Extended critical periods are associated with neurodevelopmental disorders; however, the mechanisms that ensure timely critical period closure remain poorly understood1,2. Here we define a critical period in a developing Drosophila motor circuit and identify astrocytes as essential for proper critical period termination. During the critical period, changes in activity regulate dendrite length, complexity and connectivity of motor neurons. Astrocytes invaded the neuropil just before critical period closure3, and astrocyte ablation prolonged the critical period. Finally, we used a genetic screen to identify astrocyte–motor neuron signalling pathways that close the critical period, including Neuroligin–Neurexin signalling. Reduced signalling destabilized dendritic microtubules, increased dendrite dynamicity and impaired locomotor behaviour, underscoring the importance of critical period closure. Previous work defined astroglia as regulators of plasticity at individual synapses4; we show here that astrocytes also regulate motor circuit critical period closure to ensure proper locomotor behaviour.
Relevant articles
Open Access articles citing this article.
Yupu Wang

,

Ruiling Zhang

…

Robert A. Carrillo

Nature Communications Open Access 24 July 2023

Ellen C. Gingrich

,

Kendra Case

&

A. Denise R. Garcia

Neural Development Open Access 14 January 2022

Rebecca Shi

,

Daniel A. Kramer

…

Kang Shen

Neural Development Open Access 19 July 2021
Access options
Access Nature and 54 other Nature Portfolio journals
Get Nature+, our best-value online-access subscription
$29.99 / 30 days
cancel any time
Subscribe to this journal
Receive 51 print issues and online access
$199.00 per year
only $3.90 per issue
Rent or buy this article
Prices vary by article type
from$1.95
to$39.95
Prices may be subject to local taxes which are calculated during checkout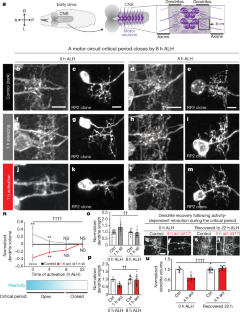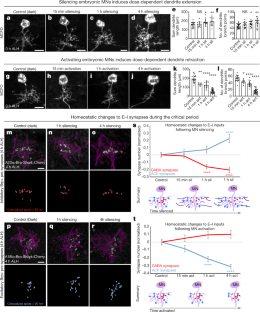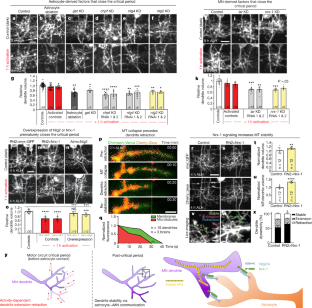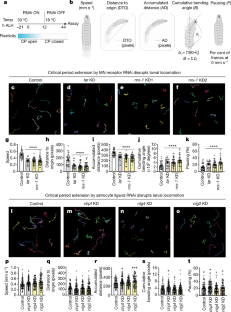 Data availability
The raw data files generated during and/or analysed during the current study are available from the corresponding authors on reasonable request. Raw data for any main or supplementary figure (.lsm, .czi or .avi files) can be supplied upon reasonable request.
References
Keck, T. et al. Integrating Hebbian and homeostatic plasticity: the current state of the field and future research directions. Phil. Trans. R. Soc. Lond. B 372, rstb.2016.0158 (2017).

Takesian, A. E. & Hensch, T. K. Balancing plasticity/stability across brain development. Prog. Brain Res. 207, 3–34 (2013).

Stork, T., Sheehan, A., Tasdemir-Yilmaz, O. E. & Freeman, M. R. Neuron–glia interactions through the Heartless FGF receptor signaling pathway mediate morphogenesis of Drosophila astrocytes. Neuron 83, 388–403 (2014).

Allen, N. J. & Eroglu, C. Cell biology of astrocyte–synapse interactions. Neuron 96, 697–708 (2017).

Walton, K. D., Lieberman, D., Llinás, A., Begin, M. & Llinás, R. R. Identification of a critical period for motor development in neonatal rats. Neuroscience 51, 763–767 (1992).

Kalb, R. G. & Hockfield, S. Electrical activity in the neuromuscular unit can influence the molecular development of motor neurons. Dev. Biol. 162, 539–548 (1994).

Hübener, M. & Bonhoeffer, T. Neuronal plasticity: beyond the critical period. Cell 159, 727–737 (2014).

Liu, Q. et al. Branch-specific plasticity of a bifunctional dopamine circuit encodes protein hunger. Science 356, 534–539 (2017).

LeBlanc, J. J. & Fagiolini, M. Autism: a "critical period" disorder? Neural Plast. 2011, 921680 (2011).

Werker, J. F. & Hensch, T. K. Critical periods in speech perception: new directions. Annu. Rev. Psychol. 66, 173–196 (2015).

Landgraf, M., Jeffrey, V., Fujioka, M., Jaynes, J. B. & Bate, M. Embryonic origins of a motor system: motor dendrites form a myotopic map in Drosophila. PLoS Biol. 1, E41 (2003).

Tripodi, M., Evers, J. F., Mauss, A., Bate, M. & Landgraf, M. Structural homeostasis: compensatory adjustments of dendritic arbor geometry in response to variations of synaptic input. PLoS Biol. 6, e260 (2008).

Vonhoff, F., Kuehn, C., Blumenstock, S., Sanyal, S. & Duch, C. Temporal coherency between receptor expression, neural activity and AP-1-dependent transcription regulates Drosophila motoneuron dendrite development. Development 140, 606–616 (2013).

Giachello, C. N. G. & Baines, R. A. Inappropriate neural activity during a sensitive period in embryogenesis results in persistent seizure-like behavior. Curr. Biol. 25, 2964–2968 (2015).

Mauss, A. S., Busch, C. & Borst, A. Optogenetic neuronal silencing in Drosophila during visual processing. Sci. Rep. 7, 13823 (2017).

Carreira-Rosario, A. et al. MDN brain descending neurons coordinately activate backward and inhibit forward locomotion. eLife 7, e38554 (2018).

Nern, A., Pfeiffer, B. D. & Rubin, G. M. Optimized tools for multicolor stochastic labeling reveal diverse stereotyped cell arrangements in the fly visual system. Proc. Natl Acad. Sci. USA 112, E2967–E2976 (2015).

Peng, J. J. et al. A circuit-dependent ROS feedback loop mediates glutamate excitotoxicity to sculpt the Drosophila motor system. eLife 8, e47372 (2019).

Oswald, M. C. et al. Reactive oxygen species regulate activity-dependent neuronal plasticity in Drosophila. eLife 7, e39393 (2018).

Kitamoto, T. Conditional modification of behavior in Drosophila by targeted expression of a temperature-sensitive shibire allele in defined neurons. J. Neurobiol. 47, 81–92 (2001).

Crisp, S. J., Evers, J. F. & Bate, M. Endogenous patterns of activity are required for the maturation of a motor network. J. Neurosci. 31, 10445–10450 (2011).

Jarecki, J. & Keshishian, H. Role of neural activity during synaptogenesis in Drosophila. J. Neurosci. 15, 8177–8190 (1995).

Hensch, T. K. Critical period regulation. Annu. Rev. Neurosci. 27, 549–579 (2004).

Turrigiano, G. Homeostatic synaptic plasticity: local and global mechanisms for stabilizing neuronal function. Cold Spring Harb. Perspect. Biol. 4, a005736 (2012).

Horton, A. C. et al. Polarized secretory trafficking directs cargo for asymmetric dendrite growth and morphogenesis. Neuron 48, 757–771 (2005).

Taylor, C. A., Yan, J., Howell, A. S., Dong, X. & Shen, K. RAB-10 regulates dendritic branching by balancing dendritic transport. PLoS Genet. 11, e1005695 (2015).

Schneider-Mizell, C. M. et al. Quantitative neuroanatomy for connectomics in Drosophila. eLife 5, e12059 (2016).

Zarin, A. A., Mark, B., Cardona, A., Litwin-Kumar, A. & Doe, C. Q. A multilayer circuit architecture for the generation of distinct locomotor behaviors in Drosophila. eLife 8, e51781 (2019).

Berger-Müller, S. et al. Assessing the role of cell-surface molecules in central synaptogenesis in the Drosophila visual system. PLoS ONE 8, e83732 (2013).

Sales, E. C., Heckman, E. L., Warren, T. L. & Doe, C. Q. Regulation of subcellular dendritic synapse specificity by axon guidance cues. eLife 8, e43478 (2019).

Andlauer, T. F. M. et al. Drep-2 is a novel synaptic protein important for learning and memory. eLife 3, e03895 (2014).

Perkins, L. A. et al. The Transgenic RNAi Project at Harvard Medical School: resources and validation. Genetics 201, 843–852 (2015).

Stogsdill, J. A. et al. Astrocytic neuroligins control astrocyte morphogenesis and synaptogenesis. Nature 551, 192–197 (2017).

Liu, L. et al. Neurexin restricts axonal branching in columns by promoting Ephrin clustering. Dev. Cell 41, 94–106.e4 (2017).

Xing, G. et al. Neurexin–Neuroligin 1 regulates synaptic morphology and functions via the WAVE regulatory complex in Drosophila neuromuscular junction. eLife 7, e30457 (2018).

Duan, Y. & Giger, R. J. A new role for RPTPsigma in spinal cord injury: signaling chondroitin sulfate proteoglycan inhibition. Sci. Signal. 3, pe6 (2010).

Savas, J. N. et al. The sorting receptor SorCS1 regulates trafficking of Neurexin and AMPA receptors. Neuron 87, 764–780 (2015).

Fairless, R. et al. Polarized targeting of neurexins to synapses is regulated by their C-terminal sequences. J. Neurosci. 28, 12969–12981 (2008).

Taniguchi, H. et al. Silencing of neuroligin function by postsynaptic neurexins. J. Neurosci. 27, 2815–2824 (2007).

Jia, Y. et al. Next-generation CRISPR/Cas9 transcriptional activation in Drosophila using flySAM. Proc. Natl Acad. Sci. USA 115, 4719–4724 (2018).

Banerjee, S. & Riordan, M. Coordinated regulation of axonal microtubule organization and transport by Drosophila Neurexin and BMP pathway. Sci. Rep. 8, 17337 (2018).

Blanco-Suarez, E., Liu, T.-F., Kopelevich, A. & Allen, N. J. Astrocyte-secreted Chordin-like 1 drives synapse maturation and limits plasticity by increasing synaptic GluA2 AMPA receptors. Neuron 100, 1116–1132.e13 (2018).

Singh, S. K. et al. Astrocytes assemble thalamocortical synapses by bridging NRX1α and NL1 via Hevin. Cell 164, 183–196 (2016).

Harauzov, A. et al. Reducing intracortical inhibition in the adult visual cortex promotes ocular dominance plasticity. J. Neurosci. 30, 361–371 (2010).

Dzyubenko, E., Gottschling, C. & Faissner, A. Neuron–glia interactions in neural plasticity: contributions of neural extracellular matrix and perineuronal nets. Neural Plast. 2016, 5214961 (2016).

Crisp, S., Evers, J. F., Fiala, A. & Bate, M. The development of motor coordination in Drosophila embryos. Development 135, 3707–3717 (2008).

Volpi, S., Bongiorni, S., Fabbretti, F., Wakimoto, B. T. & Prantera, G. Drosophila rae1 is required for male meiosis and spermatogenesis. J. Cell Sci. 126, 3541–3551 (2013).

Tenedini, F. M. et al. Maintenance of cell type-specific connectivity and circuit function requires Tao kinase. Nat. Commun. 10, 3506 (2019).

Doherty, J., Logan, M. A., Tasdemir, O. E. & Freeman, M. R. Ensheathing glia function as phagocytes in the adult Drosophila brain. J. Neurosci. 29, 4768–4781 (2009).

Herranz, H., Weng, R. & Cohen, S. M. Crosstalk between epithelial and mesenchymal tissues in tumorigenesis and imaginal disc development. Curr. Biol. 24, 1476–1484 (2014).

Banovic, D. et al. Drosophila neuroligin 1 promotes growth and postsynaptic differentiation at glutamatergic neuromuscular junctions. Neuron 66, 724–738 (2010).

Pulver, S. R., Pashkovski, S. L., Hornstein, N. J., Garrity, P. A. & Griffith, L. C. Temporal dynamics of neuronal activation by Channelrhodopsin-2 and TRPA1 determine behavioral output in Drosophila larvae. J. Neurophysiol. 101, 3075–3088 (2009).

Klapoetke, N. C. et al. Independent optical excitation of distinct neural populations. Nat. Methods 11, 338–346 (2014).

Govorunova, E. G. Sineshchekov, O. A., Janz, R., Liu, X. & Spudich, J. L. Natural light-gated anion channels: a family of microbial rhodopsins for advanced optogenetics. Science 349, 647–650 (2015).

Li, J. Ashley, J., Budnik, V. & Bhat, M. A. Crucial role of Drosophila neurexin in proper active zone apposition to postsynaptic densities, synaptic growth, and synaptic transmission. Neuron 55, 741–755 (2007).

Chen, Y.-C. et al. Drosophila neuroligin 2 is required presynaptically and postsynaptically for proper synaptic differentiation and synaptic transmission. J. Neurosci. 32, 16018–16030 (2012).

Risse, B. et al. FIM, a novel FTIR-based imaging method for high throughput locomotion analysis. PLoS ONE 8, e53963 (2013).
Acknowledgements
We thank T. Suzuki, S. Cohen, E. Heckscher, V. Jayaraman and H. Aberle for providing fly stocks; M. Bhat for providing antibodies; K. Monk, J. Skeath, D. Lyons, R. Baines and members of the Doe laboratory for comments on the manuscript. Stocks obtained from the Bloomington Drosophila Stock Center and Shigen National Institute of Genetics (NIH P40OD018537) were used in this study. Funding was provided by HHMI (C.Q.D.), R01 HD27056 (C.Q.D.), R01 NS059991 (M.R.F.) and NIH F32NS098690 (S.D.A.). S.D.A. is a Milton Safenowitz Post-doctoral fellow of the ALSA.
Ethics declarations
Competing interests
The authors declare no competing interests.
Additional information
Peer review information Nature thanks the anonymous reviewer(s) for their contribution to the peer review of this work. Peer reviewer reports are available.
Publisher's note Springer Nature remains neutral with regard to jurisdictional claims in published maps and institutional affiliations.
Extended data figures and tables
Supplementary information
About this article
Cite this article
Ackerman, S.D., Perez-Catalan, N.A., Freeman, M.R. et al. Astrocytes close a motor circuit critical period. Nature 592, 414–420 (2021). https://doi.org/10.1038/s41586-021-03441-2
Received:

Accepted:

Published:

Issue Date:

DOI: https://doi.org/10.1038/s41586-021-03441-2
Comments
By submitting a comment you agree to abide by our Terms and Community Guidelines. If you find something abusive or that does not comply with our terms or guidelines please flag it as inappropriate.