This is a preview of subscription content
Access options
Subscribe to Journal
Get full journal access for 1 year
$199.00
only $3.90 per issue
All prices are NET prices.
VAT will be added later in the checkout.
Tax calculation will be finalised during checkout.
Rent or Buy article
Get time limited or full article access on ReadCube.
from$8.99
All prices are NET prices.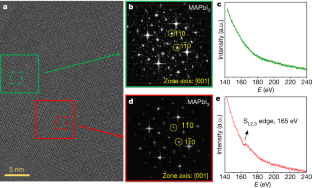 Data availability
The data within this paper and findings of this study are available from the corresponding author upon reasonable request.
References
1.

Ning, Z. et al. Quantum-dot-in-perovskite solids. Nature 523, 324–328 (2015).

2.

Deng, Y.-H. Perovskite decomposition and missing crystal planes in HRTEM. Nature https://doi.org/10.1038/s41586-021-03423-4 (2021).

3.

Chen, S. et al. Atomic scale insights into structure instability and decomposition pathway of methylammonium lead iodide perovskite. Nat. Commun. 9, 4807 (2018).

4.

Zhu, H. et al. Lead halide perovskite nanowire lasers with low lasing thresholds and high quality factors. Nat. Mater. 14, 636–642 (2015).

5.

Gao, L. et al. Passivated single-crystalline CH3NH3PbI3 nanowire photodetector with high detectivity and polarization sensitivity. Nano Lett. 16, 7446–7454 (2016).

6.

Kollek, T. et al. Porous and shape-anisotropic single crystals of the semiconductor perovskite CH3NH3PbI3 from a single-source precursor. Angew. Chem. Int. Ed. 54, 1341–1346 (2015).

7.

Son, D. Y. et al. Self-formed grain boundary healing layer for highly efficient CH3NH3PbI3 perovskite solar cells. Nat. Energy 1, 16081 (2016).

8.

Long, M. et al. Textured CH3NH3PbI3 thin film with enhanced stability for high performance perovskite solar cells. Nano Energy 33, 485–496 (2017).

9.

Zhu, F. et al. Shape evolution and single particle luminescence of organometal halide perovskite nanocrystals. ACS Nano 9, 2948–2959 (2015).

10.

Fan, Z. et al. Layer-by-layer degradation of methylammonium lead tri-iodide perovskite microplates. Joule 1, 548–562 (2017).

11.

Jung, Y. K., Butler, K. T. & Walsh, A. Halide perovskite heteroepitaxy: bond formation and carrier confinement at the PbS–CsPbBr3 interface. J. Phys. Chem. C 121, 27351–27356 (2017).

12.

Sytnyk, M. et al. Quasi-epitaxial metal–halide perovskite ligand shells on PbS nanocrystals. ACS Nano 11, 1246–1256 (2017).

13.

Zhang, X. et al. Inorganic CsPbI3 perovskite coating on PbS quantum dot for highly efficient and stable infrared light converting solar cells. Adv. Energy Mater. 8, 1702049 (2018).

14.

Liu, M. et al. Lattice anchoring stabilizes solution-processed semiconductors. Nature 570, 96–101 (2019).

15.

Masi, S. et al. Chemi-structural stabilization of formamidinium lead iodide perovskite by using embedded quantum dots. ACS Energy Lett. 5, 418–427 (2020).

16.

Zhang, X. et al. PbS capped CsPbI3 nanocrystals for efficient and stable light-emitting devices using p-i-n structures. ACS Cent. Sci. 4, 1352–1359 (2018).

17.

Peng, J., Chen, Y., Zhang, X., Dong, A. & Liang, Z. Solid-state ligand-exchange fabrication of CH3NH3PbI3 capped PbS quantum dot solar cells. Adv. Sci. 3, 1500432 (2015).
Acknowledgements
The TEM characterization was supported by the Center for High-resolution Electron Microscopy (ChEM) at ShanghaiTech University. We thank Y. Yu, B. Yuan and K. Xu at ShanghaiTech University for the TEM measurement. We thank Y. Li at Stanford University for discussions.
Ethics declarations
Competing interests
The authors declare no competing interests.
Additional information
Publisher's note Springer Nature remains neutral with regard to jurisdictional claims in published maps and institutional affiliations.
About this article
Cite this article
Ning, Z., Gong, X., Comin, R. et al. Reply to: Perovskite decomposition and missing crystal planes in HRTEM. Nature 594, E8–E9 (2021). https://doi.org/10.1038/s41586-021-03424-3
Comments
By submitting a comment you agree to abide by our Terms and Community Guidelines. If you find something abusive or that does not comply with our terms or guidelines please flag it as inappropriate.