Abstract
Mammalian development, adult tissue homeostasis and the avoidance of severe diseases including cancer require a properly orchestrated cell cycle, as well as error-free genome maintenance. The key cell-fate decision to replicate the genome is controlled by two major signalling pathways that act in parallel—the MYC pathway and the cyclin D–cyclin-dependent kinase (CDK)–retinoblastoma protein (RB) pathway1,2. Both MYC and the cyclin D–CDK–RB axis are commonly deregulated in cancer, and this is associated with increased genomic instability. The autophagic tumour-suppressor protein AMBRA1 has been linked to the control of cell proliferation, but the underlying molecular mechanisms remain poorly understood. Here we show that AMBRA1 is an upstream master regulator of the transition from G1 to S phase and thereby prevents replication stress. Using a combination of cell and molecular approaches and in vivo models, we reveal that AMBRA1 regulates the abundance of D-type cyclins by mediating their degradation. Furthermore, by controlling the transition from G1 to S phase, AMBRA1 helps to maintain genomic integrity during DNA replication, which counteracts developmental abnormalities and tumour growth. Finally, we identify the CHK1 kinase as a potential therapeutic target in AMBRA1-deficient tumours. These results advance our understanding of the control of replication-phase entry and genomic integrity, and identify the AMBRA1–cyclin D pathway as a crucial cell-cycle-regulatory mechanism that is deeply interconnected with genomic stability in embryonic development and tumorigenesis.
Relevant articles
Open Access articles citing this article.
Chushan Wu

,

Weijiang Liu

…

Yi Zhang

Human Cell Open Access 25 February 2023

Christian Pangilinan

,

Xiaowei Xu

…

Chengyu Liang

Current Treatment Options in Oncology Open Access 21 January 2023

S. Voutilainen

,

P. Heikkilä

…

J. Mattson

BMC Cancer Open Access 12 December 2022
Access options
Access Nature and 54 other Nature Portfolio journals
Get Nature+, our best-value online-access subscription
$29.99 per month
cancel any time
Subscribe to this journal
Receive 51 print issues and online access
$199.00 per year
only $3.90 per issue
Rent or buy this article
Get just this article for as long as you need it
$39.95
Prices may be subject to local taxes which are calculated during checkout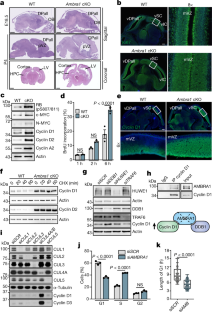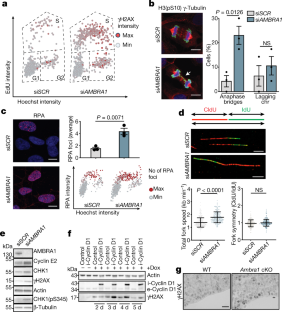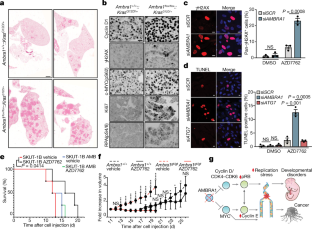 Data availability
Data from the Kaplan–Meier analysis in Extended Data Fig. 6g, h referenced during the study are available in a public repository from the websites (http://kmplot.com/ and http://gepia2.cancer-pku.cn/#analysis). AMBRA1 expression data and the stemness score (RNA-based) were downloaded from the Xena platform (http://xena.ucsc.edu/). The graph and map of AMBRA1 mutations in TCGA Pan-Cancer Atlas studies were downloaded from cBioPortal (https://www.cbioportal.org/). The original uncropped immunoblot data that support the findings of this study are available in Supplementary Fig. 1. A representative gating strategy for fluorescence-activated cell sorting (FACS) analysis is included in Supplementary Fig. 2. Source data are provided with this paper.
Code availability
All of the computer scripts and source codes used to generate and analyse the results from The Cancer Genome Atlas (TCGA) analyses presented in Extended Data Figs. 6a, 8a are available at https://github.com/ELELAB/AMBRA_low.
References
Sherr, C. J. & Sicinski, P. in D-type Cyclins and Cancer (eds Hinds, P. W. & Brown, N. E.) 1–26 (2018).

Otto, T. & Sicinski, P. Cell cycle proteins as promising targets in cancer therapy. Nat. Rev. Cancer 17, 93–115 (2017).

Cianfanelli, V. et al. Ambra1 at a glance. J. Cell Sci. 128, 2003–2008 (2015).

Antonioli, M. et al. AMBRA1 interplay with cullin E3 ubiquitin ligases regulates autophagy dynamics. Dev. Cell 31, 734–746 (2014).

Nazio, F. et al. mTOR inhibits autophagy by controlling ULK1 ubiquitylation, self-association and function through AMBRA1 and TRAF6. Nat. Cell Biol. 15, 406–416 (2013).

Cianfanelli, V. et al. AMBRA1 links autophagy to cell proliferation and tumorigenesis by promoting c-Myc dephosphorylation and degradation. Nat. Cell Biol. 17, 20–30 (2015).

Fimia, G. M. et al. Ambra1 regulates autophagy and development of the nervous system. Nature 447, 1121–1125 (2007).

Baldin, V., Lukas, J., Marcote, M. J., Pagano, M. & Draetta, G. Cyclin D1 is a nuclear protein required for cell cycle progression in G1. Genes Dev. 7, 812–821 (1993).

Mateyak, M. K., Obaya, A. J. & Sedivy, J. M. c-Myc regulates cyclin D-Cdk4 and -Cdk6 activity but affects cell cycle progression at multiple independent points. Mol. Cell. Biol. 19, 4672–4683 (1999).

Lange, C., Huttner, W. B. & Calegari, F. Cdk4/cyclinD1 overexpression in neural stem cells shortens G1, delays neurogenesis, and promotes the generation and expansion of basal progenitors. Cell Stem Cell 5, 320–331 (2009).

Di Rita, A. et al. HUWE1 E3 ligase promotes PINK1/PARKIN-independent mitophagy by regulating AMBRA1 activation via IKKα. Nat. Commun. 9, 3755 (2018).

Diehl, J. A., Zindy, F. & Sherr, C. J. Inhibition of cyclin D1 phosphorylation on threonine-286 prevents its rapid degradation via the ubiquitin-proteasome pathway. Genes Dev. 11, 957–972 (1997).

Di Bartolomeo, S. et al. The dynamic interaction of AMBRA1 with the dynein motor complex regulates mammalian autophagy. J. Cell Biol. 191, 155–168 (2010).

Liu, E. Y. et al. Loss of autophagy causes a synthetic lethal deficiency in DNA repair. Proc. Natl Acad. Sci. USA 112, 773–778 (2015).

Burrell, R. A. et al. Replication stress links structural and numerical cancer chromosomal instability. Nature 494, 492–496 (2013).

Fragkos, M. & Naim, V. Rescue from replication stress during mitosis. Cell Cycle 16, 613–633 (2017).

Wilhelm, T. et al. Spontaneous slow replication fork progression elicits mitosis alterations in homologous recombination-deficient mammalian cells. Proc. Natl Acad. Sci. USA 111, 763–768 (2014).

Lukas, C. et al. 53BP1 nuclear bodies form around DNA lesions generated by mitotic transmission of chromosomes under replication stress. Nat. Cell Biol. 13, 243–253 (2011).

Maya-Mendoza, A. et al. High speed of fork progression induces DNA replication stress and genomic instability. Nature 559, 279–284 (2018).

Petermann, E., Woodcock, M. & Helleday, T. Chk1 promotes replication fork progression by controlling replication initiation. Proc. Natl Acad. Sci. USA 107, 16090–16095 (2010).

Feijoo, C. et al. Activation of mammalian Chk1 during DNA replication arrest: a role for Chk1 in the intra-S phase checkpoint monitoring replication origin firing. J. Cell Biol. 154, 913–923 (2001).

Bartkova, J. et al. Oncogene-induced senescence is part of the tumorigenesis barrier imposed by DNA damage checkpoints. Nature 444, 633–637 (2006).

Lukas, J., Bartkova, J., Rohde, M., Strauss, M. & Bartek, J. Cyclin D1 is dispensable for G1 control in retinoblastoma gene-deficient cells independently of cdk4 activity. Mol. Cell. Biol. 15, 2600–2611 (1995).

Bartek, J. & Lukas, J. Pathways governing G1/S transition and their response to DNA damage. FEBS Lett. 490, 117–122 (2001).

Chaikovsky, A. C. et al. The AMBRA1 E3 ligase adaptor regulates the stability of cyclin D. Nature https://doi.org/10.1038/s41586-021-03474-7 (2021).

Simoneschi, D. et al. CRL4AMBRA1 is a master regulator of D-type cyclins. Nature https://doi.org/10.1038/s41586-021-03445-y (2021).

Murga, M. et al. Exploiting oncogene-induced replicative stress for the selective killing of Myc-driven tumors. Nat. Struct. Mol. Biol. 18, 1331–1335 (2011).

Syljuåsen, R. G. et al. Inhibition of human Chk1 causes increased initiation of DNA replication, phosphorylation of ATR targets, and DNA breakage. Mol. Cell. Biol. 25, 3553–3562 (2005).

Sen, T. et al. CHK1 inhibition in small-cell lung cancer produces single-agent activity in biomarker-defined disease subsets and combination activity with cisplatin or olaparib. Cancer Res. 77, 3870–3884 (2017).

Bartek, J., Mistrik, M. & Bartkova, J. Thresholds of replication stress signaling in cancer development and treatment. Nat. Struct. Mol. Biol. 19, 5–7 (2012).

Toledo, L. I., Murga, M. & Fernandez-Capetillo, O. Targeting ATR and Chk1 kinases for cancer treatment: a new model for new (and old) drugs. Mol. Oncol. 5, 368–373 (2011).

Dere, E. et al. Heterozygous Ambra1 deficiency in mice: a genetic trait with autism-like behavior restricted to the female gender. Front. Behav. Neurosci. 8, 181 (2014).

La Barbera, L., Vedele, F., Nobili, A., D'Amelio, M. & Krashia, P. Neurodevelopmental disorders: functional role of ambra1 in autism and schizophrenia. Mol. Neurobiol. 56, 6716–6724 (2019).

Kuleshov, M. V. et al. Enrichr: a comprehensive gene set enrichment analysis web server 2016 update. Nucleic Acids Res. 44, W90–W97 (2016).

Chen, E. Y. et al. Enrichr: interactive and collaborative HTML5 gene list enrichment analysis tool. BMC Bioinformatics 14, 128 (2013).

Tang, Z. et al. GEPIA: a web server for cancer and normal gene expression profiling and interactive analyses. Nucleic Acids Res. 45, W98–W102 (2017).

Nagy, A., Gyöngyi, M. & Győrffy, B. Pancancer survival analysis of cancer hallmark genes. Sci. Rep. 11, 6047 (2021).
Acknowledgements
E. Maiani is an Adjunct Professor at UniCamillus—Saint Camillus International University of Health Sciences. The F.C. laboratory is supported by grants from the Danish Cancer Society (KBVU R72-A4408, R146-A9364, R231-A14034 to F.C.; R146-A9471 to V. Cianfanelli; R146-A9414 to G.F.; R204-A12424 to D.D.Z.), the Novo Nordisk Foundation (NNF13OC0007559, NNF16OC0022544), the Lundbeck Foundation (R233-2016-3360 to F.C.; R209-2015-3505 to V. Cianfanelli), the LEO Foundation (LF17024 to F.C. and E. Papaleo; LF-OC-19-000004 to D.D.Z.), the Associazione Italiana per la Ricerca sul Cancro (AIRC project IG 2019 #23543 to F.C.; #22811 to L.L.; 5x1000 #9962 and AIRC IG 2018 #21724 to F.L.), the Italian Ministry of Research (MIUR, project PRIN 2017 FS5SHL Radius) and the Italian Ministry of Health (Ricerca Corrente to F.L. and F.N.). This work was also supported by the European Union's Horizon 2020 research and innovation program (Marie Sklodowska-Curie grant agreement 642295 (MEL-PLEX)). D.D.Z. is supported by the Melanoma Research Alliance (MRA 620385). The F.C., J. Bartek and E. Papaleo laboratories in Copenhagen are part of the Center of Excellence for Autophagy, Recycling and Disease (CARD), funded by the Danmarks Grundforskningsfond (DNRF125). L.L. is supported by FPRC 5x1000 Ministero della Salute 2015. V. Cianfanelli, C.M. and M.B. are supported by the Fondazione Umberto Veronesi. M.P. is funded by grants from the National Institute of Health (R01-CA76584 and R35-GM136250) and is an investigator with the Howard Hughes Medical Institute; the work of E. Papaleo is supported by the Carlsberg Foundation Distinguished Fellowship (CF18-0314); work in the G.V. group is supported by the PI15/00339 grant, integrated into the State Plan for R&D + I2013-2016 and funded by the Instituto de Salud Carlos III (ISCIII) and the European Regional Development Fund (ERDF), by the Marie Skłodowska-Curie Innovative Training Network (ITN) action TRAIN (GA 721532) funded by the European Commission (H2020) and by grants from Voices Against Brain Cancer and 'Fundació La Marató de TV3' (20134031). J. Bartek, J. Bartkova and A.M.-M. are supported by grants from the Danish Cancer Society (R204-A12617-B153), the Novo Nordisk Foundation (16854 and 0060590), the Danish Council for Independent Research (DFF-7016-00313), the Lundbeck Foundation (R266-2017-4289), the Swedish Research Council (VR-MH 2014-46602-117891-30) and the Swedish Cancerfonden (170176). We thank P. Bonaldo and P. Braghetta for the generation of the Ambra1flox/flox mouse model, V. Turcanova for help with cloning and mutagenesis, Plaisant S.r.l. (Castel Romano) and the Danish Cancer Society animal facilities for help with in vivo experiments, V. Tocco and the FACS facility members for technical help in the flow cytometry analysis and C. Rodolfo for his help and support. G.M. is grateful to A. M. Gatta and V. Milletti for their support.
Ethics declarations
Competing interests
M.P. is a consultant for and has financial interests in Coho Therapeutics, CullGen, Kymera Therapeutics and SEED Therapeutics. M.P. is a cofounder of Coho Therapeutics, is on the Scientific Advisory Board of CullGen and Kymera Therapeutics, and is a consultant for Santi Therapeutics. The other authors declare no competing interests.
Additional information
Peer review information Nature thanks Piotr Sicinski and the other, anonymous, reviewer(s) for their contribution to the peer review of this work. Peer reviewer reports are available.
Publisher's note Springer Nature remains neutral with regard to jurisdictional claims in published maps and institutional affiliations.
Extended data figures and tables
Supplementary information
About this article
Cite this article
Maiani, E., Milletti, G., Nazio, F. et al. AMBRA1 regulates cyclin D to guard S-phase entry and genomic integrity. Nature 592, 799–803 (2021). https://doi.org/10.1038/s41586-021-03422-5
Received:

Accepted:

Published:

Issue Date:

DOI: https://doi.org/10.1038/s41586-021-03422-5
Comments
By submitting a comment you agree to abide by our Terms and Community Guidelines. If you find something abusive or that does not comply with our terms or guidelines please flag it as inappropriate.