Abstract
Bile acids are lipid-emulsifying metabolites synthesized in hepatocytes and maintained in vivo through enterohepatic circulation between the liver and small intestine1. As detergents, bile acids can cause toxicity and inflammation in enterohepatic tissues2. Nuclear receptors maintain bile acid homeostasis in hepatocytes and enterocytes3, but it is unclear how mucosal immune cells tolerate high concentrations of bile acids in the small intestine lamina propria (siLP). CD4+ T effector (Teff) cells upregulate expression of the xenobiotic transporter MDR1 (encoded by Abcb1a) in the siLP to prevent bile acid toxicity and suppress Crohn's disease-like small bowel inflammation4. Here we identify the nuclear xenobiotic receptor CAR (encoded by Nr1i3) as a regulator of MDR1 expression in T cells that can safeguard against bile acid toxicity and inflammation in the mouse small intestine. Activation of CAR induced large-scale transcriptional reprogramming in Teff cells that infiltrated the siLP, but not the colon. CAR induced the expression of not only detoxifying enzymes and transporters in siLP Teff cells, as in hepatocytes, but also the key anti-inflammatory cytokine IL-10. Accordingly, CAR deficiency in T cells exacerbated bile acid-driven ileitis in T cell-reconstituted Rag1−/− or Rag2−/− mice, whereas pharmacological activation of CAR suppressed it. These data suggest that CAR acts locally in T cells that infiltrate the small intestine to detoxify bile acids and resolve inflammation. Activation of this program offers an unexpected strategy to treat small bowel Crohn's disease and defines lymphocyte sub-specialization in the small intestine.
Relevant articles
Open Access articles citing this article.
Ioannis Evangelakos

,

Joerg Heeren

…

Folkert Kuipers

Seminars in Immunopathology Open Access 08 July 2021
Access options
Access Nature and 54 other Nature Portfolio journals
Get Nature+, our best-value online-access subscription
$29.99 per month
cancel any time
Subscribe to this journal
Receive 51 print issues and online access
$199.00 per year
only $3.90 per issue
Rent or buy this article
Get just this article for as long as you need it
$39.95
Prices may be subject to local taxes which are calculated during checkout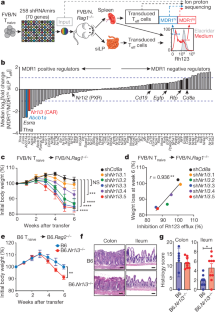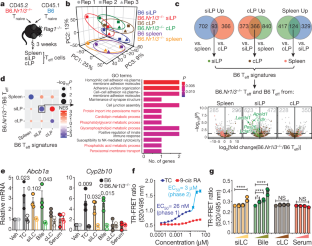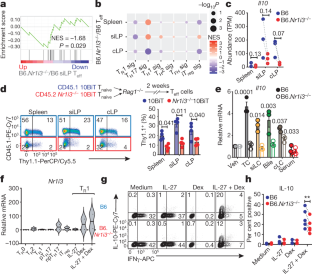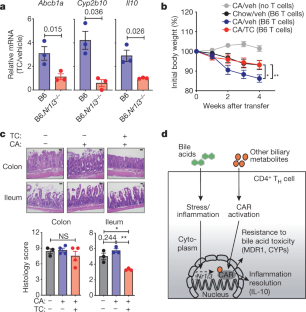 Data availability
RNA-seq data for mouse (GSE149218) and human (GSE149219) CD4+ T cells described here are publicly available at the NCBI Gene Expression Omnibus (GEO) repository (series no. GSE149220). Sequence and other information related to shRNAmir retroviral constructs used in the pooled in vivo RNAi screen (related to Fig. 1, Extended Data Fig. 1), as well as complete gene lists derived from differential gene expression analyses of wild-type and Nr1i3−/− Teff cells (related to Figs. 2a–d, 3a–c) and statistical analysis of differences between in vitro-polarized wild-type and Nr1i3−/− CD4+ T cells (related to Fig. 3h, i), are available in the Supplementary Information. Other relevant data are available from the corresponding authors upon reasonable request. Previously generated ChIP–seq and RNA-seq datasets analysed in this study include GEO accession numbers GSE104734,GSE112199,GSE92940 andGSE21670. Datasets obtained from the Molecular Signature Database (MSigDB; https://www.gsea-msigdb.org/) derive from GEO accession numbers GSE14308 andGSE21379. Source data are provided with this paper.
References
Hofmann, A. F. & Hagey, L. R. Key discoveries in bile acid chemistry and biology and their clinical applications: history of the last eight decades. J. Lipid Res. 55, 1553–1595 (2014).

Poupon, R., Chazouillères, O. & Poupon, R. E. Chronic cholestatic diseases. J. Hepatol. 32 (Suppl. 1), 129–140 (2000).

Arab, J. P., Karpen, S. J., Dawson, P. A., Arrese, M. & Trauner, M. Bile acids and nonalcoholic fatty liver disease: Molecular insights and therapeutic perspectives. Hepatology 65, 350–362 (2017).

Cao, W. et al. The xenobiotic transporter Mdr1 enforces T cell homeostasis in the presence of intestinal bile acids. Immunity 47, 1182–1196 (2017).

Lazar, M. A. Maturing of the nuclear receptor family. J. Clin. Invest. 127, 1123–1125 (2017).

Chen, R. et al. In vivo RNA interference screens identify regulators of antiviral CD4+ and CD8+ T cell differentiation. Immunity 41, 325–338 (2014).

Ludescher, C. et al. Detection of activity of P-glycoprotein in human tumour samples using rhodamine 123. Br. J. Haematol. 82, 161–168 (1992).

Zhang, J., Huang, W., Qatanani, M., Evans, R. M. & Moore, D. D. The constitutive androstane receptor and pregnane X receptor function coordinately to prevent bile acid-induced hepatotoxicity. J. Biol. Chem. 279, 49517–49522 (2004).

Cerveny, L. et al. Valproic acid induces CYP3A4 and MDR1 gene expression by activation of constitutive androstane receptor and pregnane X receptor pathways. Drug Metab. Dispos. 35, 1032–1041 (2007).

Wei, P., Zhang, J., Egan-Hafley, M., Liang, S. & Moore, D. D. The nuclear receptor CAR mediates specific xenobiotic induction of drug metabolism. Nature 407, 920–923 (2000).

Evans, R. M. & Mangelsdorf, D. J. Nuclear receptors, RXR, and the big bang. Cell 157, 255–266 (2014).

Staudinger, J. L. et al. The nuclear receptor PXR is a lithocholic acid sensor that protects against liver toxicity. Proc. Natl Acad. Sci. USA 98, 3369–3374 (2001).

Ostanin, D. V. et al. T cell transfer model of chronic colitis: concepts, considerations, and tricks of the trade. Am. J. Physiol. Gastrointest. Liver Physiol. 296, G135–G146 (2009).

Arnold, M. A. et al. Colesevelam and colestipol: novel medication resins in the gastrointestinal tract. Am. J. Surg. Pathol. 38, 1530–1537 (2014).

Dawson, P. A., Lan, T. & Rao, A. Bile acid transporters. J. Lipid Res. 50, 2340–2357 (2009).

Cui, J. Y. & Klaassen, C. D. RNA-seq reveals common and unique PXR- and CAR-target gene signatures in the mouse liver transcriptome. Biochim. Biophys. Acta 1859, 1198–1217 (2016).

Niu, B. et al. In vivo genome-wide binding interactions of mouse and human constitutive androstane receptors reveal novel gene targets. Nucleic Acids Res. 46, 8385–8403 (2018).

De Calisto, J. et al. T-cell homing to the gut mucosa: general concepts and methodological considerations. Methods Mol. Biol. 757, 411–434 (2012).

Maglich, J. M. et al. Identification of a novel human constitutive androstane receptor (CAR) agonist and its use in the identification of CAR target genes. J. Biol. Chem. 278, 17277–17283 (2003).

Ramesh, R. et al. Pro-inflammatory human Th17 cells selectively express P-glycoprotein and are refractory to glucocorticoids. J. Exp. Med. 211, 89–104 (2014).

Moore, L. B. et al. Pregnane X receptor (PXR), constitutive androstane receptor (CAR), and benzoate X receptor (BXR) define three pharmacologically distinct classes of nuclear receptors. Mol. Endocrinol. 16, 977–986 (2002).

Karwacz, K. et al. Critical role of IRF1 and BATF in forming chromatin landscape during type 1 regulatory cell differentiation. Nat. Immunol. 18, 412–421 (2017).

Gagliani, N. et al. Coexpression of CD49b and LAG-3 identifies human and mouse T regulatory type 1 cells. Nat. Med. 19, 739–746 (2013).

Korn, T., Bettelli, E., Oukka, M. & Kuchroo, V. K. IL-17 and Th17 cells. Annu. Rev. Immunol. 27, 485–517 (2009).

Maynard, C. L. et al. Regulatory T cells expressing interleukin 10 develop from Foxp3+ and Foxp3− precursor cells in the absence of interleukin 10. Nat. Immunol. 8, 931–941 (2007).

Sano, T. et al. An IL-23R/IL-22 circuit regulates epithelial serum amyloid A to promote local effector Th17 responses. Cell 163, 381–393 (2015).

Wan, Q. et al. Cytokine signals through PI-3 kinase pathway modulate Th17 cytokine production by CCR6+ human memory T cells. J. Exp. Med. 208, 1875–1887 (2011).

Yadava, K. et al. Natural Tr1-like cells do not confer long-term tolerogenic memory. eLife 8, e44821 (2019).

Barrat, F. J. et al. In vitro generation of interleukin 10-producing regulatory CD4+ T cells is induced by immunosuppressive drugs and inhibited by T helper type 1 (Th1)- and Th2-inducing cytokines. J. Exp. Med. 195, 603–616 (2002).

Song, X. et al. Microbial bile acid metabolites modulate gut RORγ+ regulatory T cell homeostasis. Nature 577, 410–415 (2020).

Knott, S. R. V. et al. A computational algorithm to predict shRNA potency. Mol. Cell 56, 796–807 (2014).

Fellmann, C. et al. An optimized microRNA backbone for effective single-copy RNAi. Cell Rep. 5, 1704–1713 (2013).

Kim, J. J., Shajib, M. S., Manocha, M. M. & Khan, W. I. Investigating intestinal inflammation in DSS-induced model of IBD. J. Vis. Exp. 60, 3678 (2012).

Berg, D. J. et al. Enterocolitis and colon cancer in interleukin-10-deficient mice are associated with aberrant cytokine production and CD4+ TH1-like responses. J. Clin. Invest. 98, 1010–1020 (1996).

Langmead, B. & Salzberg, S. L. Fast gapped-read alignment with Bowtie 2. Nat. Methods 9, 357–359 (2012).

Zhang, Y. et al. Model-based analysis of ChIP-Seq (MACS). Genome Biol. 9, R137 (2008).

Robinson, J. T. et al. Integrative genomics viewer. Nat. Biotechnol. 29, 24–26 (2011).

Patro, R., Duggal, G., Love, M. I., Irizarry, R. A. & Kingsford, C. Salmon provides fast and bias-aware quantification of transcript expression. Nat. Methods 14, 417–419 (2017).

Subramanian, A. et al. Gene set enrichment analysis: a knowledge-based approach for interpreting genome-wide expression profiles. Proc. Natl Acad. Sci. USA 102, 15545–15550 (2005).

Mootha, V. K. et al. PGC-1α-responsive genes involved in oxidative phosphorylation are coordinately downregulated in human diabetes. Nat. Genet. 34, 267–273 (2003).

Durant, L. et al. Diverse targets of the transcription factor STAT3 contribute to T cell pathogenicity and homeostasis. Immunity 32, 605–615 (2010).

Ritchie, M. E. et al. limma powers differential expression analyses for RNA-sequencing and microarray studies. Nucleic Acids Res. 43, e47 (2015).

Wei, G. et al. Global mapping of H3K4me3 and H3K27me3 reveals specificity and plasticity in lineage fate determination of differentiating CD4+ T cells. Immunity 30, 155–167 (2009).

Yusuf, I. et al. Germinal center T follicular helper cell IL-4 production is dependent on signaling lymphocytic activation molecule receptor (CD150). J. Immunol. 185, 190–202 (2010).

Suino, K. et al. The nuclear xenobiotic receptor CAR: structural determinants of constitutive activation and heterodimerization. Mol. Cell 16, 893–905 (2004).
Acknowledgements
We thank Core Facility staff at Scripps Florida and Baylor College of Medicine for technical support, and P. Dawson and A. Rao for discussions. This work was supported by Scripps Florida via the State of Florida (M.S.S.), the R. P. Doherty Jr.–Welch Chair in Science Q‐0022 at Baylor College of Medicine (D.D.M.), National Institute of Health grants R21AI119728 (M.S.S.), R01AI118931 (M.S.S.), U19AI109976 (M.E.P.), P01AI145815 (M.E.P.), R01DK113789 (C.T.W.) and F30DK127865 (B.F.), and Crohn's and Colitis Foundation (CCF) grants (Senior Research Award no. 422515 (M.S.S.) and Litwin IBD pioneer award no. 572171 (H.W.)).
Ethics declarations
Competing interests
M.S.S. is a consultant to Sigilon Therapeutics and Sage Therapeutics.
Additional information
Peer review information Nature thanks Richard Blumberg and the other, anonymous, reviewer(s) for their contribution to the peer review of this work.
Publisher's note Springer Nature remains neutral with regard to jurisdictional claims in published maps and institutional affiliations.
Extended data figures and tables
Supplementary information
This file contains Supplementary Tables 1–3.
About this article
Cite this article
Chen, M.L., Huang, X., Wang, H. et al. CAR directs T cell adaptation to bile acids in the small intestine. Nature 593, 147–151 (2021). https://doi.org/10.1038/s41586-021-03421-6
Received:

Accepted:

Published:

Issue Date:

DOI: https://doi.org/10.1038/s41586-021-03421-6
Comments
By submitting a comment you agree to abide by our Terms and Community Guidelines. If you find something abusive or that does not comply with our terms or guidelines please flag it as inappropriate.