Abstract
Chronic, sustained exposure to stressors can profoundly affect tissue homeostasis, although the mechanisms by which these changes occur are largely unknown. Here we report that the stress hormone corticosterone—which is derived from the adrenal gland and is the rodent equivalent of cortisol in humans—regulates hair follicle stem cell (HFSC) quiescence and hair growth in mice. In the absence of systemic corticosterone, HFSCs enter substantially more rounds of the regeneration cycle throughout life. Conversely, under chronic stress, increased levels of corticosterone prolong HFSC quiescence and maintain hair follicles in an extended resting phase. Mechanistically, corticosterone acts on the dermal papillae to suppress the expression of Gas6, a gene that encodes the secreted factor growth arrest specific 6. Restoring Gas6 expression overcomes the stress-induced inhibition of HFSC activation and hair growth. Our work identifies corticosterone as a systemic inhibitor of HFSC activity through its effect on the niche, and demonstrates that the removal of such inhibition drives HFSCs into frequent regeneration cycles, with no observable defects in the long-term.
Relevant articles
Open Access articles citing this article.
Tatsuto Kageyama

,

Jieun Seo

…

Junji Fukuda

Scientific Reports Open Access 20 October 2023

Bingdong Sui

,

Jin Liu

…

Chenghu Hu

International Journal of Oral Science Open Access 01 August 2022

Zhicao Yue

,

Fang Yang

…

Cheng-Ming Chuong

Cell Regeneration Open Access 01 July 2022
Access options
Access Nature and 54 other Nature Portfolio journals
Get Nature+, our best-value online-access subscription
$29.99 / 30 days
cancel any time
Subscribe to this journal
Receive 51 print issues and online access
$199.00 per year
only $3.90 per issue
Rent or buy this article
Prices vary by article type
from$1.95
to$39.95
Prices may be subject to local taxes which are calculated during checkout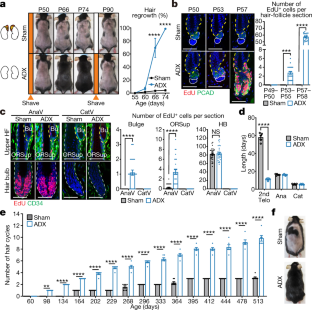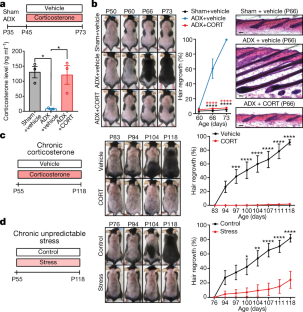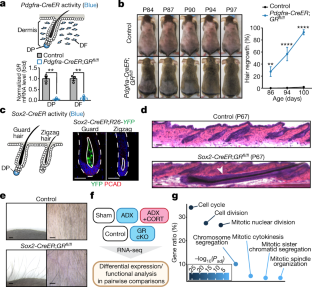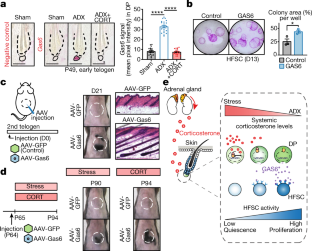 References
Shwartz, Y. et al. Cell types promoting goosebumps form a niche to regulate hair follicle stem cells. Cell 182, 578–593.e19 (2020).

Lay, K., Kume, T. & Fuchs, E. FOXC1 maintains the hair follicle stem cell niche and governs stem cell quiescence to preserve long-term tissue-regenerating potential. Proc. Natl Acad. Sci. USA 113, E1506–E1515 (2016).

Wang, L., Siegenthaler, J. A., Dowell, R. D. & Yi, R. Foxc1 reinforces quiescence in self-renewing hair follicle stem cells. Science 351, 613–617 (2016).

Plikus, M. V. et al. Cyclic dermal BMP signalling regulates stem cell activation during hair regeneration. Nature 451, 340–344 (2008).

Müller-Röver, S. et al. A comprehensive guide for the accurate classification of murine hair follicles in distinct hair cycle stages. J. Invest. Dermatol. 117, 3–15 (2001).

Greco, V. et al. A two-step mechanism for stem cell activation during hair regeneration. Cell Stem Cell 4, 155–169 (2009).

Hsu, Y. C., Li, L. & Fuchs, E. Transit-amplifying cells orchestrate stem cell activity and tissue regeneration. Cell 157, 935–949 (2014).

Sawaya, M. E. & Hordinsky, M. K. Glucocorticoid regulation of hair growth in alopecia areata. J. Invest. Dermatol. 104, 30S (1995).

Stenn, K. S., Paus, R., Dutton, T. & Sarba, B. Glucocorticoid effect on hair growth initiation: a reconsideration. Skin Pharmacol. 6, 125–134 (1993).

Pérez, P. et al. Altered skin development and impaired proliferative and inflammatory responses in transgenic mice overexpressing the glucocorticoid receptor. FASEB J. 15, 2030–2032 (2001).

Rose, J. & Sterner, M. The role of the adrenal glands in regulating onset of winter fur growth in mink (Mustela vison). J. Exp. Zool. 262, 469–473 (1992).

Butcher, E. O. Hair growth in adrenalectomized, and, adrenalectomized thyroxin-treated rats. Am. J. Physiol. 120, 427–434 (1937).

Whiteley, H. J. The effect of adrenalectomy and adrenocortical hormones on the hair growth cycle in the rabbit and rat. J. Endocrinol. 17, 167–176 (1958).

Hsu, Y. C., Pasolli, H. A. & Fuchs, E. Dynamics between stem cells, niche, and progeny in the hair follicle. Cell 144, 92–105 (2011).

Rompolas, P., Mesa, K. R. & Greco, V. Spatial organization within a niche as a determinant of stem-cell fate. Nature 502, 513–518 (2013).

Chen, C. C. et al. Regenerative hair waves in aging mice and extra-follicular modulators follistatin, Dkk1, and Sfrp4. J. Invest. Dermatol. 134, 2086–2096 (2014).

Keyes, B. E. et al. Nfatc1 orchestrates aging in hair follicle stem cells. Proc. Natl Acad. Sci. USA 110, E4950–E4959 (2013).

Walczak, E. M. & Hammer, G. D. Regulation of the adrenocortical stem cell niche: implications for disease. Nat. Rev. Endocrinol. 11, 14–28 (2015).

Besnard, A. et al. Targeting Kruppel-like factor 9 in excitatory neurons protects against chronic stress-induced impairments in dendritic spines and fear responses. Cell Rep. 23, 3183–3196 (2018).

Heidt, T. et al. Chronic variable stress activates hematopoietic stem cells. Nat. Med. 20, 754–758 (2014).

Tye, K. M. et al. Dopamine neurons modulate neural encoding and expression of depression-related behaviour. Nature 493, 537–541 (2013).

Enshell-Seijffers, D., Lindon, C., Kashiwagi, M. & Morgan, B. A. β-catenin activity in the dermal papilla regulates morphogenesis and regeneration of hair. Dev. Cell 18, 633–642 (2010).

Festa, E. et al. Adipocyte lineage cells contribute to the skin stem cell niche to drive hair cycling. Cell 146, 761–771 (2011).

Zhang, B. et al. Hair follicles' transit-amplifying cells govern concurrent dermal adipocyte production through Sonic Hedgehog. Genes Dev. 30, 2325–2338 (2016).

Clavel, C. et al. Sox2 in the dermal papilla niche controls hair growth by fine-tuning BMP signaling in differentiating hair shaft progenitors. Dev. Cell 23, 981–994 (2012).

Driskell, R. R., Giangreco, A., Jensen, K. B., Mulder, K. W. & Watt, F. M. Sox2-positive dermal papilla cells specify hair follicle type in mammalian epidermis. Development 136, 2815–2823 (2009).

Horsley, V., Aliprantis, A. O., Polak, L., Glimcher, L. H. & Fuchs, E. NFATc1 balances quiescence and proliferation of skin stem cells. Cell 132, 299–310 (2008).

Rhee, H., Polak, L. & Fuchs, E. Lhx2 maintains stem cell character in hair follicles. Science 312, 1946–1949 (2006).

Leishman, E. et al. Foxp1 maintains hair follicle stem cell quiescence through regulation of Fgf18. Development 140, 3809–3818 (2013).

Choi, Y. S. et al. Distinct functions for Wnt/β-catenin in hair follicle stem cell proliferation and survival and interfollicular epidermal homeostasis. Cell Stem Cell 13, 720–733 (2013).

Rothlin, C. V., Carrera-Silva, E. A., Bosurgi, L. & Ghosh, S. TAM receptor signaling in immune homeostasis. Annu. Rev. Immunol. 33, 355–391 (2015).

Wang, Y. et al. Axl-altered microRNAs regulate tumorigenicity and gefitinib resistance in lung cancer. Cell Death Dis. 5, e1227 (2014).

Asiedu, M. K. et al. AXL induces epithelial-to-mesenchymal transition and regulates the function of breast cancer stem cells. Oncogene 33, 1316–1324 (2014).

Balaji, K. et al. AXL inhibition suppresses the DNA damage response and sensitizes cells to PARP inhibition in multiple cancers. Mol. Cancer Res. 15, 45–58 (2017).

Aoki, E., Shibasaki, T. & Kawana, S. Intermittent foot shock stress prolongs the telogen stage in the hair cycle of mice. Exp. Dermatol. 12, 371–377 (2003).

Zhang, B. et al. Hyperactivation of sympathetic nerves drives depletion of melanocyte stem cells. Nature 577, 676–681 (2020).

Arck, P. C. et al. Stress inhibits hair growth in mice by induction of premature catagen development and deleterious perifollicular inflammatory events via neuropeptide substance P-dependent pathways. Am. J. Pathol. 162, 803–814 (2003).

Mittelstadt, P. R., Monteiro, J. P. & Ashwell, J. D. Thymocyte responsiveness to endogenous glucocorticoids is required for immunological fitness. J. Clin. Invest. 122, 2384–2394 (2012).

Morris, R. J. et al. Capturing and profiling adult hair follicle stem cells. Nat. Biotechnol. 22, 411–417 (2004).

Kang, S. H., Fukaya, M., Yang, J. K., Rothstein, J. D. & Bergles, D. E. NG2+ CNS glial progenitors remain committed to the oligodendrocyte lineage in postnatal life and following neurodegeneration. Neuron 68, 668–681 (2010).

Arnold, K. et al. Sox2+ adult stem and progenitor cells are important for tissue regeneration and survival of mice. Cell Stem Cell 9, 317–329 (2011).

Srinivas, S. et al. Cre reporter strains produced by targeted insertion of EYFP and ECFP into the ROSA26 locus. BMC Dev. Biol. 1, 4 (2001).

Holland, S. J. et al. R428, a selective small molecule inhibitor of Axl kinase, blocks tumor spread and prolongs survival in models of metastatic breast cancer. Cancer Res. 70, 1544–1554 (2010).

Goldstein, J. M. et al. In situ modification of tissue stem and progenitor cell genomes. Cell Rep. 27, 1254–1264.e7 (2019).

Plikus, M. V. & Chuong, C. M. Complex hair cycle domain patterns and regenerative hair waves in living rodents. J. Invest. Dermatol. 128, 1071–1080 (2008).

Rezza, A. et al. Signaling networks among stem cell precursors, transit-amplifying progenitors, and their niche in developing hair follicles. Cell Rep. 14, 3001–3018 (2016).

Rendl, M., Lewis, L. & Fuchs, E. Molecular dissection of mesenchymal–epithelial interactions in the hair follicle. PLoS Biol. 3, e331 (2005).

Joost, S. et al. The molecular anatomy of mouse skin during hair growth and rest. Cell Stem Cell 26, 441–457.e7 (2020).

Patro, R., Duggal, G., Love, M. I., Irizarry, R. A. & Kingsford, C. Salmon provides fast and bias-aware quantification of transcript expression. Nat. Methods 14, 417–419 (2017).

Dobin, A. et al. STAR: ultrafast universal RNA-seq aligner. Bioinformatics 29, 15–21 (2013).

Liao, Y., Smyth, G. K. & Shi, W. featureCounts: an efficient general purpose program for assigning sequence reads to genomic features. Bioinformatics 30, 923–930 (2014).

Love, M. I., Huber, W. & Anders, S. Moderated estimation of fold change and dispersion for RNA-seq data with DESeq2. Genome Biol. 15, 550 (2014).

Huang, D. W., Sherman, B. T. & Lempicki, R. A. Bioinformatics enrichment tools: paths toward the comprehensive functional analysis of large gene lists. Nucleic Acids Res. 37, 1–13 (2009).

Huang, D. W., Sherman, B. T. & Lempicki, R. A. Systematic and integrative analysis of large gene lists using DAVID bioinformatics resources. Nat. Protoc. 4, 44–57 (2009).

Käll, L., Krogh, A. & Sonnhammer, E. L. A combined transmembrane topology and signal peptide prediction method. J. Mol. Biol. 338, 1027–1036 (2004).

Meinken, J., Walker, G., Cooper, C. R. & Min, X. J. MetazSecKB: the human and animal secretome and subcellular proteome knowledgebase. Database (Oxford) 2015, bav077 (2015).

Nowak, J. A. & Fuchs, E. Isolation and culture of epithelial stem cells. Methods Mol. Biol. 482, 215–232 (2009).
Acknowledgements
We thank many colleagues who donated mice to The Jackson Laboratory; A. Regev, Y. Fong, and members of the Hsu laboratory—in particular Y. Shwartz—for discussions and comments on the manuscript, and O. Chung for technical assistance; and HCBI, HSCRB-HSCI FACS core, HSCRB Histology core, Small Molecule Mass Spectrometry Facility, Office of Animal Resources, and the Bauer Core Sequencing Facility at Harvard University for technical support. This work was supported in part by the New York Stem Cell Foundation (Y.-C.H.); the Smith Family Foundation Odyssey Award (Y.-C.H.); the Pew Charitable Trusts (Y.-C.H.); the Harvard Stem Cell Institute (Y.-C.H. and A.S.); a Harvard HMS Dean's Award (Y.-C.H.); the American Cancer Society (Y.-C.H.); a James and Audrey Foster MGH Research Scholar Award (A.S.); a NARSAD Young Investigator Award (A.B.); MGH ECOR Fund for Medical Discovery Postdoctoral Fellowship Awards (A.B.); the New York State Department of Health (NYSTEM-C029574, NYSTEM-C32561GG to M.R.); NINDS (R56NS117529 to A.S.) and NIH (R01-AR070825 to Y.-C.H; R35-HL139598 to M.N.; R01MH104175, R01AG048908 and 1R01MH111729 to A.S.; R01AR071047 and R01AR063151 to M.R.). Y.-C.H. is a New York Stem Cell Foundation – Robertson Investigator and a Pew Scholar. J.D.B. and S.M. acknowledge support from the Broad Institute Fellows Program. X.J. is a Junior Fellow of, and is supported by, the Society of Fellows of Harvard University.
Ethics declarations
Competing interests
A patent application covering the methods and compositions for controlling hair growth has been filed by the President and Fellows of Harvard College, listing Y.-C.H. and S.C. as inventors. The other authors declare no competing interests related to this work.
Additional information
Peer review information Nature thanks Eduardo Leonardo, William Lowry, Rui Yi and the other, anonymous, reviewer(s) for their contribution to the peer review of this work.
Publisher's note Springer Nature remains neutral with regard to jurisdictional claims in published maps and institutional affiliations.
Extended data figures and tables
Supplementary information
This file contains the Supplementary Discussion, Supplementary References and Supplementary Figure 1.
About this article
Cite this article
Choi, S., Zhang, B., Ma, S. et al. Corticosterone inhibits GAS6 to govern hair follicle stem-cell quiescence. Nature 592, 428–432 (2021). https://doi.org/10.1038/s41586-021-03417-2
Received:

Accepted:

Published:

Issue Date:

DOI: https://doi.org/10.1038/s41586-021-03417-2
Comments
By submitting a comment you agree to abide by our Terms and Community Guidelines. If you find something abusive or that does not comply with our terms or guidelines please flag it as inappropriate.