Abstract
Upon gamete fusion, animal egg cells secrete proteases from cortical granules to establish a fertilization envelope as a block to polyspermy1,2,3,4. Fertilization in flowering plants is more complex and involves the delivery of two non-motile sperm cells by pollen tubes5,6. Simultaneous penetration of ovules by multiple pollen tubes (polytubey) is usually avoided, thus indirectly preventing polyspermy7,8. How plant egg cells regulate the rejection of extra tubes after successful fertilization is not known. Here we report that the aspartic endopeptidases ECS1 and ECS2 are secreted to the extracellular space from a cortical network located at the apical domain of the Arabidopsis egg cell. This reaction is triggered only after successful fertilization. ECS1 and ECS2 are exclusively expressed in the egg cell and transcripts are degraded immediately after gamete fusion. ECS1 and ESC2 specifically cleave the pollen tube attractor LURE1. As a consequence, polytubey is frequent in ecs1 ecs2 double mutants. Ectopic secretion of these endopeptidases from synergid cells led to a decrease in the levels of LURE1 and reduced the rate of pollen tube attraction. Together, these findings demonstrate that plant egg cells sense successful fertilization and elucidate a mechanism as to how a relatively fast post-fertilization block to polytubey is established by fertilization-induced degradation of attraction factors.
Access options
Subscribe to Nature+
Get immediate online access to the entire Nature family of 50+ journals
Subscribe to Journal
Get full journal access for 1 year
$199.00
only $3.90 per issue
All prices are NET prices.
VAT will be added later in the checkout.
Tax calculation will be finalised during checkout.
Buy article
Get time limited or full article access on ReadCube.
$32.00
All prices are NET prices.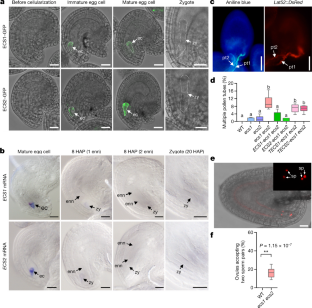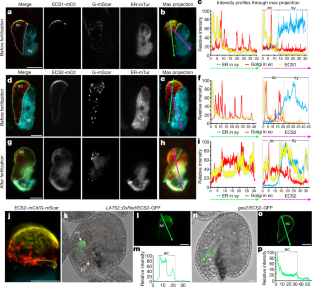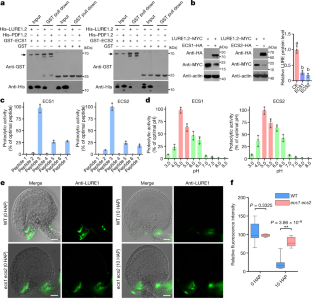 Data availability
Published RNA sequencing data (Gene Expression Omnibus (GEO) accession numbers GSE121003, GSE33713, GSE32318, GSE102694 and GSE87760) were used for expression analysis in the present study. The raw data for the graphs that support the findings of this study are available online, and uncropped gel images are shown in the Supplementary Information file. The seeds of the transgenic lines described in this report are available from the corresponding authors on request. Source data are provided with this paper.
References
Wong, J. L. & Wessel, G. M. Defending the zygote: search for the ancestral animal block to polyspermy. Curr. Top. Dev. Biol. 72, 1–151 (2006).

Burkart, A. D., Xiong, B., Baibakov, B., Jiménez-Movilla, M. & Dean, J. Ovastacin, a cortical granule protease, cleaves ZP2 in the zona pellucida to prevent polyspermy. J. Cell Biol. 197, 37–44 (2012).

Vacquier, V. D., Tegner, M. J. & Epel, D. Protease activity establishes the block against polyspermy in sea urchin eggs. Nature 240, 352–353 (1972).

Liu, M. The biology and dynamics of mammalian cortical granules. Reprod. Biol. Endocrinol. 9, 149 (2011).

Johnson, M. A., Harper, J. F. & Palanivelu, R. A fruitful journey: pollen tube navigation from germination to fertilization. Annu. Rev. Plant Biol. 70, 809–837 (2019).

Dresselhaus, T., Sprunck, S. & Wessel, G. M. Fertilization mechanisms in flowering plants. Curr. Biol. 26, R125–R139 (2016).

Beale, K. M., Leydon, A. R. & Johnson, M. A. Gamete fusion is required to block multiple pollen tubes from entering an Arabidopsis ovule. Curr. Biol. 22, 1090–1094 (2012).

Maruyama, D. et al. Independent control by each female gamete prevents the attraction of multiple pollen tubes. Dev. Cell 25, 317–323 (2013).

Zhang, J. et al. Sperm cells are passive cargo of the pollen tube in plant fertilization. Nat. Plants 3, 17079 (2017).

Glöckle, B. et al. Pollen differentiation as well as pollen tube guidance and discharge are independent of the presence of gametes. Development 145, dev152645 (2018).

Zhou, L. Z. & Dresselhaus, T. Friend or foe: signaling mechanisms during double fertilization in flowering seed plants. Curr. Top. Dev. Biol. 131, 453–496 (2019).

Grossniklaus, U. Polyspermy produces tri-parental seeds in maize. Curr. Biol. 27, R1300–R1302 (2017).

Nakel, T. et al. Triparental plants provide direct evidence for polyspermy induced polyploidy. Nat. Commun. 8, 1033 (2017).

Márton, M. L., Cordts, S., Broadhvest, J. & Dresselhaus, T. Micropylar pollen tube guidance by egg apparatus 1 of maize. Science 307, 573–576 (2005).

Takeuchi, H. & Higashiyama, T. A species-specific cluster of defensin-like genes encodes diffusible pollen tube attractants in Arabidopsis. PLoS Biol. 10, e1001449 (2012).

Okuda, S. et al. Defensin-like polypeptide LUREs are pollen tube attractants secreted from synergid cells. Nature 458, 357–361 (2009).

Zhong, S. et al. Cysteine-rich peptides promote interspecific genetic isolation in Arabidopsis. Science 364, eaau9564 (2019).

Sandaklie-Nikolova, L., Palanivelu, R., King, E. J., Copenhaver, G. P. & Drews, G. N. Synergid cell death in Arabidopsis is triggered following direct interaction with the pollen tube. Plant Physiol. 144, 1753–1762 (2007).

Duan, Q. et al. FERONIA controls pectin- and nitric oxide-mediated male-female interaction. Nature 579, 561–566 (2020).

Maruyama, D. et al. Rapid elimination of the persistent synergid through a cell fusion mechanism. Cell 161, 907–918 (2015).

Kasahara, R. D. et al. Fertilization recovery after defective sperm cell release in Arabidopsis. Curr. Biol. 22, 1084–1089 (2012).

Sprunck, S. et al. Egg cell-secreted EC1 triggers sperm cell activation during double fertilization. Science 338, 1093–1097 (2012).

Simões, I., Faro, R., Bur, D. & Faro, C. Characterization of recombinant CDR1, an Arabidopsis aspartic proteinase involved in disease resistance. J. Biol. Chem. 282, 31358–31365 (2007).

Mori, T., Kuroiwa, H., Higashiyama, T. & Kuroiwa, T. GENERATIVE CELL SPECIFIC 1 is essential for angiosperm fertilization. Nat. Cell Biol. 8, 64–71 (2006).

Mori, T., Igawa, T., Tamiya, G., Miyagishima, S. Y. & Berger, F. Gamete attachment requires GEX2 for successful fertilization in Arabidopsis. Curr. Biol. 24, 170–175 (2014).

Steffen, J. G., Kang, I. H., Macfarlane, J. & Drews, G. N. Identification of genes expressed in the Arabidopsis female gametophyte. Plant J. 51, 281–292 (2007).

Bleckmann, A. & Dresselhaus, T. Whole mount RNA-FISH on ovules and developing seeds. Methods Mol. Biol. 1669, 159–171 (2017).

Zimmerberg, J. & Whitaker, M. Irreversible swelling of secretory granules during exocytosis caused by calcium. Nature 315, 581–584 (1985).

Antoine, A. F. et al. A calcium influx is triggered and propagates in the zygote as a wavefront during in vitro fertilization of flowering plants. Proc. Natl Acad. Sci. USA 97, 10643–10648 (2000).

Digonnet, C., Aldon, D., Leduc, N., Dumas, C. & Rougier, M. First evidence of a calcium transient in flowering plants at fertilization. Development 124, 2867–2874 (1997).

Denninger, P. et al. Male–female communication triggers calcium signatures during fertilization in Arabidopsis. Nat. Commun. 5, 4645 (2014).

Hamamura, Y. et al. Live imaging of calcium spikes during double fertilization in Arabidopsis. Nat. Commun. 5, 4722 (2014).

Kranz, E., von Wiegen, P. & Lörz, H. Early cytological events after induction of cell division in egg cells and zygote development following in vitro fertilization with angiosperm gametes. Plant J. 8, 9–23 (1995).

Wu, J. J. et al. Mitochondrial GCD1 dysfunction reveals reciprocal cell-to-cell signaling during the maturation of Arabidopsis female gametes. Dev. Cell 23, 1043–1058 (2012).

Lampropoulos, A. et al. GreenGate—a novel, versatile, and efficient cloning system for plant transgenesis. PLoS ONE 8, e83043 (2013).

Nelson, B. K., Cai, X. & Nebenführ, A. A multicolored set of in vivo organelle markers for co-localization studies in Arabidopsis and other plants. Plant J. 51, 1126–1136 (2007).

Zhang, X., Henriques, R., Lin, S. S., Niu, Q. W. & Chua, N. H. Agrobacterium-mediated transformation of Arabidopsis thaliana using the floral dip method. Nat. Protoc. 1, 641–646 (2006).

Wang, T. et al. A receptor heteromer mediates the male perception of female attractants in plants. Nature 531, 241–244 (2016).

Sparkes, I. A., Runions, J., Kearns, A. & Hawes, C. Rapid, transient expression of fluorescent fusion proteins in tobacco plants and generation of stably transformed plants. Nat. Protoc. 1, 2019–2025 (2006).

Soares, A. et al. An atypical aspartic protease modulates lateral root development in Arabidopsis thaliana. J. Exp. Bot. 70, 2157–2171 (2019).

Zhao, P. et al. Two-step maternal-to-zygotic transition with two-phase parental genome contributions. Dev. Cell 49, 882–893 (2019).
Acknowledgements
We thank F. Berger for the HTR10–mRFP marker line, Y. Zhang for the LAT52::DsRed maker line, C. Li for the LAT52::GUS maker line and W. Li for help with the mammal cell expression system. This work was supported by the National Natural Science Foundation of China (31991201) and the German Research Council DFG via SFB960.
Ethics declarations
Competing interests
The authors declare no competing interests.
Additional information
Peer review information Nature thanks the anonymous reviewer(s) for their contribution to the peer review of this work.
Publisher's note Springer Nature remains neutral with regard to jurisdictional claims in published maps and institutional affiliations.
Extended data figures and tables
Supplementary information
This file contains Supplementary Fig. 1 (gel source data) and Supplementary Tables 1-2. Supplementary Table 1 contains a list of primers used in the study and Supplementary Table 2 contains a list of GreenGate modules used for triple reporter line construction.
About this article
Cite this article
Yu, X., Zhang, X., Zhao, P. et al. Fertilized egg cells secrete endopeptidases to avoid polytubey. Nature 592, 433–437 (2021). https://doi.org/10.1038/s41586-021-03387-5
Received:

Accepted:

Published:

Issue Date:

DOI: https://doi.org/10.1038/s41586-021-03387-5
Comments
By submitting a comment you agree to abide by our Terms and Community Guidelines. If you find something abusive or that does not comply with our terms or guidelines please flag it as inappropriate.