Abstract
The accurate segregation of chromosomes during meiosis—which is critical for genome stability across sexual cycles—relies on homologous recombination initiated by DNA double-strand breaks (DSBs) made by the Spo11 protein1,2. The formation of DSBs is regulated and tied to the elaboration of large-scale chromosome structures3,4,5, but the protein assemblies that execute and control DNA breakage are poorly understood. Here we address this through the molecular characterization of Saccharomyces cerevisiae RMM (Rec114, Mei4 and Mer2) proteins—essential, conserved components of the DSB machinery2. Each subcomplex of Rec114–Mei4 (a 2:1 heterotrimer) or Mer2 (a coiled-coil-containing homotetramer) is monodispersed in solution, but they independently condense with DNA into reversible nucleoprotein clusters that share properties with phase-separated systems. Multivalent interactions drive this condensation. Mutations that weaken protein–DNA interactions strongly disrupt both condensate formation and DSBs in vivo, and thus these processes are highly correlated. In vitro, condensates fuse into mixed RMM clusters that further recruit Spo11 complexes. Our data show how the DSB machinery self-assembles on chromosome axes to create centres of DSB activity. We propose that multilayered control of Spo11 arises from the recruitment of regulatory components and modulation of the biophysical properties of the condensates.
Relevant articles
Open Access articles citing this article.
Teresa Giannattasio

,

Erika Testa

…

Marco Barchi

Cellular and Molecular Life Sciences Open Access 26 March 2023

Alexandre Nore

,

Ariadna B. Juarez-Martinez

…

Bernard de Massy

Nature Communications Open Access 17 November 2022
Access options
Access Nature and 54 other Nature Portfolio journals
Get Nature+, our best-value online-access subscription
$29.99 / 30 days
cancel any time
Subscribe to this journal
Receive 51 print issues and online access
$199.00 per year
only $3.90 per issue
Rent or buy this article
Prices vary by article type
from$1.95
to$39.95
Prices may be subject to local taxes which are calculated during checkout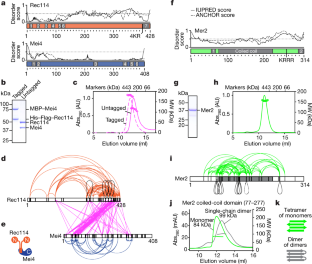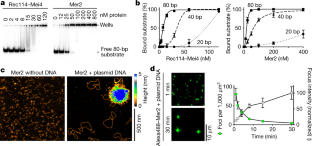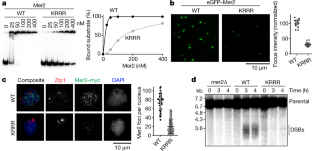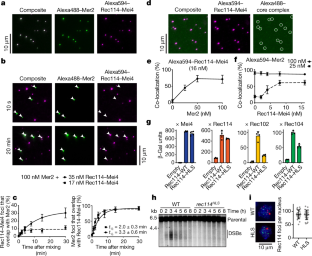 References
de Massy, B. Initiation of meiotic recombination: how and where? Conservation and specificities among eukaryotes. Annu. Rev. Genet. 47, 563–599 (2013).

Lam, I. & Keeney, S. Mechanism and regulation of meiotic recombination initiation. Cold Spring Harb. Perspect. Biol. 7, a016634 (2014).

Cooper, T. J., Garcia, V. & Neale, M. J. Meiotic DSB patterning: a multifaceted process. Cell Cycle 15, 13–21 (2016).

Keeney, S., Lange, J. & Mohibullah, N. Self-organization of meiotic recombination initiation: general principles and molecular pathways. Annu. Rev. Genet. 48, 187–214 (2014).

Kleckner, N. Chiasma formation: chromatin/axis interplay and the role(s) of the synaptonemal complex. Chromosoma 115, 175–194 (2006).

Keeney, S., Giroux, C. N. & Kleckner, N. Meiosis-specific DNA double-strand breaks are catalyzed by Spo11, a member of a widely conserved protein family. Cell 88, 375–384 (1997).

Bergerat, A. et al. An atypical topoisomerase II from Archaea with implications for meiotic recombination. Nature 386, 414–417 (1997).

Robert, T. et al. The TopoVIB-Like protein family is required for meiotic DNA double-strand break formation. Science 351, 943–949 (2016).

Vrielynck, N. et al. A DNA topoisomerase VI-like complex initiates meiotic recombination. Science 351, 939–943 (2016).

Claeys Bouuaert, C. et al. Structural and functional characterization of the Spo11 core complex. Nat. Struct. Mol. Biol. 28, 92–102 (2021).

Li, J., Hooker, G. W. & Roeder, G. S. Saccharomyces cerevisiae Mer2, Mei4 and Rec114 form a complex required for meiotic double-strand break formation. Genetics 173, 1969–1981 (2006).

Maleki, S., Neale, M. J., Arora, C., Henderson, K. A. & Keeney, S. Interactions between Mei4, Rec114, and other proteins required for meiotic DNA double-strand break formation in Saccharomyces cerevisiae. Chromosoma 116, 471–486 (2007).

Steiner, S., Kohli, J. & Ludin, K. Functional interactions among members of the meiotic initiation complex in fission yeast. Curr. Genet. 56, 237–249 (2010).

Miyoshi, T. et al. A central coupler for recombination initiation linking chromosome architecture to S phase checkpoint. Mol. Cell 47, 722–733 (2012).

Henderson, K. A., Kee, K., Maleki, S., Santini, P. A. & Keeney, S. Cyclin-dependent kinase directly regulates initiation of meiotic recombination. Cell 125, 1321–1332 (2006).

Panizza, S. et al. Spo11-accessory proteins link double-strand break sites to the chromosome axis in early meiotic recombination. Cell 146, 372–383 (2011).

Arora, C., Kee, K., Maleki, S. & Keeney, S. Antiviral protein Ski8 is a direct partner of Spo11 in meiotic DNA break formation, independent of its cytoplasmic role in RNA metabolism. Mol. Cell 13, 549–559 (2004).

Sommermeyer, V., Béneut, C., Chaplais, E., Serrentino, M. E. & Borde, V. Spp1, a member of the Set1 complex, promotes meiotic DSB formation in promoters by tethering histone H3K4 methylation sites to chromosome axes. Mol. Cell 49, 43–54 (2013).

Acquaviva, L. et al. The COMPASS subunit Spp1 links histone methylation to initiation of meiotic recombination. Science 339, 215–218 (2013).

Kumar, R. et al. MEI4 — a central player in the regulation of meiotic DNA double-strand break formation in the mouse. J. Cell Sci. 128, 1800–1811 (2015).

Stanzione, M. et al. Meiotic DNA break formation requires the unsynapsed chromosome axis-binding protein IHO1 (CCDC36) in mice. Nat. Cell Biol. 18, 1208–1220 (2016).

Robert, T., Vrielynck, N., Mézard, C., de Massy, B. & Grelon, M. A new light on the meiotic DSB catalytic complex. Semin. Cell Dev. Biol. 54, 165–176 (2016).

Tessé, S. et al. Asy2/Mer2: an evolutionarily conserved mediator of meiotic recombination, pairing, and global chromosome compaction. Genes Dev. 31, 1880–1893 (2017).

Wang, W. et al. Homozygous mutations in REC114 cause female infertility characterised by multiple pronuclei formation and early embryonic arrest. J. Med. Genet. 57, 187–194 (2020).

Kumar, R. et al. Mouse REC114 is essential for meiotic DNA double-strand break formation and forms a complex with MEI4. Life Sci. Alliance 1, e201800259 (2018).

Kumar, R., Bourbon, H. M. & de Massy, B. Functional conservation of Mei4 for meiotic DNA double-strand break formation from yeasts to mice. Genes Dev. 24, 1266–1280 (2010).

Boekhout, M. et al. REC114 partner ANKRD31 controls number, timing, and location of meiotic DNA breaks. Mol. Cell 74, 1053–1068.e8 (2019).

Engebrecht, J. A., Voelkel-Meiman, K. & Roeder, G. S. Meiosis-specific RNA splicing in yeast. Cell 66, 1257–1268 (1991).

Lorenz, A., Estreicher, A., Kohli, J. & Loidl, J. Meiotic recombination proteins localize to linear elements in Schizosaccharomyces pombe. Chromosoma 115, 330–340 (2006).

Bonfils, S., Rozalén, A. E., Smith, G. R., Moreno, S. & Martín-Castellanos, C. Functional interactions of Rec24, the fission yeast ortholog of mouse Mei4, with the meiotic recombination-initiation complex. J. Cell Sci. 124, 1328–1338 (2011).

Li, P. et al. Phase transitions in the assembly of multivalent signalling proteins. Nature 483, 336–340 (2012).

Wheeler, J. R., Matheny, T., Jain, S., Abrisch, R. & Parker, R. Distinct stages in stress granule assembly and disassembly. eLife 5, e18413 (2016).

Su, X. et al. Phase separation of signaling molecules promotes T cell receptor signal transduction. Science 352, 595–599 (2016).

Boulay, G. et al. Cancer-specific retargeting of BAF complexes by a prion-like domain. Cell 171, 163–178.e19 (2017).

Banani, S. F., Lee, H. O., Hyman, A. A. & Rosen, M. K. Biomolecular condensates: organizers of cellular biochemistry. Nat. Rev. Mol. Cell Biol. 18, 285–298 (2017).

Boeynaems, S. et al. Protein phase separation: a new phase in cell biology. Trends Cell Biol. 28, 420–435 (2018).

Lin, Y., Protter, D. S., Rosen, M. K. & Parker, R. Formation and maturation of phase-separated liquid droplets by RNA-binding proteins. Mol. Cell 60, 208–219 (2015).

Patel, A. et al. A liquid-to-solid phase transition of the ALS protein FUS accelerated by disease mutation. Cell 162, 1066–1077 (2015).

Xiang, S. et al. The LC domain of hnRNPA2 adopts similar conformations in hydrogel polymers, liquid-like droplets, and nuclei. Cell 163, 829–839 (2015).

Garcia, V., Gray, S., Allison, R. M., Cooper, T. J. & Neale, M. J. Tel1(ATM)-mediated interference suppresses clustered meiotic double-strand-break formation. Nature 520, 114–118 (2015).

Johnson, D. et al. Concerted cutting by Spo11 illuminates the mechanism of meiotic DNA break formation. Nature (in the press).

Dosztányi, Z. Prediction of protein disorder based on IUPred. Protein Sci. 27, 331–340 (2018).

Sebastiaan Winkler, G. et al. Isolation and mass spectrometry of transcription factor complexes. Methods 26, 260–269 (2002).

Erdjument-Bromage, H. et al. Examination of micro-tip reversed-phase liquid chromatographic extraction of peptide pools for mass spectrometric analysis. J. Chromatogr. A 826, 167–181 (1998).

Yang, B. et al. Identification of cross-linked peptides from complex samples. Nat. Methods 9, 904–906 (2012).

Combe, C. W., Fischer, L. & Rappsilber, J. xiNET: cross-link network maps with residue resolution. Mol. Cell. Proteomics 14, 1137–1147 (2015).

Nesvizhskii, A. I., Keller, A., Kolker, E. & Aebersold, R. A statistical model for identifying proteins by tandem mass spectrometry. Anal. Chem. 75, 4646–4658 (2003).

Murakami, H., Borde, V., Nicolas, A. & Keeney, S. Gel electrophoresis assays for analyzing DNA double-strand breaks in Saccharomyces cerevisiae at various spatial resolutions. Methods Mol. Biol. 557, 117–142 (2009).

Neale, M. J. & Keeney, S. End-labeling and analysis of Spo11-oligonucleotide complexes in Saccharomyces cerevisiae. Methods Mol. Biol. 557, 183–195 (2009).
Acknowledgements
We thank A. Nicolas and V. Borde for sharing unpublished information; J. Xu for assistance with preliminary analyses of the Mer2(KRRR) mutant; other members of the Keeney lab for discussions; MSK core facilities, supported by NIH cancer center core grant P30 CA008748: Microchemistry and Proteomics (R. Hendrickson and E. Chang) for the XL–MS experiments; Molecular Cytology (M. Brendel and Y. Romin) for AFM experiments; S. Fujisawa for writing a Fiji script to quantify fluorescent foci; and E. Folta-Stogniew from the Biophysics Resource of Keck Facility at Yale University for the SEC-MALS experiments. The SEC–LS/UV/RI instrumentation was supported by NIH grant S10 RR023748. This work was supported by the Howard Hughes Medical Institute (S.K.), the Maloris Foundation (D.P.), an MSK Basic Research Innovation Award (S.K. and D.P.), the European Research Council under the European Union's Horizon 2020 research and innovation program (ERC grant agreement 802525 to C.C.B.), and the Fonds National de la Recherche Scientifique (MIS-Ulysse grant F.6002.20 to C.C.B.).
Ethics declarations
Competing interests
The authors declare no competing interests.
Additional information
Peer review information Nature thanks the anonymous reviewers for their contribution to the peer review of this work.
Publisher's note Springer Nature remains neutral with regard to jurisdictional claims in published maps and institutional affiliations.
Extended data figures and tables
Supplementary information
About this article
Cite this article
Claeys Bouuaert, C., Pu, S., Wang, J. et al. DNA-driven condensation assembles the meiotic DNA break machinery. Nature 592, 144–149 (2021). https://doi.org/10.1038/s41586-021-03374-w
Received:

Accepted:

Published:

Issue Date:

DOI: https://doi.org/10.1038/s41586-021-03374-w
Comments
By submitting a comment you agree to abide by our Terms and Community Guidelines. If you find something abusive or that does not comply with our terms or guidelines please flag it as inappropriate.