Abstract
Three-dimensional (3D) printing1,2,3,4,5,6,7,8,9 has revolutionized manufacturing processes for electronics10,11,12, optics13,14,15, energy16,17, robotics18, bioengineering19,20,21 and sensing22. Downscaling 3D printing23 will enable applications that take advantage of the properties of micro- and nanostructures24,25. However, existing techniques for 3D nanoprinting of metals require a polymer–metal mixture, metallic salts or rheological inks, limiting the choice of material and the purity of the resulting structures. Aerosol lithography has previously been used to assemble arrays of high-purity 3D metal nanostructures on a prepatterned substrate26,27, but in limited geometries26,27,28,29,30. Here we introduce a technique for direct 3D printing of arrays of metal nanostructures with flexible geometry and feature sizes down to hundreds of nanometres, using various materials. The printing process occurs in a dry atmosphere, without the need for polymers or inks. Instead, ions and charged aerosol particles are directed onto a dielectric mask containing an array of holes that floats over a biased silicon substrate. The ions accumulate around each hole, generating electrostatic lenses that focus the charged aerosol particles into nanoscale jets. These jets are guided by converged electric-field lines that form under the hole-containing mask, which acts similarly to the nozzle of a conventional 3D printer, enabling 3D printing of aerosol particles onto the silicon substrate. By moving the substrate during printing, we successfully print various 3D structures, including helices, overhanging nanopillars, rings and letters. In addition, to demonstrate the potential applications of our technique, we printed an array of vertical split-ring resonator structures. In combination with other 3D-printing methods, we expect our 3D-nanoprinting technique to enable substantial advances in nanofabrication.
This is a preview of subscription content
Access options
Subscribe to Journal
Get full journal access for 1 year
$199.00
only $3.90 per issue
All prices are NET prices.
VAT will be added later in the checkout.
Tax calculation will be finalised during checkout.
Rent or Buy article
Get time limited or full article access on ReadCube.
from$8.99
All prices are NET prices.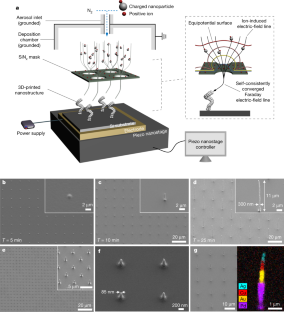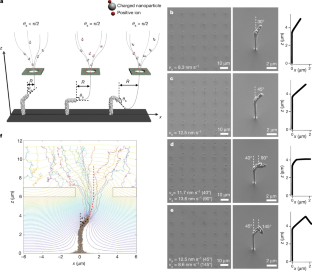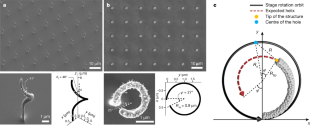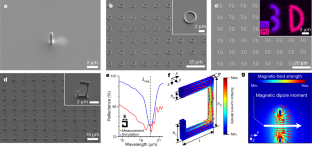 Data availability
Source data for phenomenological model results and reflection spectra are provided. Source data are provided with this paper.
Code availability
The procedure used to obtain the phenomenological model prediction (using MathCAD) is provided in Supplementary Information.
References
1.

Hu, J. & Yu, M. F. Meniscus-confined three-dimensional electrodeposition for direct writing of wire bonds. Science 329, 313–316 (2010).

2.

Skylar-Scott, M. A., Mueller, J., Visser, C. W. & Lewis, J. A. Voxelated soft matter via multimaterial multinozzle 3D printing. Nature 575, 330–335 (2019).

3.

Reiser, A. et al. Multi-metal electrohydrodynamic redox 3D printing at the submicron scale. Nat. Commun. 10, 1853 (2019).

4.

Oran, D. et al. 3D nanofabrication by volumetric deposition and controlled shrinkage of patterned scaffolds. Science 362, 1281–1285 (2018).

5.

Luo, J. et al. Printing functional 3D microdevices by laser-induced forward transfer. Small 13, 1602553 (2017).

6.

Hu, Q. et al. Additive manufacture of complex 3D Au-containing nanocomposites by simultaneous two-photon polymerisation and photoreduction. Sci. Rep. 7, 17150 (2017).

7.

Walker, D. A., Hedrick, J. L. & Mirkin, C. A. Rapid, large-volume, thermally controlled 3D printing using a mobile liquid interface. Science 366, 360–364 (2019).

8.

Momotenko, D., Page, A., Adobes-Vidal, M. & Unwin, P. R. Write-read 3D patterning with a dual-channel nanopipette. ACS Nano 10, 8871–8878 (2016).

9.

Kelly, B. E. et al. Volumetric additive manufacturing via tomographic reconstruction. Science 363, 1075–1079 (2019).

10.

An, B. W. et al. High-resolution printing of 3D structures using an electrohydrodynamic inkjet with multiple functional inks. Adv. Mater. 27, 4322–4328 (2015).

11.

Saleh, M. S., Hu, C. & Panat, R. Three-dimensional microarchitected materials and devices using nanoparticle assembly by pointwise spatial printing. Sci. Adv. 3, e1601986 (2017).

12.

Lewis, J. A. & Ahn, B. Y. Device fabrication: three-dimensional printed electronics. Nature 518, 42–43 (2015).

13.

Yoon, G., Kim, K., Huh, D., Lee, H. & Rho, J. Single-step manufacturing of hierarchical dielectric metalens in the visible. Nat. Commun. 11, 2268 (2020).

14.

Gansel, J. K. et al. Gold helix photonic metamaterial as broadband circular polarizer. Science 325, 1513–1515 (2009).

15.

Wu, P. C. et al. Plasmon coupling in vertical split-ring resonator metamolecules. Sci. Rep. 5, 9726 (2015).

16.

Wei, T. S., Ahn, B. Y., Grotto, J. & Lewis, J. A. 3D printing of customized Li-ion batteries with thick electrodes. Adv. Mater. 30, 1703027 (2018).

17.

Li, J., Liang, X., Liou, F. & Park, J. Macro-/micro-controlled 3D lithium-ion batteries via additive manufacturing and electric field processing. Sci. Rep. 8, 1846 (2018).

18.

Wehner, M. et al. An integrated design and fabrication strategy for entirely soft, autonomous robots. Nature 536, 451–455 (2016).

19.

Dvir, T., Timko, B. P., Kohane, D. S. & Langer, R. Nanotechnological strategies for engineering complex tissues. Nat. Nanotechnol. 6, 13–22 (2011).

20.

Lind, J. U. et al. Instrumented cardiac microphysiological devices via multimaterial three-dimensional printing. Nat. Mater. 16, 303–308 (2017).

21.

Salaita, K., Wang, Y. & Mirkin, C. A. Applications of dip-pen nanolithography. Nat. Nanotechnol. 2, 145–155 (2007).

22.

Guo, S. Z., Qiu, K., Meng, F., Park, S. H. & McAlpine, M. C. 3D printed stretchable tactile sensors. Adv. Mater. 29, 1701218 (2017).

23.

Yesilkoy, F., Flauraud, V., Ruegg, M., Kim, B. J. & Brugger, J. 3D nanostructures fabricated by advanced stencil lithography. Nanoscale 8, 4945–4950 (2016).

24.

Ozbay, E. Plasmonics: merging photonics and electronics at nanoscale dimensions. Science 311, 189–193 (2006).

25.

Valiev, R. Materials science: nanomaterial advantage. Nature 419, 887–889 (2002).

26.

Kim, H. et al. Parallel patterning of nanoparticles via electrodynamic focusing of charged aerosols. Nat. Nanotechnol. 1, 117–121 (2006).

27.

Lee, H. et al. Three-dimensional assembly of nanoparticles from charged aerosols. Nano Lett. 11, 119–124 (2011).

28.

Jung, K. et al. Hotspot-engineered 3D multipetal flower assemblies for surface-enhanced Raman spectroscopy. Adv. Mater. 26, 5924–5929 (2014).

29.

Bae, Y., Pikhitsa, P. V., Cho, H. & Choi, M. Multifurcation assembly of charged aerosols and its application to 3D structured gas sensors. Adv. Mater. 29, 1604159 (2017).

30.

Lin, E. C., Cole, J. J. & Jacobs, H. O. Gas phase electrodeposition: a programmable multimaterial deposition method for combinatorial nanostructured device discovery. Nano Lett. 10, 4494–4500 (2010).

31.

Choi, M., Kim, D. S. & Noh, S. R. Spark discharge generator and process for preparing nanoparticle structure using same. South Korea patent KR101891696B1 (2018); https://patents.google.com/patent/KR101891696B1/en.

32.

Feng, J. C. et al. Green manufacturing of metallic nanoparticles: a facile and universal approach to scaling up. J. Mater. Chem. A 4, 11222–11227 (2016).

33.

You, S. & Choi, M. Numerical simulation of microscopic motion and deposition of nanoparticles via electrodynamic focusing. J. Aerosol Sci. 38, 1140–1149 (2007).

34.

Mark, A. G., Gibbs, J. G., Lee, T. C. & Fischer, P. Hybrid nanocolloids with programmed three-dimensional shape and material composition. Nat. Mater. 12, 802–807 (2013).

35.

Yang, L. et al. Parallel direct laser writing of micro-optical and photonic structures using spatial light modulator. Opt. Lasers Eng. 70, 26–32 (2015).

36.

Yoon, G. et al. Fabrication of three-dimensional suspended, interlayered and hierarchical nanostructures by accuracy-improved electron beam lithography overlay. Sci. Rep. 7, 6668 (2017).

37.

Cui, A. et al. Directly patterned substrate-free plasmonic "nanograter" structures with unusual Fano resonances. Light Sci. Appl. 4, e308 (2015).

38.

Singer, J. P., Lee, J. H., Kooi, S. E. & Thomas, E. L. Rapid fabrication of 3D terahertz split ring resonator arrays by novel single-shot direct write focused proximity field nanopatterning. Opt. Express 20, 11097–11108 (2012).

39.

Katsarakis, N. et al. Magnetic response of split-ring resonators in the far-infrared frequency regime. Opt. Lett. 30, 1348–1350 (2005).

40.

Linden, S. et al. Magnetic response of metamaterials at 100 terahertz. Science 306, 1351–1353 (2004).

41.

Schmidt, R. & Webb, A. Metamaterial combining electric- and magnetic-dipole-based configurations for unique dual-band signal enhancement in ultrahigh-field magnetic resonance imaging. ACS Appl. Mater. Interfaces 9, 34618–34624 (2017).

42.

Tabrizi, N. S., Ullmann, M., Vons, V. A., Lafont, U. & Schmidt-Ott, A. Generation of nanoparticles by spark discharge. J. Nanopart. Res. 11, 315–332 (2009).

43.

Schwyn, S., Garwin, E. & Schmidtott, A. Aerosol generation by spark discharge. J. Aerosol Sci. 19, 639–642 (1988).
Acknowledgements
This work was supported by the Global Frontier R&D program of the Center for Multiscale Energy System (2012M3A6A7054855) and Mid-Career Research program (2020R1A2C2101132) by the National Research Foundation (NRF) under the Ministry of Science and ICT (MSIT), Korea. J.R. acknowledges the Global Frontier R&D program of the Center for Advanced Meta-Materials (2019M3A6B3030637), the Mid-Career Researcher program (2019R1A2C3003129) and the Regional Leading Research Center program (2019R1A5A8080290) funded by the NRF-MSIT, Korea. Y.Y. acknowledges a fellowship from the Hyundai Motor Chung Mong-Koo foundation. M.K. acknowledges the NRF Global PhD fellowship (2017H1A2A1043204) funded by the Ministry of Education, Korea. We thank K. Bang for atomic force microscopy (AFM) measurement.
Ethics declarations
Competing interests
The authors declare no competing interests.
Additional information
Peer review information Nature thanks Shweta Agarwala, Peer Fischer, Sam Ladak and Jonathan Singer for their contribution to the peer review of this work.
Publisher's note Springer Nature remains neutral with regard to jurisdictional claims in published maps and institutional affiliations.
Extended data figures and tables
Supplementary information
This file contains Supplementary Methods, Supplementary Results, Supplementary Tables 1-6, Supplementary Figures 1-7 and the procedure for obtaining phenomenological model prediction.
The 30 degree slanted overhanging structure.
The 45 degree slanted overhanging structure.
About this article
Cite this article
Jung, W., Jung, YH., Pikhitsa, P.V. et al. Three-dimensional nanoprinting via charged aerosol jets. Nature 592, 54–59 (2021). https://doi.org/10.1038/s41586-021-03353-1
Received:

Accepted:

Published:

Issue Date:
Further reading
Wonseok Lee
Hyoungseok Chae
Jong G. Ok

Microsystems & Nanoengineering (2021)
Comments
By submitting a comment you agree to abide by our Terms and Community Guidelines. If you find something abusive or that does not comply with our terms or guidelines please flag it as inappropriate.