Abstract
Limiting metabolic competition in the tumour microenvironment may increase the effectiveness of immunotherapy. Owing to its crucial role in the glucose metabolism of activated T cells, CD28 signalling has been proposed as a metabolic biosensor of T cells1. By contrast, the engagement of CTLA-4 has been shown to downregulate T cell glycolysis1. Here we investigate the effect of CTLA-4 blockade on the metabolic fitness of intra-tumour T cells in relation to the glycolytic capacity of tumour cells. We found that CTLA-4 blockade promotes metabolic fitness and the infiltration of immune cells, especially in glycolysis-low tumours. Accordingly, treatment with anti-CTLA-4 antibodies improved the therapeutic outcomes of mice bearing glycolysis-defective tumours. Notably, tumour-specific CD8+ T cell responses correlated with phenotypic and functional destabilization of tumour-infiltrating regulatory T (Treg) cells towards IFNγ- and TNF-producing cells in glycolysis-defective tumours. By mimicking the highly and poorly glycolytic tumour microenvironments in vitro, we show that the effect of CTLA-4 blockade on the destabilization of Treg cells is dependent on Treg cell glycolysis and CD28 signalling. These findings indicate that decreasing tumour competition for glucose may facilitate the therapeutic activity of CTLA-4 blockade, thus supporting its combination with inhibitors of tumour glycolysis. Moreover, these results reveal a mechanism by which anti-CTLA-4 treatment interferes with Treg cell function in the presence of glucose.
Access options
Access Nature and 54 other Nature Portfolio journals
Get Nature+, our best-value online-access subscription
$29.99 / 30 days
cancel any time
Subscribe to this journal
Receive 51 print issues and online access
$199.00 per year
only $3.90 per issue
Rent or buy this article
Prices vary by article type
from$1.95
to$39.95
Prices may be subject to local taxes which are calculated during checkout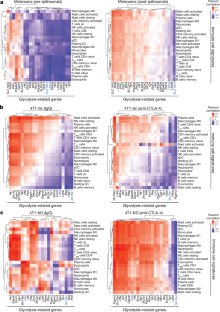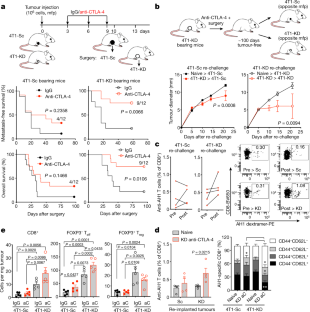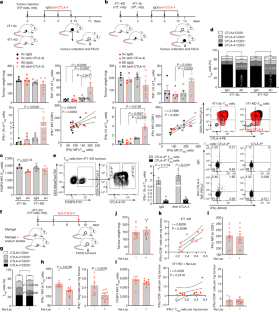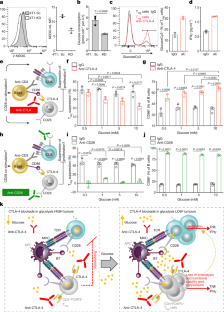 Similar content being viewed by others
Data availability
Human melanoma RNA-seq datasets investigated in this study were previously reported9,10 and have been deposited to the Gene Expression Omnibus (GEO) repository with accession number GSE165278. The 4T1 RNA-seq datasets generated for this study have been submitted to the GEO repository with accession number GSE164051. Source data are provided with this paper.
References
Frauwirth, K. A. et al. The CD28 signaling pathway regulates glucose metabolism. Immunity 16, 769–777 (2002).

Hanahan, D. & Weinberg, R. A. Hallmarks of cancer: the next generation. Cell 144, 646–674 (2011).

Buck, M. D., Sowell, R. T., Kaech, S. M. & Pearce, E. L. Metabolic instruction of immunity. Cell 169, 570–586 (2017).

Chang, C. H. et al. Metabolic competition in the tumor microenvironment is a driver of cancer progression. Cell 162, 1229–1241 (2015).

Ho, P. C. et al. Phosphoenolpyruvate is a metabolic checkpoint of anti-tumor T cell responses. Cell 162, 1217–1228 (2015).

Martinez, A. F. et al. Metaboloptics: visualization of the tumor functional landscape via metabolic and vascular imaging. Sci. Rep. 8, 4171 (2018).

Simões, R. V. et al. Metabolic plasticity of metastatic breast cancer cells: adaptation to changes in the microenvironment. Neoplasia 17, 671–684 (2015).

Serganova, I. et al. Metabolic imaging: a link between lactate dehydrogenase A, lactate, and tumor phenotype. Clin. Cancer Res. 17, 6250–6261 (2011).

Chiappinelli, K. B. et al. Inhibiting DNA methylation causes an interferon response in cancer via dsRNA including endogenous retroviruses. Cell 162, 974–986 (2015).

Nathanson, T. et al. Somatic mutations and neoepitope homology in melanomas yreated with CTLA-4 blockade. Cancer Immunol. Res. 5, 84–91 (2017).

Singer, K. et al. Warburg phenotype in renal cell carcinoma: high expression of glucose-transporter 1 (GLUT-1) correlates with low CD8+ T-cell infiltration in the tumor. Int. J. Cancer 128, 2085–2095 (2011).

Ottensmeier, C. H. et al. Upregulated glucose metabolism correlates inversely with CD8+ T-cell infiltration and survival in squamous cell carcinoma. Cancer Res. 76, 4136–4148 (2016).

Brand, A. et al. LDHA-associated lactic acid production blunts tumor immunosurveillance by T and NK cells. Cell Metab. 24, 657–671 (2016).

Scrimieri, F. et al. Murine leukemia virus envelope gp70 is a shared biomarker for the high-sensitivity quantification of murine tumor burden. OncoImmunology 2, e26889 (2013).

Serganova, I. et al. LDH-A regulates the tumor microenvironment via HIF-signaling and modulates the immune response. PLoS ONE 13, e0203965 (2018).

Selby, M. J. et al. Anti-CTLA-4 antibodies of IgG2a isotype enhance antitumor activity through reduction of intratumoral regulatory T cells. Cancer Immunol. Res. 1, 32–42 (2013).

Bruhns, P. Properties of mouse and human IgG receptors and their contribution to disease models. Blood 119, 5640–5649 (2012).

Sonveaux, P. et al. Targeting the lactate transporter MCT1 in endothelial cells inhibits lactate-induced HIF-1 activation and tumor angiogenesis. PLoS ONE 7, e33418 (2012).

King, M. P. & Attardi, G. Human cells lacking mtDNA: repopulation with exogenous mitochondria by complementation. Science 246, 500–503 (1989).

Klein Geltink, R. I. et al. Mitochondrial priming by CD28. Cell 171, 385–397 (2017).

Michalek, R. D. et al. Cutting edge: distinct glycolytic and lipid oxidative metabolic programs are essential for effector and regulatory CD4+ T cell subsets. J. Immunol. 186, 3299–3303 (2011).

He, N. et al. Metabolic control of regulatory T cell (Treg) survival and function by Lkb1. Proc. Natl Acad. Sci. USA 114, 12542–12547 (2017).

Weinberg, S. E. et al. Mitochondrial complex III is essential for suppressive function of regulatory T cells. Nature 565, 495–499 (2019).

Kamphorst, A. O. et al. Rescue of exhausted CD8 T cells by PD-1-targeted therapies is CD28-dependent. Science 355, 1423–1427 (2017).

Hui, E. et al. T cell costimulatory receptor CD28 is a primary target for PD-1-mediated inhibition. Science 355, 1428–1433 (2017).

Delgoffe, G. M. et al. The mTOR kinase differentially regulates effector and regulatory T cell lineage commitment. Immunity 30, 832–844 (2009).

Wang, H. et al. CD36-mediated metabolic adaptation supports regulatory T cell survival and function in tumors. Nat. Immunol. 21, 298–308 (2020).

Wing, K. et al. CTLA-4 control over Foxp3+ regulatory T cell function. Science 322, 271–275 (2008).

Qureshi, O. S. et al. Trans-endocytosis of CD80 and CD86: a molecular basis for the cell-extrinsic function of CTLA-4. Science 332, 600–603 (2011).

Wing, J. B., Ise, W., Kurosaki, T. & Sakaguchi, S. Regulatory T cells control antigen-specific expansion of Tfh cell number and humoral immune responses via the coreceptor CTLA-4. Immunity 41, 1013–1025 (2014).

Chang, C. H. et al. Posttranscriptional control of T cell effector function by aerobic glycolysis. Cell 153, 1239–1251 (2013).

Peng, M. et al. Aerobic glycolysis promotes T helper 1 cell differentiation through an epigenetic mechanism. Science 354, 481–484 (2016).

Singer, K. et al. Topical diclofenac reprograms metabolism and immune cell infiltration in actinic keratosis. Front. Oncol. 9, 605 (2019).

Boudreau, A. et al. Metabolic plasticity underpins innate and acquired resistance to LDHA inhibition. Nat. Chem. Biol. 12, 779–786 (2016).

Luengo, A., Gui, D. Y. & Vander Heiden, M. G. Targeting metabolism for cancer Therapy. Cell Chem. Biol. 24, 1161–1180 (2017).

Yeung, C. et al. Targeting glycolysis through inhibition of lactate dehydrogenase impairs tumor growth in preclinical models of Ewing sarcoma. Cancer Res. 79, 5060–5073 (2019).

Rizwan, A. et al. Relationships between LDH-A, lactate, and metastases in 4T1 breast tumors. Clin. Cancer Res. 19, 5158–5169 (2013).

Newman, A. M. et al. Robust enumeration of cell subsets from tissue expression profiles. Nat. Methods 12, 453–457 (2015).

Zappasodi, R. et al. Non-conventional Inhibitory CD4+Foxp3−PD-1hi T cells as a biomarker of immune checkpoint blockade activity. Cancer Cell 33, 1017–1032 (2018).

Gerriets, V. A. et al. Metabolic programming and PDHK1 control CD4+ T cell subsets and inflammation. J. Clin. Invest. 125, 194–207 (2015).
Acknowledgements
We thank the Flow Cytometry and Integrated Genomics Operation Cores at MSK for technical assistance. We thank A. Rudensky for the constructive discussions for the revisions of this manuscript. This research was funded in part through the NIH/NCI R01 CA215136-01A1 and Cancer Center Support Grant P30 CA008748, the Swim Across America, Ludwig Institute for Cancer Research, Parker Institute for Cancer Immunotherapy and Breast Cancer Research Foundation. R.Z. was supported by the Parker Institute for Cancer Immunotherapy scholar and bridge scholar awards. I.S. was supported by R50 CA221810 (NIH/NCI) grant. M.J.W. was supported by T32CA082084 and F31AI149971. P.-C.H. was supported by the SNSF project grants (31003A_182470) and European Research Council Staring Grant (802773-MitoGuide). G.M.D. was supported by DP2AI136598 and R21AI135367.
Ethics declarations
Competing interests
R.Z. is inventor on patent applications related to work on GITR, PD-1 and CTLA-4. R.Z. is consultant for Leap Therapeutics and iTEOS Belgium SA. Y.S. is currently employed by Genentech and holds equity in Roche. P.-C.H. received research support from Roche-pRED and honorarium from Chungai and Pfizer. P.-C.H. is also a scientific advisory board member of Elixiron Immunotherapeutics and Acepodia. G.M.D. consults for and/or is on the scientific advisory board of BlueSphere Bio, Century Therapeutics, Novasenta, Pieris Pharmaceuticals, and Western Oncolytics/Kalivir; has grants from bluebird bio, Novasenta, Pfizer, Pieris Pharmaceuticals, TCR2, and Kalivir; G.M.D. owns equity in BlueSphere Bio and Novasenta. T.M. is a cofounder and holds an equity in IMVAQ Therapeutics. T.M. is a consultant of Immunos Therapeutics, Pfizer and Immunogenesis. T.M. has research support from Bristol-Myers Squibb; Surface Oncology; Kyn Therapeutics; Infinity Pharmaceuticals, Inc.; Peregrine Pharmaceuticals, Inc.; Adaptive Biotechnologies; Leap Therapeutics, Inc.; and Aprea. T.M. has patents on applications related to work on oncolytic viral therapy, alpha virus-based vaccines, neo-antigen modelling, CD40, GITR, OX40, PD-1 and CTLA-4. J.D.W. is consultant for Adaptive Biotech; Amgen; Apricity; Ascentage Pharma; Astellas; AstraZeneca; Bayer; Beigene; Boehringer Ingelheim; Bristol Myers Squibb; Celgene; Chugai; Eli Lilly; Elucida; F Star; Georgiamune; Imvaq; Kyowa Hakko Kirin; Linneaus; Merck; Neon Therapeutics; Polynoma; Psioxus; Recepta; Takara Bio; Trieza; Truvax; Sellas; Serametrix; Surface Oncology; Syndax; Syntalogic, Werewolf Therapeutics. J.D.W. reports grants from Bristol Myers Squibb and Sephora. J.D.W. has equity in Tizona Pharmaceuticals; Adaptive Biotechnologies; Imvaq; Beigene; Linneaus; Apricity; Arsenal IO; Georgiamune. J.D.W. is inventor on patent applications related to work on DNA vaccines in companion animals with cancer, assays for suppressive myeloid cells in blood, oncolytic viral therapy, alphavirus-based vaccines, neo-antigen modelling, CD40, GITR, OX40, PD-1 and CTLA-4. The other authors declare no competing interests.
Additional information
Peer review information Nature thanks the anonymous reviewers for their contribution to the peer review of this work.
Publisher's note Springer Nature remains neutral with regard to jurisdictional claims in published maps and institutional affiliations.
Extended data figures and tables
Supplementary information
About this article
Cite this article
Zappasodi, R., Serganova, I., Cohen, I.J. et al. CTLA-4 blockade drives loss of Treg stability in glycolysis-low tumours. Nature 591, 652–658 (2021). https://doi.org/10.1038/s41586-021-03326-4
Received:

Accepted:

Published:

Issue Date:

DOI: https://doi.org/10.1038/s41586-021-03326-4
Comments
By submitting a comment you agree to abide by our Terms and Community Guidelines. If you find something abusive or that does not comply with our terms or guidelines please flag it as inappropriate.