Abstract
The plant immune system is fundamental for plant survival in natural ecosystems and for productivity in crop fields. Substantial evidence supports the prevailing notion that plants possess a two-tiered innate immune system, called pattern-triggered immunity (PTI) and effector-triggered immunity (ETI). PTI is triggered by microbial patterns via cell surface-localized pattern-recognition receptors (PRRs), whereas ETI is activated by pathogen effector proteins via predominantly intracellularly localized receptors called nucleotide-binding, leucine-rich repeat receptors (NLRs)1,2,3,4. PTI and ETI are initiated by distinct activation mechanisms and involve different early signalling cascades5,6. Here we show that Arabidopsis PRR and PRR co-receptor mutants—fls2 efr cerk1 and bak1 bkk1 cerk1 triple mutants—are markedly impaired in ETI responses when challenged with incompatible Pseudomonas syrinage bacteria. We further show that the production of reactive oxygen species by the NADPH oxidase RBOHD is a critical early signalling event connecting PRR- and NLR-mediated immunity, and that the receptor-like cytoplasmic kinase BIK1 is necessary for full activation of RBOHD, gene expression and bacterial resistance during ETI. Moreover, NLR signalling rapidly augments the transcript and/or protein levels of key PTI components. Our study supports a revised model in which potentiation of PTI is an indispensable component of ETI during bacterial infection. This revised model conceptually unites two major immune signalling cascades in plants and mechanistically explains some of the long-observed similarities in downstream defence outputs between PTI and ETI.
Relevant articles
Open Access articles citing this article.
Hui Shi

,

Qing Xiong

…

Jing Wang

Rice Open Access 21 September 2023

Phytopathology Research Open Access 21 August 2023

Zhiye Xu

,

Zheng Luo

…

Chengming Tian

Phytopathology Research Open Access 18 July 2023
Access options
Access Nature and 54 other Nature Portfolio journals
Get Nature+, our best-value online-access subscription
$29.99 / 30 days
cancel any time
Subscribe to this journal
Receive 51 print issues and online access
$199.00 per year
only $3.90 per issue
Rent or buy this article
Prices vary by article type
from$1.95
to$39.95
Prices may be subject to local taxes which are calculated during checkout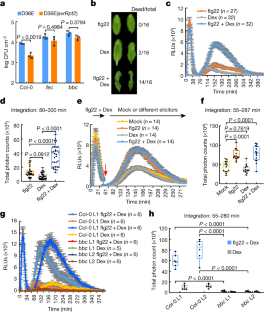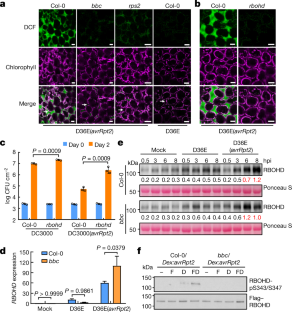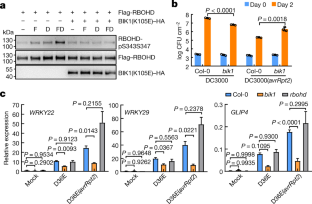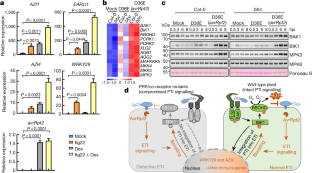 Data availability
The RNA-seq data have been deposited into the NCBI Gene Expression Omnibus under accession GSE142747. All data are available in the main text or the supplementary materials. Source data are provided with this paper.
References
Yu, X., Feng, B., He, P. & Shan, L. From chaos to harmony: responses and signaling upon microbial pattern recognition. Annu. Rev. Phytopathol. 55, 109–137 (2017).

Couto, D. & Zipfel, C. Regulation of pattern recognition receptor signalling in plants. Nat. Rev. Immunol. 16, 537–552 (2016).

Spoel, S. H. & Dong, X. How do plants achieve immunity? Defence without specialized immune cells. Nat. Rev. Immunol. 12, 89–100 (2012).

Cui, H., Tsuda, K. & Parker, J. E. Effector-triggered immunity: from pathogen perception to robust defense. Annu. Rev. Plant Biol. 66, 487–511 (2015).

Jones, J. D. & Dangl, J. L. The plant immune system. Nature 444, 323–329 (2006).

Chisholm, S. T., Coaker, G., Day, B. & Staskawicz, B. J. Host–microbe interactions: shaping the evolution of the plant immune response. Cell 124, 803–814 (2006).

Jones, J. D., Vance, R. E. & Dangl, J. L. Intracellular innate immune surveillance devices in plants and animals. Science 354, aaf6395 (2016).

Tsuda, K. & Katagiri, F. Comparing signaling mechanisms engaged in pattern-triggered and effector-triggered immunity. Curr. Opin. Plant Biol. 13, 459–465 (2010).

Peng, Y., van Wersch, R. & Zhang, Y. Convergent and divergent signaling in pamp-triggered immunity and effector-triggered immunity. Mol. Plant Microbe Interact. 31, 403–409 (2018).

Axtell, M. J. & Staskawicz, B. J. Initiation of RPS2-specified disease resistance in Arabidopsis is coupled to the AvrRpt2-directed elimination of RIN4. Cell 112, 369–377 (2003).

Mackey, D., Belkhadir, Y., Alonso, J. M., Ecker, J. R. & Dangl, J. L. Arabidopsis RIN4 is a target of the type III virulence effector AvrRpt2 and modulates RPS2-mediated resistance. Cell 112, 379–389 (2003).

Xin, X. F. et al. Bacteria establish an aqueous living space in plants crucial for virulence. Nature 539, 524–529 (2016).

Shao, F. et al. Cleavage of Arabidopsis PBS1 by a bacterial type III effector. Science 301, 1230–1233 (2003).

Gassmann, W., Hinsch, M. E. & Staskawicz, B. J. The Arabidopsis RPS4 bacterial-resistance gene is a member of the TIR–NBS–LRR family of disease-resistance genes. Plant J. 20, 265–277 (1999).

Xin, X. F., Kvitko, B. & He, S. Y. Pseudomonas syringae: what it takes to be a pathogen. Nat. Rev. Microbiol. 16, 316–328 (2018).

Toruño, T. Y., Stergiopoulos, I. & Coaker, G. Plant-pathogen effectors: cellular probes interfering with plant defenses in spatial and temporal manners. Annu. Rev. Phytopathol. 54, 419–441 (2016).

Wei, H. L. et al. Pseudomonas syringae pv. tomato DC3000 type III secretion effector polymutants reveal an interplay between HopAD1 and AvrPtoB. Cell Host Microbe 17, 752–762 (2015).

Qi, J., Wang, J., Gong, Z. & Zhou, J. M. Apoplastic ROS signaling in plant immunity. Curr. Opin. Plant Biol. 38, 92–100 (2017).

McNellis, T. W. et al. Glucocorticoid-inducible expression of a bacterial avirulence gene in transgenic Arabidopsis induces hypersensitive cell death. Plant J. 14, 247–257 (1998).

Levine, A., Tenhaken, R., Dixon, R. & Lamb, C. H2O2 from the oxidative burst orchestrates the plant hypersensitive disease resistance response. Cell 79, 583–593 (1994).

Chandra, S., Martin, G. B. & Low, P. S. The Pto kinase mediates a signaling pathway leading to the oxidative burst in tomato. Proc. Natl Acad. Sci. USA 93, 13393–13397 (1996).

Tian, S. et al. Plant aquaporin AtPIP1;4 links apoplastic H2O2 induction to disease immunity pathways. Plant Physiol. 171, 1635–1650 (2016).

Torres, M. A., Dangl, J. L. & Jones, J. D. Arabidopsis gp91phox homologues AtrbohD and AtrbohF are required for accumulation of reactive oxygen intermediates in the plant defense response. Proc. Natl Acad. Sci. USA 99, 517–522 (2002).

Daudi, A. et al. The apoplastic oxidative burst peroxidase in Arabidopsis is a major component of pattern-triggered immunity. Plant Cell 24, 275–287 (2012).

Li, Y. et al. Glucose triggers stomatal closure mediated by basal signaling through HXK1 and PYR/RCAR receptors in Arabidopsis. J. Exp. Bot. 69, 1471–1484 (2018).

Kadota, Y. et al. Direct regulation of the NADPH oxidase RBOHD by the PRR-associated kinase BIK1 during plant immunity. Mol. Cell 54, 43–55 (2014).

Li, L. et al. The FLS2-associated kinase BIK1 directly phosphorylates the NADPH oxidase RbohD to control plant immunity. Cell Host Microbe 15, 329–338 (2014).

Kadota, Y. et al. Quantitative phosphoproteomic analysis reveals common regulatory mechanisms between effector- and PAMP-triggered immunity in plants. New Phytol. 221, 2160–2175 (2019).

Asai, T. et al. MAP kinase signalling cascade in Arabidopsis innate immunity. Nature 415, 977–983 (2002).

Cecchini, N. M., Steffes, K., Schläppi, M. R., Gifford, A. N. & Greenberg, J. T. Arabidopsis AZI1 family proteins mediate signal mobilization for systemic defence priming. Nat. Commun. 6, 7658 (2015).

Liang, X. et al. Arabidopsis heterotrimeric G proteins regulate immunity by directly coupling to the FLS2 receptor. eLife 5, e13568 (2016).

Ngou, B. P. M., Ahn, H.-K., Ding, P. & Jones, J. D. G. Mutual potentiation of plant immunity by cell-surface and intracellular receptors. Nature https://doi.org/10.1038/s41586-021-03315-7 (2021).

Cao, X. Self-regulation and cross-regulation of pattern-recognition receptor signalling in health and disease. Nat. Rev. Immunol. 16, 35–50 (2016).

Gimenez-Ibanez, S., Ntoukakis, V. & Rathjen, J. P. The LysM receptor kinase CERK1 mediates bacterial perception in Arabidopsis. Plant Signal. Behav. 4, 539–541 (2009).

Mindrinos, M., Katagiri, F., Yu, G. L. & Ausubel, F. M. The A. thaliana disease resistance gene RPS2 encodes a protein containing a nucleotide-binding site and leucine-rich repeats. Cell 78, 1089–1099 (1994).

Veronese, P. et al. The membrane-anchored BOTRYTIS-INDUCED KINASE1 plays distinct roles in Arabidopsis resistance to necrotrophic and biotrophic pathogens. Plant Cell 18, 257–273 (2006).

Gao, X. et al. Bifurcation of Arabidopsis NLR immune signaling via Ca2+-dependent protein kinases. PLoS Pathog. 9, e1003127 (2013).

Mudgett, M. B. & Staskawicz, B. J. Characterization of the Pseudomonas syringae pv. tomato AvrRpt2 protein: demonstration of secretion and processing during bacterial pathogenesis. Mol. Microbiol. 32, 927–941 (1999).

Hinsch, M. & Staskawicz, B. Identification of a new Arabidopsis disease resistance locus, RPs4, and cloning of the corresponding avirulence gene, avrRps4, from Pseudomonas syringae pv. pisi. Mol. Plant Microbe Interact. 9, 55–61 (1996).

Aarts, N. et al. Different requirements for EDS1 and NDR1 by disease resistance genes define at least two R gene-mediated signaling pathways in Arabidopsis. Proc. Natl Acad. Sci. USA 95, 10306–10311 (1998).

Lee, D., Bourdais, G., Yu, G., Robatzek, S. & Coaker, G. Phosphorylation of the plant immune regulator RPM1-INTERACTING PROTEIN4 enhances plant plasma membrane H+-ATPase activity and inhibits flagellin-triggered immune responses in Arabidopsis. Plant Cell 27, 2042–2056 (2015).

Pajerowska-Mukhtar, K. M. et al. The HSF-like transcription factor TBF1 is a major molecular switch for plant growth-to-defense transition. Curr. Biol. 22, 103–112 (2012).

Hickman, R. et al. Architecture and dynamics of the jasmonic acid gene regulatory network. Plant Cell 29, 2086–2105 (2017).

Nemhauser, J. L., Hong, F. & Chory, J. Different plant hormones regulate similar processes through largely nonoverlapping transcriptional responses. Cell 126, 467–475 (2006).

Hartmann, M. et al. Flavin monooxygenase-generated N-hydroxypipecolic acid is a critical element of plant systemic immunity. Cell 173, 456–469 (2018).
Acknowledgements
We thank Xin laboratory members for helpful discussions; the Greenhouse and Confocal Microscopy Imaging facilities at the CAS Center for Excellence in Molecular Plant Sciences for plant growth and technical support; G. Coaker from University of California, Davis for providing the RIN4 antibody; B. P. M. Ngou and P. Ding from J. Jones' laboratory at the Sainsbury Laboratory for insightful discussions during manuscript preparation. This research was supported by the Chinese Academy of Sciences, Center for Excellence in Molecular Plant Sciences/Institute of Plant Physiology and Ecology, National Key Laboratory of Plant Molecular Genetics and Chinese Academy of Sciences Strategic Priority Research Program (Type-B; project number: XDB27040211). G.B. was supported by the Youth Program of National Natural Science Foundation of China (NSFC) (project number: 31900222). The initial observation of PRR dependency for ETI resistance was made by X.-F.X. while at Michigan State University, supported by the US National Institute of General Medical Sciences (GM109928, to S.Y.H.).
Ethics declarations
Competing interests
The authors declare no competing interests.
Additional information
Peer review information Nature thanks Thorsten Nürnberger and the other, anonymous, reviewer(s) for their contribution to the peer review of this work.
Publisher's note Springer Nature remains neutral with regard to jurisdictional claims in published maps and institutional affiliations.
Extended data figures and tables
Supplementary information
This file contains Supplementary Figure 1: Uncropped images of protein blots; Supplementary Table 2: Primers used in this study; and Supplementary Table 3: P-values of additional comparisons in Figure 2d, 4a and Extended Figure 10a.
Differentially expressed genes in Col-0 and bbc, as determined by DESeq R packag and using a negative binomial distribution-based model. P-values were adjusted using the Benjamini and Hochberg's approach and genes with an padj-value < 0.05 and log2(Fold change) > 1 are shown.
About this article
Cite this article
Yuan, M., Jiang, Z., Bi, G. et al. Pattern-recognition receptors are required for NLR-mediated plant immunity. Nature 592, 105–109 (2021). https://doi.org/10.1038/s41586-021-03316-6
Received:

Accepted:

Published:

Issue Date:

DOI: https://doi.org/10.1038/s41586-021-03316-6
Comments
By submitting a comment you agree to abide by our Terms and Community Guidelines. If you find something abusive or that does not comply with our terms or guidelines please flag it as inappropriate.