Abstract
The plant immune system involves cell-surface receptors that detect intercellular pathogen-derived molecules, and intracellular receptors that activate immunity upon detection of pathogen-secreted effector proteins that act inside the plant cell. Immunity mediated by surface receptors has been extensively studied1, but that mediated by intracellular receptors has rarely been investigated in the absence of surface-receptor-mediated immunity. Furthermore, interactions between these two immune pathways are poorly understood. Here, by activating intracellular receptors without inducing surface-receptor-mediated immunity, we analyse interactions between these two distinct immune systems in Arabidopsis. Pathogen recognition by surface receptors activates multiple protein kinases and NADPH oxidases, and we find that intracellular receptors primarily potentiate the activation of these proteins by increasing their abundance through several mechanisms. Likewise, the hypersensitive response that depends on intracellular receptors is strongly enhanced by the activation of surface receptors. Activation of either immune system alone is insufficient to provide effective resistance against the bacterial pathogen Pseudomonas syringae. Thus, immune pathways activated by cell-surface and intracellular receptors in plants mutually potentiate to activate strong defences against pathogens. These findings reshape our understanding of plant immunity and have broad implications for crop improvement.
Relevant articles
Open Access articles citing this article.
Haixiang Yu

,

Xuelian Wu

…

Futian Peng

BMC Plant Biology Open Access 25 October 2023

Hui Shi

,

Qing Xiong

…

Jing Wang

Rice Open Access 21 September 2023

Xiuyan Liu

,

Zhongping Lei

…

Daohua He

BMC Plant Biology Open Access 11 September 2023
Access options
Access Nature and 54 other Nature Portfolio journals
Get Nature+, our best-value online-access subscription
$29.99 / 30 days
cancel any time
Subscribe to this journal
Receive 51 print issues and online access
$199.00 per year
only $3.90 per issue
Rent or buy this article
Prices vary by article type
from$1.95
to$39.95
Prices may be subject to local taxes which are calculated during checkout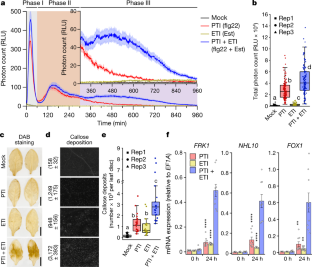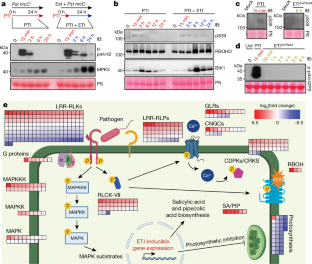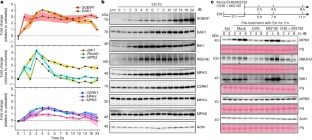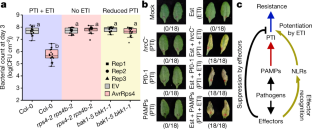 Data availability
All data are available within this Article and its Supplementary Information. RNA-seq data are provided in Supplementary Table 4. Statistical analyses are provided in Supplementary Table 5. The original RNA-seq data that support the findings of this study have been deposited and made publicly available in the ENA with accession code PRJEB34955. All original gel blots are shown in Supplementary Fig. 1. Source data are provided with this paper.
References
Couto, D. & Zipfel, C. Regulation of pattern recognition receptor signalling in plants. Nat. Rev. Immunol. 16, 537–552 (2016).

Jones, J. D. G., Vance, R. E. & Dangl, J. L. Intracellular innate immune surveillance devices in plants and animals. Science 354, aaf6395 (2016).

Monteiro, F. & Nishimura, M. T. Structural, functional, and genomic diversity of plant NLR proteins: an evolved resource for rational engineering of plant immunity. Annu. Rev. Phytopathol. 56, 243–267 (2018).

Wang, J. et al. Reconstitution and structure of a plant NLR resistosome conferring immunity. Science 364, eaav5870 (2019).

Martin, R. et al. Structure of the activated ROQ1 resistosome directly recognizing the pathogen effector XopQ. Science 370, eabd9993 (2020).

Ma, S. et al. Direct pathogen-induced assembly of an NLR immune receptor complex to form a holoenzyme. Science 370, eabe3069 (2020).

Duxbury, Z., Wu, C. & Ding, P. A comparative overview of the intracellular guardians of plants and animals: NLRs in innate immunity and beyond. Annu. Rev. Plant Biol. (in the press).

Lapin, D. et al. A coevolved EDS1-SAG101-NRG1 module mediates cell death signaling by TIR-domain immune receptors. Plant Cell 31, 2430–2455 (2019).

Jones, J. D. G. & Dangl, J. L. The plant immune system. Nature 444, 323–329 (2006).

Ngou, B. P. M. et al. Estradiol-inducible AvrRps4 expression reveals distinct properties of TIR-NLR-mediated effector-triggered immunity. J. Exp. Bot. 71, 2186–2197 (2020).

Voigt, C. A. Callose-mediated resistance to pathogenic intruders in plant defense-related papillae. Front. Plant Sci. 5, 168 (2014).

Kadota, Y. et al. Direct regulation of the NADPH oxidase RBOHD by the PRR-associated kinase BIK1 during plant immunity. Mol. Cell 54, 43–55 (2014).

Li, L. et al. The FLS2-associated kinase BIK1 directly phosphorylates the NADPH oxidase RbohD to control plant immunity. Cell Host Microbe 15, 329–338 (2014).

Meng, X. & Zhang, S. MAPK cascades in plant disease resistance signaling. Annu. Rev. Phytopathol. 51, 245–266 (2013).

Kourelis, J. & van der Hoorn, R. A. L. Defended to the nines: 25 years of resistance gene cloning identifies nine mechanisms for R protein function. Plant Cell 30, 285–299 (2018).

Meteignier, L.-V. et al. Translatome analysis of an NB-LRR immune response identifies important contributors to plant immunity in Arabidopsis. J. Exp. Bot. 68, 2333–2344 (2017).

Ding, P. et al. High-resolution expression profiling of selected gene sets during plant immune activation. Plant Biotechnol. J. 18, 1610–1619 (2020).

Ding, P. et al. Chromatin accessibility landscapes activated by cell surface and intracellular immune receptors. Preprint at https://doi.org/10.1101/2020.06.17.157040 (2020).

Ma, X. et al. Ligand-induced monoubiquitination of BIK1 regulates plant immunity. Nature 581, 199–203 (2020).

Lee, D. et al. Regulation of reactive oxygen species during plant immunity through phosphorylation and ubiquitination of RBOHD. Nat. Commun. 11, 1838 (2020).

Urquidi Camacho, R. A., Lokdarshi, A. & von Arnim, A. G. Translational gene regulation in plants: a green new deal. Wiley Interdiscip. Rev. RNA 11, e1597 (2020).

Roux, M. et al. The Arabidopsis leucine-rich repeat receptor-like kinases BAK1/SERK3 and BKK1/SERK4 are required for innate immunity to hemibiotrophic and biotrophic pathogens. Plant Cell 23, 2440–2455 (2011).

Yuan, M. et al. Pattern-recognition receptors are required for NLR-mediated plant immunity. Nature, https://doi.org/10.1038/s41586-021-03316-6 (2021).

Su, J. et al. Active photosynthetic inhibition mediated by MPK3/MPK6 is critical to effector-triggered immunity. PLoS Biol. 16, e2004122 (2018).

Torres, M. A., Dangl, J. L. & Jones, J. D. G. Arabidopsis gp91phox homologues AtrbohD and AtrbohF are required for accumulation of reactive oxygen intermediates in the plant defense response. Proc. Natl Acad. Sci. USA 99, 517–522 (2002).

Kadota, Y. et al. Quantitative phosphoproteomic analysis reveals common regulatory mechanisms between effector- and PAMP-triggered immunity in plants. New Phytol. 221, 2160–2175 (2019).

Xu, J. et al. A chemical genetic approach demonstrates that MPK3/MPK6 activation and NADPH oxidase-mediated oxidative burst are two independent signaling events in plant immunity. Plant J. 77, 222–234 (2014).

Yamada, K., Saijo, Y., Nakagami, H. & Takano, Y. Regulation of sugar transporter activity for antibacterial defense in Arabidopsis. Science 354, 1427–1430 (2016).

Anderson, J. C. et al. Decreased abundance of type III secretion system-inducing signals in Arabidopsis mkp1 enhances resistance against Pseudomonas syringae. Proc. Natl Acad. Sci. USA 111, 6846–6851 (2014).

Jones, J. D. Putting knowledge of plant disease resistance genes to work. Curr. Opin. Plant Biol. 4, 281–287 (2001).

Luo, M. et al. A five-transgene cassette confers broad-spectrum resistance to a fungal rust pathogen in wheat. Nat. Biotechnol. https://doi.org/10.1038/s41587-020-00770-x (2021).

Cevik, V. et al. Transgressive segregation reveals mechanisms of Arabidopsis immunity to Brassica-infecting races of white rust (Albugo candida). Proc. Natl Acad. Sci. USA 116, 2767–2773 (2019).

Kelley, N., Jeltema, D., Duan, Y. & He, Y. The NLRP3 inflammasome: an overview of mechanisms of activation and regulation. Int. J. Mol. Sci. 20, 3328 (2019).

Wolf, A. J. & Underhill, D. M. Peptidoglycan recognition by the innate immune system. Nat. Rev. Immunol. 18, 243–254 (2018).

Schwessinger, B. et al. Phosphorylation-dependent differential regulation of plant growth, cell death, and innate immunity by the regulatory receptor-like kinase BAK1. PLoS Genet. 7, e1002046 (2011).

Asai, S. et al. A downy mildew effector evades recognition by polymorphism of expression and subcellular localization. Nat. Commun. 9, 5192 (2018).

Tornero, P., Chao, R. A., Luthin, W. N., Goff, S. A. & Dangl, J. L. Large-scale structure-function analysis of the Arabidopsis RPM1 disease resistance protein. Plant Cell 14, 435–450 (2002).

Tsuda, K. et al. Dual regulation of gene expression mediated by extended MAPK activation and salicylic acid contributes to robust innate immunity in Arabidopsis thaliana. PLoS Genet. 9, e1004015 (2013).

Qi, D. et al. Recognition of the protein kinase AVRPPHB SUSCEPTIBLE1 by the disease resistance protein RESISTANCE TO PSEUDOMONAS SYRINGAE5 is dependent on S-acylation and an exposed loop in AVRPPHB SUSCEPTIBLE1. Plant Physiol. 164, 340–351 (2014).

Livak, K. J. & Schmittgen, T. D. Analysis of relative gene expression data using real-time quantitative PCR and the 2−ΔΔCT method. Methods 25, 402–408 (2001).

Bray, N. L., Pimentel, H., Melsted, P. & Pachter, L. Near-optimal probabilistic RNA-seq quantification. Nat. Biotechnol. 34, 525–527 (2016).

Guo, W. et al. 3D RNA-seq - a powerful and flexible tool for rapid and accurate differential expression and alternative splicing analysis of RNA-seq data for biologists. RNA Biol. https://doi.org/10.1080/15476286.2020.1858253 (2020).

Cho, H. K., Ahn, C. S., Lee, H.-S., Kim, J.-K. & Pai, H.-S. Pescadillo plays an essential role in plant cell growth and survival by modulating ribosome biogenesis. Plant J. 76, 393–405 (2013).

Ingole, K. D., Dahale, S. K. & Bhattacharjee, S. Proteomic analysis of SUMO1-SUMOylome changes during defense elicitation in Arabidopsis. J. Proteomics 232, 105054 (2021).

Sohn, K. H., Zhang, Y. & Jones, J. D. G. The Pseudomonas syringae effector protein, AvrRPS4, requires in planta processing and the KRVY domain to function. Plant J. 57, 1079–1091 (2009).

Thomas, W. J., Thireault, C. A., Kimbrel, J. A. & Chang, J. H. Recombineering and stable integration of the Pseudomonas syringae pv. syringae 61 hrp/hrc cluster into the genome of the soil bacterium Pseudomonas fluorescens Pf0-1. Plant J. 60, 919–928 (2009).
Acknowledgements
We thank J. Dangl, S. Asai, R. Innes, K. Tsuda, S. Zhang, C. Zipfel, J.-M. Zhou, A. von Arnim, B. Staskawicz, C. Cheval, Y. Kadota, R. O'Grady, M. Morris, J. Rhodes and Y. Ding for providing materials, discussion and technical support; C. Zipfel, M. Yuan, X. Xin and S.-Y. He for critical reading of the manuscript; and the Gatsby Foundation for funding to the J.D.G.J. laboratory. B.P.M.N was supported by the Norwich Research Park Biosciences Doctoral Training Partnership from the Biotechnology and Biological Sciences Research Council (BBSRC) (grant agreement BB/M011216/1); H.-K.A. was supported by European Research Council Advanced Grant 'ImmunitybyPairDesign' (grant agreement: 669926); and P.D. acknowledges support from the European Union's Horizon 2020 Research and Innovation Program under Marie Skłodowska-Curie Actions (grant agreement 656243) and a Future Leader Fellowship from BBSRC (grant agreement BB/R012172/1).
Ethics declarations
Competing interests
The authors declare no competing interests.
Additional information
Peer review information Nature thanks Thorsten Nürnberger and the other, anonymous, reviewer(s) for their contribution to the peer review of this work. Peer reviewer reports are available.
Publisher's note Springer Nature remains neutral with regard to jurisdictional claims in published maps and institutional affiliations.
Extended data figures and tables
Supplementary information
About this article
Cite this article
Ngou, B.P.M., Ahn, HK., Ding, P. et al. Mutual potentiation of plant immunity by cell-surface and intracellular receptors. Nature 592, 110–115 (2021). https://doi.org/10.1038/s41586-021-03315-7
Received:

Accepted:

Published:

Issue Date:

DOI: https://doi.org/10.1038/s41586-021-03315-7
Comments
By submitting a comment you agree to abide by our Terms and Community Guidelines. If you find something abusive or that does not comply with our terms or guidelines please flag it as inappropriate.