Abstract
The genome-wide architecture of chromatin-associated proteins that maintains chromosome integrity and gene regulation is not well defined. Here we use chromatin immunoprecipitation, exonuclease digestion and DNA sequencing (ChIP–exo/seq)1,2 to define this architecture in Saccharomyces cerevisiae. We identify 21 meta-assemblages consisting of roughly 400 different proteins that are related to DNA replication, centromeres, subtelomeres, transposons and transcription by RNA polymerase (Pol) I, II and III. Replication proteins engulf a nucleosome, centromeres lack a nucleosome, and repressive proteins encompass three nucleosomes at subtelomeric X-elements. We find that most promoters associated with Pol II evolved to lack a regulatory region, having only a core promoter. These constitutive promoters comprise a short nucleosome-free region (NFR) adjacent to a +1 nucleosome, which together bind the transcription-initiation factor TFIID to form a preinitiation complex. Positioned insulators protect core promoters from upstream events. A small fraction of promoters evolved an architecture for inducibility, whereby sequence-specific transcription factors (ssTFs) create a nucleosome-depleted region (NDR) that is distinct from an NFR. We describe structural interactions among ssTFs, their cognate cofactors and the genome. These interactions include the nucleosomal and transcriptional regulators RPD3-L, SAGA, NuA4, Tup1, Mediator and SWI–SNF. Surprisingly, we do not detect interactions between ssTFs and TFIID, suggesting that such interactions do not stably occur. Our model for gene induction involves ssTFs, cofactors and general factors such as TBP and TFIIB, but not TFIID. By contrast, constitutive transcription involves TFIID but not ssTFs engaged with their cofactors. From this, we define a highly integrated network of gene regulation by ssTFs.
Relevant articles
Open Access articles citing this article.
Rina Hirano

,

Haruhiko Ehara

…

Hitoshi Kurumizaka

Nature Communications Open Access 26 November 2022

Haibo Wang

,

Sandra Schilbach

…

Patrick Cramer

Nature Structural & Molecular Biology Open Access 21 November 2022

Sai Li

,

Michael R. Wasserman

…

Shixin Liu

Nature Communications Open Access 23 August 2022
Access options
Subscribe to Nature+
Get immediate online access to Nature and 55 other Nature journal
Subscribe to Journal
Get full journal access for 1 year
$199.00
only $3.90 per issue
All prices are NET prices.
VAT will be added later in the checkout.
Tax calculation will be finalised during checkout.
Buy article
Get time limited or full article access on ReadCube.
$32.00
All prices are NET prices.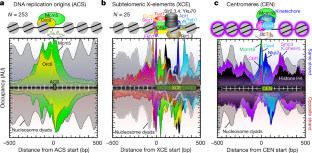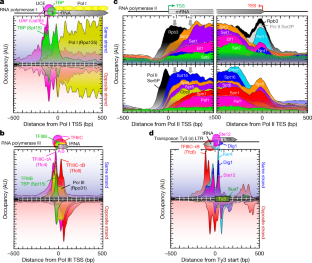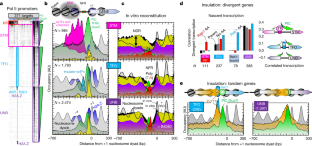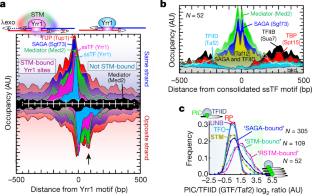 Data availability
See Supplementary Data 4 for a list of where to find available data and code online. In essence, all raw sequencing data and peak files from this study are available at the NCBI GEO (https://www.ncbi.nlm.nih.gov/geo/) under accession number GSE147927. Processed data are available at https://doi.org/10.26208/rykf-6050. Additional analyses and data are at yeastepigenome.org. We warn that single-replicate data files are not likely to have meaningful data and should not be used without further replication. All underlying data used to generate composite plots, coordinate files and script parameters for Figs. 2–5, Extended Data Figs. 4, 5, 7, 8b and Supplementary Fig. 1 can be downloaded from https://github.com/CEGRcode/2021-Rossi_Nature. Final composite plot values can be found in Supplementary Data 5.
References
Rossi, M. J., Lai, W. K. M. & Pugh, B. F. Simplified ChIP-exo assays. Nat. Commun. 9, 2842 (2018).

Rhee, H. S. & Pugh, B. F. Comprehensive genome-wide protein-DNA interactions detected at single-nucleotide resolution. Cell 147, 1408–1419 (2011).

Hahn, S. & Young, E. T. Transcriptional regulation in Saccharomyces cerevisiae: transcription factor regulation and function, mechanisms of initiation, and roles of activators and coactivators. Genetics 189, 705–736 (2011).

Levine, M., Cattoglio, C. & Tjian, R. Looping back to leap forward: transcription enters a new era. Cell 157, 13–25 (2014).

Cramer, P. Organization and regulation of gene transcription. Nature 573, 45–54 (2019).

Eaton, M. L., Galani, K., Kang, S., Bell, S. P. & MacAlpine, D. M. Conserved nucleosome positioning defines replication origins. Genes Dev. 24, 748–753 (2010).

Li, N. et al. Structure of the origin recognition complex bound to DNA replication origin. Nature 559, 217–222 (2018).

Wellinger, R. J. & Zakian, V. A. Everything you ever wanted to know about Saccharomyces cerevisiae telomeres: beginning to end. Genetics 191, 1073–1105 (2012).

Biggins, S. The composition, functions, and regulation of the budding yeast kinetochore. Genetics 194, 817–846 (2013).

Camahort, R. et al. Cse4 is part of an octameric nucleosome in budding yeast. Mol. Cell 35, 794–805 (2009).

Henikoff, S. et al. The budding yeast centromere DNA element II wraps a stable Cse4 hemisome in either orientation in vivo. eLife 3, e01861 (2014).

Rhee, H. S., Bataille, A. R., Zhang, L. & Pugh, B. F. Subnucleosomal structures and nucleosome asymmetry across a genome. Cell 159, 1377–1388 (2014).

Furuyama, S. & Biggins, S. Centromere identity is specified by a single centromeric nucleosome in budding yeast. Proc. Natl Acad. Sci. USA 104, 14706–14711 (2007).

Yan, K. et al. Structure of the inner kinetochore CCAN complex assembled onto a centromeric nucleosome. Nature 574, 278–282 (2019).

Han, Y., Yan, C., Fishbain, S., Ivanov, I. & He, Y. Structural visualization of RNA polymerase III transcription machineries. Cell Discov. 4, 40 (2018).

Mayer, A. et al. Uniform transitions of the general RNA polymerase II transcription complex. Nat. Struct. Mol. Biol. 17, 1272–1278 (2010).

Petrenko, N., Jin, Y., Wong, K. H. & Struhl, K. Evidence that Mediator is essential for Pol II transcription, but is not a required component of the preinitiation complex in vivo. eLife 6, e28447 (2017).

Jeronimo, C. et al. Tail and kinase modules differently regulate core Mediator recruitment and function in vivo. Mol. Cell 64, 455–466 (2016).

Andrau, J. C. et al. Genome-wide location of the coactivator mediator: binding without activation and transient Cdk8 interaction on DNA. Mol. Cell 22, 179–192 (2006).

Paul, E., Zhu, Z. I., Landsman, D. & Morse, R. H. Genome-wide association of mediator and RNA polymerase II in wild-type and mediator mutant yeast. Mol. Cell. Biol. 35, 331–342 (2015).

Zhu, X. et al. Genome-wide occupancy profile of mediator and the Srb8-11 module reveals interactions with coding regions. Mol. Cell 22, 169–178 (2006).

Krastanova, O., Hadzhitodorov, M. & Pesheva, M. Ty elements of the yeast Saccharomyces cerevisiae. Biotechnol. Biotechnol. Equip. 19, 19–26 (2005).

Reja, R., Vinayachandran, V., Ghosh, S. & Pugh, B. F. Molecular mechanisms of ribosomal protein gene coregulation. Genes Dev. 29, 1942–1954 (2015).

Krietenstein, N. et al. Genomic nucleosome organization reconstituted with pure proteins. Cell 167, 709–721 (2016).

Chereji, R. V., Ocampo, J. & Clark, D. J. MNase-sensitive complexes in yeast: nucleosomes and non-histone barriers. Mol. Cell 65, 565–577 (2017).

Candelli, T. et al. High-resolution transcription maps reveal the widespread impact of roadblock termination in yeast. EMBO J. 37, e97490 (2018).

Brzovic, P. S. et al. The acidic transcription activator Gcn4 binds the mediator subunit Gal11/Med15 using a simple protein interface forming a fuzzy complex. Mol. Cell 44, 942–953 (2011).

Huisinga, K. L. & Pugh, B. F. A genome-wide housekeeping role for TFIID and a highly regulated stress-related role for SAGA in Saccharomyces cerevisiae. Mol. Cell 13, 573–585 (2004).

Dudley, A. M., Rougeulle, C. & Winston, F. The Spt components of SAGA facilitate TBP binding to a promoter at a post-activator-binding step in vivo. Genes Dev. 13, 2940–2945 (1999).

Moqtaderi, Z., Bai, Y., Poon, D., Weil, P. A. & Struhl, K. TBP-associated factors are not generally required for transcriptional activation in yeast. Nature 383, 188–191 (1996).

Baptista, T. et al. SAGA is a general cofactor for RNA polymerase II transcription. Mol. Cell 68, 130–143 (2017).

Mittal, C., Rossi, M. J. & Pugh, B. F. High similarity among ChEC-seq datasets. Preprint at https://www.biorxiv.org/content/10.1101/2021.02.04.429774v1 (2021).

Harbison, C. T. et al. Transcriptional regulatory code of a eukaryotic genome. Nature 431, 99–104 (2004).

Boija, A. et al. Transcription factors activate genes through the phase-separation capacity of their activation domains. Cell 175, 1842–1855 (2018).

Badjatia, N. et al. Acute stress drives global repression through two independent RNA polymerase II stalling events in Saccharomyces. Cell Rep. 34, 108640 (2021).

Vinayachandran, V. et al. Widespread and precise reprogramming of yeast protein-genome interactions in response to heat shock. Genome Res. 28, 357–366 (2018).

Wal, M. & Pugh, B. F. Genome-wide mapping of nucleosome positions in yeast using high-resolution MNase ChIP-Seq. Methods Enzymol. 513, 233–250 (2012).

Shao, D., Kellogg, G. D., Lai, W. K. M., Mahony, S. & Pugh, B. F. in Practice and Experience in Advanced Research Computing 285–292 (Association for Computing Machinery, Portland, OR, 2020).

Picard Toolkit. http://broadinstitute.github.io/picard/ (2019).

Li, H. et al. The sequence alignment/map format and SAMtools. Bioinformatics 25, 2078–2079 (2009).

Yamada, N., Lai, W. K. M., Farrell, N., Pugh, B. F. & Mahony, S. Characterizing protein–DNA binding event subtypes in ChIP–exo data. Bioinformatics 35, 903–913 (2019).

Benjamini, Y. & Hochberg, Y. Controlling the false discovery rate: a practical and powerful approach to multiple testing. J. R. Stat. Soc. 57, 289–300 (1995).

de Hoon, M. J., Imoto, S., Nolan, J. & Miyano, S. Open source clustering software. Bioinformatics 20, 1453–1454 (2004).

Becht, E. et al. Dimensionality reduction for visualizing single-cell data using UMAP. Nat. Biotechnol. 37, 38–44 (2019).

Xu, Z. et al. Bidirectional promoters generate pervasive transcription in yeast. Nature 457, 1033–1037 (2009).

Rhee, H. S. & Pugh, B. F. Genome-wide structure and organization of eukaryotic pre-initiation complexes. Nature 483, 295–301 (2012).

van Dijk, E. L. et al. XUTs are a class of Xrn1-sensitive antisense regulatory non-coding RNA in yeast. Nature 475, 114–117 (2011).

Albert, I., Wachi, S., Jiang, C. & Pugh, B. F. GeneTrack—a genomic data processing and visualization framework. Bioinformatics 24, 1305–1306 (2008).

Robinson, J. T. et al. Integrative genomics viewer. Nat. Biotechnol. 29, 24–26 (2011).

Jiang, C. & Pugh, B. F. A compiled and systematic reference map of nucleosome positions across the Saccharomyces cerevisiae genome. Genome Biol. 10, R109 (2009).

Yen, K., Vinayachandran, V., Batta, K., Koerber, R. T. & Pugh, B. F. Genome-wide nucleosome specificity and directionality of chromatin remodelers. Cell 149, 1461–1473 (2012).

Badis, G. et al. A library of yeast transcription factor motifs reveals a widespread function for Rsc3 in targeting nucleosome exclusion at promoters. Mol. Cell 32, 878–887 (2008).

MacIsaac, K. D. et al. An improved map of conserved regulatory sites for Saccharomyces cerevisiae. BMC Bioinformatics 7, 113 (2006).

Liang, K. & Keleş, S. Normalization of ChIP-seq data with control. BMC Bioinformatics 13, 199 (2012).

Bailey, T. L. & Elkan, C. Fitting a mixture model by expectation maximization to discover motifs in biopolymers. Proc. Int. Conf. Intell. Syst. Mol. Biol. 2, 28–36 (1994).
Acknowledgements
This work was supported by National Institutes of Health (NIH) grants ES013768, GM059055 and HG004160 to B.F.P.; National Science Foundation (NSF) ABI INNOVATION grant 1564466 to S.M.; grants from the Pennsylvania State University Institute for Computational and Data Sciences to B.F.P. and W.K.M.L.; and computation from Advanced CyberInfrastructure (ROAR) at the Pennsylvania State University. We thank D. Shao for her role as lead software engineer for the PEGR platform and for support through the Penn State Institute and Computational Data Sciences (ICDS) Research Innovations with Scientists and Engineers (RISE) team. We thank O. Lang for operating EpitopeID.
Ethics declarations
Competing interests
B.F.P. has a financial interest in Peconic, LLC, which offers the ChIP–exo technology (US Patent 20100323361A1) implemented herein as a commercial service and could potentially benefit from the outcomes of this research. The remaining authors declare no competing interests.
Additional information
Peer review information Nature thanks Vishwanath Iyer and the other, anonymous, reviewer(s) for their contribution to the peer review of this work. Peer reviewer reports are available.
Publisher's note Springer Nature remains neutral with regard to jurisdictional claims in published maps and institutional affiliations.
Extended data figures and tables
Supplementary information
About this article
Cite this article
Rossi, M.J., Kuntala, P.K., Lai, W.K.M. et al. A high-resolution protein architecture of the budding yeast genome. Nature 592, 309–314 (2021). https://doi.org/10.1038/s41586-021-03314-8
Received:

Accepted:

Published:

Issue Date:

DOI: https://doi.org/10.1038/s41586-021-03314-8
Comments
By submitting a comment you agree to abide by our Terms and Community Guidelines. If you find something abusive or that does not comply with our terms or guidelines please flag it as inappropriate.