Abstract
Internal state controls olfaction through poorly understood mechanisms. Odours that represent food, mates, competitors and predators activate parallel neural circuits that may be flexibly shaped by physiological need to alter behavioural outcome1. Here we identify a neuronal mechanism by which hunger selectively promotes attraction to food odours over other olfactory cues. Optogenetic activation of hypothalamic agouti-related peptide (AGRP) neurons enhances attraction to food odours but not to pheromones, and branch-specific activation and inhibition reveal a key role for projections to the paraventricular thalamus. Mice that lack neuropeptide Y (NPY) or NPY receptor type 5 (NPY5R) fail to prefer food odours over pheromones after fasting, and hunger-dependent food-odour attraction is restored by cell-specific NPY rescue in AGRP neurons. Furthermore, acute NPY injection immediately rescues food-odour preference without additional training, indicating that NPY is required for reading olfactory circuits during behavioural expression rather than writing olfactory circuits during odour learning. Together, these findings show that food-odour-responsive neurons comprise an olfactory subcircuit that listens to hunger state through thalamic NPY release, and more generally, provide mechanistic insights into how internal state regulates behaviour.
Access options
Subscribe to Journal
Get full journal access for 1 year
$199.00
only $3.90 per issue
All prices are NET prices.
VAT will be added later in the checkout.
Tax calculation will be finalised during checkout.
Rent or Buy article
Get time limited or full article access on ReadCube.
from$8.99
All prices are NET prices.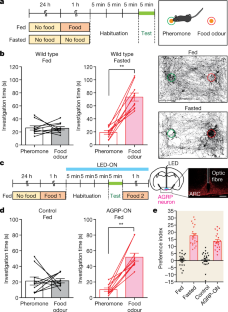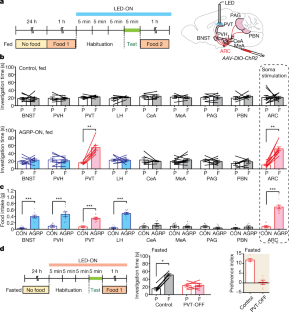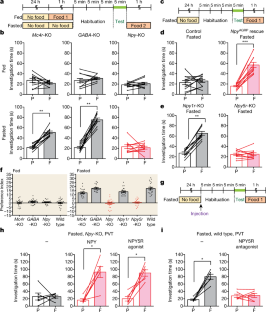 Data availability
All raw data points used for statistical analysis (Prism software) and to generate graphs are reported directly in the figures. Exact P values for pairwise data comparisons in figures, from left to right, using the tests described in the figure legends, are as follows: Fig. 1b: 0.85, 0.002; Fig. 1d: 0.77, 0.002; Fig. 2b (control): 0.82, 0.69, 0.44, 0.56, 0.69, 0.69, 0.69, 0.56, 0.77; Fig. 2b (AGRP-ON): 0.38, 0.69, 0.008, 0.57, >0.99, 0.16, 0.69, 0.31, 0.002; Fig. 2c: <0.0001, 0.0003, 0.0007, 0.0004, 0.29, 0.89, 0.34, 0.59, <0.0001; Fig. 2d: 0.03, 0.84; Fig. 3b (fed): 0.23, 0.38, 0.56; Fig. 3b (fasted): 0.002, 0.002, 0.63; Fig. 3d: 0.30, 0.0005; Fig. 3e: 0.002; 0.85; Fig. 3h: >0.99, 0.03, 0.03; Fig. 3i: 0.03, 0.84. Source data are provided with this paper.
References
1.

Li, Q. & Liberles, S. D. Aversion and attraction through olfaction. Curr. Biol. 25, R120–R129 (2015).

2.

Andermann, M. L. & Lowell, B. B. Toward a wiring diagram understanding of appetite control. Neuron 95, 757–778 (2017).

3.

Sternson, S. M. Hypothalamic survival circuits: blueprints for purposive behaviors. Neuron 77, 810–824 (2013).

4.

Rolls, E. T. Taste, olfactory, and food reward value processing in the brain. Prog. Neurobiol. 127-128, 64–90 (2015).

5.

Tong, J. et al. Ghrelin enhances olfactory sensitivity and exploratory sniffing in rodents and humans. J. Neurosci. 31, 5841–5846 (2011).

6.

Negroni, J. et al. Neuropeptide Y enhances olfactory mucosa responses to odorant in hungry rats. PLoS ONE 7, e45266 (2012).

7.

Soria-Gómez, E. et al. The endocannabinoid system controls food intake via olfactory processes. Nat. Neurosci. 17, 407–415 (2014).

8.

Root, C. M., Ko, K. I., Jafari, A. & Wang, J. W. Presynaptic facilitation by neuropeptide signaling mediates odor-driven food search. Cell 145, 133–144 (2011).

9.

Li, Q. et al. Synchronous evolution of an odor biosynthesis pathway and behavioral response. Curr. Biol. 23, 11–20 (2013).

10.

Burnett, C. J. et al. Need-based prioritization of behavior. eLife 8, e44527 (2019).

11.

Aponte, Y., Atasoy, D. & Sternson, S. M. AGRP neurons are sufficient to orchestrate feeding behavior rapidly and without training. Nat. Neurosci. 14, 351–355 (2011).

12.

Krashes, M. J. et al. Rapid, reversible activation of AgRP neurons drives feeding behavior in mice. J. Clin. Invest. 121, 1424–1428 (2011).

13.

Luquet, S., Perez, F. A., Hnasko, T. S. & Palmiter, R. D. NPY/AgRP neurons are essential for feeding in adult mice but can be ablated in neonates. Science 310, 683–685 (2005).

14.

Alhadeff, A. L. et al. A neural circuit for the suppression of pain by a competing need state. Cell 173, 140–152.e15 (2018).

15.

Betley, J. N., Cao, Z. F., Ritola, K. D. & Sternson, S. M. Parallel, redundant circuit organization for homeostatic control of feeding behavior. Cell 155, 1337–1350 (2013).

16.

Essner, R. A. et al. AgRP neurons can increase food intake during conditions of appetite suppression and inhibit anorexigenic parabrachial neurons. J. Neurosci. 37, 8678–8687 (2017).

17.

Padilla, S. L. et al. Agouti-related peptide neural circuits mediate adaptive behaviors in the starved state. Nat. Neurosci. 19, 734–741 (2016).

18.

Small, D. M., Veldhuizen, M. G., Felsted, J., Mak, Y. E. & McGlone, F. Separable substrates for anticipatory and consummatory food chemosensation. Neuron 57, 786–797 (2008).

19.

Rousseaux, M., Muller, P., Gahide, I., Mottin, Y. & Romon, M. Disorders of smell, taste, and food intake in a patient with a dorsomedial thalamic infarct. Stroke 27, 2328–2330 (1996).

20.

Betley, J. N. et al. Neurons for hunger and thirst transmit a negative-valence teaching signal. Nature 521, 180–185 (2015).

21.

Chen, Y., Lin, Y. C., Kuo, T. W. & Knight, Z. A. Sensory detection of food rapidly modulates arcuate feeding circuits. Cell 160, 829–841 (2015).

22.

Krashes, M. J., Shah, B. P., Koda, S. & Lowell, B. B. Rapid versus delayed stimulation of feeding by the endogenously released AgRP neuron mediators GABA, NPY, and AgRP. Cell Metab. 18, 588–595 (2013).

23.

Chen, Y. et al. Sustained NPY signaling enables AgRP neurons to drive feeding. eLife 8, e46348 (2019).

24.

Krashes, M. J. et al. A neural circuit mechanism integrating motivational state with memory expression in Drosophila. Cell 139, 416–427 (2009).

25.

Kay, L. M. & Sherman, S. M. An argument for an olfactory thalamus. Trends Neurosci. 30, 47–53 (2007).

26.

Tham, W. W., Stevenson, R. J. & Miller, L. A. The functional role of the medio dorsal thalamic nucleus in olfaction. Brain Res. Rev. 62, 109–126 (2009).

27.

Otis, J. M. et al. Paraventricular thalamus projection neurons integrate cortical and hypothalamic signals for cue-reward processing. Neuron 103, 423–431 (2019).

28.

Zhu, Y. et al. Dynamic salience processing in paraventricular thalamus gates associative learning. Science 362, 423–429 (2018).

29.

Livneh, Y. et al. Homeostatic circuits selectively gate food cue responses in insular cortex. Nature 546, 611–616 (2017).

30.

Kirouac, G. J. Placing the paraventricular nucleus of the thalamus within the brain circuits that control behavior. Neurosci. Biobehav. Rev. 56, 315–329 (2015).

31.

Franklin, K. & Paxinos, G. The Mouse Brain in Stereotaxic Coordinates 3rd edn (Academic Press, 2008).

32.

Ben-Shaul, Y. OptiMouse: a comprehensive open source program for reliable detection and analysis of mouse body and nose positions. BMC Biol. 15, 41 (2017).
Acknowledgements
We thank B. Lowell, M. Andermann, S. Datta, M. Albers, J. Flanagan, C. Ran and K. Tao for comments on the manuscript; Q. Li and K. Tao for experimental assistance; and the Nikon Imaging Center at Harvard Medical School for microscopy assistance. The work was supported by a National Institutes of Health grant to S.D.L. (R01 DC013289) and a Uehara Memorial Foundation postdoctoral fellowship and Mishima Kaiun Memorial Foundation funding to N.H. S.D.L. is an investigator of the Howard Hughes Medical Institute.
Ethics declarations
Competing interests
The authors declare no competing interests.
Additional information
Peer review information Nature thanks Michael Krashes and the other, anonymous, reviewer(s) for their contribution to the peer review of this work.
Publisher's note Springer Nature remains neutral with regard to jurisdictional claims in published maps and institutional affiliations.
Extended data figures and tables
Supplementary information
About this article
Cite this article
Horio, N., Liberles, S.D. Hunger enhances food-odour attraction through a neuropeptide Y spotlight. Nature 592, 262–266 (2021). https://doi.org/10.1038/s41586-021-03299-4
Received:

Accepted:

Published:

Issue Date:
Further reading
Nature Reviews Neuroscience (2021)
Comments
By submitting a comment you agree to abide by our Terms and Community Guidelines. If you find something abusive or that does not comply with our terms or guidelines please flag it as inappropriate.