Abstract
Animal nervous system organization is crucial for all body functions and its disruption can lead to severe cognitive and behavioural impairment1. This organization relies on features across scales—from the localization of synapses at the nanoscale, through neurons, which possess intricate neuronal morphologies that underpin circuit organization, to stereotyped connections between different regions of the brain2. The sheer complexity of this organ means that the feat of reconstructing and modelling the structure of a complete nervous system that is integrated across all of these scales has yet to be achieved. Here we present a complete structure–function model of the main neuropil in the nematode Caenorhabditis elegans—the nerve ring—which we derive by integrating the volumetric reconstructions from two animals with corresponding3 synaptic and gap-junctional connectomes. Whereas previously the nerve ring was considered to be a densely packed tract of neural processes, we uncover internal organization and show how local neighbourhoods spatially constrain and support the synaptic connectome. We find that the C. elegans connectome is not invariant, but that a precisely wired core circuit is embedded in a background of variable connectivity, and identify a candidate reference connectome for the core circuit. Using this reference, we propose a modular network architecture of the C. elegans brain that supports sensory computation and integration, sensorimotor convergence and brain-wide coordination. These findings reveal scalable and robust features of brain organization that may be universal across phyla.
Relevant articles
Open Access articles citing this article.
Martijn P. J. Dekkers

,

Felix Salfelder

…

Gert Jansen

Communications Biology Open Access 09 September 2021
Access options
Subscribe to Nature+
Get immediate online access to the entire Nature family of 50+ journals
Subscribe to Journal
Get full journal access for 1 year
$199.00
only $3.90 per issue
All prices are NET prices.
VAT will be added later in the checkout.
Tax calculation will be finalised during checkout.
Buy article
Get time limited or full article access on ReadCube.
$32.00
All prices are NET prices.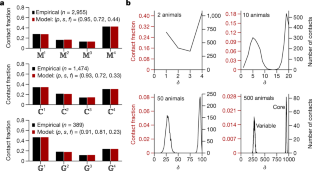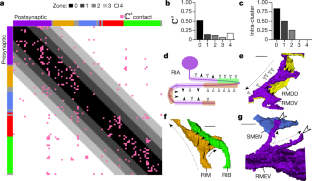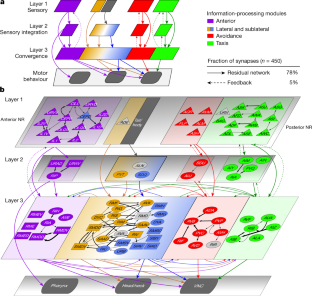 References
Hahamy, A., Behrmann, M. & Malach, R. The idiosyncratic brain: distortion of spontaneous connectivity patterns in autism spectrum disorder. Nat. Neurosci. 18, 302–309 (2015).

Swanson, L. W. & Lichtman, J. W. From Cajal to connectome and beyond. Annu. Rev. Neurosci. 39, 197–216 (2016).

Cook, S. J. et al. Whole-animal connectomes of both Caenorhabditis elegans sexes. Nature 571, 63–71 (2019).

Ryan, K., Lu, Z. & Meinertzhagen, I. A. The CNS connectome of a tadpole larva of Ciona intestinalis (L.) highlights sidedness in the brain of a chordate sibling. eLife 5, e16962 (2016).

White, J. G., Southgate, E., Thomson, J. N. & Brenner, S. The structure of the nervous system of the nematode Caenorhabditis elegans. Phil. Trans. R. Soc. B 314, 1–340 (1986).

Hall, D. H. & Russell, R. L. The posterior nervous system of the nematode Caenorhabditis elegans: serial reconstruction of identified neurons and complete pattern of synaptic interactions. J. Neurosci. 11, 1–22 (1991).

Jarrell, T. A. et al. The connectome of a decision-making neural network. Science 337, 437–444 (2012).

Bumbarger, D. J., Riebesell, M., Rödelsperger, C. & Sommer, R. J. System-wide rewiring underlies behavioral differences in predatory and bacterial-feeding nematodes. Cell 152, 109–119 (2013).

Ohyama, T. et al. A multilevel multimodal circuit enhances action selection in Drosophila. Nature 520, 633–639 (2015).

Zheng, Z. et al. A complete electron microscopy volume of the brain of adult Drosophila melanogaster. Cell 174, 730–743 (2018).

Kasthuri, N. et al. Saturated reconstruction of a volume of neocortex. Cell 162, 648–661 (2015).

Motta, A. et al. Dense connectomic reconstruction in layer 4 of the somatosensory cortex. Science 366, eaay3134 (2019).

Varshney, L. R., Chen, B. L., Paniagua, E., Hall, D. H. & Chklovskii, D. B. Structural properties of the Caenorhabditis elegans neuronal network. PLOS Comput. Biol. 7, e1001066 (2011).

Sulston, J. E., Schierenberg, E., White, J. G. & Thomson, J. N. The embryonic cell lineage of the nematode Caenorhabditis elegans. Dev. Biol. 100, 64–119 (1983).

Barabási, D. L. & Barabási, A.-L. A genetic model of the connectome. Neuron 105, 435–445 (2020).

Albertson, D. G. & Thomson, J. N. The pharynx of Caenorhabditis elegans. Phil. Trans. R. Soc. B 275, 299–325 (1976).

Cook, S. J. et al. The connectome of the Caenorhabditis elegans pharynx. J. Comp. Neurol. 528, 2767–2784 (2020).

White, J. G., Southgate, E., Thomson, J. N. & Brenner, S. Factors that determine connectivity in the nervous system of Caenorhabditis elegans. Cold Spring Harb. Symp. Quant. Biol. 48, 633–640 (1983).

Durbin, R. M. Studies on the Development and Organisation of the Nervous System of Caenorhabditis elegans. PhD thesis, Univ. Cambridge (1987).

Witvliet, D. et al. Connectomes across development reveal principles of brain maturation in C. elegans. Preprint at https://doi.org/10.1101/2020.04.30.066209 (2020).

Blondel, V. D., Guillaume, J.-L., Lambiotte, R. & Lefebvre, E. Fast unfolding of communities in large networks. J. Stat. Mech. 2008, P10008 (2008).

Gray, J. M., Hill, J. J. & Bargmann, C. I. A circuit for navigation in Caenorhabditis elegans. Proc. Natl Acad. Sci. USA 102, 3184–3191 (2005).

Kato, S. et al. Global brain dynamics embed the motor command sequence of Caenorhabditis elegans. Cell 163, 656–669 (2015).

Towlson, E. K., Vértes, P. E., Ahnert, S. E., Schafer, W. R. & Bullmore, E. T. The rich club of the C. elegans neuronal connectome. J. Neurosci. 33, 6380–6387 (2013).

Cohen, N. & Denham, J. E. Whole animal modeling: piecing together nematode locomotion. Curr. Opin. Syst. Biol. 13, 150–160 (2019).

Milo, R. et al. Network motifs: simple building blocks of complex networks. Science 298, 824–827 (2002).

He, K., Zhang, X., Ren, S. & Sun, J. Deep residual learning for image recognition. In Proc. 2016 IEEE Conference on Computer Vision and Pattern Recognition (CVPR) 770–778 (IEEE, 2016).

Thomson, A. M. Neocortical layer 6, a review. Front. Neuroanat. 4, 13 (2010).

Rapti, G., Li, C., Shan, A., Lu, Y. & Shaham, S. Glia initiate brain assembly through noncanonical Chimaerin-Furin axon guidance in C. elegans. Nat. Neurosci. 20, 1350–1360 (2017).

Morgan, J. L. & Lichtman, J. W. An individual interneuron participates in many kinds of inhibition and innervates much of the mouse visual thalamus. Neuron 106, 468–481 (2020).

Chen, X. et al. Brain-wide organization of neuronal activity and convergent sensorimotor transformations in larval zebrafish. Neuron 100, 876–890.e5 (2018).

Stern, S., Kirst, C. & Bargmann, C. I. Neuromodulatory control of long-term behavioral patterns and individuality across development. Cell 171, 1649–1662.e10 (2017).

Wang, L. & Marquardt, T. What axons tell each other: axon-axon signaling in nerve and circuit assembly. Curr. Opin. Neurobiol. 23, 974–982 (2013).

Moyle, M. W. et al. Structural and developmental principles of neuropil assembly in C. elegans. Nature https://doi.org/10.1038/s41586-020-03169-5 (2021).

Ware, R. W., Clark, D., Crossland, K. & Russell, R. L. The nerve ring of the nematode Caenorhabditis elegans: sensory input and motor output. J. Comp. Neurol. 162, 71–110 (1975).

Peachey, L. D. Thin sections. I. A study of section thickness and physical distortion produced during microtomy. J. Biophys. Biochem. Cytol. 4, 233–242 (1958).

Cardona, A. et al. TrakEM2 software for neural circuit reconstruction. PLoS One 7, e38011 (2012).

Xu, M. et al. Computer assisted assembly of connectomes from electron micrographs: application to Caenorhabditis elegans. PLoS One 8, e54050 (2013).

Newman, M. E. & Girvan, M. Finding and evaluating community structure in networks. Phys. Rev. E 69, 026113 (2004).

Rosvall, M. & Bergstrom, C. T. Maps of random walks on complex networks reveal community structure. Proc. Natl Acad. Sci. USA 105, 1118–1123 (2008).

Csardi, G. C. & Nepusz, T. The igraph software package for complex network research. InterJournal Complex Systems 1695 (2006).

Virtanen, P. et al. SciPy 1.0: fundamental algorithms for scientific computing in Python. Nat. Methods 17, 261–272 (2020).

Chang, A. J., Chronis, N., Karow, D. S., Marletta, M. A. & Bargmann, C. I. A distributed chemosensory circuit for oxygen preference in C. elegans. PLoS Biol. 4, e274 (2006).

Zimmer, M. et al. Neurons detect increases and decreases in oxygen levels using distinct guanylate cyclases. Neuron 61, 865–879 (2009).

Tomioka, M. et al. The insulin/PI 3-kinase pathway regulates salt chemotaxis learning in Caenorhabditis elegans. Neuron 51, 613–625 (2006).

Hendricks, M., Ha, H., Maffey, N. & Zhang, Y. Compartmentalized calcium dynamics in a C. elegans interneuron encode head movement. Nature 487, 99–103 (2012).

Perkins, L. A., Hedgecock, E. M., Thomson, J. N. & Culotti, J. G. Mutant sensory cilia in the nematode Caenorhabditis elegans. Dev. Biol. 117, 456–487 (1986).

Sawin, E. R., Ranganathan, R. & Horvitz, H. R. C. elegans locomotory rate is modulated by the environment through a dopaminergic pathway and by experience through a serotonergic pathway. Neuron 26, 619–631 (2000).

Kang, L., Gao, J., Schafer, W. R., Xie, Z. & Xu, X. Z. C. elegans TRP family protein TRP-4 is a pore-forming subunit of a native mechanotransduction channel. Neuron 67, 381–391 (2010).

Chalfie, M. & Sulston, J. Developmental genetics of the mechanosensory neurons of Caenorhabditis elegans. Dev. Biol. 82, 358–370 (1981).

Suzuki, H. et al. In vivo imaging of C. elegans mechanosensory neurons demonstrates a specific role for the MEC-4 channel in the process of gentle touch sensation. Neuron 39, 1005–1017 (2003).

Chalfie, M. et al. The neural circuit for touch sensitivity in Caenorhabditis elegans. J. Neurosci. 5, 956–964 (1985).

Li, C. et al. The FMRFamide-related neuropeptide FLP-20 is required in the mechanosensory neurons during memory for massed training in C. elegans. Learn. Mem. 20, 103–108 (2013).

Hukema, R. K., Rademakers, S., Dekkers, M. P. J., Burghoorn, J. & Jansen, G. Antagonistic sensory cues generate gustatory plasticity in Caenorhabditis elegans. EMBO J. 25, 312–322 (2006).
Acknowledgements
We thank J. Hodgkin and J. White for their help in donating archival transmission electron microscopy material from the MRC Laboratory of Molecular Biology to the Hall laboratory for curation. T. Ilett, F. Salfelder and S. L. Braunstein provided useful discussion. We thank M. Zhen for making their synaptic and gap junction data available (https://nemanode.org/). This work was supported by NIH grant NIMH F32MH115438 (S.J.C.), NIHD grant P30HD071593 (S.W.E.), NIMH grant R01MH112689 (S.W.E.), the G. Harold and Leila Y. Mathers Charitable Foundation (S.W.E.), NIH OD 010943 (D.H.H.) and EPSRC EP/J004057/1 (N.C.). C.A.B. was supported by the Leeds International Research Scholarship.
Ethics declarations
Competing interests
The authors declare no competing interests.
Additional information
Peer review information Nature thanks the anonymous, reviewer(s) for their contribution to the peer review of this work. Peer reviewer reports are available.
Publisher's note Springer Nature remains neutral with regard to jurisdictional claims in published maps and institutional affiliations.
Extended data figures and tables
Supplementary information
About this article
Cite this article
Brittin, C.A., Cook, S.J., Hall, D.H. et al. A multi-scale brain map derived from whole-brain volumetric reconstructions. Nature 591, 105–110 (2021). https://doi.org/10.1038/s41586-021-03284-x
Received:

Accepted:

Published:

Issue Date:

DOI: https://doi.org/10.1038/s41586-021-03284-x
This article is cited by
Mark W. Moyle
Kristopher M. Barnes
Daniel A. Colón-Ramos

Nature (2021)

Martijn P. J. Dekkers
Felix Salfelder
Gert Jansen

Communications Biology (2021)
Comments
By submitting a comment you agree to abide by our Terms and Community Guidelines. If you find something abusive or that does not comply with our terms or guidelines please flag it as inappropriate.