Abstract
Mitochondrial DNA double-strand breaks (mtDSBs) are toxic lesions that compromise the integrity of mitochondrial DNA (mtDNA) and alter mitochondrial function1. Communication between mitochondria and the nucleus is essential to maintain cellular homeostasis; however, the nuclear response to mtDSBs remains unknown2. Here, using mitochondrial-targeted transcription activator-like effector nucleases (TALENs)1,3,4, we show that mtDSBs activate a type-I interferon response that involves the phosphorylation of STAT1 and activation of interferon-stimulated genes. After the formation of breaks in the mtDNA, herniation5 mediated by BAX and BAK releases mitochondrial RNA into the cytoplasm and triggers a RIG-I–MAVS-dependent immune response. We further investigated the effect of mtDSBs on interferon signalling after treatment with ionizing radiation and found a reduction in the activation of interferon-stimulated genes when cells that lack mtDNA are exposed to gamma irradiation. We also show that mtDNA breaks synergize with nuclear DNA damage to mount a robust cellular immune response. Taken together, we conclude that cytoplasmic accumulation of mitochondrial RNA is an intrinsic immune surveillance mechanism for cells to cope with mtDSBs, including breaks produced by genotoxic agents.
Relevant articles
Open Access articles citing this article.
Esmee Vringer

&

Stephen W. G. Tait

Cell Death & Differentiation Open Access 29 November 2022

Wei Wei

,

Katherine R. Schon

…

Patrick F. Chinnery

Nature Open Access 05 October 2022

Ping Jin

,

Jingwen Jiang

…

Li Fu

Journal of Hematology & Oncology Open Access 18 July 2022
Access options
Subscribe to Nature+
Get immediate online access to Nature and 55 other Nature journal
Subscribe to Journal
Get full journal access for 1 year
$199.00
only $3.90 per issue
All prices are NET prices.
VAT will be added later in the checkout.
Tax calculation will be finalised during checkout.
Buy article
Get time limited or full article access on ReadCube.
$32.00
All prices are NET prices.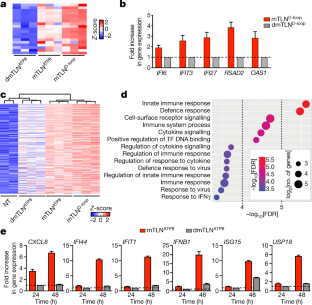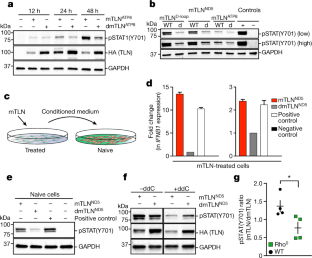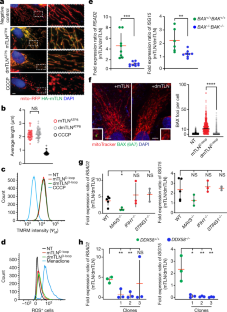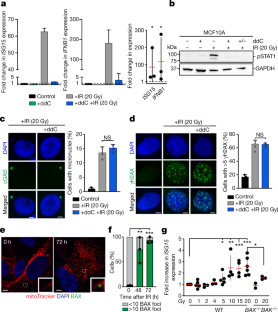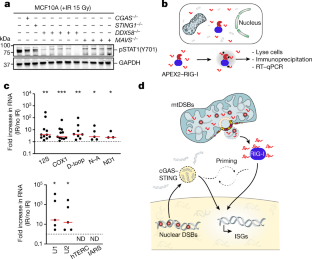 Data availability
All figures and extended data figures are associated with raw data used for statistical derivation, immunofluorescence images, raw RNA-sequencing data and DE gene analysis, uncropped western blots and flow cytometry files. These data have been uploaded in Mendeley Data (https://doi.org/10.17632/jszd6bwvtw.1). RNA-sequencing .fastq files are available through the NCBI GEO repository under accession codes GSE164979 and GSE164980.
References
Phillips, A. F. et al. Single-molecule analysis of mtDNA replication uncovers the basis of the common deletion. Mol. Cell 65, 527–538.e6 (2017).

Fu, Y., Tigano, M. & Sfeir, A. Safeguarding mitochondrial genomes in higher eukaryotes. Nat. Struct. Mol. Biol. 27, 687–695 (2020).

Bacman, S. R., Williams, S. L., Pinto, M., Peralta, S. & Moraes, C. T. Specific elimination of mutant mitochondrial genomes in patient-derived cells by mitoTALENs. Nat. Med. 19, 1111–1113 (2013).

Renaud, J. B. et al. improved genome editing efficiency and flexibility using modified oligonucleotides with TALEN and CRISPR–Cas9 nucleases. Cell Rep. 14, 2263–2272 (2016).

McArthur, K. et al. BAK/BAX macropores facilitate mitochondrial herniation and mtDNA efflux during apoptosis. Science 359, eaao6047 (2018).

Schon, E. A. et al. A direct repeat is a hotspot for large-scale deletion of human mitochondrial DNA. Science 244, 346–349 (1989).

Peeva, V. et al. Linear mitochondrial DNA is rapidly degraded by components of the replication machinery. Nat. Commun. 9, 1727 (2018).

Nissanka, N., Bacman, S. R., Plastini, M. J. & Moraes, C. T. The mitochondrial DNA polymerase gamma degrades linear DNA fragments precluding the formation of deletions. Nat. Commun. 9, 2491 (2018).

Moretton, A. et al. Selective mitochondrial DNA degradation following double-strand breaks. PLoS ONE 12, e0176795 (2017).

Liao, X. & Butow, R. A. RTG1 and RTG2: two yeast genes required for a novel path of communication from mitochondria to the nucleus. Cell 72, 61–71 (1993).

Nargund, A. M., Pellegrino, M. W., Fiorese, C. J., Baker, B. M. & Haynes, C. M. Mitochondrial import efficiency of ATFS-1 regulates mitochondrial UPR activation. Science 337, 587–590 (2012).

Guo, X. et al. Mitochondrial stress is relayed to the cytosol by an OMA1–DELE1–HRI pathway. Nature 579, 427–432 (2020).

West, A. P. et al. Mitochondrial DNA stress primes the antiviral innate immune response. Nature 520, 553–557 (2015).

Dhir, A. et al. Mitochondrial double-stranded RNA triggers antiviral signalling in humans. Nature 560, 238–242 (2018).

Waugh, D. S. & Sauer, R. T. Single amino acid substitutions uncouple the DNA binding and strand scission activities of Fok I endonuclease. Proc. Natl Acad. Sci. USA 90, 9596–9600 (1993).

Nelson, I., Hanna, M. G., Wood, N. W. & Harding, A. E. Depletion of mitochondrial DNA by ddC in untransformed human cell lines. Somat. Cell Mol. Genet. 23, 287–290 (1997).

Niu, X. et al. A small-molecule inhibitor of Bax and Bak oligomerization prevents genotoxic cell death and promotes neuroprotection. Cell Chem. Biol. 24, 493–506 (2017).

Ichim, G. et al. Limited mitochondrial permeabilization causes DNA damage and genomic instability in the absence of cell death. Mol. Cell 57, 860–872 (2015).

Seth, R. B., Sun, L., Ea, C. K. & Chen, Z. J. Identification and characterization of MAVS, a mitochondrial antiviral signaling protein that activates NF-κB and IRF3. Cell 122, 669–682 (2005).

Shokolenko, I. N., Wilson, G. L. & Alexeyev, M. F. Persistent damage induces mitochondrial DNA degradation. DNA Repair 12, 488–499 (2013).

Reynders, K., Illidge, T., Siva, S., Chang, J. Y. & De Ruysscher, D. The abscopal effect of local radiotherapy: using immunotherapy to make a rare event clinically relevant. Cancer Treat. Rev. 41, 503–510 (2015).

Apetoh, L. et al. Toll-like receptor 4-dependent contribution of the immune system to anticancer chemotherapy and radiotherapy. Nat. Med. 13, 1050–1059 (2007).

Mackenzie, K. J. et al. cGAS surveillance of micronuclei links genome instability to innate immunity. Nature 548, 461–465 (2017).

Harding, S. M. et al. Mitotic progression following DNA damage enables pattern recognition within micronuclei. Nature 548, 466–470 (2017).

Jourdain, A. A., Boehm, E., Maundrell, K. & Martinou, J. C. Mitochondrial RNA granules: compartmentalizing mitochondrial gene expression. J. Cell Biol. 212, 611–614 (2016).

Fazal, F. M. et al. Atlas of subcellular RNA localization revealed by APEX-seq. Cell 178, 473–490 (2019).

Iacovoni, J. S. et al. High-resolution profiling of γH2AX around DNA double strand breaks in the mammalian genome. EMBO J. 29, 1446–1457 (2010).

Raab, M. et al. ESCRT III repairs nuclear envelope ruptures during cell migration to limit DNA damage and cell death. Science 352, 359–362 (2016).

Love, M. I., Huber, W. & Anders, S. Moderated estimation of fold change and dispersion for RNA-seq data with DESeq2. Genome Biol. 15, 550 (2014).

Thomas, P. D. et al. PANTHER: a library of protein families and subfamilies indexed by function. Genome Res. 13, 2129–2141 (2003).

Mi, H. et al. PANTHER version 7: improved phylogenetic trees, orthologs and collaboration with the Gene Ontology Consortium. Nucleic Acids Res. 38, D204–D210 (2010).

Draghici, S. et al. A systems biology approach for pathway level analysis. Genome Res. 17, 1537–1545 (2007).

Stewart, S. A. et al. Lentivirus-delivered stable gene silencing by RNAi in primary cells. RNA 9, 493–501 (2003).

Sarbassov, D. D., Guertin, D. A., Ali, S. M. & Sabatini, D. M. Phosphorylation and regulation of Akt/PKB by the rictor-mTOR complex. Science 307, 1098–1101 (2005).

Bernardini, J. P. et al. Parkin inhibits BAK and BAX apoptotic function by distinct mechanisms during mitophagy. EMBO J. 38, e99916 (2019).

Liu, G. et al. Nuclear-resident RIG-I senses viral replication inducing antiviral immunity. Nat. Commun. 9, 3199 (2018).

Schuster, S., Tholen, L. E., Overheul, G. J., van Kuppeveld, F. J. M. & van Rij, R. P. Deletion of cytoplasmic double-stranded RNA sensors does not uncover viral small interfering RNA production in human cells. mSphere 2, e00333-17 (2017).

Kim, E. et al. Precision genome engineering with programmable DNA-nicking enzymes. Genome Res. 22, 1327–1333 (2012).

Schindelin, J. et al. Fiji: an open-source platform for biological-image analysis. Nat. Methods 9, 676–682 (2012).

Kitay, B. M., McCormack, R., Wang, Y., Tsoulfas, P. & Zhai, R. G. Mislocalization of neuronal mitochondria reveals regulation of Wallerian degeneration and NMNAT/WLD(S)-mediated axon protection independent of axonal mitochondria. Hum. Mol. Genet. 22, 1601–1614 (2013).

Valente, A. J., Maddalena, L. A., Robb, E. L., Moradi, F. & Stuart, J. A. A simple ImageJ macro tool for analyzing mitochondrial network morphology in mammalian cell culture. Acta Histochem. 119, 315–326 (2017).

Faccenda, D., Tan, C. H., Seraphim, A., Duchen, M. R. & Campanella, M. IF1 limits the apoptotic-signalling cascade by preventing mitochondrial remodelling. Cell Death Differ. 20, 686–697 (2013).

Jourdain, A. A. et al. A mitochondria-specific isoform of FASTK is present in mitochondrial RNA granules and regulates gene expression and function. Cell Rep. 10, 1110–1121 (2015).
Acknowledgements
We thank R. Greenberg, E. Brunet and D. E. Levy for providing reagents; S. Zaganelli, J.-C. Martinou (Université de Genève) and D. Moreau (ACCESS Geneva) for help with assessing the effect of irradiation on mtRNA granules; the Genome Technology Center (GTC) and the Microscopy Laboratory at NYU School of Medicine; and E. Lazzerini-Denchi, L. Walton Masters, A. Barrientos, F. Fontanesi and members of the Sfeir laboratory for reading the manuscript. This work was supported by the David and Lucile Packard Foundation (A.S.), Mallinckrodt Scholars Program (A.S.), Pew-Innovator fund (A.S.) and Pershing Square award (A.S.).
Ethics declarations
Competing interests
A.S. is a co-founder, consultant and shareholder in Repare Therapeutics. The other authors declare no competing interests.
Additional information
Peer review information Nature thanks the anonymous reviewers for their contribution to the peer review of this work.
Publisher's note Springer Nature remains neutral with regard to jurisdictional claims in published maps and institutional affiliations.
Extended data figures and tables
Supplementary information
About this article
Cite this article
Tigano, M., Vargas, D.C., Tremblay-Belzile, S. et al. Nuclear sensing of breaks in mitochondrial DNA enhances immune surveillance. Nature 591, 477–481 (2021). https://doi.org/10.1038/s41586-021-03269-w
Received:

Accepted:

Published:

Issue Date:

DOI: https://doi.org/10.1038/s41586-021-03269-w
Comments
By submitting a comment you agree to abide by our Terms and Community Guidelines. If you find something abusive or that does not comply with our terms or guidelines please flag it as inappropriate.