Abstract
Current X-ray imaging technologies involving flat-panel detectors have difficulty in imaging three-dimensional objects because fabrication of large-area, flexible, silicon-based photodetectors on highly curved surfaces remains a challenge1,2,3. Here we demonstrate ultralong-lived X-ray trapping for flat-panel-free, high-resolution, three-dimensional imaging using a series of solution-processable, lanthanide-doped nanoscintillators. Corroborated by quantum mechanical simulations of defect formation and electronic structures, our experimental characterizations reveal that slow hopping of trapped electrons due to radiation-triggered anionic migration in host lattices can induce more than 30 days of persistent radioluminescence. We further demonstrate X-ray luminescence extension imaging with resolution greater than 20 line pairs per millimetre and optical memory longer than 15 days. These findings provide insight into mechanisms underlying X-ray energy conversion through enduring electron trapping and offer a paradigm to motivate future research in wearable X-ray detectors for patient-centred radiography and mammography, imaging-guided therapeutics, high-energy physics and deep learning in radiology.
Relevant articles
Open Access articles citing this article.
Jean-Claude Georges Bünzli

Light: Science & Applications Open Access 29 September 2022

Lei Lei

,

Yubin Wang

…

Paras N. Prasad

eLight Open Access 19 September 2022

Xiao Wang

,

Wenjing Sun

…

Wei Huang

Nature Communications Open Access 30 August 2022
Access options
Subscribe to Nature+
Get immediate online access to the entire Nature family of 50+ journals
Subscribe to Journal
Get full journal access for 1 year
$199.00
only $3.90 per issue
All prices are NET prices.
VAT will be added later in the checkout.
Tax calculation will be finalised during checkout.
Buy article
Get time limited or full article access on ReadCube.
$32.00
All prices are NET prices.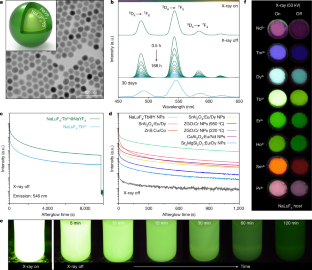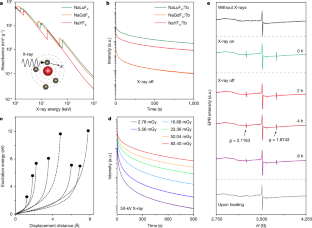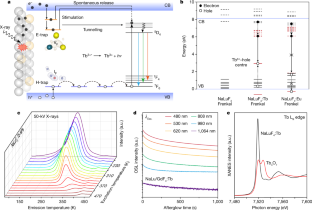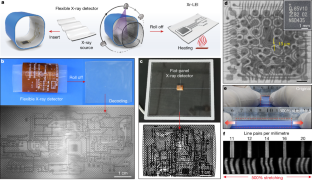 Data availability
The data that support the findings of this study are available from the corresponding authors upon reasonable request.
References
Rogers, J. A., Someya, T. & Huang, Y. Materials and mechanics for stretchable electronics. Science 327, 1603–1607 (2010).

Wang, S. et al. Skin electronics from scalable fabrication of an intrinsically stretchable transistor array. Nature 555, 83–88 (2018).

Blahuta, S., Bessiere, A., Gourier, D., Ouspenski, V. & Viana, B. Effect of the X-ray dose on the luminescence properties of Ce:LYSO and co-doped Ca,Ce:LYSO single crystals for scintillation applications. Opt. Mater. 35, 1865–1868 (2013).

Chen, Q. et al. All-inorganic perovskite nanocrystal scintillators. Nature 561, 88–93 (2018).

Yakunin, S. et al. Detection of X-ray photons by solution-processed organic–inorganic perovskites. Nat. Photon. 9, 444–449 (2015).

Wei, H. et al. Sensitive X-ray detectors made of methylammonium lead tribromide perovskite single crystals. Nat. Photon. 10, 333–339 (2016).

Wei, W. et al. Monolithic integration of hybrid perovskite single crystals with heterogenous substrate for highly sensitive X-ray imaging. Nat. Photon. 11, 315–321 (2017).

Büchele, P. et al. X-ray imaging with scintillator-sensitized hybrid organic photodetectors. Nat. Photon. 9, 843–848 (2015).

le Masne de Chermont, Q. et al. Nanoprobes with near-infrared persistent luminescence for in vivo imaging. Proc. Natl Acad. Sci. USA 104, 9266–9271 (2007).

Maldiney, T. et al. The in vivo activation of persistent nanophosphors for optical imaging of vascularization, tumours and grafted cells. Nat. Mater. 13, 418–426 (2014).

Matsuzawa, T., Aoki, Y., Takeuchi, N. & Murayama, Y. A new long phosphorescent phosphor with high brightness, SrAl2O4:Eu2+,Dy3+. J. Electrochem. Soc. 143, 2670–2673 (1996).

Pan, Z. et al. Sunlight-activated long-persistent luminescence in the near-infrared from Cr3+-doped zinc gallogermanates. Nat. Mater. 11, 58–63 (2012).

Xue, Z. et al. X-ray-activated near-infrared persistent luminescent probe for deep-tissue and renewable in vivo bioimaging. ACS Appl. Mater. Interfaces 9, 22132–22142 (2017).

Song, L. et al. Low-dose X-ray activation of W(VI)-doped persistent luminescence nanoparticles for deep-tissue photodynamic therapy. Adv. Funct. Mater. 28, 1707496 (2018).

Li, Y. et al. Long persistent phosphors-from fundamentals to applications. Chem. Soc. Rev. 45, 2090–2136 (2016).

Shyichuk, A. et al. Energy transfer upconversion dynamics in YVO4:Yb3+,Er3+. J. Lumin. 170, 560–570 (2016).

Capobianco, J. A., Vetrone, F., Boyer, J. C., Speghini, A. & Bettinelli, M. Enhancement of red emission (4F9/2→4I15/2) via upconversion in bulk and nanocrystalline cubic Y2O3:Er3+. J. Phys. Chem. B 106, 1181–1187 (2002).

Van der Heggen, D. et al. Optically stimulated nanodosimeters with high storage capacity. Nanomaterials 9, 1127 (2019).

Hsu, C.-C., Lin, S.-L. & Chang, C. A. Lanthanide-doped core–shell–shell nanocomposite for dual photodynamic therapy and luminescence imaging by a single X-ray excitation source. ACS Appl. Mater. Interfaces 10, 7859–7870 (2018).

Nikl, M. & Yoshikawa, A. Recent R&D trends in inorganic single-crystal scintillator materials for radiation detection. Adv. Opt. Mater. 3, 463–481 (2015).

Liu, Y. et al. Amplified stimulated emission in upconversion nanoparticles for super-resolution nanoscopy. Nature 543, 229–233 (2017).

Prigozhin, M. B. et al. Bright sub-20-nm cathodoluminescent nanoprobes for electron microscopy. Nat. Nanotechnol. 14, 420–425 (2019).

Bünzli, J.-C. G. Lanthanide luminescence for biomedical analyses and imaging. Chem. Rev. 110, 2729–2755 (2010).

Fernandez-Bravo, A. et al. Continuous-wave upconverting nanoparticle microlasers. Nat. Nanotechnol. 13, 572–577 (2018).

Lushchik, C. B. Creation of Frenkel defect pairs by excitons in alkali halides. Mod. Probl. Condens. Matter Sci. 13, 473–525 (1986).

Berger, M. J. et al. XCOM: Photon Cross Sections Database (NIST, 2013); https://www.nist.gov/pml/xcom-photon-cross-sections-database

Cooper, D. R., Capobianco, J. A. & Seuntjens, J. Radioluminescence studies of colloidal oleate-capped beta-Na(Gd, Lu)F4:Ln3+ nanoparticles (Ln = Ce, Eu, Tb). Nanoscale 10, 7821–7832 (2018).

Kang, M. et al. Resolving the nature of electronic excitations in resonant inelastic X-ray scattering. Phys. Rev. B 99, 045105 (2019).

Lu, K. et al. Low-dose X-ray radiotherapy–radiodynamic therapy via nanoscale metal–organic frameworks enhances checkpoint blockade immunotherapy. Nat. Biomed. Eng. 2, 600–610 (2018).

Yang, Y. et al. X-ray-activated long persistent phosphors featuring strong UVC afterglow emissions. Light Sci. Appl. 7, 88 (2018).

Chen, F., Tillberg, P. W. & Boyden, E. S. Expansion microscopy. Science 347, 543–548 (2015).

All, A. H. et al. Expanding the toolbox of upconversion nanoparticles for in vivo optogenetics and neuromodulation. Adv. Mater. 31, 1803474 (2019).

Sun, J. Y. et al. Highly stretchable and tough hydrogels. Nature 489, 133–136 (2012).

Holler, M. et al. High-resolution non-destructive three-dimensional imaging of integrated circuits. Nature 543, 402–406 (2017).

Van den Eeckhout, K., Bos, A. J. J., Poelman, D. & Smet, P. F. Revealing trap depth distributions in persistent phosphors. Phys. Rev. B 87, 045126 (2013).

Huang, B. Doping of RE ions in the 2D ZnO layered system to achieve low-dimensional upconverted persistent luminescence based on asymmetric doping in ZnO systems. Phys. Chem. Chem. Phys. 19, 12683–12711 (2017).

Rappe, A. M., Rabe, K. M., Kaxiras, E. & Joannopoulos, J. D. Optimized pseudopotentials. Phys. Rev. B 41, 1227–1230 (1990).

Heyd, J., Scuseria, G. E. & Ernzerhof, M. Hybrid functionals based on a screened Coulomb potential. J. Chem. Phys. 118, 8207–8215 (2003).

Kresse, G. & Furthmuller, J. Efficiency of ab-initio total energy calculations for metals and semiconductors using a plane-wave basis set. Comput. Mater. Sci. 6, 15–50 (1996).
Acknowledgements
We thank L. Ma, Y. Huang, X. Wang and B. Hou for technical assistance. This work is supported by the National Key and Program of China (grant number 2018YFA0902600), the National Natural Science Foundation of China (grant numbers 21635002, 21771135, 21871071 and 21771156), the Early Career Scheme fund (grant number PolyU 253026/16P) from the Research Grant Council in Hong Kong, Research Institute for Smart Energy of the Hong Kong Polytechnic University, Agency for Science, Technology and Research (grant numbers A1883c0011 and A1983c0038), NUS NanoNash Programme (NUHSRO/2020/002/NanoNash/LOA and R143000B43114) and National Research Foundation, the Prime Minister's Office of Singapore under its NRF Investigatorship Programme (award number NRF-NRFI05-2019-0003).
Ethics declarations
Competing interests
The authors declare no competing interests.
Additional information
Peer review information Nature thanks Christophe Dujardin, Oscar Malta and the other, anonymous, reviewer(s) for their contribution to the peer review of this work.
Publisher's note Springer Nature remains neutral with regard to jurisdictional claims in published maps and institutional affiliations.
Extended data figures and tables
Supplementary information
About this article
Cite this article
Ou, X., Qin, X., Huang, B. et al. High-resolution X-ray luminescence extension imaging. Nature 590, 410–415 (2021). https://doi.org/10.1038/s41586-021-03251-6
Received:

Accepted:

Published:

Issue Date:

DOI: https://doi.org/10.1038/s41586-021-03251-6
Comments
By submitting a comment you agree to abide by our Terms and Community Guidelines. If you find something abusive or that does not comply with our terms or guidelines please flag it as inappropriate.