Abstract
Regulatory T cells (Treg cells) are essential for immune tolerance1, but also drive immunosuppression in the tumour microenvironment2. Therapeutic targeting of Treg cells in cancer will therefore require the identification of context-specific mechanisms that affect their function. Here we show that inhibiting lipid synthesis and metabolic signalling that are dependent on sterol-regulatory-element-binding proteins (SREBPs) in Treg cells unleashes effective antitumour immune responses without autoimmune toxicity. We find that the activity of SREBPs is upregulated in intratumoral Treg cells. Moreover, deletion of SREBP-cleavage-activating protein (SCAP)—a factor required for SREBP activity—in these cells inhibits tumour growth and boosts immunotherapy that is triggered by targeting the immune-checkpoint protein PD-1. These effects of SCAP deletion are associated with uncontrolled production of interferon-γ and impaired function of intratumoral Treg cells. Mechanistically, signalling through SCAP and SREBPs coordinates cellular programs for lipid synthesis and inhibitory receptor signalling in these cells. First, de novo fatty-acid synthesis mediated by fatty-acid synthase (FASN) contributes to functional maturation of Treg cells, and loss of FASN from Treg cells inhibits tumour growth. Second, Treg cells in tumours show enhanced expression of the PD-1 gene, through a process that depends on SREBP activity and signals via mevalonate metabolism to protein geranylgeranylation. Blocking PD-1 or SREBP signalling results in dysregulated activation of phosphatidylinositol-3-kinase in intratumoral Treg cells. Our findings show that metabolic reprogramming enforces the functional specialization of Treg cells in tumours, pointing to new ways of targeting these cells for cancer therapy.
Relevant articles
Open Access articles citing this article.
Yahui Zhu

,

Xingrong Lin

…

Youjun Li

Journal of Hematology & Oncology Open Access 29 August 2022

Yuheng Yan

,

Lan Huang

…

Kongming Wu

Journal of Hematology & Oncology Open Access 10 August 2022

Sophie Vasseur

&

Fabienne Guillaumond

Oncogenesis Open Access 09 August 2022
Access options
Subscribe to Nature+
Get immediate online access to the entire Nature family of 50+ journals
Subscribe to Journal
Get full journal access for 1 year
$199.00
only $3.90 per issue
All prices are NET prices.
VAT will be added later in the checkout.
Tax calculation will be finalised during checkout.
Buy article
Get time limited or full article access on ReadCube.
$32.00
All prices are NET prices.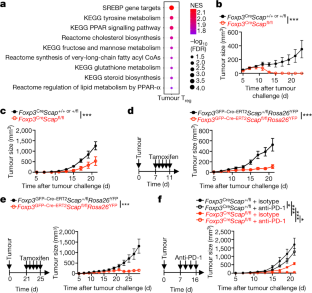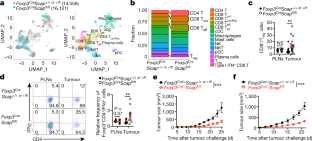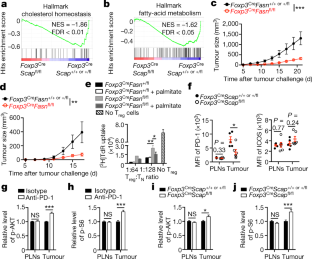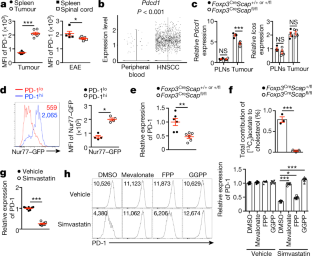 Data availability
Data generated here are included within the paper (and its Supplementary Information) or are available from the corresponding author upon reasonable request. Microarray and scRNAseq data that support the findings of this study have been deposited in the Gene Expression Omnibus (GEO; https://www.ncbi.nlm.nih.gov/geo/) under accession number GSE165259. Source data are provided with this paper.
References
Savage, P. A., Klawon, D. E. J. & Miller, C. H. Regulatory T cell development. Annu. Rev. Immunol. 38, 421–453 (2020).

Sharma, P., Hu-Lieskovan, S., Wargo, J. A. & Ribas, A. Primary, adaptive, and acquired resistance to cancer immunotherapy. Cell 168, 707–723 (2017).

Geltink, R. I. K., Kyle, R. L. & Pearce, E. L. Unraveling the complex interplay between T cell metabolism and function. Annu. Rev. Immunol. 36, 461–488 (2018).

Chapman, N. M., Boothby, M. R. & Chi, H. Metabolic coordination of T cell quiescence and activation. Nat. Rev. Immunol. 20, 55–70 (2020).

Newton, R., Priyadharshini, B. & Turka, L. A. Immunometabolism of regulatory T cells. Nat. Immunol. 17, 618–625 (2016).

Horton, J. D., Goldstein, J. L. & Brown, M. S. SREBPs: activators of the complete program of cholesterol and fatty acid synthesis in the liver. J. Clin. Invest. 109, 1125–1131 (2002).

Sawant, D. V. et al. Adaptive plasticity of IL-10+ and IL-35+ Treg cells cooperatively promotes tumor T cell exhaustion. Nat. Immunol. 20, 724–735 (2019).

Miragaia, R. J. et al. Single-cell transcriptomics of regulatory T cells reveals trajectories of tissue adaptation. Immunity 50, 493–504 (2019).

Azizi, E. et al. Single-cell map of diverse immune phenotypes in the breast tumor microenvironment. Cell 174, 1293–1308 (2018).

Cillo, A. R. et al. Immune landscape of viral- and carcinogen-driven head and neck cancer. Immunity 52, 183–199 (2020).

van der Veeken, J. et al. Memory of inflammation in regulatory T cells. Cell 166, 977–990 (2016).

Pacella, I. et al. Fatty acid metabolism complements glycolysis in the selective regulatory T cell expansion during tumor growth. Proc. Natl Acad. Sci. USA 115, E6546–E6555 (2018).

Yang, K. et al. Homeostatic control of metabolic and functional fitness of Treg cells by LKB1 signalling. Nature 548, 602–606 (2017).

Rubtsov, Y. P. et al. Stability of the regulatory T cell lineage in vivo. Science 329, 1667–1671 (2010).

Curran, M. A., Montalvo, W., Yagita, H. & Allison, J. P. PD-1 and CTLA-4 combination blockade expands infiltrating T cells and reduces regulatory T and myeloid cells within B16 melanoma tumors. Proc. Natl Acad. Sci. USA 107, 4275–4280 (2010).

Shi, H. et al. Amino acids license kinase mTORC1 activity and Treg cell function via small G proteins Rag and Rheb. Immunity 51, 1012–1027 (2019).

DuPage, M. et al. The chromatin-modifying enzyme Ezh2 is critical for the maintenance of regulatory T cell identity after activation. Immunity 42, 227–238 (2015).

Kidani, Y. et al. Sterol regulatory element-binding proteins are essential for the metabolic programming of effector T cells and adaptive immunity. Nat. Immunol. 14, 489–499 (2013).

Shi, H. et al. Hippo kinases Mst1 and Mst2 sense and amplify IL-2R–STAT5 signaling in regulatory T cells to establish stable regulatory activity. Immunity 49, 899–914 (2018).

Boyman, O., Kovar, M., Rubinstein, M. P., Surh, C. D. & Sprent, J. Selective stimulation of T cell subsets with antibody-cytokine immune complexes. Science 311, 1924–1927 (2006).

Zeng, H. et al. mTORC1 couples immune signals and metabolic programming to establish Treg-cell function. Nature 499, 485–490 (2013).

Wang, H. et al. CD36-mediated metabolic adaptation supports regulatory T cell survival and function in tumors. Nat. Immunol. 21, 298–308 (2020).

Li, M. O. & Rudensky, A. Y. T cell receptor signalling in the control of regulatory T cell differentiation and function. Nat. Rev. Immunol. 16, 220–233 (2016).

Wei, J. et al. Autophagy enforces functional integrity of regulatory T cells by coupling environmental cues and metabolic homeostasis. Nat. Immunol. 17, 277–285 (2016).

Overacre-Delgoffe, A. E. et al. Interferon-γ drives Treg fragility to promote anti-tumor immunity. Cell 169, 1130–1141 (2017).

Di Pilato, M. et al. Targeting the CBM complex causes Treg cells to prime tumours for immune checkpoint therapy. Nature 570, 112–116 (2019).

Boehm, U., Klamp, T., Groot, M. & Howard, J. C. Cellular responses to interferon-gamma. Annu. Rev. Immunol. 15, 749–795 (1997).

Lacher, S. M. et al. HMG-CoA reductase promotes protein prenylation and therefore is indispensible for T-cell survival. Cell Death Dis. 8, e2824 (2017).

Levine, A. G., Arvey, A., Jin, W. & Rudensky, A. Y. Continuous requirement for the TCR in regulatory T cell function. Nat. Immunol. 15, 1070–1078 (2014).

Vahl, J. C. et al. Continuous T cell receptor signals maintain a functional regulatory T cell pool. Immunity 41, 722–736 (2014).

Kumagai, S. et al. The PD-1 expression balance between effector and regulatory T cells predicts the clinical efficacy of PD-1 blockade therapies. Nat. Immunol. 21, 1346–1358 (2020).

Moran, A. E. et al. T cell receptor signal strength in Treg and iNKT cell development demonstrated by a novel fluorescent reporter mouse. J. Exp. Med. 208, 1279–1289 (2011).

Wang, M. & Casey, P. J. Protein prenylation: unique fats make their mark on biology. Nat. Rev. Mol. Cell Biol. 17, 110–122 (2016).

Su, W. et al. Protein prenylation drives discrete signaling programs for the differentiation and maintenance of effector Treg cells. Cell Metab. 32, 996–1011 (2020).

Xiao, G., Deng, A., Liu, H., Ge, G. & Liu, X. Activator protein 1 suppresses antitumor T-cell function via the induction of programmed death 1. Proc. Natl Acad. Sci. USA 109, 15419–15424 (2012).

Lucca, L. E. & Dominguez-Villar, M. Modulation of regulatory T cell function and stability by co-inhibitory receptors. Nat. Rev. Immunol. 20, 680–693 (2020).

Liu, C. et al. Treg cells promote the SREBP1-dependent metabolic fitness of tumor-promoting macrophages via repression of CD8+ T cell-derived interferon-γ. Immunity 51, 381–397 (2019).

Brovkovych, V. et al. Fatostatin induces pro- and anti-apoptotic lipid accumulation in breast cancer. Oncogenesis 7, 66 (2018).

Rubtsov, Y. P. et al. Regulatory T cell-derived interleukin-10 limits inflammation at environmental interfaces. Immunity 28, 546–558 (2008).

Khan, O. M. et al. Geranylgeranyltransferase type I (GGTase-I) deficiency hyperactivates macrophages and induces erosive arthritis in mice. J. Clin. Invest. 121, 628–639 (2011).

Liu, M. et al. Targeting the protein prenyltransferases efficiently reduces tumor development in mice with K-RAS-induced lung cancer. Proc. Natl Acad. Sci. USA 107, 6471–6476 (2010).

Nagashima, S. et al. Liver-specific deletion of 3-hydroxy-3-methylglutaryl coenzyme A reductase causes hepatic steatosis and death. Arterioscler. Thromb. Vasc. Biol. 32, 1824–1831 (2012).

Wei, J. et al. Targeting REGNASE-1 programs long-lived effector T cells for cancer therapy. Nature 576, 471–476 (2019).

Karmaus, P. W. F. et al. Metabolic heterogeneity underlies reciprocal fates of TH17 cell stemness and plasticity. Nature 565, 101–105 (2019).

Liu, G. et al. The receptor S1P1 overrides regulatory T cell-mediated immune suppression through Akt-mTOR. Nat. Immunol. 10, 769–777 (2009).

Subramanian, A. et al. Gene set enrichment analysis: a knowledge-based approach for interpreting genome-wide expression profiles. Proc. Natl Acad. Sci. USA 102, 15545–15550 (2005).

Horton, J. D. et al. Combined analysis of oligonucleotide microarray data from transgenic and knockout mice identifies direct SREBP target genes. Proc. Natl Acad. Sci. USA 100, 12027–12032 (2003).

Butler, A., Hoffman, P., Smibert, P., Papalexi, E. & Satija, R. Integrating single-cell transcriptomic data across different conditions, technologies, and species. Nat. Biotechnol. 36, 411–420 (2018).

McInnes, L., Healy, J. & Melville, J. UMAP: uniform manifold approximation and projection for dimension reduction. Preprint at https://arxiv.org/abs/1802.03426 (2018).

Folch, J., Lees, M. & Sloane Stanley, G. H. A simple method for the isolation and purification of total lipides from animal tissues. J. Biol. Chem. 226, 497–509 (1957).

Buescher, J. M. et al. A roadmap for interpreting 13C metabolite labeling patterns from cells. Curr. Opin. Biotechnol. 34, 189–201 (2015).
Acknowledgements
We thank M. Hendren, A. KC and S. Rankin for management of animal colonies; Y. Wang and S. Brown for help with immunological experiments; J. Easton and St Jude Genomics Lab of Computational Biology for scRNAseq; and the St Jude Immunology fluorescence-activated cell sorting (FACS) core facility for cell sorting. This work was supported by National Institutes of Health (NIH) grants CA221290, CA250533, AI105887, AI131703, AI140761, AI150241 and AI150514. The content is solely the responsibility of the authors and does not necessarily represent the official views of the NIH.
Ethics declarations
Competing interests
H.C. is a consultant for Kumquat Biosciences.
Additional information
Peer review information Nature thanks Ulf Beier, Axel Kallies and the other, anonymous, reviewer(s) for their contribution to the peer review of this work.
Publisher's note Springer Nature remains neutral with regard to jurisdictional claims in published maps and institutional affiliations.
Extended data figures and tables
Supplementary information
Supplementary Table 1: Cell metabolism-related pathways. This file contains the list of cell metabolism-related pathways curated from the KEGG (Kyoto Encyclopedia of Genes and Genomes) and Reactome databases. The first column lists the pathway name, the second column is original gene size, and the third column lists the gene size after restricting to dataset.
About this article
Cite this article
Lim, S.A., Wei, J., Nguyen, TL.M. et al. Lipid signalling enforces functional specialization of Treg cells in tumours. Nature 591, 306–311 (2021). https://doi.org/10.1038/s41586-021-03235-6
Received:

Accepted:

Published:

Issue Date:

DOI: https://doi.org/10.1038/s41586-021-03235-6
Comments
By submitting a comment you agree to abide by our Terms and Community Guidelines. If you find something abusive or that does not comply with our terms or guidelines please flag it as inappropriate.