Abstract
The inflammasome initiates innate defence and inflammatory responses by activating caspase-1 and pyroptotic cell death in myeloid cells1,2. It consists of an innate immune receptor/sensor, pro-caspase-1, and a common adaptor molecule, ASC. Consistent with their pro-inflammatory function, caspase-1, ASC and the inflammasome component NLRP3 exacerbate autoimmunity during experimental autoimmune encephalomyelitis by enhancing the secretion of IL-1β and IL-18 in myeloid cells3,4,5,6. Here we show that the DNA-binding inflammasome receptor AIM27,8,9,10 has a T cell-intrinsic and inflammasome-independent role in the function of T regulatory (Treg) cells. AIM2 is highly expressed by both human and mouse Treg cells, is induced by TGFβ, and its promoter is occupied by transcription factors that are associated with Treg cells such as RUNX1, ETS1, BCL11B and CREB. RNA sequencing, biochemical and metabolic analyses demonstrated that AIM2 attenuates AKT phosphorylation, mTOR and MYC signalling, and glycolysis, but promotes oxidative phosphorylation of lipids in Treg cells. Mechanistically, AIM2 interacts with the RACK1–PP2A phosphatase complex to restrain AKT phosphorylation. Lineage-tracing analysis demonstrates that AIM2 promotes the stability of Treg cells during inflammation. Although AIM2 is generally accepted as an inflammasome effector in myeloid cells, our results demonstrate a T cell-intrinsic role of AIM2 in restraining autoimmunity by reducing AKT–mTOR signalling and altering immune metabolism to enhance the stability of Treg cells.
Relevant articles
Open Access articles citing this article.
Jianan Zhao

,

Shicheng Guo

…

Dongyi He

Cellular & Molecular Biology Letters Open Access 07 December 2022

Wei-Chun Chou

,

Elena Rampanelli

…

Jenny P.-Y. Ting

Cellular & Molecular Immunology Open Access 25 October 2021
Access options
Subscribe to Nature+
Get immediate online access to Nature and 55 other Nature journal
Subscribe to Journal
Get full journal access for 1 year
$199.00
only $3.90 per issue
All prices are NET prices.
VAT will be added later in the checkout.
Tax calculation will be finalised during checkout.
Buy article
Get time limited or full article access on ReadCube.
$32.00
All prices are NET prices.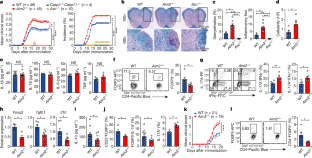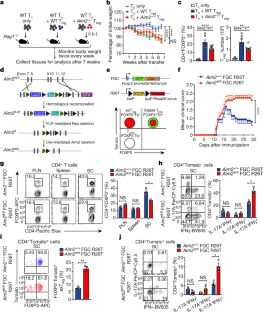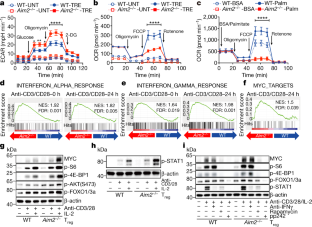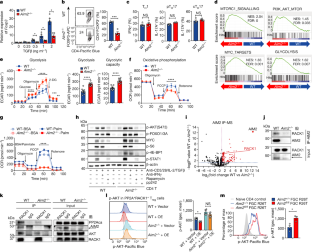 Data availability
The RNA-seq data are available in the Gene Expression Omnibus (GEO) repository at the National Center for Biotechnology Information under accession number GSE133019. The MS proteomics data have been deposited to the ProteomeXchange Consortium via the PRIDE partner repository with the dataset identifier PXD018638. All other data supporting the findings of this study are available from the corresponding authors upon reasonable request. Source data are provided with this paper.
References
Guo, H., Callaway, J. B. & Ting, J. P. Inflammasomes: mechanism of action, role in disease, and therapeutics. Nat. Med. 21, 677–687 (2015).

Broz, P. & Dixit, V. M. Inflammasomes: mechanism of assembly, regulation and signalling. Nat. Rev. Immunol. 16, 407–420 (2016).

Gris, D. et al. NLRP3 plays a critical role in the development of experimental autoimmune encephalomyelitis by mediating Th1 and Th17 responses. J. Immunol. 185, 974–981 (2010).

Furlan, R. et al. Caspase-1 regulates the inflammatory process leading to autoimmune demyelination. J. Immunol. 163, 2403–2409 (1999).

Shaw, P. J. et al. Cutting edge: critical role for PYCARD/ASC in the development of experimental autoimmune encephalomyelitis. J. Immunol. 184, 4610–4614 (2010).

Martin, B. N. et al. T cell-intrinsic ASC critically promotes TH17-mediated experimental autoimmune encephalomyelitis. Nat. Immunol. 17, 583–592 (2016).

Fernandes-Alnemri, T., Yu, J. W., Datta, P., Wu, J. & Alnemri, E. S. AIM2 activates the inflammasome and cell death in response to cytoplasmic DNA. Nature 458, 509–513 (2009).

Fernandes-Alnemri, T. et al. The AIM2 inflammasome is critical for innate immunity to Francisella tularensis. Nat. Immunol. 11, 385–393 (2010).

Krieg, A. M. AIMing 2 defend against intracellular pathogens. Nat. Immunol. 11, 367–369 (2010).

Rathinam, V. A. et al. The AIM2 inflammasome is essential for host defense against cytosolic bacteria and DNA viruses. Nat. Immunol. 11, 395–402 (2010).

Goverman, J. Autoimmune T cell responses in the central nervous system. Nat. Rev. Immunol. 9, 393–407 (2009).

Reynolds, J. M., Martinez, G. J., Chung, Y. & Dong, C. Toll-like receptor 4 signaling in T cells promotes autoimmune inflammation. Proc. Natl Acad. Sci. USA 109, 13064–13069 (2012).

Heng, T. S. & Painter, M. W. The Immunological Genome Project: networks of gene expression in immune cells. Nat. Immunol. 9, 1091–1094 (2008).

Papatheodorou, I. et al. Expression Atlas: gene and protein expression across multiple studies and organisms. Nucleic Acids Res. 46, D246–D251 (2018).

Josefowicz, S. Z., Lu, L. F. & Rudensky, A. Y. Regulatory T cells: mechanisms of differentiation and function. Annu. Rev. Immunol. 30, 531–564 (2012).

Kitagawa, Y. et al. Guidance of regulatory T cell development by Satb1-dependent super-enhancer establishment. Nat. Immunol. 18, 173–183 (2017).

Lee, W. & Lee, G. R. Transcriptional regulation and development of regulatory T cells. Exp. Mol. Med. 50, e456 (2018).

Luo, C. T. & Li, M. O. Transcriptional control of regulatory T cell development and function. Trends Immunol. 34, 531–539 (2013).

Mottet, C., Uhlig, H. H. & Powrie, F. Cutting edge: cure of colitis by CD4+CD25+ regulatory T cells. J. Immunol. 170, 3939–3943 (2003).

Wilson, J. E. et al. Inflammasome-independent role of AIM2 in suppressing colon tumorigenesis via DNA-PK and Akt. Nat. Med. 21, 906–913 (2015).

Man, S. M. et al. Critical role for the DNA sensor AIM2 in stem cell proliferation and cancer. Cell 162, 45–58 (2015).

Zeng, H. & Chi, H. mTOR signaling in the differentiation and function of regulatory and effector T cells. Curr. Opin. Immunol. 46, 103–111 (2017).

Procaccini, C. et al. The proteomic landscape of human ex vivo regulatory and conventional T cells reveals specific metabolic requirements. Immunity 44, 406–421 (2016).

Fragale, A. et al. IFN regulatory factor-1 negatively regulates CD4+ CD25+ regulatory T cell differentiation by repressing Foxp3 expression. J. Immunol. 181, 1673–1682 (2008).

Overacre-Delgoffe, A. E. et al. Interferon-gamma drives Treg fragility to promote anti-tumor immunity. Cell 169, 1130–1141 (2017).

Wang, R. et al. The transcription factor Myc controls metabolic reprogramming upon T lymphocyte activation. Immunity 35, 871–882 (2011).

Merkenschlager, M. & von Boehmer, H. PI3 kinase signalling blocks Foxp3 expression by sequestering Foxo factors. J. Exp. Med. 207, 1347–1350 (2010).

Michalek, R. D. et al. Cutting edge: distinct glycolytic and lipid oxidative metabolic programs are essential for effector and regulatory CD4+ T cell subsets. J. Immunol. 186, 3299–3303 (2011).

Li, G. et al. EphB3 suppresses non-small-cell lung cancer metastasis via a PP2A/RACK1/Akt signalling complex. Nat. Commun. 3, 667 (2012).

Apostolidis, S. A. et al. Phosphatase PP2A is requisite for the function of regulatory T cells. Nat. Immunol. 17, 556–564 (2016).

Zhou, X. et al. Selective miRNA disruption in Treg cells leads to uncontrolled autoimmunity. J. Exp. Med. 205, 1983–1991 (2008).

Madisen, L. et al. A robust and high-throughput Cre reporting and characterization system for the whole mouse brain. Nat. Neurosci. 13, 133–140 (2010).

Miller, S. D. & Karpus, W. J. Experimental autoimmune encephalomyelitis in the mouse. Curr. Protoc. Immunol. 77, 15.1.1–15.1.18 (2007).

Matsushita, T., Yanaba, K., Bouaziz, J. D., Fujimoto, M. & Tedder, T. F. Regulatory B cells inhibit EAE initiation in mice while other B cells promote disease progression. J. Clin. Invest. 118, 3420–3430 (2008).

Erben, U. et al. A guide to histomorphological evaluation of intestinal inflammation in mouse models. Int. J. Clin. Exp. Pathol. 7, 4557–4576 (2014).

Liao, Y., Smyth, G. K. & Shi, W. The Subread aligner: fast, accurate and scalable read mapping by seed-and-vote. Nucleic Acids Res. 41, e108 (2013).

Love, M. I., Huber, W. & Anders, S. Moderated estimation of fold change and dispersion for RNA-seq data with DESeq2. Genome Biol. 15, 550 (2014).

Subramanian, A. et al. Gene set enrichment analysis: a knowledge-based approach for interpreting genome-wide expression profiles. Proc. Natl Acad. Sci. USA 102, 15545–15550 (2005).

Liberzon, A. et al. Molecular signatures database (MSigDB) 3.0. Bioinformatics 27, 1739–1740 (2011).
Acknowledgements
The following funding supports are acknowledged: NIH (AI029564, CA156330, DK094779, AI097392, AI123193), the National Multiple Sclerosis Society (CA10068 to J.P.-Y.T. and FG 1968-A-1 to W.C.), NIAID (AI067798 to J.P.-Y.T., H.G. and W.J.B.), the National Multiple Sclerosis Society (RG-1802-30483), and a Yang Family Biomedical Scholars Award to Y.Y.W. We received help from G.D. Sempowski (Duke University, Duke Human Vaccine Institute, Durham, NC, USA, Immune Monitoring Core for AI067798) for the Luminex assay and analysis. We thank B. Sartor (P01-DK094779) for advice regarding the colitis model, N. Fisher and J. Dow (UNC flow cytometry facility supported in part by P30 CA016086 Cancer Center Core Support Grant) for cell sorting, and Dale Cowley (UNC Animal Models Core for P30 CA016086) for generating Aim2fl/fl mice. This work benefitted from a publicly available online database assembled by the ImmGen consortium and The European Bioinformatics Institute (EMBL-EBI) without prior permission. We thank E. Holley-Guthrie for genotyping mice.
Ethics declarations
Competing interests
The authors declare no competing interests.
Additional information
Peer review information Nature thanks Kate Schroder and the other, anonymous, reviewer(s) for their contribution to the peer review of this work.
Publisher's note Springer Nature remains neutral with regard to jurisdictional claims in published maps and institutional affiliations.
Extended data figures and tables
Supplementary information
This file contains the uncropped gels (Supplementary Fig. 1) and gating strategies for flow cytometry analysis (Supplementary Fig. 2).
About this article
Cite this article
Chou, WC., Guo, Z., Guo, H. et al. AIM2 in regulatory T cells restrains autoimmune diseases. Nature 591, 300–305 (2021). https://doi.org/10.1038/s41586-021-03231-w
Received:

Accepted:

Published:

Issue Date:

DOI: https://doi.org/10.1038/s41586-021-03231-w
This article is cited by
Jianan Zhao
Shicheng Guo
Dongyi He

Cellular & Molecular Biology Letters (2022)

Wei-Chun Chou
Elena Rampanelli
Jenny P.-Y. Ting

Cellular & Molecular Immunology (2022)

Gwenny M. Verstappen
Sarah Pringle
Frans G. M. Kroese

Nature Reviews Rheumatology (2021)
Comments
By submitting a comment you agree to abide by our Terms and Community Guidelines. If you find something abusive or that does not comply with our terms or guidelines please flag it as inappropriate.