Abstract
Gene expression in higher eukaryotic cells orchestrates interactions between thousands of RNA-binding proteins (RBPs) and tens of thousands of RNAs1. The kinetics by which RBPs bind to and dissociate from their RNA sites are critical for the coordination of cellular RNA–protein interactions2. However, these kinetic parameters have not been experimentally measured in cells. Here we show that time-resolved RNA–protein cross-linking with a pulsed femtosecond ultraviolet laser, followed by immunoprecipitation and high-throughput sequencing, allows the determination of binding and dissociation kinetics of the RBP DAZL for thousands of individual RNA-binding sites in cells. This kinetic cross-linking and immunoprecipitation (KIN-CLIP) approach reveals that DAZL resides at individual binding sites for time periods of only seconds or shorter, whereas the binding sites remain DAZL-free for markedly longer. The data also indicate that DAZL binds to many RNAs in clusters of multiple proximal sites. The effect of DAZL on mRNA levels and ribosome association correlates with the cumulative probability of DAZL binding in these clusters. Integrating kinetic data with mRNA features quantitatively connects DAZL–RNA binding to DAZL function. Our results show how kinetic parameters for RNA–protein interactions can be measured in cells, and how these data link RBP–RNA binding to the cellular function of RBPs.
Relevant articles
Open Access articles citing this article.
Kuan-Lun Hsu

,

Hsueh-Chi S. Yen

&

Chen-Hsiang Yeang

Scientific Reports Open Access 21 June 2022

Anna Knörlein

,

Chris P. Sarnowski

…

Jonathan Hall

Nature Communications Open Access 17 May 2022
Access options
Subscribe to Nature+
Get immediate online access to the entire Nature family of 50+ journals
Subscribe to Journal
Get full journal access for 1 year
$199.00
only $3.90 per issue
All prices are NET prices.
VAT will be added later in the checkout.
Tax calculation will be finalised during checkout.
Buy article
Get time limited or full article access on ReadCube.
$32.00
All prices are NET prices.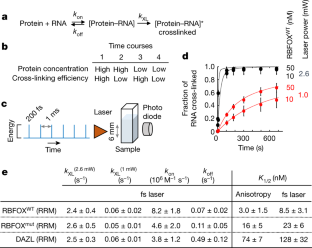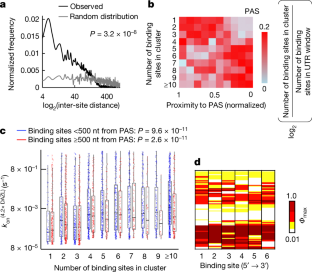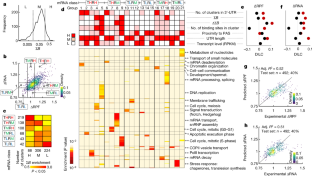 Data availability
Sequencing data are available at the NCBI Gene Expression Omnibus with accession number GSE150214. Source data are provided with this paper.
References
Gerstberger, S., Hafner, M. & Tuschl, T. A census of human RNA-binding proteins. Nat. Rev. Genet. 15, 829–845 (2014).

Licatalosi, D. D., Ye, X. & Jankowsky, E. Approaches for measuring the dynamics of RNA-protein interactions. Wiley Interdiscip. Rev. RNA 11, e1565 (2020).

Corley, M., Burns, M. C. & Yeo, G. W. How RNA-binding proteins interact with RNA: molecules and mechanisms. Mol. Cell 78, 9–29 (2020).

Ule, J., Hwang, H. W. & Darnell, R. B. The future of cross-linking and immunoprecipitation (CLIP). Cold Spring Harb. Perspect. Biol. 10, a032243 (2018).

Van Nostrand, E. L. et al. Principles of RNA processing from analysis of enhanced CLIP maps for 150 RNA binding proteins. Genome Biol. 21, 90 (2020).

Gleitsman, K. R., Sengupta, R. N. & Herschlag, D. Slow molecular recognition by RNA. RNA 23, 1745–1753 (2017).

Jarmoskaite, I. et al. A quantitative and predictive model for RNA binding by human Pumilio proteins. Mol. Cell 74, 966–981 (2019).

Sutandy, F. X. R. et al. In vitro iCLIP-based modeling uncovers how the splicing factor U2AF2 relies on regulation by cofactors. Genome Res. 28, 699–713 (2018).

Hockensmith, J. W., Kubasek, W. L., Vorachek, W. R. & von Hippel, P. H. Laser cross-linking of nucleic acids to proteins. Methodology and first applications to the phage T4 DNA replication system. J. Biol. Chem. 261, 3512–3518 (1986).

Pashev, I. G., Dimitrov, S. I. & Angelov, D. Crosslinking proteins to nucleic acids by ultraviolet laser irradiation. Trends Biochem. Sci. 16, 323–326 (1991).

Russmann, C. et al. Crosslinking of progesterone receptor to DNA using tuneable nanosecond, picosecond and femtosecond UV laser pulses. Nucleic Acids Res. 25, 2478–2484 (1997).

Steube, A., Schenk, T., Tretyakov, A. & Saluz, H. P. High-intensity UV laser ChIP–seq for the study of protein–DNA interactions in living cells. Nat. Commun. 8, 1303 (2017).

Budowsky, E. I., Axentyeva, M. S., Abdurashidova, G. G., Simukova, N. A. & Rubin, L. B. Induction of polynucleotide-protein cross-linkages by ultraviolet irradiation. Peculiarities of the high-intensity laser pulse irradiation. Eur. J. Biochem. 159, 95–101 (1986).

Auweter, S. D. et al. Molecular basis of RNA recognition by the human alternative splicing factor Fox-1. EMBO J. 25, 163–173 (2006).

Chen, Y. et al. Targeted inhibition of oncogenic miR-21 maturation with designed RNA-binding proteins. Nat. Chem. Biol. 12, 717–723 (2016).

Jenkins, H. T., Malkova, B. & Edwards, T. A. Kinked β-strands mediate high-affinity recognition of mRNA targets by the germ-cell regulator DAZL. Proc. Natl Acad. Sci. USA 108, 18266–18271 (2011).

Zagore, L. L. et al. DAZL regulates germ cell survival through a network of polyA-proximal mRNA interactions. Cell Rep. 25, 1225–1240 (2018).

Hofmann, M. C., Narisawa, S., Hess, R. A. & Millán, J. L. Immortalization of germ cells and somatic testicular cells using the SV40 large T antigen. Exp. Cell Res. 201, 417–435 (1992).

Fu, X. F. et al. DAZ family proteins, key players for germ cell development. Int. J. Biol. Sci. 11, 1226–1235 (2015).

Lin, Y. & Page, D. C. Dazl deficiency leads to embryonic arrest of germ cell development in XY C57BL/6 mice. Dev. Biol. 288, 309–316 (2005).

Ruggiu, M. et al. The mouse Dazla gene encodes a cytoplasmic protein essential for gametogenesis. Nature 389, 73–77 (1997).

Saunders, P. T. et al. Absence of mDazl produces a final block on germ cell development at meiosis. Reproduction 126, 589–597 (2003).

Yang, C. R. et al. The RNA-binding protein DAZL functions as repressor and activator of mRNA translation during oocyte maturation. Nat. Commun. 11, 1399 (2020).

Haberman, N. et al. Insights into the design and interpretation of iCLIP experiments. Genome Biol. 18, 7 (2017).

Huppertz, I. et al. iCLIP: protein–RNA interactions at nucleotide resolution. Methods 65, 274–287 (2014).

Reynolds, N. et al. Dazl binds in vivo to specific transcripts and can regulate the pre-meiotic translation of Mvh in germ cells. Hum. Mol. Genet. 14, 3899–3909 (2005).

Itri, F. et al. Femtosecond UV-laser pulses to unveil protein-protein interactions in living cells. Cell. Mol. Life Sci. 73, 637–648 (2016).

Brister, M. M. & Crespo-Hernández, C. E. Direct observation of triplet-state population dynamics in the RNA uracil derivative 1-cyclohexyluracil. J. Phys. Chem. Lett. 6, 4404–4409 (2015).

Brister, M. M. & Crespo-Hernández, C. E. Excited-state dynamics in the RNA nucleotide uridine 5′-monophosphate investigated using femtosecond broadband transient absorption spectroscopy. J. Phys. Chem. Lett. 10, 2156–2161 (2019).

Paschotta, R. Encyclopedia of Laser Physics and Technology (Wiley-VCH, 2008).

Strober, W. Trypan blue exclusion test of cell viability. Curr. Protoc. Immunol. https://doi.org/10.1002/0471142735.ima03bs21 (2001).

Moore, M. J. et al. Mapping Argonaute and conventional RNA-binding protein interactions with RNA at single-nucleotide resolution using HITS-CLIP and CIMS analysis. Nat. Protocols 9, 263–293 (2014).

Langmead, B. & Salzberg, S. L. Fast gapped-read alignment with Bowtie 2. Nat. Methods 9, 357–359 (2012).

Quinlan, A. R. & Hall, I. M. BEDTools: a flexible suite of utilities for comparing genomic features. Bioinformatics 26, 841–842 (2010).

Robinson, J. T. et al. Integrative genomics viewer. Nat. Biotechnol. 29, 24–26 (2011).

Weyn-Vanhentenryck, S. M. et al. HITS-CLIP and integrative modeling define the Rbfox splicing-regulatory network linked to brain development and autism. Cell Rep. 6, 1139–1152 (2014).

Zhang, C. & Darnell, R. B. Mapping in vivo protein–RNA interactions at single-nucleotide resolution from HITS-CLIP data. Nat. Biotechnol. 29, 607–614 (2011).

Schindler, D., Uschner, D., Hilgers, R.-D. & Heussen, N. randomizeR: randomization for clinical trials. R version 4.3.0 https://cran.r-project.org/web/packages/randomizeR/index.html (2019).

Aken, B. L. et al. Ensembl 2017. Nucleic Acids Res. 45, D635–D642 (2017).

O'Leary, N. A. et al. Reference sequence (RefSeq) database at NCBI: current status, taxonomic expansion, and functional annotation. Nucleic Acids Res. 44, D733–D745 (2016).

Fox, J. An R Companion to Applied Regression 3rd edition (Sage, 2019).

Thompson, H. W., Mera, R. & Prasad, C. The analysis of variance (ANOVA). Nutr. Neurosci. 2, 43–55 (1999).

Leschinski, C. Vignette: the MonteCarlo package. R version 4.3.0 https://cran.r-project.org/web/packages/MonteCarlo/vignettes/MonteCarlo-Vignette.html (2019).

Cao, J. & Zhang, S. A Bayesian extension of the hypergeometric test for functional enrichment analysis. Biometrics 70, 84–94 (2014).

Jolliffe, I. T. & Cadima, J. Principal component analysis: a review and recent developments. Phil. Trans. R. Soc. Lond. A 374, 20150202 (2016).

Kerr, G., Ruskin, H. J., Crane, M. & Doolan, P. Techniques for clustering gene expression data. Comput. Biol. Med. 38, 283–293 (2008).

Krijthe, J. H. Rtsne: t-distributed stochastic neighbour embedding using a Barnes–Hut implementation. https://github.com/jkrijthe/Rtsne (2015).

van der Maaten, L. & Hinton, G. Visualizing data using t-SNE. J. Mach. Learn. Res. 9, 2579–2605 (2008).

Bigs, D., De Ville, B. & Suen, E. A method of choosing multiway partitions for classification and decision trees. J. Appl. Stat. 18, 49–62 (1991).

Goodman, L. A. Simple models for the analysis of association in crossclassifications having ordered categories. J. Am. Stat. Assoc. 74, 537–552 (1979).

Armstrong, R. A. When to use the Bonferroni correction. Ophthalmic Physiol. Opt. 34, 502–508 (2014).

Benjamini, Y. & Hochberg, Y. Controlling the false discovery rate: a practical and powerful approach to multiple testing. J. R. Stat. Soc. B 57, 289–300 (1995).

Fabregat, A. et al. Reactome pathway analysis: a high-performance in-memory approach. BMC Bioinformatics 18, 142 (2017).

Jassal, B. et al. The reactome pathway knowledgebase. Nucleic Acids Res. 48, D498–D503 (2020).

Shannon, P. et al. Cytoscape: a software environment for integrated models of biomolecular interaction networks. Genome Res. 13, 2498–2504 (2003).

Magidson, J. Common pitfalls in causal analysis of categorical data. J. Mark. Res. 19, 461–471 (1982).

Breiman, L., Friedman, J. H., Olshen, R. A. & Stone, C. J. Classification and Regression Trees (Chapman & Hall/CRC, 1984).

Dua, D. & Gradd, C. UCI Machine Learning Repository http://archive.ics.uci.edu/ml (University of California, School of Information and Computer Science, 2019).

Kass, G. V. An exploratory technique for investigating large quantities for categorical data. Appl. Stat. 29, 119–127 (1980).
Acknowledgements
We thank G. Varani for providing purified RBFOX(RRM) and RBFOXmut(RRM); A. Komar for the design of the codon-optimized DAZL construct; and W. Huang for assistance with the fluorescence polarization experiments. This work was supported by the NIH (GM118088 to E.J. and GM107331 to D.D.L.) and the NSF (CHE-1800052 to C.E.C.-H.).
Ethics declarations
Competing interests
D.S. and E.J. are founders of Bainom Inc. The remaining authors declare no competing interests.
Additional information
Peer review information Nature thanks Rick Russell and the other, anonymous, reviewer(s) for their contribution to the peer review of this work.
Publisher's note Springer Nature remains neutral with regard to jurisdictional claims in published maps and institutional affiliations.
Extended data figures and tables
Supplementary information
About this article
Cite this article
Sharma, D., Zagore, L.L., Brister, M.M. et al. The kinetic landscape of an RNA-binding protein in cells. Nature 591, 152–156 (2021). https://doi.org/10.1038/s41586-021-03222-x
Received:

Accepted:

Published:

Issue Date:

DOI: https://doi.org/10.1038/s41586-021-03222-x
Comments
By submitting a comment you agree to abide by our Terms and Community Guidelines. If you find something abusive or that does not comply with our terms or guidelines please flag it as inappropriate.