Abstract
In the quest for post-CMOS (complementary metal–oxide–semiconductor) technologies, driven by the need for improved efficiency and performance, topologically protected ferromagnetic 'whirls' such as skyrmions1,2,3,4,5,6,7,8 and their anti-particles have shown great promise as solitonic information carriers in racetrack memory-in-logic or neuromorphic devices1,9,10,11. However, the presence of dipolar fields in ferromagnets, which restricts the formation of ultrasmall topological textures3,6,8,9,12, and the deleterious skyrmion Hall effect, when skyrmions are driven by spin torques9,10,12, have thus far inhibited their practical implementation. Antiferromagnetic analogues, which are predicted to demonstrate relativistic dynamics, fast deflection-free motion and size scaling, have recently become the subject of intense focus9,13,14,15,16,17,18,19, but they have yet to be experimentally demonstrated in natural antiferromagnetic systems. Here we realize a family of topological antiferromagnetic spin textures in α-Fe2O3—an Earth-abundant oxide insulator—capped with a platinum overlayer. By exploiting a first-order analogue of the Kibble–Zurek mechanism20,21, we stabilize exotic merons and antimerons (half-skyrmions)8 and their pairs (bimerons)16,22, which can be erased by magnetic fields and regenerated by temperature cycling. These structures have characteristic sizes of the order of 100 nanometres and can be chemically controlled via precise tuning of the exchange and anisotropy, with pathways through which further scaling may be achieved. Driven by current-based spin torques from the heavy-metal overlayer, some of these antiferromagnetic textures could emerge as prime candidates for low-energy antiferromagnetic spintronics at room temperature1,9,10,11,23.
Relevant articles
Open Access articles citing this article.
Roméo Juge

,

Naveen Sisodia

…

Olivier Boulle

Nature Communications Open Access 16 August 2022

Yonglong Ga

,

Qirui Cui

…

Hongxin Yang

npj Computational Materials Open Access 08 June 2022

Raphael Gruber

,

Jakub Zázvorka

…

Mathias Kläui

Nature Communications Open Access 06 June 2022
Access options
Subscribe to Nature+
Get immediate online access to the entire Nature family of 50+ journals
Subscribe to Journal
Get full journal access for 1 year
$199.00
only $3.90 per issue
All prices are NET prices.
VAT will be added later in the checkout.
Tax calculation will be finalised during checkout.
Buy article
Get time limited or full article access on ReadCube.
$32.00
All prices are NET prices.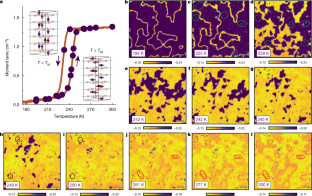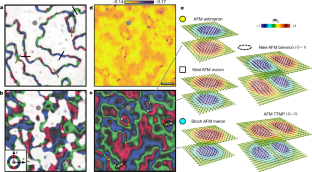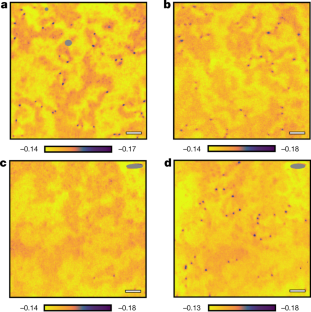 Data availability
The data supporting the findings of this study are available within the article and its Supplementary Information files and can also be accessed at the repository site https://doi.org/10.5287/bodleian:GP57d0Z47.
References
Back, C. et al. The 2020 skyrmionics roadmap. J. Phys. D 53, 363001 (2020).

Kurumaji, T. et al. Skyrmion lattice with a giant topological Hall effect in a frustrated triangular-lattice magnet. Science 365, 914–918 (2019).

Woo, S. et al. Observation of room-temperature magnetic skyrmions and their current-driven dynamics in ultrathin metallic ferromagnets. Nat. Mater. 15, 501–506 (2016).

Boulle, O. et al. Room-temperature chiral magnetic skyrmions in ultrathin magnetic nanostructures. Nat. Nanotechnol. 11, 449–454 (2016); corrigendum 12, 830 (2017).

Moreau-Luchaire, C. et al. Additive interfacial chiral interaction in multilayers for stabilization of small individual skyrmions at room temperature. Nat. Nanotechnol. 11, 444–448 (2016); erratum 11, 731 (2016).

Soumyanarayanan, A. et al. Tunable room-temperature magnetic skyrmions in Ir/Fe/Co/Pt multilayers. Nat. Mater. 16, 898–904 (2017).

Nayak, A. K. et al. Magnetic antiskyrmions above room temperature in tetragonal heusler materials. Nature 548, 561–566 (2017).

Yu, X. Z. et al. Transformation between meron and skyrmion topological spin textures in a chiral magnet. Nature 564, 95–98 (2018).

Büttner, F., Lemesh, I. & Beach, G. S. D. Theory of isolated magnetic skyrmions: from fundamentals to room temperature applications. Sci. Rep. 8, 4464 (2018).

Zhang, X. et al. Skyrmion-electronics: writing, deleting, reading and processing magnetic skyrmions toward spintronic applications. J. Phys. Condens. Matter 32, 143001 (2020).

Grollier, J. et al. Neuromorphic spintronics. Nat. Electron. 3, 360–370 (2020).

Litzius, K. et al. Skyrmion Hall effect revealed by direct time-resolved X-ray microscopy. Nat. Phys. 13, 170–175 (2017).

Barker, J. & Tretiakov, O. A. Static and dynamical properties of antiferromagnetic skyrmions in the presence of applied current and temperature. Phys. Rev. Lett. 116, 147203 (2016).

Zhang, X., Zhou, Y. & Ezawa, M. Magnetic bilayer-skyrmions without skyrmion Hall effect. Nat. Commun. 7, 10293 (2016).

Baltz, V. et al. Antiferromagnetic spintronics. Rev. Mod. Phys. 90, 015005 (2018).

Shen, L. et al. Current-induced dynamics and chaos of antiferromagnetic bimerons. Phys. Rev. Lett. 124, 037202 (2020).

Caretta, L. et al. Fast current-driven domain walls and small skyrmions in a compensated ferrimagnet. Nat. Nanotechnol. 13, 1154–1160 (2018).

Dohi, T., DuttaGupta, S., Fukami, S. & Ohno, H. Formation and current-induced motion of synthetic antiferromagnetic skyrmion bubbles. Nat. Commun. 10, 5153 (2019).

Legrand, W. et al. Room-temperature stabilization of antiferromagnetic skyrmions in synthetic antiferromagnets. Nat. Mater. 19, 34–42 (2020).

Kibble, T. W. B. Topology of cosmic domains and strings. J. Phys. Math. Gen. 9, 1387–1398 (1976).

Zurek, W. H. Cosmological experiments in superfluid helium? Nature 317, 505–508 (1985).

Göbel, B., Mook, A., Henk, J., Mertig, I. & Tretiakov, O. A. Magnetic bimerons as skyrmion analogues in in-plane magnets. Phys. Rev. B 99, 060407 (2019).

Liang, X. et al. Antiferromagnetic skyrmion-based logic gates controlled by electric currents and fields. Preprint at https://arxiv.org/abs/1909.10709 (2019).

Kampfrath, T. et al. Coherent terahertz control of antiferromagnetic spin waves. Nat. Photon. 5, 31–34 (2011).

Galkina, E. G., Galkin, A. Y., Ivanov, B. A. & Nori, F. Magnetic vortex as a ground state for micron-scale antiferromagnetic samples. Phys. Rev. B 81, 184413 (2010).

Lebrun, R. et al. Tunable long-distance spin transport in a crystalline antiferromagnetic iron oxide. Nature 561, 222–225 (2018).

Wang, Y. et al. Magnetization switching by magnon-mediated spin torque through an antiferromagnetic insulator. Science 366, 1125–1128 (2019).

Chmiel, F. P. et al. Observation of magnetic vortex pairs at room temperature in a planar α-Fe2O3/Co heterostructure. Nat. Mater. 17, 581–585 (2018).

Besser, P. J., Morrish, A. H. & Searle, C. W. Magnetocrystalline anisotropy of pure and doped hematite. Phys. Rev. 153, 632–640 (1967).

Coey, J. M. D. & Sawatzky, G. A. A study of hyperfine interactions in the system (Fe1−xRhx)2O3 using the Mössbauer effect (bonding parameters). J. Phys. C Solid State Phys. 4, 2386 (1971).

Arenholz, E., van der Laan, G., Chopdekar, R. V. & Suzuki, Y. Anisotropic X-ray magnetic linear dichroism at the Fe L2,3 edges in Fe3O4. Phys. Rev. B 74, 094407 (2006).

Luo, Z. et al. Current-driven magnetic domain-wall logic. Nature 579, 214–218 (2020).

Shiino, T. et al. Antiferromagnetic domain wall motion driven by spin-orbit torques. Phys. Rev. Lett. 117, 087203 (2016).

Kharkov, Y. A., Sushkov, O. A. & Mostovoy, M. Bound states of skyrmions and merons near the Lifshitz point. Phys. Rev. Lett. 119, 207201 (2017).

Leonov, A. O. & Kézsmárki, I. Asymmetric isolated skyrmions in polar magnets with easy-plane anisotropy. Phys. Rev. B 96, 014423 (2017).

Bessarab, P. F. et al. Stability and lifetime of antiferromagnetic skyrmions. Phys. Rev. B 99, 140411 (2019).

Zhang, P., Finley, J., Safi, T. & Liu, L. Quantitative study on current-induced effect in an antiferromagnet insulator/Pt bilayer film. Phys. Rev. Lett. 123, 247206 (2019).

Cheng, Y., Yu, S., Zhu, M., Hwang, J. & Yang, F. Electrical switching of tristate antiferromagnetic Néel order in α-Fe2O3 epitaxial films. Phys. Rev. Lett. 124, 027202 (2020).

Kimel, A. V., Kirilyuk, A., Tsvetkov, A., Pisarev, R. V. & Rasing, T. Laser-induced ultrafast spin reorientation in the antiferromagnet TmFeO3. Nature 429, 850 (2004).

Khoshlahni, R., Qaiumzadeh, A., Bergman, A. & Brataas, A. Ultrafast generation and dynamics of isolated skyrmions in antiferromagnetic insulators. Phys. Rev. B 99, 054423 (2019).

Park, S. et al. Strain control of Morin temperature in epitaxial α-Fe2O3 (0001) film. Europhys. Lett. 103, 27007 (2013).

Kuiper, P., Searle, B. G., Rudolf, P., Tjeng, L. H. & Chen, C. T. X-ray magnetic dichroism of antiferromagnet Fe2O3: the orientation of magnetic moments observed by Fe 2p X-ray absorption spectroscopy. Phys. Rev. Lett. 70, 1549–1552 (1993).

Lüning, J. et al. Determination of the antiferromagnetic spin axis in epitaxial LaFeO3 films by X-ray magnetic linear dichroism spectroscopy. Phys. Rev. B 67, 214433 (2003).

Stöhr, J. et al. Images of the antiferromagnetic structure of a NiO(100) surface by means of X-ray magnetic linear dichroism spectromicroscopy. Phys. Rev. Lett. 83, 1862–1865 (1999).

Stöhr, J., Padmore, H. A., Anders, S., Stammler, T. & Scheinfein, M. R. Principles of X-ray magnetic dichroism spectromicroscopy. Surf. Rev. Lett. 05, 1297–1308 (1998).

van der Laan, G., Telling, N. D., Potenza, A., Dhesi, S. S. & Arenholz, E. Anisotropic X-ray magnetic linear dichroism and spectromicroscopy of interfacial Co/NiO(001). Phys. Rev. B 83, 064409 (2011).

Waterfield Price, N. et al. Coherent magnetoelastic domains in multiferroic BiFeO3 films. Phys. Rev. Lett. 117, 177601 (2016).

Li, X. et al. Bimeron clusters in chiral antiferromagnets. npj Comp. Mater. 6, 169 (2020).

Radaelli, P., Radaelli, J., Waterfield-Price, N. & Johnson, R. Micromagnetic modelling and imaging of vortex|merons structures in an oxide|metal heterostructure. Phys. Rev. B 101, 144420 (2020).

Hanneken, C., Kubetzka, A., von Bergmann, K. & Wiesendanger, R. Pinning and movement of individual nanoscale magnetic skyrmions via defects. New J. Phys. 18, 055009 (2016).

Juge, R. et al. Current-driven skyrmion dynamics and drive-dependent skyrmion Hall effect in an ultrathin film. Phys. Rev. Appl. 12, 044007 (2019).

Juge, R. et al. Magnetic skyrmions in confined geometries: effect of the magnetic field and the disorder. J. Magn. Magn. Mater. 455, 3–8 (2018).

Zeissler, K. et al. Diameter-independent skyrmion Hall angle observed in chiral magnetic multilayers. Nat. Commun. 11, 428 (2020).
Acknowledgements
We thank S. Parameswaran for discussions, F. P. Chmiel for guidance with data reduction, and R. D. Johnson for assistance with experiments. We acknowledge the Diamond Light Source for time on Beam Line I06 under proposals MM23857 and S120317. The work done at the University of Oxford (H.J., J.-C.L., J.C., J.H. and P.G.R.) is funded by EPSRC grant no. EP/M2020517/1 (Quantum Materials Platform Grant). The work at the National University of Singapore (H.J., S.P., A.A. and T.V.) is supported by the National Research Foundation (NRF) under the Competitive Research Program (NRF2015NRF-CRP001-015) and we also acknowledge SSLS for time on Beam Line XDD, which is under NRF. A.A. thanks the Agency for Science, Technology and Research (A*STAR) under its Advanced Manufacturing and Engineering (AME) Individual Research Grant (IRG) (A1983c0034) for financial support. J.C. acknowledges a full scholarship from the Chinese Scholarship Council (CSC) and support from the National University of Defense Technology (NUDT). The work at University of Wisconsin–Madison (J.S. and C.B.E.) is supported by the Army Research Office through grant W911NF-17-1-0462. C.B.E. acknowledges a Vannevar Bush Faculty Fellowship, funded by ONR (N00014-20-1-2844).
Ethics declarations
Competing interests
The authors declare no competing interests.
Additional information
Peer review information Nature thanks Shinichiro Seki, Lucia Aballe, and the other, anonymous, reviewer(s) for their contribution to the peer review of this work.
Publisher's note Springer Nature remains neutral with regard to jurisdictional claims in published maps and institutional affiliations.
Extended data figures and tables
Supplementary information
This file contains Supplementary Sections 1-4 and Supplementary Figures S1-S3.
Temperature evolution of AFM textures in α-Fe2O3 as seen in LV-PEEM images, during the cooling and warming sequences across the Morin transition. All images were collected in the same location and orientation.
About this article
Cite this article
Jani, H., Lin, JC., Chen, J. et al. Antiferromagnetic half-skyrmions and bimerons at room temperature. Nature 590, 74–79 (2021). https://doi.org/10.1038/s41586-021-03219-6
Received:

Accepted:

Published:

Issue Date:

DOI: https://doi.org/10.1038/s41586-021-03219-6
Comments
By submitting a comment you agree to abide by our Terms and Community Guidelines. If you find something abusive or that does not comply with our terms or guidelines please flag it as inappropriate.