Abstract
Long non-coding RNAs (lncRNAs) can be important components in gene-regulatory networks1, but the exact nature and extent of their involvement in human Mendelian disease is largely unknown. Here we show that genetic ablation of a lncRNA locus on human chromosome 2 causes a severe congenital limb malformation. We identified homozygous 27–63-kilobase deletions located 300 kilobases upstream of the engrailed-1 gene (EN1) in patients with a complex limb malformation featuring mesomelic shortening, syndactyly and ventral nails (dorsal dimelia). Re-engineering of the human deletions in mice resulted in a complete loss of En1 expression in the limb and a double dorsal-limb phenotype that recapitulates the human disease phenotype. Genome-wide transcriptome analysis in the developing mouse limb revealed a four-exon-long non-coding transcript within the deleted region, which we named Maenli. Functional dissection of the Maenli locus showed that its transcriptional activity is required for limb-specific En1 activation in cis, thereby fine-tuning the gene-regulatory networks controlling dorso-ventral polarity in the developing limb bud. Its loss results in the En1-related dorsal ventral limb phenotype, a subset of the full En1-associated phenotype. Our findings demonstrate that mutations involving lncRNA loci can result in human Mendelian disease.
Relevant articles
Open Access articles citing this article.
James A. Oo

,

Ralf P. Brandes

&

Matthias S. Leisegang

Pflügers Archiv - European Journal of Physiology Open Access 18 November 2021
Access options
Subscribe to Nature+
Get immediate online access to the entire Nature family of 50+ journals
Subscribe to Journal
Get full journal access for 1 year
$199.00
only $3.90 per issue
All prices are NET prices.
VAT will be added later in the checkout.
Tax calculation will be finalised during checkout.
Buy article
Get time limited or full article access on ReadCube.
$32.00
All prices are NET prices.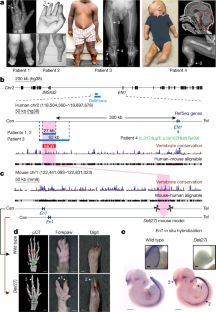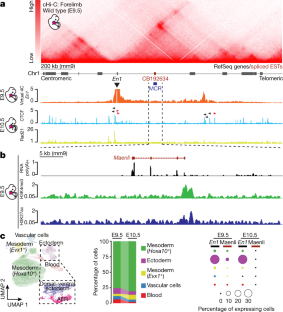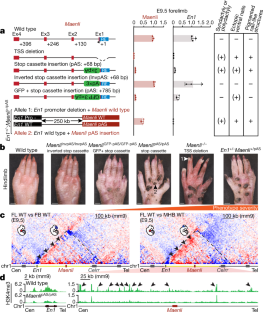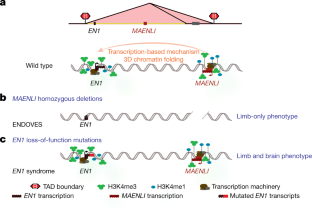 Data availability
All datasets have been deposited in the Gene Expression Omnibus (GEO) database and are accessible under accession number GSE137335 (or published previously under GSE84795). As we do not have consents from patients to deposit the exome sequencing and CGH array data in an open access public repository, they are available only upon request from A.S.-F. (asuperti@unil.ch) and C.R. (carlo.rivolta@iob.ch). Data can be shared for research purposes with permission of the patient or his/her legal guardian. All the variants reported in this study have been deposited into ClinVar (NCBI) and are accessible under accession numbers SCV001450636, SCV001450638 and SCV001450639. The novel lncRNA (Maenli) transcript sequence identified and reported here has been deposited into GenBank (NCBI) and is accessible under MW294174. Previously published data used in this study include H3K4me3 ChIP–seq data from E10.5 forelimb, ChIP–seq data for CTCF, Rad21, H3K4me1 and H3K4me3 from E13.5 midbrain and ChIP–seq data for H3K27ac and H3K4me3 from E13.5 liver (GSE84793), data from the Exome Aggregation Consortium (ExAC v0.3.1; http://exac.broadinstitute.org/), the Genome Aggregation Database (gnomAD v2.1.1; https://gnomad.broadinstitute.org/), the 1000 Genomes Browser (https://www.ncbi.nlm.nih.gov/variation/tools/1000genomes/), the Exome Sequencing Project (https://evs.gs.washington.edu/EVS/), the Greater Middle East Variome Project (http://igm.ucsd.edu/gme/), and the Brazilian genomic variants database (http://abraom.ib.usp.br/). Source data are provided with this paper.
References
Kopp, F. & Mendell, J. T. Functional classification and experimental dissection of long noncoding RNAs. Cell 172, 393–407 (2018).

Hon, C. C. et al. An atlas of human long non-coding RNAs with accurate 5′ ends. Nature 543, 199–204 (2017).

Engreitz, J. M. et al. Local regulation of gene expression by lncRNA promoters, transcription and splicing. Nature 539, 452–455 (2016).

Loomis, C. A. et al. The mouse Engrailed-1 gene and ventral limb patterning. Nature 382, 360–363 (1996).

Wurst, W., Auerbach, A. B. & Joyner, A. L. Multiple developmental defects in Engrailed-1 mutant mice: an early mid-hindbrain deletion and patterning defects in forelimbs and sternum. Development 120, 2065–2075 (1994).

Franke, M. et al. Formation of new chromatin domains determines pathogenicity of genomic duplications. Nature 538, 265–269 (2016).

Kragesteen, B. K. et al. Dynamic 3D chromatin architecture contributes to enhancer specificity and limb morphogenesis. Nat. Genet. 50, 1463–1473 (2018).

Huettl, R. E. et al. Engrailed 1 mediates correct formation of limb innervation through two distinct mechanisms. PLoS ONE 10, e0118505 (2015).

Andrey, G. et al. Characterization of hundreds of regulatory landscapes in developing limbs reveals two regimes of chromatin folding. Genome Res. 27, 223–233 (2017).

Xiang, J. F. et al. Human colorectal cancer-specific CCAT1-L lncRNA regulates long-range chromatin interactions at the MYC locus. Cell Res. 24, 513–531 (2014).

Cho, S. W. et al. Promoter of lncRNA gene PVT1 Is a tumor-suppressor DNA boundary element. Cell 173, 1398–1412 (2018).

Isoda, T. et al. Non-coding transcription instructs chromatin folding and compartmentalization to dictate enhancer-promoter communication and T cell fate. Cell 171, 103–119 (2017).

Vian, L. et al. The energetics and physiological impact of cohesin extrusion. Cell 175, 292–294 (2018).

Kraft, K. et al. Serial genomic inversions induce tissue-specific architectural stripes, gene misexpression and congenital malformations. Nat. Cell Biol. 21, 305–310 (2019).

Wang, K. C. et al. A long noncoding RNA maintains active chromatin to coordinate homeotic gene expression. Nature 472, 120–124 (2011).

Gutschner, T. & Diederichs, S. The hallmarks of cancer: a long non-coding RNA point of view. RNA Biol. 9, 703–719 (2012).

Ishii, N. et al. Identification of a novel non-coding RNA, MIAT, that confers risk of myocardial infarction. J. Hum. Genet. 51, 1087–1099 (2006).

Broadbent, H. M. et al. Susceptibility to coronary artery disease and diabetes is encoded by distinct, tightly linked SNPs in the ANRIL locus on chromosome 9p. Hum. Mol. Genet. 17, 806–814 (2008).

Cabianca, D. S. et al. A long ncRNA links copy number variation to a polycomb/trithorax epigenetic switch in FSHD muscular dystrophy. Cell 149, 819–831 (2012).

van Dijk, M. et al. HELLP babies link a novel lincRNA to the trophoblast cell cycle. J. Clin. Invest. 122, 4003–4011 (2012).

Maass, P. G. et al. A misplaced lncRNA causes brachydactyly in humans. J. Clin. Invest. 122, 3990–4002 (2012).

Castellanos-Rubio, A. et al. A long noncoding RNA associated with susceptibility to celiac disease. Science 352, 91–95 (2016).

Royer-Bertrand, B. et al. Mutations in the heat-shock protein A9 (HSPA9) gene cause the EVEN-PLUS syndrome of congenital malformations and skeletal dysplasia. Sci. Rep. 5, 17154 (2015).

Van der Auwera, G. A. et al. From FastQ data to high confidence variant calls: the Genome Analysis Toolkit best practices pipeline. Curr. Protoc. Bioinformatics. 43, 11.10.1–11.10.33 (2013).

Karczewski, K. J. et al. The ExAC browser: displaying reference data information from over 60 000 exomes. Nucleic Acids Res. 45 (D1), D840–D845 (2017).

Lek, M. et al. Analysis of protein-coding genetic variation in 60,706 humans. Nature 536, 285–291 (2016).

Auton, A. et al. A global reference for human genetic variation. Nature 526, 68–74 (2015).

Naslavsky, M. S. et al. Exomic variants of an elderly cohort of Brazilians in the ABraOM database. Hum. Mutat. 38, 751–763 (2017).

Kraft, K. et al. Deletions, inversions, duplications: engineering of structural variants using CRISPR/Cas in mice. Cell Rep. 10, 833–839 (2015).

George, S. H. et al. Developmental and adult phenotyping directly from mutant embryonic stem cells. Proc. Natl Acad. Sci. USA 104, 4455–4460 (2007).

Artus, J. & Hadjantonakis, A. K. Generation of chimeras by aggregation of embryonic stem cells with diploid or tetraploid mouse embryos. Methods Mol. Biol. 693, 37–56 (2011).

Liska, F. et al. Impairment of Sox9 expression in limb buds of rats homozygous for hypodactyly mutation. Folia Biol. 56, 58–65 (2010).

Wingett, S. et al. HiCUP: pipeline for mapping and processing Hi-C data. F1000Res. 4, 1310 (2015).

Langmead, B. & Salzberg, S. L. Fast gapped-read alignment with Bowtie 2. Nat. Methods 9, 357–359 (2012).

Durand, N. C. et al. Juicer provides a one-click system for analyzing loop-resolution Hi-C experiments. Cell Syst. 3, 95–98 (2016).

Rao, S. S. et al. A 3D map of the human genome at kilobase resolution reveals principles of chromatin looping. Cell 159, 1665–1680 (2014).

Dobin, A. et al. STAR: ultrafast universal RNA-seq aligner. Bioinformatics 29, 15–21 (2013).

Lupiáñez, D. G. et al. Disruptions of topological chromatin domains cause pathogenic rewiring of gene-enhancer interactions. Cell 161, 1012–1025 (2015).

Love, M. I., Huber, W. & Anders, S. Moderated estimation of fold change and dispersion for RNA-seq data with DESeq2. Genome Biol. 15, 550 (2014).

Wolock, S. L., Lopez, R. & Klein, A. M. Scrublet: computational identification of cell doublets in single-cell transcriptomic data. Cell Syst. 8, 281–291 (2019).

Hafemeister, C. & Satija, R. Normalization and variance stabilization of single-cell RNA-seq data using regularized negative binomial regression. Genome Biol. 20, 296 (2019).

Butler, A., Hoffman, P., Smibert, P., Papalexi, E. & Satija, R. Integrating single-cell transcriptomic data across different conditions, technologies, and species. Nat. Biotechnol. 36, 411–420 (2018).

Ibrahim, D. M. et al. Distinct global shifts in genomic binding profiles of limb malformation-associated HOXD13 mutations. Genome Res. 23, 2091–2102 (2013).

Lee, T. I., Johnstone, S. E. & Young, R. A. Chromatin immunoprecipitation and microarray-based analysis of protein location. Nat. Protoc. 1, 729–748 (2006).

Paliou, C. et al. Preformed chromatin topology assists transcriptional robustness of Shh during limb development. Proc. Natl Acad. Sci. USA 116, 12390–12399 (2019).

Ramírez, F. et al. deepTools2: a next generation web server for deep-sequencing data analysis. Nucleic Acids Res. 44 (W1), W160–W165 (2016).

Vogel, M. J., Peric-Hupkes, D. & van Steensel, B. Detection of in vivo protein-DNA interactions using DamID in mammalian cells. Nat. Protoc. 2, 1467–1478 (2007).

Li, H. & Durbin, R. Fast and accurate short read alignment with Burrows–Wheeler transform. Bioinformatics 25, 1754–1760 (2009).

Gagnon, K. T., Li, L., Janowski, B. A. & Corey, D. R. Analysis of nuclear RNA interference in human cells by subcellular fractionation and Argonaute loading. Nat. Protoc. 9, 2045–2060 (2014).

Grote, P. et al. The tissue-specific lncRNA Fendrr is an essential regulator of heart and body wall development in the mouse. Dev. Cell 24, 206–214 (2013).

Livak, K. J. & Schmittgen, T. D. Analysis of relative gene expression data using real-time quantitative PCR and the 2−ΔΔCT method. Methods 25, 402–408 (2001).
Acknowledgements
This work was supported by grants MU 880/16-1 and MU 880/14-3 from the Deutsche Forschungsgemeinschaft (DFG) to S.M., by grants from the Fondation Guillaume-Gentil (Lausanne) and the Faculté de Biologie et Medecine of the University of Lausanne to A.S.-F., and by the Swiss National Science Foundation grant no. 176097 to C.R. L.A. was supported by the FOXG1 Foundation (grant P.S.7905). We thank K. Macura, C. Franke, N. Engemann, C. Hillgardt, V. Desiniotis, N. Brieske, S. Haas and K. Kraft in Berlin for technical and/or scientific support.
Ethics declarations
Competing interests
The authors declare no competing interests.
Additional information
Peer review information Nature thanks Annelien Bredenoord, Howard Chang, Moisés Mallo and Andrew Wilkie for their contribution to the peer review of this work.
Publisher's note Springer Nature remains neutral with regard to jurisdictional claims in published maps and institutional affiliations.
Extended data figures and tables
Supplementary information
About this article
Cite this article
Allou, L., Balzano, S., Magg, A. et al. Non-coding deletions identify Maenli lncRNA as a limb-specific En1 regulator. Nature 592, 93–98 (2021). https://doi.org/10.1038/s41586-021-03208-9
Received:

Accepted:

Published:

Issue Date:

DOI: https://doi.org/10.1038/s41586-021-03208-9
This article is cited by
James A. Oo
Ralf P. Brandes
Matthias S. Leisegang

Pflügers Archiv - European Journal of Physiology (2022)
Comments
By submitting a comment you agree to abide by our Terms and Community Guidelines. If you find something abusive or that does not comply with our terms or guidelines please flag it as inappropriate.