Abstract
In contrast to nearly all other tissues, the anatomy of cell differentiation in the bone marrow remains unknown. This is owing to a lack of strategies for examining myelopoiesis—the differentiation of myeloid progenitors into a large variety of innate immune cells—in situ in the bone marrow. Such strategies are required to understand differentiation and lineage-commitment decisions, and to define how spatial organizing cues inform tissue function. Here we develop approaches for imaging myelopoiesis in mice, and generate atlases showing the differentiation of granulocytes, monocytes and dendritic cells. The generation of granulocytes and dendritic cells–monocytes localizes to different blood-vessel structures known as sinusoids, and displays lineage-specific spatial and clonal architectures. Acute systemic infection with Listeria monocytogenes induces lineage-specific progenitor clusters to undergo increased self-renewal of progenitors, but the different lineages remain spatially separated. Monocyte–dendritic cell progenitors (MDPs) map with nonclassical monocytes and conventional dendritic cells; these localize to a subset of blood vessels expressing a major regulator of myelopoiesis, colony-stimulating factor 1 (CSF1, also known as M-CSF)1. Specific deletion of Csf1 in endothelium disrupts the architecture around MDPs and their localization to sinusoids. Subsequently, there are fewer MDPs and their ability to differentiate is reduced, leading to a loss of nonclassical monocytes and dendritic cells during both homeostasis and infection. These data indicate that local cues produced by distinct blood vessels are responsible for the spatial organization of definitive blood cell differentiation.
Relevant articles
Open Access articles citing this article.
Hengwei Zhang

,

Jane L. Liesveld

…

Shu-Chi A. Yeh

Bone Research Open Access 14 March 2023

Christa Haase

,

Karin Gustafsson

…

Charles P. Lin

Nature Methods Open Access 24 November 2022

Trent D. Hall

,

Hyunjin Kim

…

Shannon McKinney-Freeman

Nature Communications Open Access 15 September 2022
Access options
Access Nature and 54 other Nature Portfolio journals
Get Nature+, our best-value online-access subscription
$29.99 per month
cancel any time
Subscribe to this journal
Receive 51 print issues and online access
$199.00 per year
only $3.90 per issue
Rent or buy this article
Get just this article for as long as you need it
$39.95
Prices may be subject to local taxes which are calculated during checkout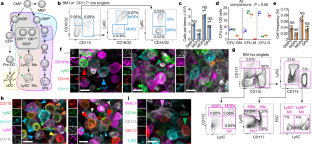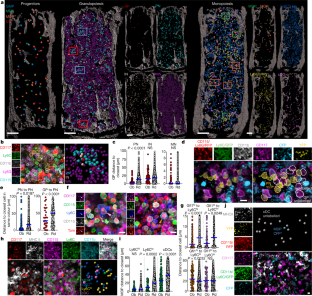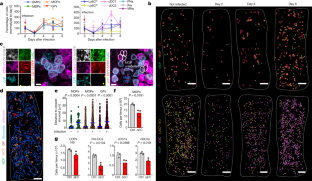 Data availability
Source data for quantifications described in the text or shown in graphs plotted in Figs. 1–4 and Extended Data Figs. 1–5, 7–9 are available with the manuscript. scRNAseq data shown in Fig. 3c and Extended Data Fig. 6 are reanalyses of published data sets: GSE128423 (ref. 27) and GSE108891 (ref. 26). These scRNAseq data underwent a preliminary annotation using the ICGS2 BioMarker database40, followed by a secondary analysis using the supervised classification tool cellHarmony40, comparing all cells to reference haematopoietic cells44 (GSE120409)44. Supplementary Table 2 shows the different ICGS2 marker genes and cellHarmony barcode assignments for the different cell clusters identified. Supplementary Table 1 lists all of the reagents and other resources used in the experiments described. Source data are provided with this paper.
References
Stanley, E. R. & Chitu, V. CSF-1 receptor signaling in myeloid cells. Cold Spring Harb. Perspect. Biol. 6, a021857 (2014).

Olsson, A. et al. Single-cell analysis of mixed-lineage states leading to a binary cell fate choice. Nature 537, 698–702 (2016).

Nestorowa, S. et al. A single-cell resolution map of mouse hematopoietic stem and progenitor cell differentiation. Blood 128, e20–e31 (2016).

Tusi, B. K. et al. Population snapshots predict early haematopoietic and erythroid hierarchies. Nature 555, 54–60 (2018).

Sun, J. et al. Clonal dynamics of native haematopoiesis. Nature 514, 322–327 (2014).

Busch, K. et al. Fundamental properties of unperturbed haematopoiesis from stem cells in vivo. Nature 518, 542–546 (2015).

Upadhaya, S. et al. Kinetics of adult hematopoietic stem cell differentiation in vivo. J. Exp. Med. 215, 2815–2832 (2018).

Weiss, L. The structure of bone marrow. Functional interrelationships of vascular and hematopoietic compartments in experimental hemolytic anemia: an electron microscopic study. J. Morphol. 117, 467–537 (1965).

Mohandas, N. & Prenant, M. Three-dimensional model of bone marrow. Blood 51, 633–643 (1978).

Westen, H. & Bainton, D. F. Association of alkaline-phosphatase-positive reticulum cells in bone marrow with granulocytic precursors. J. Exp. Med. 150, 919–937 (1979).

Charbord, P., Tavian, M., Humeau, L. & Péault, B. Early ontogeny of the human marrow from long bones: an immunohistochemical study of hematopoiesis and its microenvironment. Blood 87, 4109–4119 (1996).

Ding, L. & Morrison, S. J. Haematopoietic stem cells and early lymphoid progenitors occupy distinct bone marrow niches. Nature 495, 231–235 (2013).

Cordeiro Gomes, A. et al. Hematopoietic stem cell niches produce lineage-instructive signals to control multipotent progenitor differentiation. Immunity 45, 1219–1231 (2016).

Hérault, A. et al. Myeloid progenitor cluster formation drives emergency and leukaemic myelopoiesis. Nature 544, 53–58 (2017).

Comazzetto, S. et al. Restricted hematopoietic progenitors and erythropoiesis require SCF from leptin receptor+ niche cells in the bone marrow. Cell Stem Cell 24, 477–486 (2019).

Yanez, A. et al. Granulocyte-monocyte progenitors and monocyte-dendritic cell progenitors independently produce functionally distinct monocytes. Immunity 47, 890–902 (2017).

Evrard, M. et al. Developmental analysis of bone marrow neutrophils reveals populations specialized in expansion, trafficking, and effector functions. Immunity 48, 364–379 (2018).

Kwok, I. et al. Combinatorial single-cell analyses of granulocyte-monocyte progenitor heterogeneity reveals an early uni-potent neutrophil progenitor. Immunity 53, 303–318 (2020).

Hettinger, J. et al. Origin of monocytes and macrophages in a committed progenitor. Nat. Immunol. 14, 821–830 (2013).

Yona, S. et al. Fate mapping reveals origins and dynamics of monocytes and tissue macrophages under homeostasis. Immunity 38, 79–91 (2013).

Snippert, H. J. et al. Intestinal crypt homeostasis results from neutral competition between symmetrically dividing Lgr5 stem cells. Cell 143, 134–144 (2010).

Ruzankina, Y. et al. Deletion of the developmentally essential gene ATR in adult mice leads to age-related phenotypes and stem cell loss. Cell Stem Cell 1, 113–126 (2007).

Sapoznikov, A. et al. Perivascular clusters of dendritic cells provide critical survival signals to B cells in bone marrow niches. Nat. Immunol. 9, 388–395 (2008).

Zhang, B. et al. Bone marrow dendritic cells regulate hematopoietic stem/progenitor cell trafficking. J. Clin. Invest. 129, 2920–2931 (2019).

Wei, Q. & Frenette, P. S. Niches for hematopoietic stem cells and their progeny. Immunity 48, 632–648 (2018).

Tikhonova, A. N. et al. The bone marrow microenvironment at single-cell resolution. Nature 569, 222–228 (2019).

Baryawno, N. et al. A cellular taxonomy of the bone marrow stroma in homeostasis and leukemia. Cell 177, 1915–1932 (2019).

Mossadegh-Keller, N. et al. M-CSF instructs myeloid lineage fate in single haematopoietic stem cells. Nature 497, 239–243 (2013).

Serbina, N. V., Hohl, T. M., Cherny, M. & Pamer, E. G. Selective expansion of the monocytic lineage directed by bacterial infection. J. Immunol. 183, 1900–1910 (2009).

Venkatasubramanian, M., Chetal, K., Schnell, D. J., Atluri, G. & Salomonis, N. Resolving single-cell heterogeneity from hundreds of thousands of cells through sequential hybrid clustering and NMF. Bioinformatics 36, 3773–3780 (2020).

Harris, S. E. et al. Meox2Cre-mediated disruption of CSF-1 leads to osteopetrosis and osteocyte defects. Bone 50, 42–53 (2012).

Thambyrajah, R. et al. GFI1 proteins orchestrate the emergence of haematopoietic stem cells through recruitment of LSD1. Nat. Cell Biol. 18, 21–32 (2016).

Liu, Z. et al. Fate mapping via Ms4a3-expression history traces monocyte-derived cells. Cell 178, 1509–1525 (2019).

Bowers, E. et al. Granulocyte-derived TNFα promotes vascular and hematopoietic regeneration in the bone marrow. Nat. Med. 24, 95–102 (2018).

Schlitzer, A. et al. Identification of cDC1- and cDC2-committed DC progenitors reveals early lineage priming at the common DC progenitor stage in the bone marrow. Nat. Immunol. 16, 718–728 (2015).

Akashi, K., Traver, D., Miyamoto, T. & Weissman, I. L. A clonogenic common myeloid progenitor that gives rise to all myeloid lineages. Nature 404, 193–197 (2000).

Chow, A. et al. CD169+ macrophages provide a niche promoting erythropoiesis under homeostasis and stress. Nat. Med. 19, 429–436 (2013).

Takaku, T. et al. Hematopoiesis in 3 dimensions: human and murine bone marrow architecture visualized by confocal microscopy. Blood 116, e41–e55 (2010).

Urbaniak, G. C. & Plous, S. Research Randomizer (version 4.0). http://www.randomizer.org/ (2013).

DePasquale, E. A. K. et al. cellHarmony: cell-level matching and holistic comparison of single-cell transcriptomes. Nucleic Acids Res. 47, e138 (2019).

Jain, A. K., Murty, M. N. & Flynn, P. J. Data clustering: a review. ACM Comput. Surv. 31, 264–323 (1999).

Ester, M., Kriegel, H., Sander, J. & Xiaowei, X. A density-based algorithm for discovering clusters in large spatial databases with noise. In Proc. 2nd Intl Conf. Knowledge Discovery Data Mining. 96, 226–231 (1996).

Arthur, D. & Vassilvitskii, S. k-means++: the advantages of careful seeding. In Proc. 18th Annual Acm-Siam Symp. Discrete Algorithms (Soc. Industry and Applied Mathematics) 1027–1035 (Philadelphia, PA, 2007).

Muench, D. E. et al. Mouse models of neutropenia reveal progenitor-stage-specific defects. Nature 582, 109–114 (2020).

Pinho, S. et al. PDGFRα and CD51 mark human Nestin+ sphere-forming mesenchymal stem cells capable of hematopoietic progenitor cell expansion. J. Exp. Med. 210, 1351–1367 (2013).
Acknowledgements
We thank J. Cancelas, M.-D. Filippi, D. Reynaud, D. Starczynowski and A. Hidalgo for feedback on the manuscript. We are grateful to L. G. Ng, I. Kwok and K. Leong for help in designing granulopoiesis experiments and reviewing the manuscript. We also thank the Confocal Imaging Core, the Research Flow Cytometry Core and the Veterinary Services at the University of Michigan and Cincinnati Children's Medical Center for experimental and technical assistance. This work was partially supported by the National Heart Lung and Blood Institute (grants R01HL122661 to H.L.G. and R01HL136529 to D.L.). V.B.S.P. is supported by National Institutes of Health (NIH)/National Center for Advancing Translational Sciences (NCATS) grant U2CTR002818, NIH/National Heart, Lung and Blood Institute (NHLBI) grant U24HL148865, and NIH/National Institute of Allergy and Infectious Diseases (NIAID) grant U01AI150748. N.S. is supported by the Cincinnati Pediatric Cell Atlas Center. L.F.H. is supported by the Department of Defense (DoD) through a Peer Reviewed Cancer Research Program (PRCRP) award, W81XWH-20-1-0870(#CA191188). S.S.W. is supported by the NIH through grants R01AI120202, R01AI124657 and DP1AI131080 and by the Howard Hughes Medical Institute (HHMI) Faculty Scholar's program, the March of Dimes Ohio Collaborative for Prematurity Research, and a Burroughs Wellcome Fund Investigator in Pathogenesis Award. J.X.J. is supported by NIH/National Institute of Aging (NIA) grant AG045040 and a Welch Foundation Grant, AQ-1507. A.S. is supported by grant T32 AI118697/AI/NIAID from the NIH Department of Health and Human Services (HHS) of the US. Data were generated using an SH800 cell sorter funded by NIH grant S10OD023410.
Ethics declarations
Competing interests
The authors declare no competing interests.
Additional information
Peer review information Nature thanks Jason Butler, Cristina Lo Celso and the other, anonymous, reviewer(s) for their contribution to the peer review of this work. Peer reviewer reports are available.
Publisher's note Springer Nature remains neutral with regard to jurisdictional claims in published maps and institutional affiliations.
Extended data figures and tables
Supplementary information
About this article
Cite this article
Zhang, J., Wu, Q., Johnson, C.B. et al. In situ mapping identifies distinct vascular niches for myelopoiesis. Nature 590, 457–462 (2021). https://doi.org/10.1038/s41586-021-03201-2
Received:

Accepted:

Published:

Issue Date:

DOI: https://doi.org/10.1038/s41586-021-03201-2
Comments
By submitting a comment you agree to abide by our Terms and Community Guidelines. If you find something abusive or that does not comply with our terms or guidelines please flag it as inappropriate.