Abstract
Errors in early embryogenesis are a cause of sporadic cell death and developmental failure1,2. Phagocytic activity has a central role in scavenging apoptotic cells in differentiated tissues3,4,5,6. However, how apoptotic cells are cleared in the blastula embryo in the absence of specialized immune cells remains unknown. Here we show that the surface epithelium of zebrafish and mouse embryos, which is the first tissue formed during vertebrate development, performs efficient phagocytic clearance of apoptotic cells through phosphatidylserine-mediated target recognition. Quantitative four-dimensional in vivo imaging analyses reveal a collective epithelial clearance mechanism that is based on mechanical cooperation by two types of Rac1-dependent basal epithelial protrusions. The first type of protrusion, phagocytic cups, mediates apoptotic target uptake. The second, a previously undescribed type of fast and extended actin-based protrusion that we call 'epithelial arms', promotes the rapid dispersal of apoptotic targets through Arp2/3-dependent mechanical pushing. On the basis of experimental data and modelling, we show that mechanical load-sharing enables the long-range cooperative uptake of apoptotic cells by multiple epithelial cells. This optimizes the efficiency of tissue clearance by extending the limited spatial exploration range and local uptake capacity of non-motile epithelial cells. Our findings show that epithelial tissue clearance facilitates error correction that is relevant to the developmental robustness and survival of the embryo, revealing the presence of an innate immune function in the earliest stages of embryonic development.
Relevant articles
Open Access articles citing this article.
Sadie L. Hennig

,

Joseph R. Owen

…

James D. Murray

Scientific Reports Open Access 08 February 2022
Access options
Access Nature and 54 other Nature Portfolio journals
Get Nature+, our best-value online-access subscription
$29.99 / 30 days
cancel any time
Subscribe to this journal
Receive 51 print issues and online access
$199.00 per year
only $3.90 per issue
Rent or buy this article
Prices vary by article type
from$1.95
to$39.95
Prices may be subject to local taxes which are calculated during checkout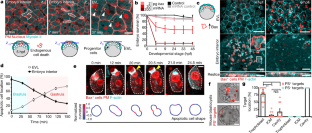 Data availability
RNA-sequencing data and analyses are available in Supplementary Table 1, and raw data have been deposited in the Gene Expression Omnibus (GEO) under accession number GSE143734. Raw microscopy data are available from the corresponding authors upon request due to their large file sizes. Source data are provided with this paper.
References
Schneider, I. & Ellenberg, J. Mysteries in embryonic development: how can errors arise so frequently at the beginning of mammalian life? PLoS Biol. 17, e3000173 (2019).

Bolton, H. et al. Mouse model of chromosome mosaicism reveals lineage-specific depletion of aneuploid cells and normal developmental potential. Nat. Commun. 7, 11165 (2016).

Juncadella, I. J. et al. Apoptotic cell clearance by bronchial epithelial cells critically influences airway inflammation. Nature 493, 547–551 (2013).

Arandjelovic, S. & Ravichandran, K. S. Phagocytosis of apoptotic cells in homeostasis. Nat. Immunol. 16, 907–917 (2015).

Doran, A. C., Yurdagul, A. Jr & Tabas, I. Efferocytosis in health and disease. Nat. Rev. Immunol. 20, 254–267 (2020).

Akhtar, N., Li, W., Mironov, A. & Streuli, C. H. Rac1 controls both the secretory function of the mammary gland and its remodeling for successive gestations. Dev. Cell 38, 522–535 (2016).

Artus, J., Kang, M., Cohen-Tannoudji, M. & Hadjantonakis, A. K. PDGF signaling is required for primitive endoderm cell survival in the inner cell mass of the mouse blastocyst. Stem Cells 31, 1932–1941 (2013).

Akieda, Y. et al. Cell competition corrects noisy Wnt morphogen gradients to achieve robust patterning in the zebrafish embryo. Nat. Commun. 10, 4710 (2019).

Clavería, C., Giovinazzo, G., Sierra, R. & Torres, M. Myc-driven endogenous cell competition in the early mammalian embryo. Nature 500, 39–44 (2013).

Zhong, J. X., Zhou, L., Li, Z., Wang, Y. & Gui, J. F. Zebrafish Noxa promotes mitosis in early embryonic development and regulates apoptosis in subsequent embryogenesis. Cell Death Differ. 21, 1013–1024 (2014).

Vanneste, E. et al. Chromosome instability is common in human cleavage-stage embryos. Nat. Med. 15, 577–583 (2009).

Greco, E., Minasi, M. G. & Fiorentino, F. Healthy babies after intrauterine transfer of mosaic aneuploid blastocysts. N. Engl. J. Med. 373, 2089–2090 (2015).

Elliott, M. R. & Ravichandran, K. S. The dynamics of apoptotic cell clearance. Dev. Cell 38, 147–160 (2016).

Oltval, Z. N., Milliman, C. L. & Korsmeyer, S. J. Bcl-2 heterodimerizes in vivo with a conserved homolog, Bax, that accelerates programmed cell death. Cell 74, 609–619 (1993).

Furniss, K. L. et al. Direct monitoring of the strand passage reaction of DNA topoisomerase II triggers checkpoint activation. PLoS Genet. 9, e1003832 (2013).

Palchaudhuri, R. et al. A small molecule that induces intrinsic pathway apoptosis with unparalleled speed. Cell Rep. 13, 2027–2036 (2015).

Vorselen, D. et al. Microparticle traction force microscopy reveals subcellular force exertion patterns in immune cell–target interactions. Nat. Commun. 11, 20 (2020).

Patel, P. C. & Harrison, R. E. Membrane ruffles capture C3bi-opsonized particles in activated macrophages. Mol. Biol. Cell 19, 4628–4639 (2008).

Schlam, D. et al. Phosphoinositide 3-kinase enables phagocytosis of large particles by terminating actin assembly through Rac/Cdc42 GTPase-activating proteins. Nat. Commun. 6, 8623 (2015).

Jaumouillé, V., Cartagena-Rivera, A. X. & Waterman, C. M. Coupling of β2 integrins to actin by a mechanosensitive molecular clutch drives complement receptor-mediated phagocytosis. Nat. Cell Biol. 21, 1357–1369 (2019).

Fadok, V. A. et al. Exposure of phosphatidylserine on the surface of apoptotic lymphocytes triggers specific recognition and removal by macrophages. J. Immunol. 148, 2207–2216 (1992).

Vieira, O. V. et al. Modulation of Rab5 and Rab7 recruitment to phagosomes by phosphatidylinositol 3-kinase. Mol. Cell. Biol. 23, 2501–2514 (2003).

Park, H. & Cox, D. Cdc42 regulates Fc gamma receptor-mediated phagocytosis through the activation and phosphorylation of Wiskott–Aldrich syndrome protein (WASP) and neural-WASP. Mol. Biol. Cell 20, 4500–4508 (2009).

Gold, E. S. et al. Dynamin 2 is required for phagocytosis in macrophages. J. Exp. Med. 190, 1849–1856 (1999).

Deng, Q., Ramsköld, D., Reinius, B. & Sandberg, R. Single-cell RNA-seq reveals dynamic, random monoallelic gene expression in mammalian cells. Science 343, 193–196 (2014).

Petropoulos, S. et al. Single-cell RNA-seq reveals lineage and X chromosome dynamics in human preimplantation embryos. Cell 165, 1012–1026 (2016).

van Ham, T. J., Kokel, D. & Peterson, R. T. Apoptotic cells are cleared by directional migration and elmo1-dependent macrophage engulfment. Curr. Biol. 22, 830–836 (2012).

Yamaguchi, Y. et al. Live imaging of apoptosis in a novel transgenic mouse highlights its role in neural tube closure. J. Cell Biol. 195, 1047–1060 (2011).

Heasman, S. J. & Ridley, A. J. Mammalian Rho GTPases: new insights into their functions from in vivo studies. Nat. Rev. Mol. Cell Biol. 9, 690–701 (2008).

Welch, M. D., Iwamatsu, A. & Mitchison, T. J. Actin polymerization is induced by Arp2/3 protein complex at the surface of Listeria monocytogenes. Nature 385, 265–269 (1997).

Lämmermann, T. et al. Neutrophil swarms require LTB4 and integrins at sites of cell death in vivo. Nature 498, 371–375 (2013).

Zent, C. S. & Elliott, M. R. Maxed out macs: physiologic cell clearance as a function of macrophage phagocytic capacity. FEBS J. 284, 1021–1039 (2017).

Armitage, E. L., Roddie, H. G. & Evans, I. R. Overexposure to apoptosis via disrupted glial specification perturbs Drosophila macrophage function and reveals roles of the CNS during injury. Cell Death Dis. 11, 627 (2020).

Evans, I. R., Ghai, P. A., Urbančič, V., Tan, K. L. & Wood, W. SCAR/WAVE-mediated processing of engulfed apoptotic corpses is essential for effective macrophage migration in Drosophila. Cell Death Differ. 20, 709–720 (2013).

Voelz, K., Gratacap, R. L. & Wheeler, R. T. A zebrafish larval model reveals early tissue-specific innate immune responses to Mucor circinelloides. Dis. Model. Mech. 8, 1375–1388 (2015).

Lee, C. S. et al. Boosting apoptotic cell clearance by colonic epithelial cells attenuates inflammation in vivo. Immunity 44, 807–820 (2016).

Serizier, S. B. & McCall, K. Scrambled eggs: apoptotic cell clearance by non-professional phagocytes in the Drosophila ovary. Front. Immunol. 8, 1642 (2017).

Penberthy, K. K., Lysiak, J. J. & Ravichandran, K. S. Rethinking phagocytes: clues from the retina and testes. Trends Cell Biol. 28, 317–327 (2018).

Zhu, Y. et al. Migratory neural crest cells phagocytose dead cells in the developing nervous system. Cell 179, 74–89 (2019).

Wood, W. et al. Mesenchymal cells engulf and clear apoptotic footplate cells in macrophageless PU.1 null mouse embryos. Development 127, 5245–5252 (2000).

Ellis, S. J. et al. Distinct modes of cell competition shape mammalian tissue morphogenesis. Nature 569, 497–502 (2019).

Rasmussen, J. P., Sack, G. S., Martin, S. M. & Sagasti, A. Vertebrate epidermal cells are broad-specificity phagocytes that clear sensory axon debris. J. Neurosci. 35, 559–570 (2015).

Fazeli, G., Stetter, M., Lisack, J. N. & Wehman, A. M. C. elegans blastomeres clear the corpse of the second polar body by LC3-associated phagocytosis. Cell Rep. 23, 2070–2082 (2018).

Gumienny, T. L., Lambie, E., Hartwieg, E., Horvitz, H. R. & Hengartner, M. O. Genetic control of programmed cell death in the Caenorhabditis elegans hermaphrodite germline. Development 126, 1011–1022 (1999).

Nakanishi, N., Sogabe, S. & Degnan, B. M. Evolutionary origin of gastrulation: insights from sponge development. BMC Biol. 12, 26 (2014).

Silva, J. R. The onset of phagocytosis and identity in the embryo of Lytechinus variegatus. Dev. Comp. Immunol. 24, 733–739 (2000).

Lim, J. J., Grinstein, S. & Roth, Z. Diversity and versatility of phagocytosis: roles in innate immunity, tissue remodeling, and homeostasis. Front. Cell. Infect. Microbiol. 7, 191 (2017).

Arienti, S., Barth, N. D., Dorward, D. A., Rossi, A. G. & Dransfield, I. Regulation of apoptotic cell clearance during resolution of inflammation. Front. Pharmacol. 10, 891 (2019).

Shinoda, H., Shannon, M. & Nagai, T. Fluorescent proteins for investigating biological events in acidic environments. Int. J. Mol. Sci. 19, 1548 (2018).

Delamarre, L., Pack, M., Chang, H., Mellman, I. & Trombetta, E. S. Differential lysosomal proteolysis in antigen-presenting cells determines antigen fate. Science 307, 1630–1634 (2005).
Acknowledgements
We thank T. Graf, B. Lehner and V. Malhotra for discussions and reading of the manuscript. Q.T.-R. acknowledges a grant funded by 'The Ministerio de Ciencia, Innovación y Universidades and Fondo Social Europeo (FSE)' (PRE2018-084393). M.I. acknowledges funding from the European Research Council (ERC) under the European Union's Horizon 2020 research and innovation program (ERC-StG-LS2-63759) and the Spanish Ministry of Economy and Competitiveness (BFU2014-55076-P). S.W. acknowledges support from the Government of Spain (MINECO's Plan Nacional (PGC2018-098532-A-I00), Severo Ochoa (CEX2019-000910-S)), Fundació Cellex, Fundació Mir-Puig and Generalitat de Catalunya (CERCA, AGAUR). V.R. acknowledges support from the Spanish Ministry of Science and Innovation to the EMBL partnership, the Centro de Excelencia Severo Ochoa, MINECO's Plan Nacional (BFU2017-86296-P), Generalitat de Catalunya (CERCA) and support from the CRG Core Facilities for Genomics, Biomolecular Screening and Protein Technologies, Flow Cytometry and Advanced Light Microscopy.
Ethics declarations
Competing interests
The authors declare no competing interests.
Additional information
Peer review information Nature thanks Jean-Léon Maître and the other, anonymous, reviewer(s) for their contribution to the peer review of this work.
Publisher's note Springer Nature remains neutral with regard to jurisdictional claims in published maps and institutional affiliations.
Extended data figures and tables
Supplementary information
About this article
Cite this article
Hoijman, E., Häkkinen, HM., Tolosa-Ramon, Q. et al. Cooperative epithelial phagocytosis enables error correction in the early embryo. Nature 590, 618–623 (2021). https://doi.org/10.1038/s41586-021-03200-3
Received:

Accepted:

Published:

Issue Date:

DOI: https://doi.org/10.1038/s41586-021-03200-3
This article is cited by
Sadie L. Hennig
Joseph R. Owen
James D. Murray

Scientific Reports (2022)

Yan‑Ran Sheng
Wen‑Ting Hu
Xiao‑Yong Zhu

Cellular and Molecular Life Sciences (2022)

Nature Reviews Molecular Cell Biology (2021)
Comments
By submitting a comment you agree to abide by our Terms and Community Guidelines. If you find something abusive or that does not comply with our terms or guidelines please flag it as inappropriate.