Abstract
Conversion of electrical and optical signals lies at the foundation of the global internet. Such converters are used to extend the reach of long-haul fibre-optic communication systems and within data centres for high-speed optical networking of computers. Likewise, coherent microwave-to-optical conversion of single photons would enable the exchange of quantum states between remotely connected superconducting quantum processors1. Despite the prospects of quantum networking2, maintaining the fragile quantum state in such a conversion process with superconducting qubits has not yet been achieved. Here we demonstrate the conversion of a microwave-frequency excitation of a transmon—a type of superconducting qubit—into an optical photon. We achieve this by using an intermediary nanomechanical resonator that converts the electrical excitation of the qubit into a single phonon by means of a piezoelectric interaction3 and subsequently converts the phonon to an optical photon by means of radiation pressure4. We demonstrate optical photon generation from the qubit by recording quantum Rabi oscillations of the qubit through single-photon detection of the emitted light over an optical fibre. With proposed improvements in the device and external measurement set-up, such quantum transducers might be used to realize new hybrid quantum networks2,5 and, ultimately, distributed quantum computers6,7.
Relevant articles
Open Access articles citing this article.
Changqing Wang

,

Ivan Gonin

…

Silvia Zorzetti

npj Quantum Information Open Access 21 December 2022

Robert Stockill

,

Moritz Forsch

…

Simon Gröblacher

Nature Communications Open Access 03 November 2022

Montasir Qasymeh

&

Hichem Eleuch

Scientific Reports Open Access 29 September 2022
Access options
Subscribe to Nature+
Get immediate online access to Nature and 55 other Nature journal
Subscribe to Journal
Get full journal access for 1 year
$199.00
only $3.90 per issue
All prices are NET prices.
VAT will be added later in the checkout.
Tax calculation will be finalised during checkout.
Buy article
Get time limited or full article access on ReadCube.
$32.00
All prices are NET prices.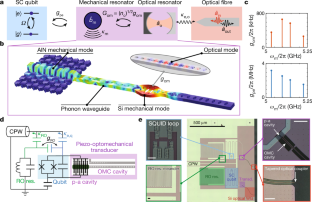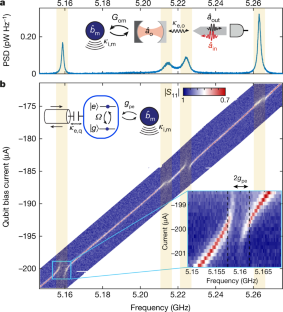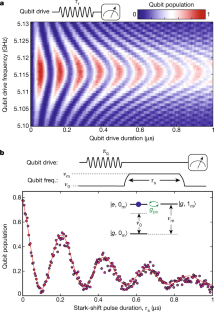 Data availability
The data that support the findings of this study are available from the corresponding author (O.P.) upon reasonable request.
References
Arute, F. et al. Quantum supremacy using a programmable superconducting processor. Nature 574, 505–510 (2019).

Briegel, H., Dür, W., Cirac, J. I. & Zoller, P. Quantum repeaters: the role of imperfect local operations in quantum communication. Phys. Rev. Lett. 81, 5932–5935 (1998).

O'Connell, A. D. et al. Quantum ground state and single-phonon control of a mechanical resonator. Nature 464, 697–703 (2010).

Meenehan, S. M. et al. Pulsed excitation dynamics of an optomechanical crystal resonator near its quantum ground state of motion. Phys. Rev. X 5, 041002 (2015).

Muralidharan, S. et al. Optimal architectures for long distance quantum communication. Sci. Rep. 6, 20463 (2016).

Monroe, C. et al. Large-scale modular quantum-computer architecture with atomic memory and photonic interconnects. Phys. Rev. A 89, 022317 (2014).

Fitzsimons, J. F. Private quantum computation: an introduction to blind quantum computing and related protocols. npj Quantum Inf. 3, 23 (2017).

Devoret, M. H. & Schoelkopf, R. J. Superconducting circuits for quantum information: an outlook. Science 339, 1169–1174 (2013).

Kimble, H. J. The quantum internet. Nature 453, 1023–1030 (2008).

O'Brien, J. L., Furusawa, A. & Vuckovic, J. Photonic quantum technologies. Nat. Photon. 3, 687–695 (2009).

Reagor, M. et al. Reaching 10 ms single photon lifetimes for superconducting aluminum cavities. Appl. Phys. Lett. 102, 192604 (2013).

Fan, L. et al. Superconducting cavity electro-optics: a platform for coherent photon conversion between superconducting and photonic circuits. Sci. Adv. 4, eaar4994 (2018).

Hisatomi, R. et al. Bidirectional conversion between microwave and light via ferromagnetic magnons. Phys. Rev. B 93, 174427 (2016).

O'Brien, C., Lauk, N., Blum, S., Morigi, G. & Fleischhauer, M. Interfacing superconducting qubits and telecom photons via a rare-earth-doped crystal. Phys. Rev. Lett. 113, 063603 (2014).

Lambert, N. J., Rueda, A., Sedlmeir, F. & Schwefel, H. G. L. Coherent conversion between microwave and optical photons—an overview of physical implementations. Adv. Quantum Technol. 3, 1900077 (2020).

Teufel, J. D. et al. Sideband cooling of micromechanical motion to the quantum ground state. Nature 475, 359–363 (2011).

Chan, J. et al. Laser cooling of a nanomechanical oscillator into its quantum ground state. Nature 478, 89–92 (2011).

Bochmann, J., Vainsencher, A., Awschalom, D. D. & Cleland, A. N. Nanomechanical coupling between microwave and optical photons. Nat. Phys. 9, 712–716 (2013).

Andrews, R. W. et al. Bidirectional and efficient conversion between microwave and optical light. Nat. Phys. 10, 321–326 (2014).

Bagci, T. et al. Optical detection of radio waves through a nanomechanical transducer. Nature 507, 81–85 (2014).

Balram, K. C., Davanço, M. I., Song, J. D. & Srinivasan, K. Coherent coupling between radiofrequency, optical and acoustic waves in piezo-optomechanical circuits. Nat. Photon. 10, 346–352 (2016).

Forsch, M. et al. Microwave-to-optics conversion using a mechanical oscillator in its quantum groundstate. Nat. Phys. 16, 69–74 (2020).

Higginbotham, A. P. et al. Harnessing electro-optic correlations in an efficient mechanical converter. Nat. Phys. 14, 1038–1042 (2018).

Zeuthen, E., Schliesser, A., Sørensen, A. S. & Taylor, J. M. Figures of merit for quantum transducers. Preprint at https://arXiv.org/1610.01099v2 (2017).

Aspelmeyer, M., Kippenberg, T. J. & Marquardt, F. Cavity optomechanics. Rev. Mod. Phys. 86, 1391–1452 (2014).

Chu, Y. et al. Quantum acoustics with superconducting qubits. Science 358, 199–202 (2017).

Arrangoiz-Arriola, P. et al. Resolving the energy levels of a nanomechanical oscillator. Nature 571, 537–540 (2019).

Hong, S. et al. Hanbury Brown and Twiss interferometry of single phonons from an optomechanical resonator. Science 358, 203–206 (2017).

Keller, A. J. et al. Al transmon qubits on silicon-on-insulator for quantum device integration. Appl. Phys. Lett. 111, 042603 (2017).

Chan, J., Safavi-Naeini, A. H., Hill, J. T., Meenehan, S. & Painter, O. Optimized optomechanical crystal cavity with acoustic radiation shield. Appl. Phys. Lett. 101, 081115 (2012).

Fang, K., Matheny, M. H., Luan, X. & Painter, O. Optical transduction and routing of microwave phonons in cavity-optomechanical circuits. Nat. Photonics 10, 489–496 (2016).

Cohen, J. D. et al. Phonon counting and intensity interferometry of a nanomechanical resonator. Nature 520, 522–525 (2015).

Johnson, M. Direct real time measurement of quasiparticle lifetimes in a superconductor. Phys. Rev. Lett. 67, 374–377 (1991).

Borselli, M., Johnson, T. J. & Painter, O. Measuring the role of surface chemistry in silicon microphotonics. Appl. Phys. Lett. 88, 131114 (2006).

Ren, H. et al. Two-dimensional optomechanical crystal cavity with high quantum cooperativity. Nat. Commun. 11, 3373 (2020).

Qiu, L., Shomroni, I., Seidler, P. & Kippenberg, T. J. Laser cooling of a nanomechanical oscillator to its zero-point energy. Phys. Rev. Lett. 124, 173601 (2020).

MacCabe, G. S. et al. Nano-acoustic resonator with ultralong phonon lifetime. Science 370, 840–843 (2020).

Wang, C. et al. Measurement and control of quasiparticle dynamics in a superconducting qubit. Nat. Commun. 5, 5836 (2014).
Acknowledgements
We thank M. Shaw, J. Banker, H. Ren, E. Kim and X. Zhang for their various contributions to this work. This work was supported by the ARO/LPS Cross Quantum Technology Systems programme (grant W911NF-18-1-0103), the Institute for Quantum Information and Matter, an NSF Physics Frontiers Center (grant PHY-1125565) with support of the Gordon and Betty Moore Foundation, and the Kavli Nanoscience Institute at Caltech. M.M (A.S.) acknowledges support from a KNI (IQIM) Postdoctoral Fellowship.
Ethics declarations
Competing interests
The authors declare no competing interests.
Additional information
Peer review information Nature thanks Konrad Lehnert and the other, anonymous, reviewer(s) for their contribution to the peer review of this work. Peer review reports are available.
Publisher's note Springer Nature remains neutral with regard to jurisdictional claims in published maps and institutional affiliations.
Extended data figures and tables
About this article
Cite this article
Mirhosseini, M., Sipahigil, A., Kalaee, M. et al. Superconducting qubit to optical photon transduction. Nature 588, 599–603 (2020). https://doi.org/10.1038/s41586-020-3038-6
Received:

Accepted:

Published:

Issue Date:

DOI: https://doi.org/10.1038/s41586-020-3038-6
Comments
By submitting a comment you agree to abide by our Terms and Community Guidelines. If you find something abusive or that does not comply with our terms or guidelines please flag it as inappropriate.