Abstract
During female germline development, oocytes become a highly specialized cell type and form a maternal cytoplasmic store of crucial factors. Oocyte growth is triggered at the transition from primordial to primary follicle and is accompanied by dynamic changes in gene expression1, but the gene regulatory network that controls oocyte growth remains unknown. Here we identify a set of transcription factors that are sufficient to trigger oocyte growth. By investigation of the changes in gene expression and functional screening using an in vitro mouse oocyte development system, we identified eight transcription factors, each of which was essential for the transition from primordial to primary follicle. Notably, enforced expression of these transcription factors swiftly converted pluripotent stem cells into oocyte-like cells that were competent for fertilization and subsequent cleavage. These transcription-factor-induced oocyte-like cells were formed without specification of primordial germ cells, epigenetic reprogramming or meiosis, and demonstrate that oocyte growth and lineage-specific de novo DNA methylation are separable from the preceding epigenetic reprogramming in primordial germ cells. This study identifies a core set of transcription factors for orchestrating oocyte growth, and provides an alternative source of ooplasm, which is a unique material for reproductive biology and medicine.
Relevant articles
Open Access articles citing this article.
Mengwen Hu

,

Yu-Han Yeh

…

Satoshi H. Namekawa

Nature Communications Open Access 10 August 2022

Luz Garcia-Alonso

,

Valentina Lorenzi

…

Roser Vento-Tormo

Nature Open Access 06 July 2022

Han Yang

,

Yafei Li

…

Zhukuan Cheng

Nature Communications Open Access 25 January 2022
Access options
Access Nature and 54 other Nature Portfolio journals
Get Nature+, our best-value online-access subscription
$29.99 per month
cancel any time
Subscribe to this journal
Receive 51 print issues and online access
$199.00 per year
only $3.90 per issue
Rent or buy this article
Get just this article for as long as you need it
$39.95
Prices may be subject to local taxes which are calculated during checkout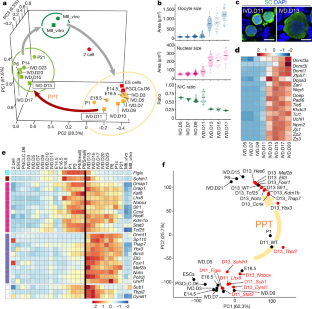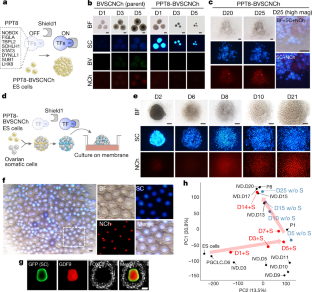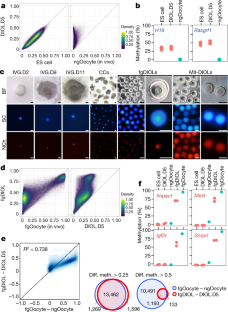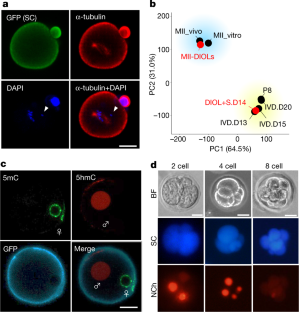 Data availability
The RNA-seq and methylome data have been deposited at the Gene Expression Omnibus (GEO) database under accession number GSE143218 and GSE143219, and DDBJ Sequence Read Archive (DRS001541 and DRS001547). There is no restriction on data availability. Source data are provided with this paper.
References
Pan, H., O'Brien, M. J., Wigglesworth, K., Eppig, J. J. & Schultz, R. M. Transcript profiling during mouse oocyte development and the effect of gonadotropin priming and development in vitro. Dev. Biol. 286, 493–506 (2005).

Saitou, M. & Yamaji, M. Primordial germ cells in mice. Cold Spring Harb. Perspect. Biol. 4, a008375 (2012).

Nicholls, P. K. et al. Mammalian germ cells are determined after PGC colonization of the nascent gonad. Proc. Natl Acad. Sci. USA 116, 25677–25687 (2019).

McLaren, A. & Southee, D. Entry of mouse embryonic germ cells into meiosis. Dev. Biol. 187, 107–113 (1997).

Schultz, R. M., Letourneau, G. E. & Wassarman, P. M. Program of early development in the mammal: changes in the patterns and absolute rates of tubulin and total protein synthesis during oocyte growth in the mouse. Dev. Biol. 73, 120–133 (1979).

Sternlicht, A. L. & Schultz, R. M. Biochemical studies of mammalian oogenesis: kinetics of accumulation of total and poly(A)-containing RNA during growth of the mouse oocyte. J. Exp. Zool. 215, 191–200 (1981).

Soyal, S. M., Amleh, A. & Dean, J. FIGalpha, a germ cell-specific transcription factor required for ovarian follicle formation. Development 127, 4645–4654 (2000).

Pangas, S. A. et al. Oogenesis requires germ cell-specific transcriptional regulators Sohlh1 and Lhx8. Proc. Natl Acad. Sci. USA 103, 8090–8095 (2006).

Choi, Y., Yuan, D. & Rajkovic, A. Germ cell-specific transcriptional regulator sohlh2 is essential for early mouse folliculogenesis and oocyte-specific gene expression. Biol. Reprod. 79, 1176–1182 (2008).

Choi, Y., Ballow, D. J., Xin, Y. & Rajkovic, A. Lim homeobox gene, lhx8, is essential for mouse oocyte differentiation and survival. Biol. Reprod. 79, 442–449 (2008).

Rajkovic, A., Pangas, S. A., Ballow, D., Suzumori, N. & Matzuk, M. M. NOBOX deficiency disrupts early folliculogenesis and oocyte-specific gene expression. Science 305, 1157–1159 (2004).

Falender, A. E., Shimada, M., Lo, Y. K. & Richards, J. S. TAF4b, a TBP associated factor, is required for oocyte development and function. Dev. Biol. 288, 405–419 (2005).

Grive, K. J., Seymour, K. A., Mehta, R. & Freiman, R. N. TAF4b promotes mouse primordial follicle assembly and oocyte survival. Dev. Biol. 392, 42–51 (2014).

Griffith, G. J. et al. Yin-yang1 is required in the mammalian oocyte for follicle expansion. Biol. Reprod. 84, 654–663 (2011).

Gazdag, E. et al. TBP2 is essential for germ cell development by regulating transcription and chromatin condensation in the oocyte. Genes Dev. 23, 2210–2223 (2009).

Choi, Y. et al. Microarray analyses of newborn mouse ovaries lacking Nobox. Biol. Reprod. 77, 312–319 (2007).

Joshi, S., Davies, H., Sims, L. P., Levy, S. E. & Dean, J. Ovarian gene expression in the absence of FIGLA, an oocyte-specific transcription factor. BMC Dev. Biol. 7, 67 (2007).

Shin, Y. H. et al. Transcription factors SOHLH1 and SOHLH2 coordinate oocyte differentiation without affecting meiosis I. J. Clin. Invest. 127, 2106–2117 (2017).

Wang, Z., Liu, C. Y., Zhao, Y. & Dean, J. FIGLA, LHX8 and SOHLH1 transcription factor networks regulate mouse oocyte growth and differentiation. Nucleic Acids Res. 48, 3525–3541 (2020).

Choi, Y. & Rajkovic, A. Characterization of NOBOX DNA binding specificity and its regulation of Gdf9 and Pou5f1 promoters. J. Biol. Chem. 281, 35747–35756 (2006).

Choi, M. et al. The oocyte-specific transcription factor, Nobox, regulates the expression of Pad6, a peptidylarginine deiminase in the oocyte. FEBS Lett. 584, 3629–3634 (2010).

Park, M. et al. Identification and characterization of LHX8 DNA binding elements. Dev. Reprod. 16, 379–384 (2012).

Hikabe, O. et al. Reconstitution in vitro of the entire cycle of the mouse female germ line. Nature 539, 299–303 (2016).

Da Silva-Buttkus, P. et al. Effect of cell shape and packing density on granulosa cell proliferation and formation of multiple layers during early follicle development in the ovary. J. Cell Sci. 121, 3890–3900 (2008).

Schultz, R. M., Stein, P. & Svoboda, P. The oocyte-to-embryo transition in mouse: past, present, and future. Biol. Reprod. 99, 160–174 (2018).

Ram, P. T. & Schultz, R. M. Reporter gene expression in G2 of the 1-cell mouse embryo. Dev. Biol. 156, 552–556 (1993).

Davis, W., Jr & Schultz, R. M. Developmental change in TATA-box utilization during preimplantation mouse development. Dev. Biol. 218, 275–283 (2000).

Burns, K. H. et al. Roles of NPM2 in chromatin and nucleolar organization in oocytes and embryos. Science 300, 633–636 (2003).

Dong, J. et al. Growth differentiation factor-9 is required during early ovarian folliculogenesis. Nature 383, 531–535 (1996).

Leitch, H. G. & Smith, A. The mammalian germline as a pluripotency cycle. Development 140, 2495–2501 (2013).

Zhang, J. et al. OTX2 restricts entry to the mouse germline. Nature 562, 595–599 (2018).

Smallwood, S. A. et al. Dynamic CpG island methylation landscape in oocytes and preimplantation embryos. Nat. Genet. 43, 811–814 (2011).

Kobayashi, H. et al. High-resolution DNA methylome analysis of primordial germ cells identifies gender-specific reprogramming in mice. Genome Res. 23, 616–627 (2013).

Shirane, K. et al. Mouse oocyte methylomes at base resolution reveal genome-wide accumulation of non-CpG methylation and role of DNA methyltransferases. PLoS Genet. 9, e1003439 (2013).

Yagi, M. et al. Derivation of ground-state female ES cells maintaining gamete-derived DNA methylation. Nature 548, 224–227 (2017).

Veselovska, L. et al. Deep sequencing and de novo assembly of the mouse oocyte transcriptome define the contribution of transcription to the DNA methylation landscape. Genome Biol. 16, 209 (2015).

Dokshin, G. A., Baltus, A. E., Eppig, J. J. & Page, D. C. Oocyte differentiation is genetically dissociable from meiosis in mice. Nat. Genet. 45, 877–883 (2013).

Yamaguchi, S. et al. Tet1 controls meiosis by regulating meiotic gene expression. Nature 492, 443–447 (2012).

Hill, P. W. S. et al. Epigenetic reprogramming enables the transition from primordial germ cell to gonocyte. Nature 555, 392–396 (2018).

Bourc'his, D., Xu, G. L., Lin, C. S., Bollman, B. & Bestor, T. H. Dnmt3L and the establishment of maternal genomic imprints. Science 294, 2536–2539 (2001).

Kaneda, M. et al. Essential role for de novo DNA methyltransferase Dnmt3a in paternal and maternal imprinting. Nature 429, 900–903 (2004).

Hayashi, K., Ohta, H., Kurimoto, K., Aramaki, S. & Saitou, M. Reconstitution of the mouse germ cell specification pathway in culture by pluripotent stem cells. Cell 146, 519–532 (2011).

Hamazaki, N., Uesaka, M., Nakashima, K., Agata, K. & Imamura, T. Gene activation-associated long noncoding RNAs function in mouse preimplantation development. Development 142, 910–920 (2015).

Shimamoto, S. et al. Hypoxia induces the dormant state in oocytes through expression of Foxo3. Proc. Natl Acad. Sci. USA 116, 12321–12326 (2019).

Liao, Y., Smyth, G. K. & Shi, W. featureCounts: an efficient general purpose program for assigning sequence reads to genomic features. Bioinformatics 30, 923–930 (2014).

Lê, S., Josse, J. & Husson, F. FactoMineR: an R package for multivariate analysis. J. Stat. Soft. 25, 1–18 (2008).

Robinson, M. D., McCarthy, D. J. & Smyth, G. K. edgeR: a Bioconductor package for differential expression analysis of digital gene expression data. Bioinformatics 26, 139–140 (2010).

Huang, W., Sherman, B. T. & Lempicki, R. A. Systematic and integrative analysis of large gene lists using DAVID bioinformatics resources. Nat. Protocols 4, 44–57 (2009).

Yu, G., Wang, L. G., Han, Y. & He, Q. Y. clusterProfiler: an R package for comparing biological themes among gene clusters. OMICS 16, 284–287 (2012).

Bailey, T. L. et al. MEME SUITE: tools for motif discovery and searching. Nucleic Acids Res. 37, W202–W208 (2009).

Yang, Z. et al. Fast and sensitive detection of indels induced by precise gene targeting. Nucleic Acids Res. 43, e59 (2015).

Lonowski, L. A. et al. Genome editing using FACS enrichment of nuclease-expressing cells and indel detection by amplicon analysis. Nat. Protocols 12, 581–603 (2017).

Kobayashi, T. et al. Principles of early human development and germ cell program from conserved model systems. Nature 546, 416–420 (2017).

Yusa, K. et al. Targeted gene correction of α1-antitrypsin deficiency in induced pluripotent stem cells. Nature 478, 391–394 (2011).

Zhang, B. & Horvath, S. A general framework for weighted gene co-expression network analysis. Stat. Appl. Genet. Mol. Biol. 4, 17 (2005).

Langfelder, P. & Horvath, S. WGCNA: an R package for weighted correlation network analysis. BMC Bioinformatics 9, 559 (2008).

Hayashi, K. & Saitou, M. Generation of eggs from mouse embryonic stem cells and induced pluripotent stem cells. Nat. Protocols 8, 1513–1524 (2013).

Yoshida, S., Sakakibara, Y. & Kitajima, T. S. Live imaging of intracellular dynamics during meiotic maturation in mouse oocytes. Methods Mol. Biol. 1457, 241–251 (2016).

Miura, F., Enomoto, Y., Dairiki, R. & Ito, T. Amplification-free whole-genome bisulfite sequencing by post-bisulfite adaptor tagging. Nucleic Acids Res. 40, e136 (2012).

Jühling, F. et al. metilene: fast and sensitive calling of differentially methylated regions from bisulfite sequencing data. Genome Res. 26, 256–262 (2016).
Acknowledgements
We thank all members of the Hayashi laboratory for their support and input. We are grateful to F. Arai, T. Matsuda and T. Ishiuchi for technical support and Y. Hayashi for comments. We thank the staff of the Research Support Center, Research Center for Human Disease Modeling, Kyushu University Graduate School of Medical Sciences for their technical assistance; we particularly thank M. Amago for support with the FACS sorting. We are grateful to Y. Hamazaki and KN international for proofreading. This study was supported in part by KAKENHI Grants-in-Aid from MEXT, Japan (numbers 17H01395, 18H05544 and 18H05545 to K.H., 15H06475, 16K18816, 16H06279 and 18K14605 to N. Hamazaki and 16H06527 to K.N.); by Management Expenses Grants of Kyushu University (K.H.); by the Advanced Computational Scientific Program of the Research Institute for Information Technology, Kyushu University; by the Uehara Memorial Foundation (K.H.); by the Takeda Science Foundation (K.H.); by a Hayashi Grant-in-Aid for Basic Medical Research (K.H.); by a JSPS Fellowship (N. Hamazaki); by the Platform Project for Supporting Drug Discovery and Life Science Research (Basis for Supporting Innovative Drug Discovery and Life Science Research) from AMED (JP19am0101103, 1804) (K.H.); by a Grant-in-Aid from The Open Philanthropy Project (K.H.); by MRC core funding (H.G.L.); and by a BBSRC grant (BB/R002703/1) (H.G.L.). H.G.L. is an Academic Clinical Lecturer and acknowledges support from the National Institute for Health Research (NIHR) Imperial Biomedical Research Centre (BRC). The authors apologize to colleagues whose work could not be cited owing to length limitations.
Ethics declarations
Competing interests
The authors declare no competing interests.
Additional information
Peer review information Nature thanks the anonymous reviewer(s) for their contribution to the peer review of this work.
Publisher's note Springer Nature remains neutral with regard to jurisdictional claims in published maps and institutional affiliations.
Extended data figures and tables
Supplementary information
This file contains Supplementary Figures 1 and, Supplementary Tables 1 and 2 and a Supplementary Discussion. Supplementary Figure 1 shows source data for gel electrophoresis, Supplementary Figure 2 shows FACS gating strategy, Supplementary Tables 1 shows the list of oligonucleotides used in this study, Supplementary Tables 2 shows the list of antibodies used in this study and the Supplementary Discussion provides additional discussion of possible role of the transcription factors and meiosis induction in DIOLs.
: Live imaging analysis of chromosomal segregation in fgDIOL maturation. Microtubules and chromosomes were visualized by expression of EGFP-Map4 (green) and H2B-mCherry (magenta), respectively, in WT fg oocytes and fgDIOLs. SC and Npm2-mCherry expression are detected in the cytoplasm of DIOLs. Shown are combined time-laps movies that were acquired at 5-min intervals for 14 h after induction of meiotic resumption.
About this article
Cite this article
Hamazaki, N., Kyogoku, H., Araki, H. et al. Reconstitution of the oocyte transcriptional network with transcription factors. Nature 589, 264–269 (2021). https://doi.org/10.1038/s41586-020-3027-9
Received:

Accepted:

Published:

Issue Date:

DOI: https://doi.org/10.1038/s41586-020-3027-9
Comments
By submitting a comment you agree to abide by our Terms and Community Guidelines. If you find something abusive or that does not comply with our terms or guidelines please flag it as inappropriate.