Abstract
The formation of arteries is thought to occur by the induction of a highly conserved arterial genetic programme in a subset of vessels that will later experience an increase in oxygenated blood flow1,2. The initial steps of arterial specification require both the VEGF and Notch signalling pathways3,4,5. Here, we combine inducible genetic mosaics and transcriptomics to modulate and define the function of these signalling pathways in cell proliferation, arteriovenous differentiation and mobilization. We show that endothelial cells with high levels of VEGF or Notch signalling are intrinsically biased to mobilize and form arteries; however, they are not genetically pre-determined, and can also form veins. Mechanistically, we found that increased levels of VEGF and Notch signalling in pre-arterial capillaries suppresses MYC-dependent metabolic and cell-cycle activities, and promotes the incorporation of endothelial cells into arteries. Mosaic lineage-tracing studies showed that endothelial cells that lack the Notch–RBPJ transcriptional activator complex rarely form arteries; however, these cells regained the ability to form arteries when the function of MYC was suppressed. Thus, the development of arteries does not require the direct induction of a Notch-dependent arterial differentiation programme, but instead depends on the timely suppression of endothelial cell-cycle progression and metabolism, a process that precedes arterial mobilization and complete differentiation.
Relevant articles
Open Access articles citing this article.
Yubo Wang

,

Pu Chen

…

Mingwei Chen

Cell Death & Disease Open Access 29 October 2022

Nicholas W. Chavkin

,

Gael Genet

…

Karen K. Hirschi

Nature Communications Open Access 06 October 2022

Yi Liu

,

Jingan Chen

…

Hui Wang

Stem Cell Research & Therapy Open Access 17 June 2022
Access options
Subscribe to Nature+
Get immediate online access to Nature and 55 other Nature journal
Subscribe to Journal
Get full journal access for 1 year
$199.00
only $3.90 per issue
All prices are NET prices.
VAT will be added later in the checkout.
Tax calculation will be finalised during checkout.
Buy article
Get time limited or full article access on ReadCube.
$32.00
All prices are NET prices.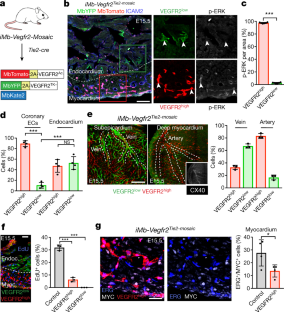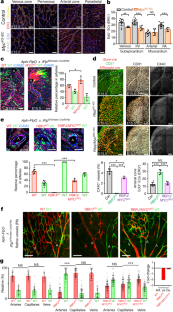 Data availability
The RNA-seq data can be viewed at the Gene Expression Omnibus (GEO) under accession number GSE158731. We used in this study the MsigDB as indicated above. All other data supporting the study findings are available from the corresponding author upon request. This includes additional raw data such as unprocessed original pictures and independent replicates, which are not displayed in the Article but are included in the data analysis in the form of graphs. Source data are provided with this paper.
References
Red-Horse, K. & Siekmann, A. F. Veins and arteries build hierarchical branching patterns differently: bottom-up versus top-down. BioEssays 41, e1800198 (2019).

Simons, M. & Eichmann, A. Molecular controls of arterial morphogenesis. Circ. Res. 116, 1712–1724 (2015).

Phng, L. K. & Gerhardt, H. Angiogenesis: a team effort coordinated by notch. Dev. Cell 16, 196–208 (2009).

Benedito, R. & Hellström, M. Notch as a hub for signaling in angiogenesis. Exp. Cell Res. 319, 1281–1288 (2013).

Lawson, N. D., Vogel, A. M. & Weinstein, B. M. Sonic hedgehog and vascular endothelial growth factor act upstream of the Notch pathway during arterial endothelial differentiation. Dev. Cell 3, 127–136 (2002).

Pontes-Quero, S. et al. High mitogenic stimulation arrests angiogenesis. Nat. Commun. 10, 2016 (2019).

Benedito, R. & Duarte, A. Expression of Dll4 during mouse embryogenesis suggests multiple developmental roles. Gene Expr. Patterns 5, 750–755 (2005).

Duarte, A. et al. Dosage-sensitive requirement for mouse Dll4 in artery development. Genes Dev. 18, 2474–2478 (2004).

Gale, N. W. et al. Haploinsufficiency of delta-like 4 ligand results in embryonic lethality due to major defects in arterial and vascular development. Proc. Natl Acad. Sci. USA 101, 15949–15954 (2004).

Bray, S. J. Notch signalling: a simple pathway becomes complex. Nat. Rev. Mol. Cell Biol. 7, 678–689 (2006).

Su, T. et al. Single-cell analysis of early progenitor cells that build coronary arteries. Nature 559, 356–362 (2018).

Fang, J. S. et al. Shear-induced Notch-Cx37-p27 axis arrests endothelial cell cycle to enable arterial specification. Nat. Commun. 8, 2149 (2017).

Pontes-Quero, S. et al. Dual ifgMosaic: a versatile method for multispectral and combinatorial mosaic gene-function analysis. Cell 170, 800–814 (2017).

Benedito, R. et al. The Notch ligands Dll4 and Jagged1 have opposing effects on angiogenesis. Cell 137, 1124–1135 (2009).

Wu, B. et al. Endocardial cells form the coronary arteries by angiogenesis through myocardial-endocardial VEGF signaling. Cell 151, 1083–1096 (2012).

Chang, A. H. et al. DACH1 stimulates shear stress-guided endothelial cell migration and coronary artery growth through the CXCL12-CXCR4 signaling axis. Genes Dev. 31, 1308–1324 (2017).

Chen, H. I. et al. The sinus venosus contributes to coronary vasculature through VEGFC-stimulated angiogenesis. Development 141, 4500–4512 (2014).

Aranguren, X. L. et al. Unraveling a novel transcription factor code determining the human arterial-specific endothelial cell signature. Blood 122, 3982–3992 (2013).

Ehling, M., Adams, S., Benedito, R. & Adams, R. H. Notch controls retinal blood vessel maturation and quiescence. Development 140, 3051–3061 (2013).

Lee, T., Yao, G., Nevins, J. & You, L. Sensing and integration of Erk and PI3K signals by Myc. PLOS Comput. Biol. 4, e1000013 (2008).

Hasan, S. S. et al. Endothelial Notch signalling limits angiogenesis via control of artery formation. Nat. Cell Biol. 19, 928–940 (2017).

Pitulescu, M. E. et al. Dll4 and Notch signalling couples sprouting angiogenesis and artery formation. Nat. Cell Biol. 19, 915–927 (2017).

Sissaoui, S. et al. Genomic characterization of endothelial enhancers reveals a multifunctional role for NR2F2 in regulation of arteriovenous gene expression. Circ. Res. 126, 875–888 (2020).

Gaudino, M. et al. Radial-artery or saphenous-vein grafts in coronary-artery bypass surgery. N. Engl. J. Med. 378, 2069–2077 (2018).

Fujita, M. & Sasayama, S. Coronary collateral growth and its therapeutic application to coronary artery disease. Circ. J. 74, 1283–1289 (2010).

Kisanuki, Y. Y. et al. Tie2-Cre transgenic mice: a new model for endothelial cell-lineage analysis in vivo. Dev. Biol. 230, 230–242 (2001).

Wang, Y. et al. Ephrin-B2 controls VEGF-induced angiogenesis and lymphangiogenesis. Nature 465, 483–486 (2010).

Claxton, S. et al. Efficient, inducible Cre-recombinase activation in vascular endothelium. Genesis 46, 74–80 (2008).

Koch, U. et al. Delta-like 4 is the essential, nonredundant ligand for Notch1 during thymic T cell lineage commitment. J. Exp. Med. 205, 2515–2523 (2008).

Han, H. et al. Inducible gene knockout of transcription factor recombination signal binding protein-J reveals its essential role in T versus B lineage decision. Int. Immunol. 14, 637–645 (2002).

de Alboran, I. M. et al. Analysis of C-MYC function in normal cells via conditional gene-targeted mutation. Immunity 14, 45–55 (2001).

Huang, C. Y., Bredemeyer, A. L., Walker, L. M., Bassing, C. H. & Sleckman, B. P. Dynamic regulation of c-Myc proto-oncogene expression during lymphocyte development revealed by a GFP-c-Myc knock-in mouse. Eur. J. Immunol. 38, 342–349 (2008).

Fernández-Chacón, M. et al. iSuRe-Cre is a genetic tool to reliably induce and report Cre-dependent genetic modifications. Nat. Commun. 10, 2262 (2019).

Lim, R. et al. Deubiquitinase USP10 regulates Notch signaling in the endothelium. Science 364, 188–193 (2019).

Martin, M. Cutadapt removes adapter sequences from high-throughput sequencing reads. EMBnet.journal 17, 10 (2011).

Li, B. & Dewey, C. N. RSEM: accurate transcript quantification from RNA-Seq data with or without a reference genome. BMC Bioinformatics 12, 323 (2011).

Ritchie, M. E. et al. limma powers differential expression analyses for RNA-sequencing and microarray studies. Nucleic Acids Res. 43, e47 (2015).

Subramanian, A. et al. Gene set enrichment analysis: a knowledge-based approach for interpreting genome-wide expression profiles. Proc. Natl Acad. Sci. USA 102, 15545–15550 (2005).

Liberzon, A. et al. Molecular signatures database (MSigDB) 3.0. Bioinformatics 27, 1739–1740 (2011).

Scheurer, S. B., Rybak, J. N., Rösli, C., Neri, D. & Elia, G. Modulation of gene expression by hypoxia in human umbilical cord vein endothelial cells: A transcriptomic and proteomic study. Proteomics 4, 1737–1760 (2004).

Weigand, J. E., Boeckel, J. N., Gellert, P. & Dimmeler, S. Hypoxia-induced alternative splicing in endothelial cells. PLoS One 7, e42697 (2012).

Chu, V. T. et al. Efficient generation of Rosa26 knock-in mice using CRISPR/Cas9 in C57BL/6 zygotes. BMC Biotechnol. 16, 4 (2016).
Acknowledgements
Research in the Benedito laboratory was supported by the European Research Council (ERC) Starting Grant AngioGenesHD (638028), the CNIC Intramural Grant Program Severo Ochoa (11-2016-IGP-SEV-2015-0505), and the Ministerio de Ciencia y Innovación (MCIN SAF2013-44329-P, RYC-2013-13209 and SAF2017-89299-P). The CNIC is currently supported by MCIN and the Pro CNIC Foundation and is a Severo Ochoa Center of Excellence (SEV-2015-0505). Research in the Potente laboratory was supported by the Max Planck Society, the ERC Consolidator Grant EMERGE (773047), the Deutsche Forschungsgemeinschaft (SFB 834), and the Foundation Leducq Transatlantic Network. W.L. received a Marie Curie FP7 COFUND CNIC fellowship. M.F.-C. and I.G.-G. were supported by PhD fellowships from Fundación La Caixa (CX_E-2015-01 and CX-SO-16-1, respectively) and S. M. by the Austrian Science Fund (FWF) project J4358. We thank S. Bartlett and S. Rocha for English editing; J. L. de La Pompa and D. Macgrogan for scientific input and the CNIC Transgenesis, Microscopy, Genomics and Bioinformatic units. We also thank M. Yanagisawa, F. Radtke, R. H. Adams, M. Fruttiger, F. Alt, B. Sleckman and T. Honjo for sharing the Tie2-cre, Dll4floxed, Cdh5(PAC)-creERT2, Pdgfb-icreERT2-ires-egfp, Mycfloxed, GFP-Myc and Rbpjfloxed mice, respectively.
Ethics declarations
Competing interests
The authors declare no competing interests.
Additional information
Peer review information Nature thanks Andreas Fischer, Holger Gerhardt and Kristy Red-Horse for their contribution to the peer review of this work. Peer reviewer reports are available.
Publisher's note Springer Nature remains neutral with regard to jurisdictional claims in published maps and institutional affiliations.
Extended data figures and tables
Supplementary information
About this article
Cite this article
Luo, W., Garcia-Gonzalez, I., Fernández-Chacón, M. et al. Arterialization requires the timely suppression of cell growth. Nature 589, 437–441 (2021). https://doi.org/10.1038/s41586-020-3018-x
Received:

Accepted:

Published:

Issue Date:

DOI: https://doi.org/10.1038/s41586-020-3018-x
Comments
By submitting a comment you agree to abide by our Terms and Community Guidelines. If you find something abusive or that does not comply with our terms or guidelines please flag it as inappropriate.