Abstract
Animal behaviours that are superficially similar can express different intents in different contexts, but how this flexibility is achieved at the level of neural circuits is not understood. For example, males of many species can exhibit mounting behaviour towards same- or opposite-sex conspecifics1, but it is unclear whether the intent and neural encoding of these behaviours are similar or different. Here we show that female- and male-directed mounting in male laboratory mice are distinguishable by the presence or absence of ultrasonic vocalizations (USVs)2,3,4, respectively. These and additional behavioural data suggest that most male-directed mounting is aggressive, although in rare cases it can be sexual. We investigated whether USV+ and USV− mounting use the same or distinct hypothalamic neural substrates. Micro-endoscopic imaging of neurons positive for oestrogen receptor 1 (ESR1) in either the medial preoptic area (MPOA) or the ventromedial hypothalamus, ventrolateral subdivision (VMHvl) revealed distinct patterns of neuronal activity during USV+ and USV− mounting, and the type of mounting could be decoded from population activity in either region. Intersectional optogenetic stimulation of MPOA neurons that express ESR1 and vesicular GABA transporter (VGAT) (MPOAESR1∩VGAT neurons) robustly promoted USV+ mounting, and converted male-directed attack to mounting with USVs. By contrast, stimulation of VMHvl neurons that express ESR1 (VMHvlESR1 neurons) promoted USV− mounting, and inhibited the USVs evoked by female urine. Terminal stimulation experiments suggest that these complementary inhibitory effects are mediated by reciprocal projections between the MPOA and VMHvl. Together, these data identify a hypothalamic subpopulation that is genetically enriched for neurons that causally induce a male reproductive behavioural state, and indicate that reproductive and aggressive states are represented by distinct population codes distributed between MPOAESR1 and VMHvlESR1 neurons, respectively. Thus, similar behaviours that express different internal states are encoded by distinct hypothalamic neuronal populations.
Relevant articles
Open Access articles citing this article.
Vinícius E. de M. Oliveira

,

Trynke R. de Jong

&

Inga D. Neumann

Translational Psychiatry Open Access 18 May 2022

B. Gegenhuber

,

M. V. Wu

…

J. Tollkuhn

Nature Open Access 04 May 2022

Kentaro Tao

,

Myung Chung

…

Teruhiro Okuyama

Molecular Psychiatry Open Access 04 February 2022
Access options
Subscribe to Nature+
Get immediate online access to the entire Nature family of 50+ journals
Subscribe to Journal
Get full journal access for 1 year
$199.00
only $3.90 per issue
All prices are NET prices.
VAT will be added later in the checkout.
Tax calculation will be finalised during checkout.
Buy article
Get time limited or full article access on ReadCube.
$32.00
All prices are NET prices.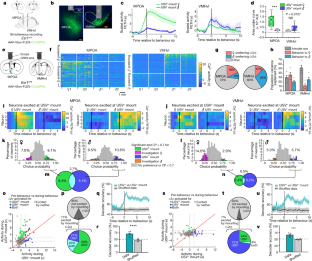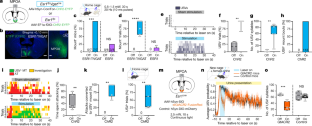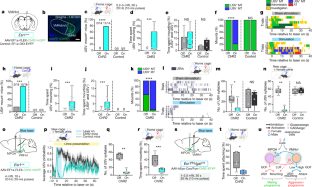 Data availability
The data that support the finding of this study are available from the corresponding author upon request.
Code availability
The custom codes used for pose tracking and behaviour annotation of the mice5 can be found at GitHub (https://neuroethology.github.io/MARS/). The other code that supports the finding of this study are available from the corresponding author upon request.
References
Bailey, N. W. & Zuk, M. Same-sex sexual behavior and evolution. Trends Ecol. Evol. 24, 439–446 (2009).

Nyby, J. Ultrasonic vocalizations during sex behavior of male house mice (Mus musculus): a description. Behav. Neural Biol. 39, 128–134 (1983).

White, N. R., Prasad, M., Barfield, R. J. & Nyby, J. G. 40- and 70-kHz vocalizations of mice (Mus musculus) during copulation. Physiol. Behav. 63, 467–473 (1998).

Holy, T. E. & Guo, Z. Ultrasonic songs of male mice. PLoS Biol. 3, e386 (2005).

Segalin, C. et al. The mouse action recognition system (MARS): a software pipeline for automated analysis of social behaviors in mice. Preprint at https://doi.org/10.1101/2020.07.26.222299 (2020).

Remedios, R. et al. Social behaviour shapes hypothalamic neural ensemble representations of conspecific sex. Nature 550, 388–392 (2017).

Stagkourakis, S. et al. A neural network for intermale aggression to establish social hierarchy. Nat. Neurosci. 21, 834–842 (2018).

Wei, Y. C. et al. Medial preoptic area in mice is capable of mediating sexually dimorphic behaviors regardless of gender. Nat. Commun. 9, 279 (2018).

Sano, K., Tsuda, M. C., Musatov, S., Sakamoto, T. & Ogawa, S. Differential effects of site-specific knockdown of estrogen receptor α in the medial amygdala, medial pre-optic area, and ventromedial nucleus of the hypothalamus on sexual and aggressive behavior of male mice. Eur. J. Neurosci. 37, 1308–1319 (2013).

Yang, C. F. et al. Sexually dimorphic neurons in the ventromedial hypothalamus govern mating in both sexes and aggression in males. Cell 153, 896–909 (2013).

Yang, T. et al. Social control of hypothalamus-mediated male aggression. Neuron 95, 955–970 (2017).

Lee, H. et al. Scalable control of mounting and attack by Esr1+ neurons in the ventromedial hypothalamus. Nature 509, 627–632 (2014).

Lerner, T. N. et al. Intact-brain analyses reveal distinct information carried by SNc dopamine subcircuits. Cell 162, 635–647 (2015).

Stowers, L., Holy, T. E., Meister, M., Dulac, C. & Koentges, G. Loss of sex discrimination and male–male aggression in mice deficient for TRP2. Science 295, 1493–1500 (2002).

Moffitt, J. R. et al. Molecular, spatial, and functional single-cell profiling of the hypothalamic preoptic region. Science 362, eaau5324 (2018).

Kim, D. W. et al. Multimodal analysis of cell types in a hypothalamic node controlling social behavior. Cell 179, 713–728 (2019).

Ziv, Y. et al. Long-term dynamics of CA1 hippocampal place codes. Nat. Neurosci. 16, 264–266 (2013).

Shadlen, M. N., Britten, K. H., Newsome, W. T. & Movshon, J. A. A computational analysis of the relationship between neuronal and behavioral responses to visual motion. J. Neurosci. 16, 1486–1510 (1996).

Malsbury, C. W. Facilitation of male rat copulatory behavior by electrical stimulation of the medial preoptic area. Physiol. Behav. 7, 797–805 (1971).

Vaughan, E. & Fisher, A. E. Male sexual behavior induced by intracranial electrical stimulation. Science 137, 758–760 (1962).

Hahn, J. D., Sporns, O., Watts, A. G. & Swanson, L. W. Macroscale intrinsic network architecture of the hypothalamus. Proc. Natl Acad. Sci. USA 116, 8018–8027 (2019).

Fenno, L. E. et al. Targeting cells with single vectors using multiple-feature Boolean logic. Nat. Methods 11, 763–772 (2014).

Gao, S.-C., Wei, Y.-C., Wang, S.-R. & Xu, X.-H. Medial preoptic area modulates courtship ultrasonic vocalization in adult male mice. Neurosci. Bull. 35, 697–708 (2019).

Tschida, K. et al. A specialized neural circuit gates social vocalizations in the mouse. Neuron 103, 459–472 (2019).

Nyby, J., Wysocki, C. J., Whitney, G., Dizinno, G. & Schneider, J. Elicitation of male mouse (Mus musculus) ultrasonic vocalizations. 1. Urinary cues. J. Comp. Physiol. Psychol. 93, 957–975 (1979).

Lin, D. et al. Functional identification of an aggression locus in the mouse hypothalamus. Nature 470, 221–226 (2011).

Lo, L. et al. Connectional architecture of a mouse hypothalamic circuit node controlling social behavior. Proc. Natl Acad. Sci. USA 116, 7503–7512 (2019).

Tinbergen, N. The Study of Instinct (Clarendon/Oxford Univ. Press, 1951).

Mahn, M. et al. High-efficiency optogenetic silencing with soma-targeted anion-conducting channelrhodopsins. Nat. Commun. 9, 4125 (2018).

Vong, L. et al. Leptin action on GABAergic neurons prevents obesity and reduces inhibitory tone to POMC neurons. Neuron 71, 142–154 (2011).

Sadowski, P. D. The Flp recombinase of the 2-microns plasmid of Saccharomyces cerevisiae. Prog. Nucleic Acid Res. Mol. Biol. 51, 53–91 (1995).

Ogawa, S. et al. Abolition of male sexual behaviors in mice lacking estrogen receptors α and β (αβERKO). Proc. Natl Acad. Sci. USA 97, 14737–14741 (2000).

Franklin, K. B. J. & Paxinos, G. The Mouse Brain in Stereotaxic Coordinates 3rd edn (Academic, 2007).

Resendez, S. L. et al. Visualization of cortical, subcortical and deep brain neural circuit dynamics during naturalistic mammalian behavior with head-mounted microscopes and chronically implanted lenses. Nat. Protoc. 11, 566–597 (2016).

Zelikowsky, M. et al. The neuropeptide Tac2 controls a distributed brain state induced by chronic social isolation stress. Cell 173, 1265–1279 (2018).

Hong, W. et al. Automated measurement of mouse social behaviors using depth sensing, video tracking, and machine learning. Proc. Natl Acad. Sci. USA 112, E5351–E5360 (2015).

Kim, C. K. et al. Simultaneous fast measurement of circuit dynamics at multiple sites across the mammalian brain. Nat. Methods 13, 325–328 (2016).

Simerly, R. B. & Swanson, L. W. Projections of the medial preoptic nucleus: a Phaseolus vulgaris leucoagglutinin anterograde tract-tracing study in the rat. J. Comp. Neurol. 270, 209–242 (1988).

Canteras, N. S., Simerly, R. B. & Swanson, L. W. Organization of projections from the ventromedial nucleus of the hypothalamus: a Phaseolus vulgaris-leucoagglutinin study in the rat. J. Comp. Neurol. 348, 41–79 (1994).

Tachibana, R. O., Kanno, K., Okabe, S., Kobayasi, K. I. & Okanoya, K. USVSEG: a robust method for segmentation of ultrasonic vocalizations in rodents. PLoS ONE 15, e0228907 (2020).

Sugimoto, H. et al. A role for strain differences in waveforms of ultrasonic vocalizations during male-female interaction. PLoS ONE 6, e22093 (2011).

Zhou, P. et al. Efficient and accurate extraction of in vivo calcium signals from microendoscopic video data. eLife 7, e28728 (2018).

Shadlen, M. N. & Newsome, W. T. Neural basis of a perceptual decision in the parietal cortex (area LIP) of the rhesus monkey. J. Neurophysiol. 86, 1916–1936 (2001).

Matsumoto, Y. K. & Okanoya, K. Phase-specific vocalizations of male mice at the initial encounter during the courtship sequence. PLoS ONE 11, e0147102 (2016).
Acknowledgements
We thank X. Da, J. S. Chang and X. Wang for technical help; Y. Huang for genotyping; Caltech OLAR staff for animal care; J. Costanza for mouse colony management; Inscopix for technical support; C. Segalin and P. Perona for mouse tracking and behaviour classifier software; R. Axel and Y. Oka for constructive comments on the manuscript; C. Chiu for laboratory management; G. Mancuso for administrative assistance; and members of the Anderson laboratory for helpful comments on this project. The illustrations of mice are from TogoTV Picture Gallery (copyright 2016 DBCLS TogoTV). D.J.A. is an investigator of the Howard Hughes Medical Institute. This work was supported by NIH grants R01 MH085082 and R01 MH070053, and a grant from the Simons Collaboration on the Global Brain Foundation (award no. 542947) to D.J.A. T.K. is a recipient of HFSP Long-Term Fellowship. A.K. is a recipient of Helen Hay Whitney Foundation Postdoctoral Fellowship and NIMH K99 Pathway to Independence Award.
Ethics declarations
Competing interests
The authors declare no competing interests.
Additional information
Peer review information Nature thanks the anonymous reviewers for their contribution to the peer review of this work.
Publisher's note Springer Nature remains neutral with regard to jurisdictional claims in published maps and institutional affiliations.
Extended data figures and tables
Supplementary information
About this article
Cite this article
Karigo, T., Kennedy, A., Yang, B. et al. Distinct hypothalamic control of same- and opposite-sex mounting behaviour in mice. Nature 589, 258–263 (2021). https://doi.org/10.1038/s41586-020-2995-0
Received:

Accepted:

Published:

Issue Date:

DOI: https://doi.org/10.1038/s41586-020-2995-0
Comments
By submitting a comment you agree to abide by our Terms and Community Guidelines. If you find something abusive or that does not comply with our terms or guidelines please flag it as inappropriate.