Abstract
Among numerous challenges encountered at the beginning of extrauterine life, the most celebrated is the first breath that initiates a life-sustaining motor activity1. The neural systems that regulate breathing are fragile early in development, and it is not clear how they adjust to support breathing at birth. Here we identify a neuropeptide system that becomes activated immediately after birth and supports breathing. Mice that lack PACAP selectively in neurons of the retrotrapezoid nucleus (RTN) displayed increased apnoeas and blunted CO2-stimulated breathing; re-expression of PACAP in RTN neurons corrected these breathing deficits. Deletion of the PACAP receptor PAC1 from the pre-Bötzinger complex—an RTN target region responsible for generating the respiratory rhythm—phenocopied the breathing deficits observed after RTN deletion of PACAP, and suppressed PACAP-evoked respiratory stimulation in the pre-Bötzinger complex. Notably, a postnatal burst of PACAP expression occurred in RTN neurons precisely at the time of birth, coinciding with exposure to the external environment. Neonatal mice with deletion of PACAP in RTN neurons displayed increased apnoeas that were further exacerbated by changes in ambient temperature. Our findings demonstrate that well-timed PACAP expression by RTN neurons provides an important supplementary respiratory drive immediately after birth and reveal key molecular components of a peptidergic neural circuit that supports breathing at a particularly vulnerable period in life.
Relevant articles
Open Access articles citing this article.
Janina Sörmann

,

Marcus Schewe

…

Stephen J. Tucker

Nature Genetics Open Access 04 October 2022

Evelin Patko

,

Edina Szabo

…

Dora Reglodi

Journal of Molecular Neuroscience Open Access 07 March 2022

Prajkta S. Kallurkar

,

Maria Cristina D. Picardo

…

Christopher A. Del Negro

Scientific Reports Open Access 21 February 2022
Access options
Access Nature and 54 other Nature Portfolio journals
Get Nature+, our best-value online-access subscription
$29.99 / 30 days
cancel any time
Subscribe to this journal
Receive 51 print issues and online access
$199.00 per year
only $3.90 per issue
Rent or buy this article
Prices vary by article type
from$1.95
to$39.95
Prices may be subject to local taxes which are calculated during checkout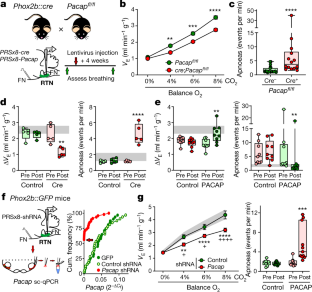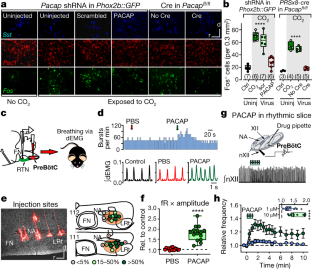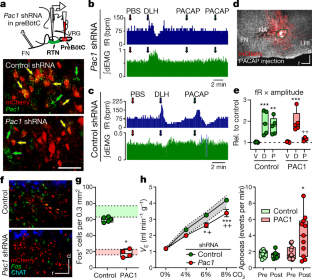 Data availability
All data supporting the findings of this study are available within the paper and its Supplementary Information or from the corresponding author. Unique biological materials are available from the relevant authors upon reasonable requests. Source data are provided with this paper.
References
Del Negro, C. A., Funk, G. D. & Feldman, J. L. Breathing matters. Nat. Rev. Neurosci. 19, 351–367 (2018).

Guyenet, P. G. et al. The retrotrapezoid nucleus: central chemoreceptor and regulator of breathing automaticity. Trends Neurosci. 42, 807–824 (2019).

Ruffault, P. L. et al. The retrotrapezoid nucleus neurons expressing Atoh1 and Phox2b are essential for the respiratory response to CO2. eLife 4, e07051 (2015).

Holloway, B. B., Viar, K. E., Stornetta, R. L. & Guyenet, P. G. The retrotrapezoid nucleus stimulates breathing by releasing glutamate in adult conscious mice. Eur. J. Neurosci. 42, 2271–2282 (2015).

Weese-Mayer, D. E. et al. An official ATS clinical policy statement: congenital central hypoventilation syndrome: genetic basis, diagnosis, and management. Am. J. Respir. Crit. Care Med. 181, 626–644 (2010).

Shi, Y. et al. Neuromedin B expression defines the mouse retrotrapezoid nucleus. J. Neurosci. 37, 11744–11757 (2017).

Cummings, K. J. et al. Sudden infant death syndrome (SIDS) in African Americans: polymorphisms in the gene encoding the stress peptide pituitary adenylate cyclase-activating polypeptide (PACAP). Acta Paediatr. 98, 482–489 (2009).

Cummings, K. J., Pendlebury, J. D., Sherwood, N. M. & Wilson, R. J. Sudden neonatal death in PACAP-deficient mice is associated with reduced respiratory chemoresponse and susceptibility to apnoea. J. Physiol. (Lond.) 555, 15–26 (2004).

Gray, S. L., Cummings, K. J., Jirik, F. R. & Sherwood, N. M. Targeted disruption of the pituitary adenylate cyclase-activating polypeptide gene results in early postnatal death associated with dysfunction of lipid and carbohydrate metabolism. Mol. Endocrinol. 15, 1739–1747 (2001).

Ross, R. A. et al. PACAP neurons in the ventral premammillary nucleus regulate reproductive function in the female mouse. eLife 7, e35960 (2018).

Rossi, J. et al. Melanocortin-4 receptors expressed by cholinergic neurons regulate energy balance and glucose homeostasis. Cell Metab. 13, 195–204 (2011).

Shi, Y. et al. Nalcn is a "leak" sodium channel that regulates excitability of brainstem chemosensory neurons and breathing. J. Neurosci. 36, 8174–8187 (2016).

Hwang, D. Y., Carlezon, W. A. Jr, Isacson, O. & Kim, K. S. A high-efficiency synthetic promoter that drives transgene expression selectively in noradrenergic neurons. Hum. Gene Ther. 12, 1731–1740 (2001).

Kumar, N. N. et al. Regulation of breathing by CO2 requires the proton-activated receptor GPR4 in retrotrapezoid nucleus neurons. Science 348, 1255–1260 (2015).

Stornetta, R. L. et al. A group of glutamatergic interneurons expressing high levels of both neurokinin-1 receptors and somatostatin identifies the region of the pre-Bötzinger complex. J. Comp. Neurol. 455, 499–512 (2003).

Baertsch, N. A., Baertsch, H. C. & Ramirez, J. M. The interdependence of excitation and inhibition for the control of dynamic breathing rhythms. Nat. Commun. 9, 843 (2018).

Harmar, A. J. et al. Pharmacology and functions of receptors for vasoactive intestinal peptide and pituitary adenylate cyclase-activating polypeptide: IUPHAR review 1. Br. J. Pharmacol. 166, 4–17 (2012).

Arata, S., Nakamachi, T., Onimaru, H., Hashimoto, H. & Shioda, S. Impaired response to hypoxia in the respiratory center is a major cause of neonatal death of the PACAP-knockout mouse. Eur. J. Neurosci. 37, 407–416 (2013).

Dudley, D. J., Branch, D. W., Edwin, S. S. & Mitchell, M. D. Induction of preterm birth in mice by RU486. Biol. Reprod. 55, 992–995 (1996).

Mortola, J. P. Influence of temperature on metabolism and breathing during mammalian ontogenesis. Respir. Physiol. Neurobiol. 149, 155–164 (2005).

Cummings, K. J., Willie, C. & Wilson, R. J. Pituitary adenylate cyclase-activating polypeptide maintains neonatal breathing but not metabolism during mild reductions in ambient temperature. Am. J. Physiol. Regul. Integr. Comp. Physiol. 294, R956–R965 (2008).

Sawczenko, A. & Fleming, P. J. Thermal stress, sleeping position, and the sudden infant death syndrome. Sleep 19 (Suppl.), S267–S270 (1996).

Darnall, R. A. The role of CO2 and central chemoreception in the control of breathing in the fetus and the neonate. Respir. Physiol. Neurobiol. 173, 201–212 (2010).

Willinger, M., James, L. S. & Catz, C. Defining the sudden infant death syndrome (SIDS): deliberations of an expert panel convened by the National Institute of Child Health and Human Development. Pediatr. Pathol. 11, 677–684 (1991).

Goldstein, R. D., Kinney, H. C. & Willinger, M. Sudden unexpected death in fetal life through early childhood. Pediatrics 137, e20154661 (2016).

Filiano, J. J. & Kinney, H. C. A perspective on neuropathologic findings in victims of the sudden infant death syndrome: the triple-risk model. Biol. Neonate 65, 194–197 (1994).

Barrett, K. T. et al. Analysis of PAC1 receptor gene variants in Caucasian and African American infants dying of sudden infant death syndrome. Acta Paediatr. 102, e546–e552 (2013).

Huang, J., Waters, K. A. & Machaalani, R. Pituitary adenylate cyclase activating polypeptide (PACAP) and its receptor 1 (PAC1) in the human infant brain and changes in the Sudden Infant Death Syndrome (SIDS). Neurobiol. Dis. 103, 70–77 (2017).

Paxinos, G. & Franklin, K. B. J. The Mouse Brain in Stereotaxic Coordinates 2nd edn (Elsevier Academic Press, 2004).

Lazarenko, R. M. et al. Acid sensitivity and ultrastructure of the retrotrapezoid nucleus in Phox2b-EGFP transgenic mice. J. Comp. Neurol. 517, 69–86 (2009).

Ting, J. T., Daigle, T. L., Chen, Q. & Feng, G. Acute brain slice methods for adult and aging animals: application of targeted patch clamp analysis and optogenetics. Methods Mol. Biol. 1183, 221–242 (2014).

Liss, B. Improved quantitative real-time RT-PCR for expression profiling of individual cells. Nucleic Acids Res. 30, e89 (2002).

Pfaffl, M. W. A new mathematical model for relative quantification in real-time RT-PCR. Nucleic Acids Res. 29, e45 (2001).

Wiznerowicz, M. & Trono, D. Conditional suppression of cellular genes: lentivirus vector-mediated drug-inducible RNA interference. J. Virol. 77, 8957–8961 (2003).

Mortola, J. P. Breathing pattern in newborns. J. Appl. Physiol. 56, 1533–1540 (1984).

Ramirez, S. C. et al. Perinatal breathing patterns and survival in mice born prematurely and at term. Front. Physiol. 10, 1113 (2019).

Pepper, D. R., Landauer, R. C. & Kumar, P. Postnatal development of CO2-O2 interaction in the rat carotid body in vitro. J. Physiol. (Lond.) 485, 531–541 (1995).

Basting, T. M. et al. Hypoxia silences retrotrapezoid nucleus respiratory chemoreceptors via alkalosis. J. Neurosci. 35, 527–543 (2015).

Depuy, S. D., Kanbar, R., Coates, M. B., Stornetta, R. L. & Guyenet, P. G. Control of breathing by raphe obscurus serotonergic neurons in mice. J. Neurosci. 31, 1981–1990 (2011).

Smith, J. C., Ellenberger, H. H., Ballanyi, K., Richter, D. W. & Feldman, J. L. Pre-Bötzinger complex: a brainstem region that may generate respiratory rhythm in mammals. Science 254, 726–729 (1991).

Funk, G. D., Smith, J. C. & Feldman, J. L. Generation and transmission of respiratory oscillations in medullary slices: role of excitatory amino acids. J. Neurophysiol. 70, 1497–1515 (1993).

Ruangkittisakul, A. et al. High sensitivity to neuromodulator-activated signaling pathways at physiological [K+] of confocally imaged respiratory center neurons in on-line-calibrated newborn rat brainstem slices. J. Neurosci. 26, 11870–11880 (2006).

Lorier, A. R. et al. P2Y1 receptor modulation of the pre-Bötzinger complex inspiratory rhythm generating network in vitro. J. Neurosci. 27, 993–1005 (2007).
Acknowledgements
This work was supported by National Institutes of Health (NIH) research grants: R01 HL108609 (D.A.B.), R01 HL074011 (P.G.G.), R01 DK096010 and R01 DK075632 (B.B.L.), and K08 DK118201 (R.A.R.); by grants from CCHS Family Foundation (D.A.B. and P.G.G.), CIHR (159551, G.D.F.), CFI and Stollery Children's Hospital Foundation through WCHRI (G.D.F. and R.J.R.); and by T32 HL007374 (R.A.R.) and a Harrison Undergraduate Research Award (A.S.). We thank C. B. Bayliss, Y.-H. Chiu, E. Gonye, A. Narahari (Bayliss laboratory) for technical support and suggestions; S. Abbott and G. Souza for suggestions regarding dEMG and plethysmography analysis; J. Hannibal for antibody used to evaluate PACAP re-expression in HEK293T cells; and K. S. Ravichandran for helpful edits of the manuscript.
Ethics declarations
Competing interests
The authors declare no competing interests.
Additional information
Peer review information Nature thanks Gilles Fortin, Jan Ramirez and the other, anonymous, reviewer(s) for their contribution to the peer review of this work.
Publisher's note Springer Nature remains neutral with regard to jurisdictional claims in published maps and institutional affiliations.
Extended data figures and tables
Supplementary information
This file provides primer and probe sequences used for RT-PCR, shRNA and RNAscope in situ hybridization, and a list of antibodies used for immunohistochemistry.
About this article
Cite this article
Shi, Y., Stornetta, D.S., Reklow, R.J. et al. A brainstem peptide system activated at birth protects postnatal breathing. Nature 589, 426–430 (2021). https://doi.org/10.1038/s41586-020-2991-4
Received:

Accepted:

Published:

Issue Date:

DOI: https://doi.org/10.1038/s41586-020-2991-4
Comments
By submitting a comment you agree to abide by our Terms and Community Guidelines. If you find something abusive or that does not comply with our terms or guidelines please flag it as inappropriate.