Abstract
Mapping the complex biogeography of microbial communities in situ with high taxonomic and spatial resolution poses a major challenge because of the high density1 and rich diversity2 of species in environmental microbiomes and the limitations of optical imaging technology3,4,5,6. Here we introduce high-phylogenetic-resolution microbiome mapping by fluorescence in situ hybridization (HiPR-FISH), a versatile technology that uses binary encoding, spectral imaging and decoding based on machine learning to create micrometre-scale maps of the locations and identities of hundreds of microbial species in complex communities. We show that 10-bit HiPR-FISH can distinguish between 1,023 isolates of Escherichia coli, each fluorescently labelled with a unique binary barcode. HiPR-FISH, in conjunction with custom algorithms for automated probe design and analysis of single-cell images, reveals the disruption of spatial networks in the mouse gut microbiome in response to treatment with antibiotics, and the longitudinal stability of spatial architectures in the human oral plaque microbiome. Combined with super-resolution imaging, HiPR-FISH shows the diverse strategies of ribosome organization that are exhibited by taxa in the human oral microbiome. HiPR-FISH provides a framework for analysing the spatial ecology of environmental microbial communities at single-cell resolution.
Relevant articles
Open Access articles citing this article.
Sami Saarenpää

,

Or Shalev

…

Stefania Giacomello

Nature Biotechnology Open Access 20 November 2023

Britta Lötstedt

,

Martin Stražar

…

Sanja Vickovic

Nature Biotechnology Open Access 20 November 2023

Laura Sisk-Hackworth

,

Jada Brown

…

Varykina G. Thackray

Biology of Sex Differences Open Access 06 November 2023
Access options
Access Nature and 54 other Nature Portfolio journals
Get Nature+, our best-value online-access subscription
$29.99 / 30 days
cancel any time
Subscribe to this journal
Receive 51 print issues and online access
$199.00 per year
only $3.90 per issue
Rent or buy this article
Prices vary by article type
from$1.95
to$39.95
Prices may be subject to local taxes which are calculated during checkout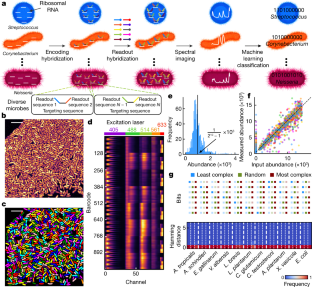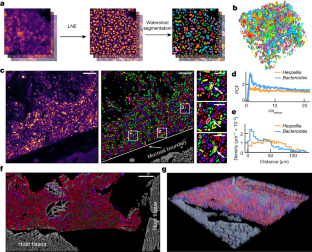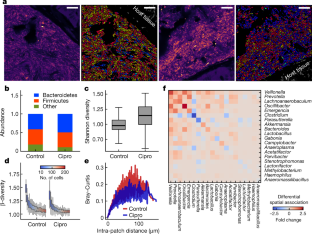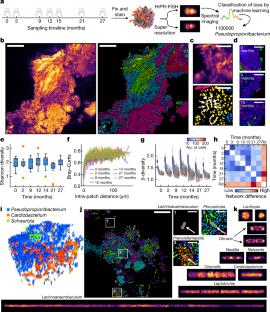 Data availability
PacBio sequencing data are available at the NCBI Sequence Read Archive (SRA) with accession number PRJNA665727. Metagenomic sequencing data of laser-capture-microdissected tissue samples are available at the NCBI SRA with accession number PRJNA665536. All microscopy data have been deposited to Zenodo. A full list of DOIs is provided in the Supplementary Information. Source data are provided with this paper.
References
Donaldson, G. P., Lee, S. M. & Mazmanian, S. K. Gut biogeography of the bacterial microbiota. Nat. Rev. Microbiol. 14, 20–32 (2016).

The Human Microbiome Project Consortium. Structure, function and diversity of the healthy human microbiome. Nature 486, 207–214 (2012).

Tropini, C., Earle, K. A., Huang, K. C. & Sonnenburg, J. L. The gut microbiome: connecting spatial organization to function. Cell Host Microbe 21, 433–442 (2017).

Mark Welch, J. L., Rossetti, B. J., Rieken, C. W., Dewhirst, F. E. & Borisy, G. G. Biogeography of a human oral microbiome at the micron scale. Proc. Natl Acad. Sci. USA 113, E791–E800 (2016).

Valm, A. M. et al. Systems-level analysis of microbial community organization through combinatorial labeling and spectral imaging. Proc. Natl Acad. Sci. USA 108, 4152–4157 (2011).

Valm, A. M., Mark Welch, J. L. & Borisy, G. G. CLASI-FISH: principles of combinatorial labeling and spectral imaging. Syst. Appl. Microbiol. 35, 496–502 (2012).

De Weirdt, R. & Van De Wiele, T. Micromanagement in the gut: Microenvironmental factors govern colon mucosal biofilm structure and functionality. npj Biofilms Microbiomes 1, 15026 (2015).

Thaiss, C. A. et al. Microbiota diurnal rhythmicity programs host transcriptome oscillations. Cell 167, 1495–1510 (2016).

Valm, A. M., Oldenbourg, R. & Borisy, G. G. Multiplexed spectral imaging of 120 different fluorescent labels. PLoS ONE 11, e0158495 (2016).

Mark Welch, J. L., Hasegawa, Y., McNulty, N. P., Gordon, J. I. & Borisy, G. G. Spatial organization of a model 15-member human gut microbiota established in gnotobiotic mice. Proc. Natl Acad. Sci. USA 114, E9105–E9114 (2017).

Earle, K. A. et al. Quantitative imaging of gut microbiota spatial organization. Cell Host Microbe 18, 478–488 (2015).

Dagher, M., Kleinman, M., Ng, A. & Juncker, D. Ensemble multicolour FRET model enables barcoding at extreme FRET levels. Nat. Nanotechnol. 13, 925–932 (2018).

Otsu, N. A threshold selection method from gray-level histograms. IEEE Trans. Syst. Man Cybern. 9, 62–66 (1979).

Sauvola, J. & Pietikäinen, M. Adaptive document image binarization. Pattern Recognit. 33, 225–236 (2000).

Francino, M. P. Antibiotics and the human gut microbiome: dysbioses and accumulation of resistances. Front. Microbiol. 6, 1543 (2016).

Samad, T., Co, J. Y., Witten, J. & Ribbeck, K. Mucus and mucin environments reduce the efficacy of polymyxin and fluoroquinolone antibiotics against Pseudomonas aeruginosa. ACS Biomater. Sci. Eng. 5, 1189–1194 (2019).

Antonopoulos, D. A. et al. Reproducible community dynamics of the gastrointestinal microbiota following antibiotic perturbation. Infect. Immun. 77, 2367–2375 (2009).

Panda, S. et al. Short-term effect of antibiotics on human gut microbiota. PLoS ONE 9, e95476 (2014).

Li, J. et al. Probiotics modulated gut microbiota suppresses hepatocellular carcinoma growth in mice. Proc. Natl Acad. Sci. USA 113, E1306–E1315 (2016).

Scheiman, J. et al. Meta-omics analysis of elite athletes identifies a performance-enhancing microbe that functions via lactate metabolism. Nat. Med. 25, 1104–1109 (2019).

Dewhirst, F. E. et al. The human oral microbiome. J. Bacteriol. 192, 5002–5017 (2010).

Rasiah, I. A., Wong, L., Anderson, S. A. & Sissons, C. H. Variation in bacterial DGGE patterns from human saliva: over time, between individuals and in corresponding dental plaque microcosms. Arch. Oral Biol. 50, 779–787 (2005).

Costello, E. K. et al. Bacterial community variation in human body habitats across space and time. Science 326, 1694–1697 (2009).

Li, K., Bihan, M. & Methé, B. A. Analyses of the stability and core taxonomic memberships of the human microbiome. PLoS ONE 8, e63139 (2013).

Zhou, Y. et al. Biogeography of the ecosystems of the healthy human body. Genome Biol. 14, R1 (2013).

Baddour, L. M. et al. Infective endocarditis in adults: diagnosis, antimicrobial therapy, and management of complications: a scientific statement for healthcare professionals from the American Heart Association. Circulation 132, 1435–1486 (2015).

Hedberg, M. E. et al. Lachnoanaerobaculum gen. nov., a new genus in the Lachnospiraceae: characterization of Lachnoanaerobaculum umeaense gen. nov., sp. nov., isolated from the human small intestine, and Lachnoanaerobaculum orale sp. nov., isolated from saliva, and reclassification of Eubacterium saburreum (Prevot 1966) Holdeman and Moore 1970 as Lachnoanaerobaculum saburreum comb. nov. Int. J. Syst. Evol. Microbiol. 62, 2685–2690 (2012).

Stracy, M. et al. Live-cell superresolution microscopy reveals the organization of RNA polymerase in the bacterial nucleoid. Proc. Natl Acad. Sci. USA 112, E4390–E4399 (2015).

Sanamrad, A. et al. Single-particle tracking reveals that free ribosomal subunits are not excluded from the Escherichia coli nucleoid. Proc. Natl Acad. Sci. USA 111, 11413–11418 (2014).

Smid, M. C., Dotters-Katz, S. K., Plongla, R. & Boggess, K. A. Leptotrichia buccalis: a novel cause of chorioamnionitis. Infect. Dis. Rep. 7, 5801 (2015).

Hou, H., Chen, Z., Tian, L. & Sun, Z. Leptotrichia trevisanii bacteremia in a woman with systemic lupus erythematosus receiving high-dose chemotherapy. BMC Infect. Dis. 18, 661 (2018).

Kraatz, M., Wallace, R. J. & Svensson, L. Olsenella umbonata sp. nov., a microaerotolerant anaerobic lactic acid bacterium from the sheep rumen and pig jejunum, and emended descriptions of Olsenella, Olsenella uli and Olsenella profusa. Int. J. Syst. Evol. Microbiol. 61, 795–803 (2011).

Moffitt, J. R. & Zhuang, X. RNA imaging with multiplexed error-robust fluorescence in situ hybridization (MERFISH). Methods Enzymol. 572, 1–49 (2016).

Chen, K. H., Boettiger, A. N., Moffitt, J. R., Wang, S. & Zhuang, X. Spatially resolved, highly multiplexed RNA profiling in single cells. Science 348, aaa6090 (2015).

Singer, E. et al. High-resolution phylogenetic microbial community profiling. ISME J. 10, 2020–2032 (2016).

Manz, W., Amann, R., Ludwig, W., Wagner, M. & Schleifer, K.-H. Phylogenetic oligodeoxynucleotide probes for the major subclasses of proteobacteria: problems and solutions. Syst. Appl. Microbiol. 15, 593–600 (1992).

Randall, J. T. & Jackson, S. F. Fine structure and function in Stentor polymorphus. J. Biophys. Biochem. Cytol. 4, 807–830 (1958).
Acknowledgements
We thank R. M. Williams and J. M. Dela Cruz for assistance with microscopy; A. Douglas, J. McMullen, T. Doerr, J. Peters and M. Petassi for providing materials; and P. S. Burnham, A. P. Cheng, T. Lan and E. Michel for discussions and feedback. This work was supported by an instrumentation grant from the Kavli Institute at Cornell and by US National Institutes of Health (NIH) grants 1DP2AI138242 to I.D.V. and 1R33CA235302 to I.D.V., W.Z. and I.L.B. Imaging data were acquired in the Cornell Biotechnology Resource Center Imaging Facility using the shared, NYSTEM (CO29155)- and NIH (S10OD018516)-funded Zeiss LSM880 confocal and multiphoton microscope.
Ethics declarations
Competing interests
H.S. and I.D.V. are inventors on the patent WO 2019/173555, which was filed in September 2019 by Cornell University Center for Technology Licensing and which covers the technical aspects of the manuscript.
Additional information
Peer review information Nature thanks Arjun Raj, Carolina Tropini and the other, anonymous, reviewer(s) for their contribution to the peer review of this work.
Publisher's note Springer Nature remains neutral with regard to jurisdictional claims in published maps and institutional affiliations.
Extended data figures and tables
Supplementary information
This file contains data access information as well as Supplementary Tables related to fluorescent probes information, cultured cell information, relevant software versions, and image acquisition conditions.
About this article
Cite this article
Shi, H., Shi, Q., Grodner, B. et al. Highly multiplexed spatial mapping of microbial communities. Nature 588, 676–681 (2020). https://doi.org/10.1038/s41586-020-2983-4
Received:

Accepted:

Published:

Issue Date:

DOI: https://doi.org/10.1038/s41586-020-2983-4
Comments
By submitting a comment you agree to abide by our Terms and Community Guidelines. If you find something abusive or that does not comply with our terms or guidelines please flag it as inappropriate.