Abstract
The liver connects the intestinal portal vasculature with the general circulation, using a diverse array of immune cells to protect from pathogens that translocate from the gut1. In liver lobules, blood flows from portal triads that are situated in periportal lobular regions to the central vein via a polarized sinusoidal network. Despite this asymmetry, resident immune cells in the liver are considered to be broadly dispersed across the lobule. This differs from lymphoid organs, in which immune cells adopt spatially biased positions to promote effective host defence2,3. Here we used quantitative multiplex imaging, genetic perturbations, transcriptomics, infection-based assays and mathematical modelling to reassess the relationship between the localization of immune cells in the liver and host protection. We found that myeloid and lymphoid resident immune cells concentrate around periportal regions. This asymmetric localization was not developmentally controlled, but resulted from sustained MYD88-dependent signalling induced by commensal bacteria in liver sinusoidal endothelial cells, which in turn regulated the composition of the pericellular matrix involved in the formation of chemokine gradients. In vivo experiments and modelling showed that this immune spatial polarization was more efficient than a uniform distribution in protecting against systemic bacterial dissemination. Together, these data reveal that liver sinusoidal endothelial cells sense the microbiome, actively orchestrating the localization of immune cells, to optimize host defence.
Access options
Subscribe to Journal
Get full journal access for 1 year
$199.00
only $3.90 per issue
All prices are NET prices.
VAT will be added later in the checkout.
Tax calculation will be finalised during checkout.
Rent or Buy article
Get time limited or full article access on ReadCube.
from$8.99
All prices are NET prices.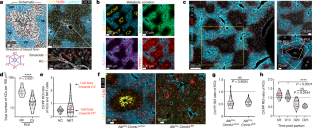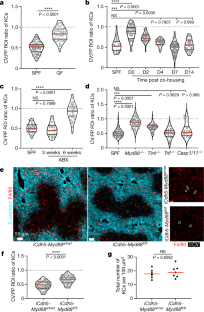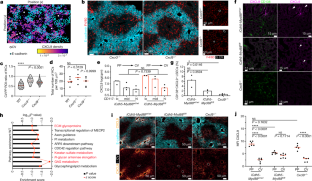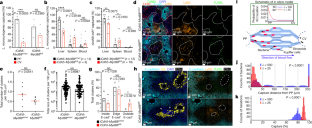 Data availability
RNA sequencing data that support the findings of this study have been deposited in the Gene Expression Omnibus database with the accession number GSE144087. Source data are provided with this paper.
References
1.

Kubes, P. & Jenne, C. Immune responses in the liver. Annu. Rev. Immunol. 36, 247–277 (2018).

2.

Kastenmüller, W., Torabi-Parizi, P., Subramanian, N., Lämmermann, T. & Germain, R. N. A spatially-organized multicellular innate immune response in lymph nodes limits systemic pathogen spread. Cell 150, 1235–1248 (2012).

3.

Baptista, A. P. et al. The chemoattractant receptor Ebi2 drives intranodal naive CD4+ T cell peripheralization to promote effective adaptive immunity. Immunity 50, 1188–1201 (2019).

4.

Doi, Y. et al. Development of complementary expression patterns of E- and N-cadherin in the mouse liver. Hepatol. Res. 37, 230–237 (2007).

5.

Braeuning, A. et al. Differential gene expression in periportal and perivenous mouse hepatocytes. FEBS J. 273, 5051–5061 (2006).

6.

Bouwens, L., Baekeland, M., De Zanger, R. & Wisse, E. Quantitation, tissue distribution and proliferation kinetics of Kupffer cells in normal rat liver. Hepatology 6, 718–722 (1986).

7.

Sleyster, E. C. & Knook, D. L. Relation between localization and function of rat liver Kupffer cells. Lab. Invest. 47, 484–490 (1982).

8.

Itoh, Y. et al. Functional heterogeneity of rat liver macrophages: interleukin-1 secretion and Ia antigen expression in contrast with phagocytic activity. Liver 12, 26–33 (1992).

9.

Gerner, M. Y., Kastenmuller, W., Ifrim, I., Kabat, J. & Germain, R. N. Histo-cytometry: a method for highly multiplex quantitative tissue imaging analysis applied to dendritic cell subset microanatomy in lymph nodes. Immunity 37, 364–376 (2012).

10.

MacParland, S. A. et al. Single cell RNA sequencing of human liver reveals distinct intrahepatic macrophage populations. Nat. Commun. 9, 4383 (2018).

11.

Geissmann, F. et al. Intravascular immune surveillance by CXCR6+ NKT cells patrolling liver sinusoids. PLoS Biol. 3, e113 (2005).

12.

Benhamouche, S. et al. Apc tumor suppressor gene is the "zonation-keeper" of mouse liver. Dev. Cell 10, 759–770 (2006).

13.

Burke, Z. D. et al. Liver zonation occurs through a beta-catenin-dependent, c-Myc-independent mechanism. Gastroenterology 136, 2316–2324 (2009).

14.

Shiojiri, N. et al. Heterogeneous hepatocellular expression of glutamine synthetase in developing mouse liver and in testicular transplants of fetal liver. Lab. Invest. 72, 740–747 (1995).

15.

Schloss, P. D. et al. Stabilization of the murine gut microbiome following weaning. Gut Microbes 3, 383–393 (2012).

16.

Mao, K. et al. Innate and adaptive lymphocytes sequentially shape the gut microbiota and lipid metabolism. Nature 554, 255–259 (2018).

17.

Jacob, A. I., Goldberg, P. K., Bloom, N., Degenshein, G. A. & Kozinn, P. J. Endotoxin and bacteria in portal blood. Gastroenterology 72, 1268–1270 (1977).

18.

Lynch, R. W. et al. An efficient method to isolate Kupffer cells eliminating endothelial cell contamination and selective bias. J. Leukoc. Biol. 104, 579–586 (2018).

19.

Greenhalgh, S. N., Conroy, K. P. & Henderson, N. C. Cre-ativity in the liver: transgenic approaches to targeting hepatic nonparenchymal cells. Hepatology 61, 2091–2099 (2015).

20.

Weber, M. et al. Interstitial dendritic cell guidance by haptotactic chemokine gradients. Science 339, 328–332 (2013).

21.

Halpern, K. B. et al. Paired-cell sequencing enables spatial gene expression mapping of liver endothelial cells. Nat. Biotechnol. 36, 962–970 (2018).

22.

García-López, M. A. et al. CXCR3 chemokine receptor distribution in normal and inflamed tissues: expression on activated lymphocytes, endothelial cells, and dendritic cells. Lab. Invest. 81, 409–418 (2001).

23.

Thomas, S. Y. et al. CD1d-restricted NKT cells express a chemokine receptor profile indicative of Th1-type inflammatory homing cells. J. Immunol. 171, 2571–2580 (2003).

24.

Groom, J. R. et al. CXCR3 chemokine receptor-ligand interactions in the lymph node optimize CD4+ T helper 1 cell differentiation. Immunity 37, 1091–1103 (2012).

25.

Sakai, M. et al. Liver-derived signals sequentially reprogram myeloid enhancers to initiate and maintain Kupffer cell identity. Immunity 51, 655–670 (2019).

26.

Metzemaekers, M., Vanheule, V., Janssens, R., Struyf, S. & Proost, P. Overview of the mechanisms that may contribute to the non-redundant activities of interferon-inducible CXC chemokine receptor 3 ligands. Front. Immunol. 8, 1970 (2018).

27.

Vanheule, V. et al. CXCL9-derived peptides differentially inhibit neutrophil migration in vivo through interference with glycosaminoglycan interactions. Front. Immunol. 8, 530 (2017).

28.

Lämmermann, T. et al. Neutrophil swarms require LTB4 and integrins at sites of cell death in vivo. Nature 498, 371–375 (2013).

29.

Fernandez-Ruiz, D. et al. Liver-resident memory CD8+ T cells form a front-line defense against malaria liver-stage infection. Immunity 45, 889–902 (2016).

30.

Gola, A. et al. Prime and target immunization protects against liver-stage malaria in mice. Sci. Transl. Med. 10, eaap9128 (2018).

31.

Sörensen, I., Adams, R. H. & Gossler, A. DLL1-mediated Notch activation regulates endothelial identity in mouse fetal arteries. Blood 113, 5680–5688 (2009).

32.

Li, W., Germain, R. N. & Gerner, M. Y. Multiplex, quantitative cellular analysis in large tissue volumes with clearing-enhanced 3D microscopy (Ce3D). Proc. Natl Acad. Sci. USA 114, E7321–E7330 (2017).

33.

Goddard, E. T., Fischer, J. & Schedin, P. A portal vein injection model to study liver metastasis of breast cancer. J. Vis. Exp. 118, 54903 (2016).

34.

Pentecost, M., Kumaran, J., Ghosh, P. & Amieva, M. R. Listeria monocytogenes internalin B activates junctional endocytosis to accelerate intestinal invasion. PLoS Pathog. 6, e1000900 (2010).

35.

Heymann, F. et al. Long term intravital multiphoton microscopy imaging of immune cells in healthy and diseased liver using CXCR6.Gfp reporter mice. J. Vis. Exp. 97, 52607 (2015).

36.

Dobin, A. et al. STAR: ultrafast universal RNA-seq aligner. Bioinformatics 29, 15–21 (2013).

37.

Liao, Y., Smyth, G. K. & Shi, W. featureCounts: an efficient general purpose program for assigning sequence reads to genomic features. Bioinformatics 30, 923–930 (2014).

38.

McCarthy, D. J., Chen, Y. & Smyth, G. K. Differential expression analysis of multifactor RNA-seq experiments with respect to biological variation. Nucleic Acids Res. 40, 4288–4297 (2012).

39.

Sergushichev, A. A. An algorithm for fast preranked gene set enrichment analysis using cumulative statistic calculation. Preprint at https://doi.org/10.1101/060012 (2016).

40.

Subramanian, A. et al. Gene set enrichment analysis: a knowledge-based approach for interpreting genome-wide expression profiles. Proc. Natl Acad. Sci. USA 102, 15545–15550 (2005).

41.

Turner, A. B. R. spatstat: an R Package for analyzing spatial point patterns. J. Stat. Softw. 12, 1–42 (2005).

42.

Wickham, H. ggplot2: Elegant Graphics for Data Analysis (Springer-Verlag, 2016).
Acknowledgements
We thank A. Luster and J. Lian for providing REX3 mice; E. Miao for providing (ΔintAB inlAm) Listeria stocks; P. Brook for preliminary versions of the in silico bacterial capture model; Y. Belkaid and N. Bouladoux for GF mice; R. H. Adams for iCdh5-Cre mice; A. Martins for help with the RNA sequencing experiments; C. Chu for critical reading of the manuscript; and all members of the Laboratory of Immune Systems Biology for their comments during the course of these studies and input during preparation of the manuscript. A.P.B. is supported by a Marie Sklodowska-Curie Action (MSCA) fellowship. This research was supported by the Intramural Research Program of the NIAID (NIH).
Ethics declarations
Competing interests
The authors declare no competing interests.
Additional information
Peer review information Nature thanks Matteo Iannacone, Shalev Itzkovitz and the other, anonymous, reviewer(s) for their contribution to the peer review of this work.
Publisher's note Springer Nature remains neutral with regard to jurisdictional claims in published maps and institutional affiliations.
Extended data figures and tables
Supplementary information
About this article
Cite this article
Gola, A., Dorrington, M.G., Speranza, E. et al. Commensal-driven immune zonation of the liver promotes host defence. Nature 589, 131–136 (2021). https://doi.org/10.1038/s41586-020-2977-2
Received:

Accepted:

Published:

Issue Date:
Comments
By submitting a comment you agree to abide by our Terms and Community Guidelines. If you find something abusive or that does not comply with our terms or guidelines please flag it as inappropriate.