Abstract
Janus kinases (JAKs) mediate responses to cytokines, hormones and growth factors in haematopoietic cells1,2. The JAK gene JAK2 is frequently mutated in the ageing haematopoietic system3,4 and in haematopoietic cancers5. JAK2 mutations constitutively activate downstream signalling and are drivers of myeloproliferative neoplasm (MPN). In clinical use, JAK inhibitors have mixed effects on the overall disease burden of JAK2-mutated clones6,7, prompting us to investigate the mechanism underlying disease persistence. Here, by in-depth phosphoproteome profiling, we identify proteins involved in mRNA processing as targets of mutant JAK2. We found that inactivation of YBX1, a post-translationally modified target of JAK2, sensitizes cells that persist despite treatment with JAK inhibitors to apoptosis and results in RNA mis-splicing, enrichment for retained introns and disruption of the transcriptional control of extracellular signal-regulated kinase (ERK) signalling. In combination with pharmacological JAK inhibition, YBX1 inactivation induces apoptosis in JAK2-dependent mouse and primary human cells, causing regression of the malignant clones in vivo, and inducing molecular remission. This identifies and validates a cell-intrinsic mechanism whereby differential protein phosphorylation causes splicing-dependent alterations of JAK2–ERK signalling and the maintenance of JAK2V617F malignant clones. Therapeutic targeting of YBX1-dependent ERK signalling in combination with JAK2 inhibition could thus eradicate cells harbouring mutations in JAK2.
Access options
Subscribe to Journal
Get full journal access for 1 year
$199.00
only $3.90 per issue
All prices are NET prices.
VAT will be added later in the checkout.
Tax calculation will be finalised during checkout.
Rent or Buy article
Get time limited or full article access on ReadCube.
from$8.99
All prices are NET prices.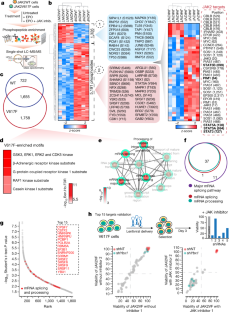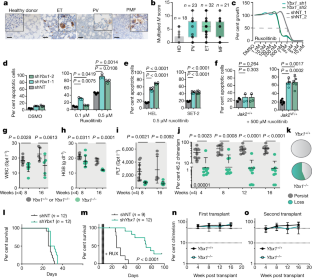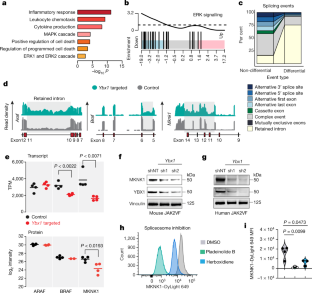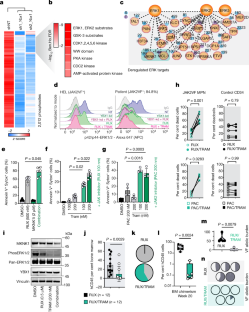 Data availability
The MS raw data files and Maxquant output files reported in this manuscript are available at ProteomeXchange Consortium with the data identifier PXD006921. RNA-seq data have been deposited in the Gene expression Omnibus database with accession number GSE123417. ChIP-Seq data has been deposited to the Gene expression Omnibus database with the accession code GSE154025 for mouse and GSE146717 for human. All other data supporting the findings of this study are available from corresponding authors upon reasonable request. Source data are provided with this paper.
References
1.

Darnell, J. E., Jr, Kerr, I. M. & Stark, G. R. Jak-STAT pathways and transcriptional activation in response to IFNs and other extracellular signaling proteins. Science 264, 1415–1421 (1994).

2.

Perner, F., Perner, C., Ernst, T. & Heidel, F. H. Roles of JAK2 in aging, inflammation, hematopoiesis and malignant transformation. Cells 8, 854 (2019).

3.

Genovese, G. et al. Clonal hematopoiesis and blood-cancer risk inferred from blood DNA sequence. N. Engl. J. Med. 371, 2477–2487 (2014).

4.

Jaiswal, S. et al. Age-related clonal hematopoiesis associated with adverse outcomes. N. Engl. J. Med. 371, 2488–2498 (2014).

5.

Forbes, S. A. et al. COSMIC: somatic cancer genetics at high-resolution. Nucleic Acids Res. 45 (D1), D777–D783 (2017).

6.

Deininger, M. et al. The effect of long-term ruxolitinib treatment on JAK2p.V617F allele burden in patients with myelofibrosis. Blood 126, 1551–1554 (2015).

7.

Harrison, C. N. et al. Long-term findings from COMFORT-II, a phase 3 study of ruxolitinib vs best available therapy for myelofibrosis. Leukemia 30, 1701–1707 (2016).

8.

Humphrey, S. J., Azimifar, S. B. & Mann, M. High-throughput phosphoproteomics reveals in vivo insulin signaling dynamics. Nat. Biotechnol. 33, 990–995 (2015).

9.

Hsu, T. Y. et al. The spliceosome is a therapeutic vulnerability in MYC-driven cancer. Nature 525, 384–388 (2015).

10.

Climente-González, H., Porta-Pardo, E., Godzik, A. & Eyras, E. The functional impact of alternative splicing in cancer. Cell Rep. 20, 2215–2226 (2017).

11.

Dolfini, D. & Mantovani, R. YB-1 (YBX1) does not bind to Y/CCAAT boxes in vivo. Oncogene 32, 4189–4190 (2013).

12.

Stickeler, E. et al. The RNA binding protein YB-1 binds A/C-rich exon enhancers and stimulates splicing of the CD44 alternative exon v4. EMBO J. 20, 3821–3830 (2001).

13.

Wei, W. J. et al. YB-1 binds to CAUC motifs and stimulates exon inclusion by enhancing the recruitment of U2AF to weak polypyrimidine tracts. Nucleic Acids Res. 40, 8622–8636 (2012).

14.

Kaelin, W. G., Jr. The concept of synthetic lethality in the context of anticancer therapy. Nat. Rev. Cancer 5, 689–698 (2005).

15.

McCubrey, J. A. et al. Involvement of p53 and Raf/MEK/ERK pathways in hematopoietic drug resistance. Leukemia 22, 2080–2090 (2008).

16.

Meyer, S. C. Mechanisms of resistance to JAK2 inhibitors in myeloproliferative neoplasms. Hematol. Oncol. Clin. North Am. 31, 627–642 (2017).

17.

Stivala, S. et al. Targeting compensatory MEK/ERK activation increases JAK inhibitor efficacy in myeloproliferative neoplasms. J. Clin. Invest. 129, 1596–1611 (2019).

18.

Humphrey, S. J., Karayel, O., James, D. E. & Mann, M. High-throughput and high-sensitivity phosphoproteomics with the EasyPhos platform. Nat. Protocols 13, 1897–1916 (2018).

19.

Kulak, N. A., Pichler, G., Paron, I., Nagaraj, N. & Mann, M. Minimal, encapsulated proteomic-sample processing applied to copy-number estimation in eukaryotic cells. Nat. Methods 11, 319–324 (2014).

20.

Cox, J. & Mann, M. MaxQuant enables high peptide identification rates, individualized p.p.b.-range mass accuracies and proteome-wide protein quantification. Nat. Biotechnol. 26, 1367–1372 (2008).

21.

Tyanova, S. & Cox, J. Perseus: a bioinformatics platform for integrative analysis of proteomics data in cancer research. Methods Mol. Biol. 1711, 133–148 (2018).

22.

Dobin, A. et al. STAR: ultrafast universal RNA-seq aligner. Bioinformatics 29, 15–21 (2013).

23.

Liao, Y., Smyth, G. K. & Shi, W. featureCounts: an efficient general purpose program for assigning sequence reads to genomic features. Bioinformatics 30, 923–930 (2014).

24.

Ritchie, M. E. et al. limma powers differential expression analyses for RNA-sequencing and microarray studies. Nucleic Acids Res. 43, e47 (2015).

25.

Romero, J. P. et al. EventPointer: an effective identification of alternative splicing events using junction arrays. BMC Genomics 17, 467 (2016).

26.

Schnöder, T. M. et al. Cell autonomous expression of CXCL-10 in JAK2V617F-mutated MPN. J. Cancer Res. Clin. Oncol. 143, 807–820 (2017).

27.

Webb, C. H. & Hertel, K. J. Preparation of splicing competent nuclear extracts. Methods Mol. Biol. 1126, 117–121 (2014).

28.

Uckelmann, H. J. et al. Therapeutic targeting of preleukemia cells in a mouse model of NPM1 mutant acute myeloid leukemia. Science 367, 586–590 (2020).

29.

Lu, Z. H., Books, J. T. & Ley, T. J. YB-1 is important for late-stage embryonic development, optimal cellular stress responses, and the prevention of premature senescence. Mol. Cell. Biol. 25, 4625–4637 (2005).

30.

Mullally, A. et al. Physiological Jak2V617F expression causes a lethal myeloproliferative neoplasm with differential effects on hematopoietic stem and progenitor cells. Cancer Cell 17, 584–596 (2010).

31.

Cosgun, K. N. et al. Kit regulates HSC engraftment across the human-mouse species barrier. Cell Stem Cell 15, 227–238 (2014).

32.

Schnöder, T. M. et al. Epo-induced erythroid maturation is dependent on Plcγ1 signaling. Cell Death Differ. 22, 974–985 (2015).

33.

Till, J. E. & McCULLOCH, E. A. A direct measurement of the radiation sensitivity of normal mouse bone marrow cells. Radiat. Res. 14, 213–222 (1961).

34.

Quintás-Cardama, A. et al. Preclinical characterization of the selective JAK1/2 inhibitor INCB018424: therapeutic implications for the treatment of myeloproliferative neoplasms. Blood 115, 3109–3117 (2010).

35.

Heidel, F. H. et al. The cell fate determinant Llgl1 influences HSC fitness and prognosis in AML. J. Exp. Med. 210, 15–22 (2013).

36.

Heidel, F. H. et al. Genetic and pharmacologic inhibition of β-catenin targets imatinib-resistant leukemia stem cells in CML. Cell Stem Cell 10, 412–424 (2012).

37.

Arreba-Tutusaus, P. et al. Impact of FLT3-ITD location on sensitivity to TKI-therapy in vitro and in vivo. Leukemia 30, 1220–1225 (2016).
Acknowledgements
We thank A. Fenske (Central Animal Facility, OvGU Magdeburg) and M. van der Wall (Central Animal Facility, University Hospital Jena) for support with animal care; the Animal Facility of the Leibniz Institute on Aging Jena for providing NSGW41 animals; R. Hartig (FACS Core Facility, Medical Faculty, and CRC854, OvGU Magdeburg) and K. Schubert (FACS Core Facility, Leibniz-Institute on Aging, Jena) for support with cell sorting, M. Milsom (DKFZ, Heidelberg) for providing constructs; S. Frey, A. Sammt and C. Kathner-Schaffert for technical assistance; K. Mayr, I. Paron and G. Sowa for their assistance and support in the mass spectrometry analysis (MPI Biochemistry); M. Driessen for RNA sequencing and S.-H. Yu for ChIP sequencing analysis (Bioinformatics Core Facility, MPI Biochemistry); and Th. Fischer (Magdeburg), K.L. Rudolph (Jena) and C. Müller-Tidow (Heidelberg) for helpful comments and discussions.
Ethics declarations
Competing interests
F.H.H. has served as an advisory board member for and received research funding from Novartis, Celgene and CTI. S.W.L. has served on an advisory board for Novartis Australia. A.H. received research support by Novartis, BMS, Pfizer, Incyte. A.M. has received honoraria from Blueprint Medicines, Roche and Incyte and receives research support from Janssen and Actuate Therapeutics. No potential conflicts of interest were disclosed by the other authors.
Additional information
Peer review information Nature thanks Fabienne Meier-Abt, Michael Yaffe and the other, anonymous, reviewer(s) for their contribution to the peer review of this work.
Publisher's note Springer Nature remains neutral with regard to jurisdictional claims in published maps and institutional affiliations.
Extended data figures and tables
Supplementary information
About this article
Cite this article
Jayavelu, A.K., Schnöder, T.M., Perner, F. et al. Splicing factor YBX1 mediates persistence of JAK2-mutated neoplasms. Nature 588, 157–163 (2020). https://doi.org/10.1038/s41586-020-2968-3
Received:

Accepted:

Published:

Issue Date:
Comments
By submitting a comment you agree to abide by our Terms and Community Guidelines. If you find something abusive or that does not comply with our terms or guidelines please flag it as inappropriate.