Abstract
Many-body physics describes phenomena that cannot be understood by looking only at the constituents of a system1. Striking examples are broken symmetry, phase transitions and collective excitations2. To understand how such collective behaviour emerges as a system is gradually assembled from individual particles has been a goal in atomic, nuclear and solid-state physics for decades3,4,5,6. Here we observe the few-body precursor of a quantum phase transition from a normal to a superfluid phase. The transition is signalled by the softening of the mode associated with amplitude vibrations of the order parameter, usually referred to as a Higgs mode7. We achieve fine control over ultracold fermions confined to two-dimensional harmonic potentials and prepare closed-shell configurations of 2, 6 and 12 fermionic atoms in the ground state with high fidelity. Spectroscopy is then performed on our mesoscopic system while tuning the pair energy from zero to a value larger than the shell spacing. Using full atom counting statistics, we find the lowest resonance to consist of coherently excited pairs only. The distinct non-monotonic interaction dependence of this many-body excitation, combined with comparison with numerical calculations allows us to identify it as the precursor of the Higgs mode. Our atomic simulator provides a way to study the emergence of collective phenomena and the thermodynamic limit, particle by particle.
Access options
Access Nature and 54 other Nature Portfolio journals
Get Nature+, our best-value online-access subscription
$29.99 / 30 days
cancel any time
Subscribe to this journal
Receive 51 print issues and online access
$199.00 per year
only $3.90 per issue
Rent or buy this article
Prices vary by article type
from$1.95
to$39.95
Prices may be subject to local taxes which are calculated during checkout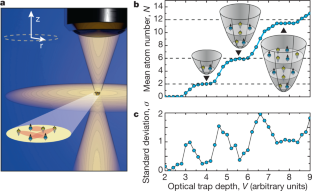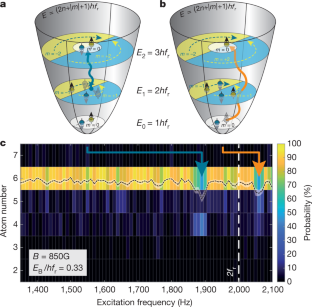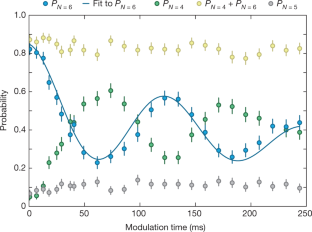 Data availability
The data that support the findings of this study are available from the corresponding authors upon reasonable request. Source data are provided with this paper.
References
Anderson, P. W. More is different. Science 177, 393–396 (1972).

Sachdev, S. Quantum Phase Transitions 2nd edn (Cambridge Univ. Press, 2011).

Bohr, A. & Mottelson, B. R. Nuclear Structure Vols. I, II (Benjamin, 1975).

Grebenev, S., Toennies, J. P. & Vilesov, A. F. Superfluidity within a small helium-4 cluster: the microscopic Andronikashvili experiment. Science 279, 2083–2086 (1998).

Wenz, A. N. et al. From few to many: observing the formation of a Fermi sea one atom at a time. Science 342, 457–460 (2013).

Launey, K. D. Emergent Phenomena in Atomic Nuclei from Large-Scale Modeling (World Scientific, 2017).

Bruun, G. M. Long-lived Higgs mode in a two-dimensional confined Fermi system. Phys. Rev. A 90, 023621 (2014).

Bloch, I., Dalibard, J. & Zwerger, W. Many-body physics with ultracold gases. Rev. Mod. Phys. 80, 885–964 (2008).

Bjerlin, J., Reimann, S. M. & Bruun, G. M. Few-body precursor of the Higgs mode in a Fermi gas. Phys. Rev. Lett. 116, 155302 (2016).

Sooryakumar, R. & Klein, M. V. Raman scattering by superconducting-gap excitations and their coupling to charge-density waves. Phys. Rev. Lett. 45, 660–662 (1980).

Rüegg, C. et al. Quantum magnets under pressure: controlling elementary excitations in TlCuCl3. Phys. Rev. Lett. 100, 205701 (2008).

Bissbort, U. et al. Detecting the amplitude mode of strongly interacting lattice bosons by Bragg scattering. Phys. Rev. Lett. 106, 205303 (2011).

Endres, M. et al. The 'Higgs' amplitude mode at the two-dimensional superfluid/Mott insulator transition. Nature 487, 454–458 (2012).

Matsunaga, R. et al. Higgs amplitude mode in the BCS superconductors Nb1−xTixN induced by terahertz pulse excitation. Phys. Rev. Lett. 111, 057002 (2013).

Léonard, J., Morales, A., Zupancic, P., Donner, T. & Esslinger, T. Monitoring and manipulating Higgs and Goldstone modes in a supersolid quantum gas. Science 358, 1415–1418 (2017).

Katsumi, K. et al. Higgs mode in the d-wave superconductor Bi2Sr2CaCu2O8+x driven by an intense terahertz pulse. Phys. Rev. Lett. 120, 117001 (2018).

Behrle, A. et al. Higgs mode in a strongly interacting fermionic superfluid. Nat. Phys. 14, 781–785 (2018).

Serwane, F. et al. Deterministic preparation of a tunable few-fermion system. Science 332, 336–338 (2011).

Kohmoto, M. & Takada, Y. Superconductivity from an insulator. J. Phys. Soc. Jpn 59, 1541–1544 (1990).

Nozières, P. & Pistolesi, F. From semiconductors to superconductors: a simple model for pseudogaps. Eur. Phys. J. B 10, 649–662 (1999).

Heiselberg, H. & Mottelson, B. Shell structure and pairing for interacting fermions in a trap. Phys. Rev. Lett. 88, 190401 (2002).

Bruun, G. M. Low-energy monopole modes of a trapped atomic Fermi gas. Phys. Rev. Lett. 89, 263002 (2002).

Rontani, M., Eriksson, G., Åberg, S. & Reimann, S. M. On the renormalization of contact interactions for the configuration-interaction method in two-dimensions. J. Phys. At. Mol. Opt. Phys. 50, 065301 (2017).

Zürn, G. et al. Precise characterization of 6Li Feshbach resonances using trap-sideband-resolved RF spectroscopy of weakly bound molecules. Phys. Rev. Lett. 110, 135301 (2013).

Randeria, M., Duan, J. M. & Shieh, L. Y. Superconductivity in a two-dimensional Fermi gas: evolution from Cooper pairing to Bose condensation. Phys. Rev. B 41, 327–343 (1990).

Idziaszek, Z. & Calarco, T. Analytical solutions for the dynamics of two trapped interacting ultracold atoms. Phys. Rev. A 74, 022712 (2006).

Bruun, G. M. & Mottelson, B. R. Low energy collective modes of a superfluid trapped atomic Fermi gas. Phys. Rev. Lett. 87, 270403 (2001).

D'Alessio, L., Kafri, Y., Polkovnikov, A. & Rigol, M. From quantum chaos and eigenstate thermalization to statistical mechanics and thermodynamics. Adv. Phys. 65, 239–362 (2016).

Cremon, J. Quantum Few-Body Physics with the Configuration Interaction Approach: Method Development and Application to Physical Systems. Ph.D. thesis, Lund University (2010).

Hu, H., Mulkerin, B. C., Toniolo, U., He, L. & Liu, X.-J. Reduced quantum anomaly in a quasi-two-dimensional fermi superfluid: significance of the confinement-induced effective range of interactions. Phys. Rev. Lett. 122, 070401 (2019).
Acknowledgements
The experimental work has been supported by the ERC consolidator grant 725636, the Heidelberg Center for Quantum Dynamics, the DFG Collaborative Research Centre SFB 1225 (ISOQUANT) and the European Union's Horizon 2020 research and innovation programme under grant agreement number 817482 PASQuanS. K.S. acknowledges support by the Landesgraduiertenförderung Baden-Württemberg. P.M.P. acknowledges funding from the Daimler and Benz Foundation. S.M.R. and J.B. acknowledge financial support by the Swedish Research Council, the Knut and Alice Wallenberg Foundation and NanoLund. G.M.B. acknowledges financial support from the Independent Research Fund Denmark—Natural Sciences via grant number DFF-8021-00233B and the Danish National Research Foundation through the Center of Excellence "CCQ" (grant agreement number DNRF156).
Ethics declarations
Competing interests
The authors declare no competing interests.
Additional information
Peer review information Nature thanks Hui Hu and the other, anonymous, reviewer(s) for their contribution to the peer review of this work. Peer reviewer reports are available.
Publisher's note Springer Nature remains neutral with regard to jurisdictional claims in published maps and institutional affiliations.
Extended data figures and tables
Supplementary information
About this article
Cite this article
Bayha, L., Holten, M., Klemt, R. et al. Observing the emergence of a quantum phase transition shell by shell. Nature 587, 583–587 (2020). https://doi.org/10.1038/s41586-020-2936-y
Received:

Accepted:

Published:

Issue Date:

DOI: https://doi.org/10.1038/s41586-020-2936-y
This article is cited by
Marvin Holten
Luca Bayha
Selim Jochim

Nature (2022)

Adam M. Kaufman
Kang-Kuen Ni

Nature Physics (2021)
Comments
By submitting a comment you agree to abide by our Terms and Community Guidelines. If you find something abusive or that does not comply with our terms or guidelines please flag it as inappropriate.