Abstract
Cholesterol is an essential lipid and its synthesis is nutritionally and energetically costly1,2. In mammals, cholesterol biosynthesis increases after feeding and is inhibited under fasting conditions3. However, the regulatory mechanisms of cholesterol biosynthesis at the fasting–feeding transition remain poorly understood. Here we show that the deubiquitylase ubiquitin-specific peptidase 20 (USP20) stabilizes HMG-CoA reductase (HMGCR), the rate-limiting enzyme in the cholesterol biosynthetic pathway, in the feeding state. The post-prandial increase in insulin and glucose concentration stimulates mTORC1 to phosphorylate USP20 at S132 and S134; USP20 is recruited to the HMGCR complex and antagonizes its degradation. The feeding-induced stabilization of HMGCR is abolished in mice with liver-specific Usp20 deletion and in USP20(S132A/S134A) knock-in mice. Genetic deletion or pharmacological inhibition of USP20 markedly decreases diet-induced body weight gain, reduces lipid levels in the serum and liver, improves insulin sensitivity and increases energy expenditure. These metabolic changes are reversed by expression of the constitutively stable HMGCR(K248R). This study reveals an unexpected regulatory axis from mTORC1 to HMGCR via USP20 phosphorylation and suggests that inhibitors of USP20 could be used to lower cholesterol levels to treat metabolic diseases including hyperlipidaemia, liver steatosis, obesity and diabetes.
Your institute does not have access to this article
Relevant articles
Open Access articles citing this article.
Yunxia Dong

,

Chuwei Yu

…

Jin Ren

Molecular Biomedicine Open Access 10 August 2022

Yajun Duan

,

Ke Gong

…

Jihong Han

Signal Transduction and Targeted Therapy Open Access 02 August 2022

Ming He

,

Chaoguo Cao

…

Yu Rao

Signal Transduction and Targeted Therapy Open Access 09 June 2022
Access options
Subscribe to Nature+
Get immediate online access to the entire Nature family of 50+ journals
Subscribe to Journal
Get full journal access for 1 year
$199.00
only $3.90 per issue
All prices are NET prices.
VAT will be added later in the checkout.
Tax calculation will be finalised during checkout.
Buy article
Get time limited or full article access on ReadCube.
$32.00
All prices are NET prices.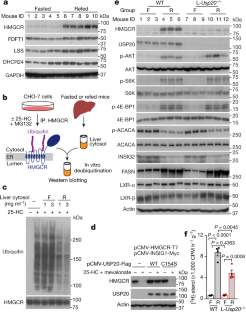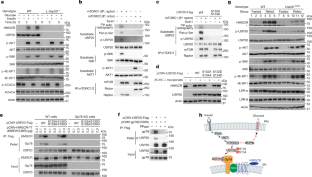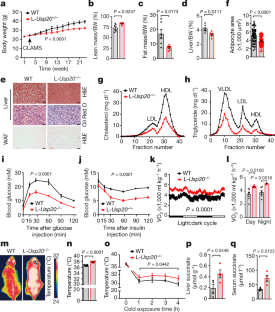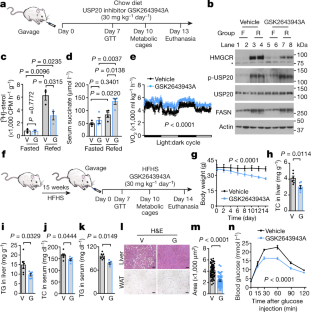 Data availability
All source data for immunoblotting are shown in Supplementary Fig. 1. Source data are provided with this paper.
References
Luo, J., Yang, H. & Song, B. L. Mechanisms and regulation of cholesterol homeostasis. Nat. Rev. Mol. Cell Biol. 21, 225–245 (2020).

Repa, J. J. & Mangelsdorf, D. J. The role of orphan nuclear receptors in the regulation of cholesterol homeostasis. Annu. Rev. Cell Dev. Biol. 16, 459–481 (2000).

Edwards, P. A., Muroya, H. & Gould, R. G. In vivo demonstration of the circadian thythm of cholesterol biosynthesis in the liver and intestine of the rat. J. Lipid Res. 13, 396–401 (1972).

Porter, J. A., Young, K. E. & Beachy, P. A. Cholesterol modification of hedgehog signaling proteins in animal development. Science 274, 255–259 (1996).

Xiao, X. et al. Cholesterol modification of smoothened is required for hedgehog signaling. Mol. Cell 66, 154–162 (2017).

Hu, A. & Song, B. L. The interplay of Patched, Smoothened and cholesterol in Hedgehog signaling. Curr. Opin. Cell Biol. 61, 31–38 (2019).

Chen, L. et al. Regulation of glucose and lipid metabolism in health and disease. Sci. China Life Sci. 60, 1765–1775 (2019).

Goldstein, J. L. & Brown, M. S. Regulation of the mevalonate pathway. Nature 343, 425–430 (1990).

Brown, M. S. & Goldstein, J. L. The SREBP pathway: regulation of cholesterol metabolism by proteolysis of a membrane-bound transcription factor. Cell 89, 331–340 (1997).

DeBose-Boyd, R. A. & Ye, J. SREBPs in lipid metabolism, insulin signaling, and beyond. Trends Biochem. Sci. 43, 358–368 (2018).

Cahill, G. F., Jr. Fuel metabolism in starvation. Annu. Rev. Nutr. 26, 1–22 (2006).

Song, B. L., Sever, N. & DeBose-Boyd, R. A. Gp78, a membrane-anchored ubiquitin ligase, associates with Insig-1 and couples sterol-regulated ubiquitination to degradation of HMG CoA reductase. Mol. Cell 19, 829–840 (2005).

Liu, T.-F. et al. Ablation of gp78 in liver improves hyperlipidemia and insulin resistance by inhibiting SREBP to decrease lipid biosynthesis. Cell Metab. 16, 213–225 (2012).

Jiang, L. Y. et al. Ring finger protein 145 (RNF145) is a ubiquitin ligase for sterol-induced degradation of HMG-CoA reductase. J. Biol. Chem. 293, 4047–4055 (2018).

Song, B.-L. & DeBose-Boyd, R. A. Ubiquitination of 3-hydroxy-3-methylglutaryl-CoA reductase in permeabilized cells mediated by cytosolic E1 and a putative membrane-bound ubiquitin ligase. J. Biol. Chem. 279, 28798–28806 (2004).

Song, B.-L., Javitt, N. B. & DeBose-Boyd, R. A. Insig-mediated degradation of HMG CoA reductase stimulated by lanosterol, an intermediate in the synthesis of cholesterol. Cell Metab. 1, 179–189 (2005).

Cao, J. et al. Ufd1 is a cofactor of gp78 and plays a key role in cholesterol metabolism by regulating the stability of HMG-CoA reductase. Cell Metab. 6, 115–128 (2007).

Nijman, S. M. B. et al. A genomic and functional inventory of deubiquitinating enzymes. Cell 123, 773–786 (2005).

Sever, N. et al. Insig-dependent ubiquitination and degradation of mammalian 3-hydroxy-3-methylglutaryl-CoA reductase stimulated by sterols and geranylgeraniol. J. Biol. Chem. 278, 52479–52490 (2003).

Rong, S. et al. Expression of SREBP-1c requires SREBP-2-mediated generation of a sterol ligand for LXR in livers of mice. eLife 6, e25015 (2017).

Yang, C. et al. Sterol intermediates from cholesterol biosynthetic pathway as liver X receptor ligands. J. Biol. Chem. 281, 27816–27826 (2006).

Hillgartner, F. B., Salati, L. M. & Goodridge, A. G. Physiological and molecular mechanisms involved in nutritional regulation of fatty acid synthesis. Physiol. Rev. 75, 47–76 (1995).

Li, S., Brown, M. S. & Goldstein, J. L. Bifurcation of insulin signaling pathway in rat liver: mTORC1 required for stimulation of lipogenesis, but not inhibition of gluconeogenesis. Proc. Natl Acad. Sci. USA 107, 3441–3446 (2010).

Condon, K. J. & Sabatini, D. M. Nutrient regulation of mTORC1 at a glance. J. Cell Sci. 132, 222570 (2019).

Gwinn, D. M. et al. AMPK phosphorylation of raptor mediates a metabolic checkpoint. Mol. Cell 30, 214–226 (2008).

Inoki, K., Zhu, T. & Guan, K. L. TSC2 mediates cellular energy response to control cell growth and survival. Cell 115, 577–590 (2003).

González, A., Hall, M. N., Lin, S. C. & Hardie, D. G. AMPK and TOR: the yin and yang of cellular nutrient sensing and growth control. Cell Metab. 31, 472–492 (2020).

Inoki, K., Kim, J. & Guan, K. L. AMPK and mTOR in cellular energy homeostasis and drug targets. Annu. Rev. Pharmacol. Toxicol. 52, 381–400 (2012).

Yu, Y. et al. Phosphoproteomic analysis identifies Grb10 as an mTORC1 substrate that negatively regulates insulin signaling. Science 332, 1322–1326 (2011).

Hsu, P. P. et al. The mTOR-regulated phosphoproteome reveals a mechanism of mTORC1-mediated inhibition of growth factor signaling. Science 332, 1317–1322 (2011).

Arnedo, M. et al. More than one HMG-CoA lyase: The classical mitochondrial enzyme plus the peroxisomal and the cytosolic ones. Int. J. Mol. Sci. 20, 6124 (2019).

Puchalska, P. et al. Hepatocyte–macrophage acetoacetate shuttle protects against tissue fibrosis. Cell Metab. 29, 383–398.e7 (2019).

Mills, E. L. et al. Accumulation of succinate controls activation of adipose tissue thermogenesis. Nature 560, 102–106 (2018).

Liu, K. et al. Scd1 controls de novo beige fat biogenesis through succinate-dependent regulation of mitochondrial complex II. Proc. Natl Acad. Sci. USA 117, 2462–2472 (2020).

Harrigan, J. A., Jacq, X., Martin, N. M. & Jackson, S. P. Deubiquitylating enzymes and drug discovery: emerging opportunities. Nat. Rev. Drug Discov. 17, 57–78 (2018).

Paseban, M., Butler, A. E. & Sahebkar, A. Mechanisms of statin-induced new-onset diabetes. J. Cell. Physiol. 234, 12551–12561 (2019).

Balaz, M. et al. Inhibition of mevalonate pathway prevents adipocyte browning in mice and men by affecting protein prenylation. Cell Metab. 29, 901–916.e8 (2019).
Acknowledgements
We thank D. Liang and B.-Y. Xiang for technical assistance; Y. Qiu and S. Fu for reagents; and X. Zhou and L. Deng for bomb calorimetry. This work was supported by grants from the National Natural Science Foundation China (91957103, 91954203, 31690102 and 32021003) and Ministry of Science and Technology China (2016YFA0500100). B.-L.S. acknowledges the support from the Tencent Foundation through the Xplorer Prize.
Ethics declarations
Competing interests
The authors declare no competing interests.
Additional information
Peer review information Nature thanks Wayne Hancock and the other, anonymous, reviewer(s) for their contribution to the peer review of this work.
Publisher's note Springer Nature remains neutral with regard to jurisdictional claims in published maps and institutional affiliations.
Extended data figures and tables
Supplementary information
This file contains Supplementary Fig. 1 (raw gel data) and Supplementary Table 1 (a list of the sequences of primers and siRNAs).
About this article
Cite this article
Lu, XY., Shi, XJ., Hu, A. et al. Feeding induces cholesterol biosynthesis via the mTORC1–USP20–HMGCR axis. Nature 588, 479–484 (2020). https://doi.org/10.1038/s41586-020-2928-y
Received:

Accepted:

Published:

Issue Date:

DOI: https://doi.org/10.1038/s41586-020-2928-y
Comments
By submitting a comment you agree to abide by our Terms and Community Guidelines. If you find something abusive or that does not comply with our terms or guidelines please flag it as inappropriate.