Abstract
The quantum spin properties of nitrogen-vacancy defects in diamond enable diverse applications in quantum computing and communications1. However, fluorescent nanodiamonds also have attractive properties for in vitro biosensing, including brightness2, low cost3 and selective manipulation of their emission4. Nanoparticle-based biosensors are essential for the early detection of disease, but they often lack the required sensitivity. Here we investigate fluorescent nanodiamonds as an ultrasensitive label for in vitro diagnostics, using a microwave field to modulate emission intensity5 and frequency-domain analysis6 to separate the signal from background autofluorescence7, which typically limits sensitivity. Focusing on the widely used, low-cost lateral flow format as an exemplar, we achieve a detection limit of 8.2 × 10−19 molar for a biotin–avidin model, 105 times more sensitive than that obtained using gold nanoparticles. Single-copy detection of HIV-1 RNA can be achieved with the addition of a 10-minute isothermal amplification step, and is further demonstrated using a clinical plasma sample with an extraction step. This ultrasensitive quantum diagnostics platform is applicable to numerous diagnostic test formats and diseases, and has the potential to transform early diagnosis of disease for the benefit of patients and populations.
Relevant articles
Open Access articles citing this article.
Ziwei Qiu

,

Assaf Hamo

…

Amir Yacoby

npj Quantum Information Open Access 09 September 2022

Terumitsu Azuma

,

Yuen Yung Hui

…

Huan-Cheng Chang

Scientific Reports Open Access 10 March 2022
Access options
Subscribe to Nature+
Get immediate online access to Nature and 55 other Nature journal
Subscribe to Journal
Get full journal access for 1 year
$199.00
only $3.90 per issue
All prices are NET prices.
VAT will be added later in the checkout.
Tax calculation will be finalised during checkout.
Buy article
Get time limited or full article access on ReadCube.
$32.00
All prices are NET prices.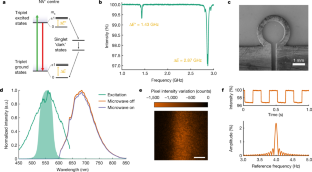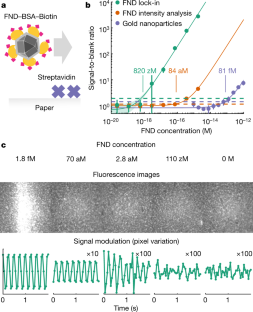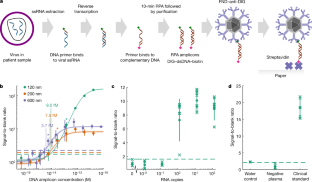 Data availability
The datasets generated during and/or analysed during the current study, and the computer code used are available from the corresponding author on reasonable request, in line with the requirements of UCL and the funder (EPSRC policy framework on research data).
References
Childress, L. & Hanson, R. Diamond NV centers for quantum computing and quantum networks. MRS Bull. 38, 134–138 (2013).

Mochalin, V. N., Shenderova, O., Ho, D. & Gogotsi, Y. The properties and applications of nanodiamonds. Nat. Nanotechnol. 7, 11–23 (2012).

Boudou, J.-P. et al. High yield fabrication of fluorescent nanodiamonds. Nanotechnology 20, 235602 (2009).

Schirhagl, R., Chang, K., Loretz, M. & Degen, C. L. Nitrogen-vacancy centers in diamond: nanoscale sensors for physics and biology. Annu. Rev. Phys. Chem. 65, 83–105 (2014).

Igarashi, R. et al. Real-time background-free selective imaging of fluorescent nanodiamonds in vivo. Nano Lett. 12, 5726–5732 (2012).

Leis, J., Martin, P. & Buttsworth, D. Simplified digital lock-in amplifier algorithm. Electron. Lett. 48, 259 (2012).

Shah, K. G. & Yager, P. Wavelengths and lifetimes of paper autofluorescence: a simple substrate screening process to enhance the sensitivity of fluorescence-based assays in paper. Anal. Chem. 89, 12023–12029 (2017).

Childress, L. et al. Coherent dynamics of coupled electron and nuclear spin qubits in diamond. Science 314, 281–285 (2006).

Chang, H.-C., Hsiao, W. W.-W. & Su, M.-C. Fluorescent Nanodiamonds Ch. 11 (Wiley, 2018).

Yu, S. J., Kang, M. W., Chang, H. C., Chen, K. M. & Yu, Y. C. Bright fluorescent nanodiamonds: no photobleaching and low cytotoxicity. J. Am. Chem. Soc. 127, 17604–17605 (2005).

Shenderova, O. A. & McGuire, G. E. Science and engineering of nanodiamond particle surfaces for biological applications (review). Biointerphases 10, 030802 (2015).

Chang, Y. R. et al. Mass production and dynamic imaging of fluorescent nanodiamonds. Nat. Nanotechnol. 3, 284–288 (2008).

Maze, J. R. et al. Nanoscale magnetic sensing with an individual electronic spin in diamond. Nature 455, 644–647 (2008).

Balasubramanian, G. et al. Nanoscale imaging magnetometry with diamond spins under ambient conditions. Nature 455, 648–651 (2008).

Tetienne, J. P. et al. Magnetic-field-dependent photodynamics of single NV defects in diamond: An application to qualitative all-optical magnetic imaging. New J. Phys. 14, 103033 (2012).

Acosta, V. M. et al. Temperature dependence of the nitrogen-vacancy magnetic resonance in diamond. Phys. Rev. Lett. 104, 070801 (2010).

Hsiao, W. W. W., Hui, Y. Y., Tsai, P. C. & Chang, H. C. Fluorescent nanodiamond: a versatile tool for long-term cell tracking, super-resolution imaging, and nanoscale temperature sensing. Acc. Chem. Res. 49, 400–407 (2016).

Vaijayanthimala, V. & Chang, H.-C. Functionalized fluorescent nanodiamonds for biomedical applications. Nanomedicine 4, 47–55 (2009).

Fu, C.-C. et al. Characterization and application of single fluorescent nanodiamonds as cellular biomarkers. Proc. Natl Acad. Sci. USA 104, 727–732 (2007).

Chang, B. M. et al. Highly fluorescent nanodiamonds protein-functionalized for cell labeling and targeting. Adv. Funct. Mater. 23, 5737–5745 (2013).

Waddington, D. E. et al. Nanodiamond-enhanced MRI via in situ hyperpolarization. Nat. Commun. 8, 15118 (2017).

Hegyi, A. & Yablonovitch, E. Molecular imaging by optically detected electron spin resonance of nitrogen-vacancies in nanodiamonds. Nano Lett. 13, 1173–1178 (2013).

Sarkar, S. K. et al. Wide-field in vivo background free imaging by selective magnetic modulation of nanodiamond fluorescence. Biomed. Opt. Express 5, 1190 (2014).

Chapman, R. & Plakhoitnik, T. Background-free imaging of luminescent nanodiamonds using external magnetic field for contrast enhancement. Opt. Lett. 38, 1847 (2013).

Doronina-Amitonova, L., Fedotov, I. & Zheltikov, A. Ultrahigh-contrast imaging by temporally modulated stimulated emission depletion. Opt. Lett. 40, 725 (2015).

Bhutta, Z. A., Sommerfeld, J., Lassi, Z. S., Salam, R. A. & Das, J. K. Global burden, distribution, and interventions for infectious diseases of poverty. Infect. Dis. Poverty 3, 21 (2014).

Global HIV & AIDS statistics — 2018 fact sheet. https://www.unaids.org/en/resources/fact-sheet (UNAIDS, 2018).

May, M. et al. Impact of late diagnosis and treatment on life expectancy in people with HIV-1: UK Collaborative HIV Cohort (UK CHIC) Study. Br. Med. J. 343, d6016 (2011).

Gray, E. R. et al. p24 revisited: a landscape review of antigen detection for early HIV diagnosis. AIDS 32, 2089–2102 (2018).

Price, C. P. Point of care testing. Br. Med. J. 322, 1285–1288 (2001).

World Malaria Report. https://www.who.int/malaria/publications/world-malaria-report-2018/en/ (WHO, 2018).

Land, K. J., Boeras, D. I., Chen, X. S., Ramsay, A. R. & Peeling, R. W. REASSURED diagnostics to inform disease control strategies, strengthen health systems and improve patient outcomes. Nat. Microbiol. 4, 46–54 (2019).

Walter, J. G. et al. Protein microarrays: reduced autofluorescence and improved LOD. Eng. Life Sci. 10, 103–108 (2010).

Kim, J. et al. Rapid and background-free detection of avian influenza virus in opaque sample using NIR-to-NIR upconversion nanoparticle-based lateral flow immunoassay platform. Biosens. Bioelectron. 112, 209–215 (2018).

Paterson, A. S. et al. A low-cost smartphone-based platform for highly sensitive point-of-care testing with persistent luminescent phosphors. Lab Chip 17, 1051–1059 (2017).

Boudou, J. P., David, M. O., Joshi, V., Eidi, H. & Curmi, P. A. Hyperbranched polyglycerol modified fluorescent nanodiamond for biomedical research. Diamond Relat. Mater. 38, 131–138 (2013).

Hermanson, G. T. Zero-length crosslinkers. In Bioconjugate Techniques 3rd edn (ed. Hermanson, G. T.) Ch. 4 (Academic, 2013).

González Flecha, F. L. & Levi, V. Determination of the molecular size of BSA by fluorescence anisotropy. Biochem. Mol. Biol. Educ. 31, 319–322 (2003).

Reth, M. Matching cellular dimensions with molecular sizes. Nat. Immunol. 14, 765–767 (2013).

Ngom, B., Guo, Y., Wang, X. & Bi, D. Development and application of lateral flow test strip technology for detection of infectious agents and chemical contaminants: a review. Anal. Bioanal. Chem. 397, 1113–1135 (2010).

Armbruster, D. A. & Pry, T. Limit of blank, limit of detection and limit of quantitation. Clin. Biochem. Rev. 29, S49–S52 (2008).

Daher, R. K., Stewart, G., Boissinot, M. & Bergeron, M. G. Recombinase polymerase amplification for diagnostic applications. Clin. Chem. 62, 947–958 (2016).

Lillis, L. et al. Cross-subtype detection of HIV-1 using reverse transcription and recombinase polymerase amplification. J. Virol. Methods 230, 28–35 (2016).

Crannell, Z. A., Rohrman, B. & Richards-Kortum, R. Equipment-free incubation of recombinase polymerase amplification reactions using body heat. PLoS ONE 9, e112146 (2014).

Rohrman, B. A. & Richards-Kortum, R. R. A paper and plastic device for performing recombinase polymerase amplification of HIV DNA. Lab Chip 12, 3082 (2012).

Boyle, D. S., Lehman, D. A. & Lillis, L. Rapid detection of HIV-1 proviral DNA for early infant diagnosis using rapid detection of HIV-1 proviral DNA for early infant diagnosis. MBio 4, e00135-13 (2013).

Dineva, M. A., Mahilum-Tapay, L. & Lee, H. Sample preparation: a challenge in the development of point-of-care nucleic acid-based assays for resource-limited settings. Analyst 132, 1193 (2007).

Jauset-Rubio, M. et al. Ultrasensitive, rapid and inexpensive detection of DNA using paper based lateral flow assay. Sci. Rep. 6, 37732 (2016).

Phillips, A. et al. Sustainable HIV treatment in Africa through viral-load-informed differentiated care. Nature 528, S68–S76 (2015).

Kuo, Y., Hsu, T.-Y., Wu, Y.-C., Hsu, J.-H. & Chang, H.-C. Fluorescence lifetime imaging microscopy of nanodiamonds in vivo. In Proc. Advances in Photonics of Quantum Computing, Memory, and Communication VI Vol. 8635, 863503 (SPIE, 2013).

Kim, E. Y. et al. A real-time PCR-based method for determining the surface coverage of thiol-capped oligonucleotides bound onto gold nanoparticles. Nucleic Acids Res. 34, e54 (2006).

Besnier, C., Takeuchi, Y. & Towers, G. Restriction of lentivirus in monkeys. Proc. Natl Acad. Sci. USA 99, 11920–11925 (2002).

Bainbridge, J. W. et al. In vivo gene transfer to the mouse eye using an HIV-based lentiviral vector; efficient long-term transduction of cornealendothelium and retinal pigment epithelium. Gene Ther. 8, 1665–1668 (2001).

Foley, B. et al. HIV Sequence Compendium 2017. LA-UR-18-25673 (Los Alamos National Laboratory, 2018).

Kong, J. & Yu, S. Fourier transform infrared spectroscopic analysis of protein secondary structures. Acta Biochim. Biophys. Sin. (Shanghai) 39, 549–559 (2007).

Zadeh, J. N. et al. NUPACK: Analysis and design of nucleic acid systems. J. Comput. Chem. 32, 170–173 (2011).

SantaLucia, J. A unified view of polymer, dumbbell, and oligonucleotide DNA nearest-neighbor thermodynamics. Proc. Natl Acad. Sci. USA 95, 1460–1465 (1998).

Laitinen, M. P. & Vuento, M. Affinity immunosensor for milk progesterone: Identification of critical parameters. Biosens. Bioelectron. 11, 1207–1214 (1996).
Acknowledgements
We thank M. Schormans for help with circuit design, M. Thomas for assistance with dynamic light scattering measurements and M. Towner for assistance with FTIR measurements. This work was funded by the i-sense EPSRC IRC in Early Warning Sensing Systems for Infectious Diseases (EP/K031953/1); i-sense EPSRC IRC in Agile Early Warning Sensing Systems in Infectious Diseases and Antimicrobial Resistance (EP/R00529X/1); the National Institute for Health Research University College London Hospitals Biomedical Research Centre; Royal Society Wolfson Research Merit Award to R.A.M. (WM130111); LCN Departmental Studentship to B.S.M.; EPSRC Centre for Doctoral Training in Delivering Quantum Technologies to G.D. (EP/L015242/1); H2020 European Research Council Local quantum operations achieved through the motion of spins to J.J.L.M. (771493); and the UCLH NHS Foundation Trust to J.H. and E.N.
Ethics declarations
Competing interests
B.S.M., L.B., G.D., P.J.D., J.J.L.M. and R.A.M. are inventors on the UK patent application number 1814532.6 filed by University College London Business.
Additional information
Peer review information Nature thanks Takuya Segawa and the other, anonymous, reviewer(s) for their contribution to the peer review of this work.
Publisher's note Springer Nature remains neutral with regard to jurisdictional claims in published maps and institutional affiliations.
Extended data figures and tables
Supplementary information
This file contains Supplementary Methods for Extended Data Figures: quantification of antibody binding constants, modelling of FND concentration, simulation of FND size distributions, antigen detection, qRT-PCR; and three Supplementary Tables summarizing estimated costs; comparing FNDs with other fluorescent reporters; and total assay time taken and outlook towards a point-of-care test.
About this article
Cite this article
Miller, B.S., Bezinge, L., Gliddon, H.D. et al. Spin-enhanced nanodiamond biosensing for ultrasensitive diagnostics. Nature 587, 588–593 (2020). https://doi.org/10.1038/s41586-020-2917-1
Received:

Accepted:

Published:

Issue Date:

DOI: https://doi.org/10.1038/s41586-020-2917-1
Comments
By submitting a comment you agree to abide by our Terms and Community Guidelines. If you find something abusive or that does not comply with our terms or guidelines please flag it as inappropriate.