Abstract
Venezuelan equine encephalitis virus (VEEV) is a neurotropic alphavirus transmitted by mosquitoes that causes encephalitis and death in humans1. VEEV is a biodefence concern because of its potential for aerosol spread and the current lack of sufficient countermeasures. The host factors that are required for VEEV entry and infection remain poorly characterized. Here, using a genome-wide CRISPR–Cas9-based screen, we identify low-density lipoprotein receptor class A domain-containing 3 (LDLRAD3)—a highly conserved yet poorly characterized member of the scavenger receptor superfamily—as a receptor for VEEV. Gene editing of mouse Ldlrad3 or human LDLRAD3 results in markedly reduced viral infection of neuronal cells, which is restored upon complementation with LDLRAD3. LDLRAD3 binds directly to VEEV particles and enhances virus attachment and internalization into host cells. Genetic studies indicate that domain 1 of LDLRAD3 (LDLRAD3(D1)) is necessary and sufficient to support infection by VEEV, and both anti-LDLRAD3 antibodies and an LDLRAD3(D1)–Fc fusion protein block VEEV infection in cell culture. The pathogenesis of VEEV infection is abrogated in mice with deletions in Ldlrad3, and administration of LDLRAD3(D1)–Fc abolishes disease caused by several subtypes of VEEV, including highly virulent strains. The development of a decoy-receptor fusion protein suggests a strategy for the prevention of severe VEEV infection and associated disease in humans.
Relevant articles
Open Access articles citing this article.
Anushka Ramjag

,

Sergej Cutrone

…

Graham Simmons

Virology Journal Open Access 29 October 2022

Katherine Basore

,

Hongming Ma

…

Daved H. Fremont

Nature Open Access 13 October 2021
Access options
Subscribe to Nature+
Get immediate online access to Nature and 55 other Nature journal
Subscribe to Journal
Get full journal access for 1 year
$199.00
only $3.90 per issue
All prices are NET prices.
VAT will be added later in the checkout.
Tax calculation will be finalised during checkout.
Buy article
Get time limited or full article access on ReadCube.
$32.00
All prices are NET prices.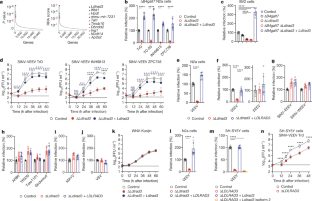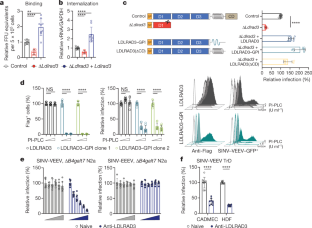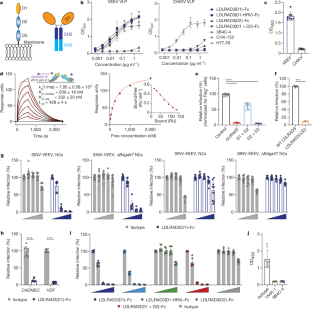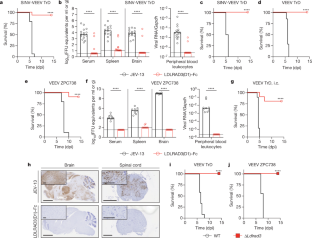 Data availability
All data that support the findings of this study are available within the Article and its Supplementary Information. The Supplementary Tables provide data for the CRISPR–Cas9 screen. Any other relevant data are available from the corresponding author upon reasonable request. Source data are provided with this paper.
References
Sharma, A. & Knollmann-Ritschel, B. Current understanding of the molecular basis of Venezuelan equine encephalitis virus pathogenesis and vaccine development. Viruses 11, 164 (2019).

Weaver, S. C. & Barrett, A. D. Transmission cycles, host range, evolution and emergence of arboviral disease. Nat. Rev. Microbiol. 2, 789–801 (2004).

Aguilar, P. V. et al. Endemic Venezuelan equine encephalitis in the Americas: hidden under the dengue umbrella. Future Virol. 6, 721–740 (2011).

Zhang, R. et al. Mxra8 is a receptor for multiple arthritogenic alphaviruses. Nature 557, 570–574 (2018).

Basore, K. et al. Cryo-EM structure of Chikungunya virus in complex with the Mxra8 receptor. Cell 177, 1725–1737.e16 (2019).

Malygin, A. A. et al. C-terminal fragment of human laminin-binding protein contains a receptor domain for Venezuelan equine encephalitis and tick-borne encephalitis viruses. Biochemistry (Mosc) 74, 1328–1336 (2009).

Ludwig, G. V., Kondig, J. P. & Smith, J. F. A putative receptor for Venezuelan equine encephalitis virus from mosquito cells. J. Virol. 70, 5592–5599 (1996).

Klimstra, W. B., Nangle, E. M., Smith, M. S., Yurochko, A. D. & Ryman, K. D. DC-SIGN and L-SIGN can act as attachment receptors for alphaviruses and distinguish between mosquito cell- and mammalian cell-derived viruses. J. Virol. 77, 12022–12032 (2003).

Bernard, K. A., Klimstra, W. B. & Johnston, R. E. Mutations in the E2 glycoprotein of Venezuelan equine encephalitis virus confer heparan sulfate interaction, low morbidity, and rapid clearance from blood of mice. Virology 276, 93–103 (2000).

Yin, J., Gardner, C. L., Burke, C. W., Ryman, K. D. & Klimstra, W. B. Similarities and differences in antagonism of neuron alpha/beta interferon responses by Venezuelan equine encephalitis and Sindbis alphaviruses. J. Virol. 83, 10036–10047 (2009).

Ryman, K. D. et al. Heparan sulfate binding can contribute to the neurovirulence of neuroadapted and nonneuroadapted Sindbis viruses. J. Virol. 81, 3563–3573 (2007).

Gardner, C. L., Ebel, G. D., Ryman, K. D. & Klimstra, W. B. Heparan sulfate binding by natural eastern equine encephalitis viruses promotes neurovirulence. Proc. Natl Acad. Sci. USA 108, 16026–16031 (2011).

Tanaka, A. et al. Genome-wide screening uncovers the significance of N-sulfation of heparan sulfate as a host cell factor for Chikungunya virus infection. J. Virol. 91, e00432-17 (2017).

Li, W. et al. MAGeCK enables robust identification of essential genes from genome-scale CRISPR/Cas9 knockout screens. Genome Biol. 15, 554 (2014).

Diez-Roux, G. et al. A high-resolution anatomical atlas of the transcriptome in the mouse embryo. PLoS Biol. 9, e1000582 (2011).

Ranganathan, S. et al. LRAD3, a novel low-density lipoprotein receptor family member that modulates amyloid precursor protein trafficking. J. Neurosci. 31, 10836–10846 (2011).

Noyes, N. C., Hampton, B., Migliorini, M. & Strickland, D. K. Regulation of itch and Nedd4 E3 ligase activity and degradation by LRAD3. Biochemistry 55, 1204–1213 (2016).

Smith, S. A. et al. Isolation and characterization of broad and ultrapotent human monoclonal antibodies with therapeutic activity against Chikungunya virus. Cell Host Microbe 18, 86–95 (2015).

Ryman, K. D., Meier, K. C., Gardner, C. L., Adegboyega, P. A. & Klimstra, W. B. Non-pathogenic Sindbis virus causes hemorrhagic fever in the absence of alpha/beta and gamma interferons. Virology 368, 273–285 (2007).

Sun, C., Gardner, C. L., Watson, A. M., Ryman, K. D. & Klimstra, W. B. Stable, high-level expression of reporter proteins from improved alphavirus expression vectors to track replication and dissemination during encephalitic and arthritogenic disease. J. Virol. 88, 2035–2046 (2014).

Davis, N. L., Willis, L. V., Smith, J. F. & Johnston, R. E. In vitro synthesis of infectious Venezuelan equine encephalitis virus RNA from a cDNA clone: analysis of a viable deletion mutant. Virology 171, 189–204 (1989).

Kinney, R. M. et al. Attenuation of Venezuelan equine encephalitis virus strain TC-83 is encoded by the 5′-noncoding region and the E2 envelope glycoprotein. J. Virol. 67, 1269–1277 (1993).

Anishchenko, M. et al. Generation and characterization of closely related epizootic and enzootic infectious cDNA clones for studying interferon sensitivity and emergence mechanisms of Venezuelan equine encephalitis virus. J. Virol. 78, 1–8 (2004).

Kim, A. S. et al. Protective antibodies against Eastern equine encephalitis virus bind to epitopes in domains A and B of the E2 glycoprotein. Nat. Microbiol. 4, 187–197 (2019).

Lubman, O. Y. et al. Rodent herpesvirus Peru encodes a secreted chemokine decoy receptor. J. Virol. 88, 538–546 (2014).

Sanjana, N. E., Shalem, O. & Zhang, F. Improved vectors and genome-wide libraries for CRISPR screening. Nat. Methods 11, 783–784 (2014).

Willnow, T. E. et al. RAP, a specialized chaperone, prevents ligand-induced ER retention and degradation of LDL receptor-related endocytic receptors. EMBO J. 15, 2632–2639 (1996).

Ko, S. Y. et al. A virus-like particle vaccine prevents equine encephalitis virus infection in nonhuman primates. Sci. Transl. Med. 11, eaav3113 (2019).

Pal, P. et al. Development of a highly protective combination monoclonal antibody therapy against Chikungunya virus. PLoS Pathog. 9, e1003312 (2013).
Acknowledgements
This study was supported by NIH grants R01 AI143673 (M.S.D. and D.H.F.), U19 AI142790 (M.S.D. and D.H.F.), U19 AI142759 (M.S.D.), R01 AI095436 (W.B.K.), HHSN272201700060C (D.H.F.), T32 AI007172 (N.M.K. and K.B.), Defense Reduction Threat Agency grants HDTRA1-15-1-0013 (M.S.D.), and HDTRA1-15-1-0047 (W.B.K). We thank G. Bu for discussions, J. Lai for anti-E1 human monoclonal antibodies, N. Ihenacho for technical assistance, M. Elam-Noll for animal husbandry, the Washington University Morphology Core, K. Carlton and J. Mascola for a gift of the VEEV VLPs and S. Whelan for providing comments on the manuscript.
Ethics declarations
Competing interests
M.S.D. is a consultant for Inbios, Vir Biotechnology, NGM Biopharmaceuticals and Carnival Corporation, and is on the Scientific Advisory Board of Moderna and Immunome. The Diamond laboratory at Washington University School of Medicine has received unrelated sponsored research agreements from Moderna, Vir Biotechnology and Emergent BioSolutions. D.H.F. is a founder of Courier Therapeutics.
Additional information
Peer review information Nature thanks Suresh Mahalingam, Berend Jan Bosch and Jan Carette for their contribution to the peer review of this work. Peer reviewer reports are available.
Publisher's note Springer Nature remains neutral with regard to jurisdictional claims in published maps and institutional affiliations.
Extended data figures and tables
Supplementary information
About this article
Cite this article
Ma, H., Kim, A.S., Kafai, N.M. et al. LDLRAD3 is a receptor for Venezuelan equine encephalitis virus. Nature 588, 308–314 (2020). https://doi.org/10.1038/s41586-020-2915-3
Received:

Accepted:

Published:

Issue Date:

DOI: https://doi.org/10.1038/s41586-020-2915-3
Comments
By submitting a comment you agree to abide by our Terms and Community Guidelines. If you find something abusive or that does not comply with our terms or guidelines please flag it as inappropriate.