Abstract
The hippocampus has a major role in encoding and consolidating long-term memories, and undergoes plastic changes during sleep1. These changes require precise homeostatic control by subcortical neuromodulatory structures2. The underlying mechanisms of this phenomenon, however, remain unknown. Here, using multi-structure recordings in macaque monkeys, we show that the brainstem transiently modulates hippocampal network events through phasic pontine waves known as pontogeniculooccipital waves (PGO waves). Two physiologically distinct types of PGO wave appear to occur sequentially, selectively influencing high-frequency ripples and low-frequency theta events, respectively. The two types of PGO wave are associated with opposite hippocampal spike-field coupling, prompting periods of high neural synchrony of neural populations during periods of ripple and theta instances. The coupling between PGO waves and ripples, classically associated with distinct sleep stages, supports the notion that a global coordination mechanism of hippocampal sleep dynamics by cholinergic pontine transients may promote systems and synaptic memory consolidation as well as synaptic homeostasis.
Access options
Access Nature and 54 other Nature Portfolio journals
Get Nature+, our best-value online-access subscription
$29.99 / 30 days
cancel any time
Subscribe to this journal
Receive 51 print issues and online access
$199.00 per year
only $3.90 per issue
Rent or buy this article
Prices vary by article type
from$1.95
to$39.95
Prices may be subject to local taxes which are calculated during checkout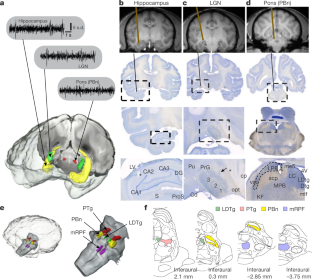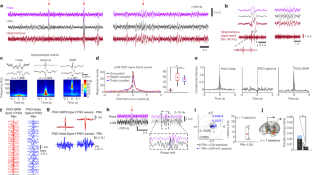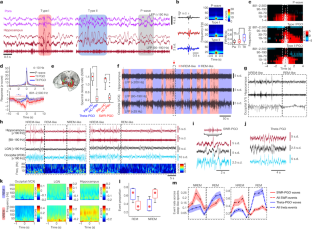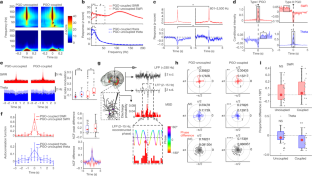 Similar content being viewed by others
Data availability
All data are available from the corresponding author upon reasonable request.
Code availability
All analyses reported in this work were made with custom code written in MATLAB (The MathWorks), and will be available from the corresponding author upon reasonable request.
References
Stickgold, R. & Walker, M. P. Memory consolidation and reconsolidation: what is the role of sleep? Trends Neurosci. 28, 408–415 (2005).

Pace-Schott, E. F. & Hobson, J. A. The neurobiology of sleep: genetics, cellular physiology and subcortical networks. Nat. Rev. Neurosci. 3, 591–605 (2002).

Buzsáki, G. Hippocampal sharp wave-ripple: a cognitive biomarker for episodic memory and planning. Hippocampus 25, 1073–1188 (2015).

Grosmark, A. D., Mizuseki, K., Pastalkova, E., Diba, K. & Buzsáki, G. REM sleep reorganizes hippocampal excitability. Neuron 75, 1001–1007 (2012).

Vertes, R. P. Brain stem generation of the hippocampal EEG. Prog. Neurobiol. 19, 159–186 (1982).

Girardeau, G., Benchenane, K., Wiener, S. I., Buzsáki, G. & Zugaro, M. B. Selective suppression of hippocampal ripples impairs spatial memory. Nat. Neurosci. 12, 1222–1223 (2009).

Green, J. D. & Arduini, A. A. Hippocampal electrical activity in arousal. J. Neurophysiol. 17, 533–557 (1954).

Montgomery, S. M., Sirota, A. & Buzsáki, G. Theta and gamma coordination of hippocampal networks during waking and rapid eye movement sleep. J. Neurosci. 28, 6731–6741 (2008).

Tononi, G. & Cirelli, C. Sleep and the price of plasticity: from synaptic and cellular homeostasis to memory consolidation and integration. Neuron 81, 12–34 (2014).

Logothetis, N. K. et al. Hippocampal–cortical interaction during periods of subcortical silence. Nature 491, 547–553 (2012).

Datta, S. Cellular basis of pontine ponto–geniculo–occipital wave generation and modulation. Cell. Mol. Neurobiol. 17, 341–365 (1997).

Jouvet, M. Recherches sur les structures nerveuses et les mecanismes responsables des differentes phases du sommeil physiologique (Research on the neural structures and responsible mechanisms in different phases of physiological sleep). Arch. Ital. Biol. 100, 125–206 (1962).

Fernández-Mendoza, J. et al. Evidence of subthalamic PGO-like waves during REM sleep in humans: a deep brain polysomnographic study. Sleep 32, 1117–1126 (2009).

Vuillon-Cacciuttolo, G. & Seri, B. Effets de la section des nerfs optiques chez le babouin sur l'activite a type de pointes genouillees et corticales au cours des divers etats de vigilance (Effects of optic nerve section in baboons on the geniculate and cortical spike activity during various states of vigilance). Electroencephalogr. Clin. Neurophysiol. 44, 754–768 (1978).

Mavanji, V. & Datta, S. Activation of the phasic pontine-wave generator enhances improvement of learning performance: a mechanism for sleep-dependent plasticity. Eur. J. Neurosci. 17, 359–370 (2003).

Datta, S. & O'Malley, M. W. Fear extinction memory consolidation requires potentiation of pontine-wave activity during REM sleep. J. Neurosci. 33, 4561–4569 (2013).

Mavanji, V., Ulloor, J., Saha, S. & Datta, S. Neurotoxic lesions of phasic pontine-wave generator cells impair retention of 2-way active avoidance memory. Sleep 27, 1282–1292 (2004).

Hobson, J. A. REM sleep and dreaming: towards a theory of protoconsciousness. Nat. Rev. Neurosci. 10, 803–813 (2009).

Boyce, R., Glasgow, S. D., Williams, S. & Adamantidis, A. Causal evidence for the role of REM sleep theta rhythm in contextual memory consolidation. Science 352, 812–816 (2016).

Buzsáki, G. Theta oscillations in the hippocampus. Neuron 33, 325–340 (2002).

Karashima, A., Nakao, M., Katayama, N. & Honda, K. Instantaneous acceleration and amplification of hippocampal theta wave coincident with phasic pontine activities during REM sleep. Brain Res. 1051, 50–56 (2005).

Jutras, M. J., Fries, P. & Buffalo, E. A. Oscillatory activity in the monkey hippocampus during visual exploration and memory formation. Proc. Natl Acad. Sci. USA 110, 13144–13149 (2013).

Bohbot, V. D., Copara, M. S., Gotman, J. & Ekstrom, A. D. Low-frequency theta oscillations in the human hippocampus during real-world and virtual navigation. Nat. Commun. 8, 14415 (2017).

Ramirez-Villegas, J. F., Logothetis, N. K. & Besserve, M. Diversity of sharp-wave-ripple LFP signatures reveals differentiated brain-wide dynamical events. Proc. Natl Acad. Sci. USA 112, E6379–E6387 (2015).

Carr, M. F., Karlsson, M. P. & Frank, L. M. Transient slow gamma synchrony underlies hippocampal memory replay. Neuron 75, 700–713 (2012).

Calvo, J. M. & Fernández-Guardiola, A. Phasic activity of the basolateral amygdala, cingulate gyrus, and hippocampus during REM sleep in the cat. Sleep 7, 202–210 (1984).

Amzica, F. & Steriade, M. Progressive cortical synchronization of ponto–geniculo–occipital potentials during rapid eye movement sleep. Neuroscience 72, 309–314 (1996).

Bowker, R. M. Variability in the characteristics of pontogeniculooccipital spikes during paradoxical sleep. Exp. Neurol. 87, 212–224 (1985).

Datta, S., Calvo, J. M., Quattrochi, J. & Hobson, J. A. Cholinergic microstimulation of the peribrachial nucleus in the cat. I. Immediate and prolonged increases in ponto–geniculo–occipital waves. Arch. Ital. Biol. 130, 263–284 (1992).

Morrison, A. R. & Pompeiano, O. Vestibular influences during sleep. IV. Functional relations between vestibular nuclei and lateral geniculate nucleus during desynchronized sleep. Arch. Ital. Biol. 104, 425–458 (1966).

Datta, S. Activation of phasic pontine-wave generator: a mechanism for sleep-dependent memory processing. Sleep Biol. Rhythms 4, 16–26 (2006).

Logothetis, N. K. What we can do and what we cannot do with fMRI. Nature 453, 869–878 (2008).

Shajarisales, N., Janzing, D., Schoelkopf, B. & Besserve, M. Telling cause from effect in deterministic linear dynamical systems. In Proc. 32nd International Conference on Machine Learning Vol. 37 (eds F. Bach & D. Blei) 285–294 (Proceedings of Machine Learning Research, 2015).

Hsieh, K.-C., Robinson, E. L. & Fuller, C. A. Sleep architecture in unrestrained rhesus monkeys (Macaca mulatta) synchronized to 24-hour light-dark cycles. Sleep 31, 1239–1250 (2008).

Fernández-Ruiz, A. et al. Long-duration hippocampal sharp wave ripples improve memory. Science 364, 1082–1086 (2019).

Griffin, A. L., Asaka, Y., Darling, R. D. & Berry, S. D. Theta-contingent trial presentation accelerates learning rate and enhances hippocampal plasticity during trace eyeblink conditioning. Behav. Neurosci. 118, 403–411 (2004).

Huerta, P. T. & Lisman, J. E. Bidirectional synaptic plasticity induced by a single burst during cholinergic theta oscillation in CA1 in vitro. Neuron 15, 1053–1063 (1995).

Poe, G. R., Nitz, D. A., McNaughton, B. L. & Barnes, C. A. Experience-dependent phase-reversal of hippocampal neuron firing during REM sleep. Brain Res. 855, 176–180 (2000).

Datta, S., Siwek, D. F., Patterson, E. H. & Cipolloni, P. B. Localization of pontine PGO wave generation sites and their anatomical projections in the rat. Synapse 30, 409–423 (1998).

Steriade, M., Datta, S., Paré, D., Oakson, G. & Curró Dossi, R. C. Neuronal activities in brain-stem cholinergic nuclei related to tonic activation processes in thalamocortical systems. J. Neurosci. 10, 2541–2559 (1990).

Moriizumi, T., Nakamura, Y., Tokuno, H., Kudo, M. & Kitao, Y. Synaptic organization of the pedunculopontine tegmental nucleus of the cat. Brain Res. 478, 315–325 (1989).

Datta, S. Cellular and chemical neuroscience of mammalian sleep. Sleep Med. 11, 431–440 (2010).

Soltani, S. et al. Sleep–wake cycle in young and older mice. Front. Syst. Neurosci. 13, 51 (2019).

Ulloor, J. & Datta, S. Spatio-temporal activation of cyclic AMP response element-binding protein, activity-regulated cytoskeletal-associated protein and brain-derived nerve growth factor: a mechanism for pontine-wave generator activation-dependent two-way active-avoidance memory processing in the rat. J. Neurochem. 95, 418–428 (2005).

Paxinos, G., Petrides, M., Huang, X. F. & Toga, A. W. The Rhesus Monkey Brain in Stereotaxic Coordinates (Elsevier Science, 2008).

Ramirez-Villegas, J. F., Willeke, K. F., Logothetis, N. K. & Besserve, M. Dissecting the synapse- and frequency-dependent network mechanisms of in vivo hippocampal sharp wave-ripples. Neuron 100, 1224–1240 (2018).

Leonard, T. K., Mikkila, J. M., Eskandar, E. N., Gerrard, J. L., Kaping, D., Patel, S. R., Womelsdorf, T., & Hoffman, K. L. Sharp wave ripples during visual exploration in the primate hippocampus. J. Neurosci. 35, 14771–14782 (2015).

Leppä, M. et al. Acute opioid effects on human brain as revealed by functional magnetic resonance imaging. Neuroimage 31, 661–669 (2006).

Talbot, J. D. et al. Multiple representations of pain in human cerebral cortex. Science 251, 1355–1358 (1991).

Jones, A. K. et al. In vivo distribution of opioid receptors in man in relation to the cortical projections of the medial and lateral pain systems measured with positron emission tomography. Neurosci. Lett. 126, 25–28 (1991).

Grønlykke, L. et al. Remifentanil-induced spike activity as a diagnostic tool in epilepsy surgery. Acta Neurol. Scand. 117, 90–93 (2008).

Iannetti, G. D. et al. Pharmacological modulation of pain-related brain activity during normal and central sensitization states in humans. Proc. Natl Acad. Sci. USA 102, 18195–18200 (2005).

Wise, R. G. et al. Combining fMRI with a pharmacokinetic model to determine which brain areas activated by painful stimulation are specifically modulated by remifentanil. Neuroimage 16, 999–1014 (2002).

Goense, J. B. M. & Logothetis, N. K. Neurophysiology of the BOLD fMRI signal in awake monkeys. Curr. Biol. 18, 631–640 (2008).

Logothetis, N. K., Pauls, J., Augath, M., Trinath, T. & Oeltermann, A. Neurophysiological investigation of the basis of the fMRI signal. Nature 412, 150–157 (2001).

Mortazavi, S., Thompson, J., Baghdoyan, H. A. & Lydic, R. Fentanyl and morphine, but not remifentanil, inhibit acetylcholine release in pontine regions modulating arousal. Anesthesiology 90, 1070–1077 (1999).

Lozito, R. J., La Marca, S., Dunn, R. W. & Jerussi, T. P. Single versus multiple infusions of fentanyl analogues in a rat EEG model. Life Sciences 55, 1337–1342 (1994).

Egan, T. D., Minto, C. F., Hermann, D. J., Barr, J., Muir, K. T. & Shafer, S. L. Remifentanil versus alfentanil: comparative pharmacokinetics and pharmacodynamics in healthy adult male volunteers. Anesthesiology 84, 821–833 (1996).

Bonafide, C. P., Aucutt-Walter, N., Divittore, N., King, T., Bixler, E. O. & Cronin, A. J. Remifentanil inhibits rapid eye movement sleep but not the nocturnal melatonin surge in humans. Anesthesiology 108, 627–633 (2008).

Besserve, M., Lowe, S. C., Logothetis, N. K., Schölkopf, B. & Panzeri, S. Shifts of gamma phase across primary visual cortical sites reflect dynamic stimulus-modulated information transfer. PLoS Biol. 13, e1002257 (2015).

Brillinger, D. R. Estimation of 2nd-order intensities of a bivariate stationary point process. J. R. Stat. Soc. B 38, 60–66 (1976).

Saleem, K. S. & Logothetis, N. K. A Combined MRI and Histology Atlas of the Rhesus Monkey Brain (Academic, 2006).

Blair, R. C., & Karniski, W. An alternative method for significance testing of waveform difference potentials. Psychophysiology 30, 518–524 (1993).
Acknowledgements
We thank O. Eschenko and M. Constantinou for providing feedback on earlier versions of this work, and J. Werner and M. Schnabel for technical support during the development of this study. This research was supported by the Max Planck Society.
Ethics declarations
Competing interests
The authors declare no competing interests.
Additional information
Peer review information Nature thanks the anonymous reviewers for their contribution to the peer review of this work.
Publisher's note Springer Nature remains neutral with regard to jurisdictional claims in published maps and institutional affiliations.
Extended data figures and tables
Supplementary information
About this article
Cite this article
Ramirez-Villegas, J.F., Besserve, M., Murayama, Y. et al. Coupling of hippocampal theta and ripples with pontogeniculooccipital waves. Nature 589, 96–102 (2021). https://doi.org/10.1038/s41586-020-2914-4
Received:

Accepted:

Published:

Issue Date:

DOI: https://doi.org/10.1038/s41586-020-2914-4
Comments
By submitting a comment you agree to abide by our Terms and Community Guidelines. If you find something abusive or that does not comply with our terms or guidelines please flag it as inappropriate.