Abstract
Despite its success in achieving the long-term survival of 10–30% of treated individuals, immune therapy is still ineffective for most patients with cancer1,2. Many efforts are therefore underway to identify new approaches that enhance such immune 'checkpoint' therapy3,4,5 (so called because its aim is to block proteins that inhibit checkpoint signalling pathways in T cells, thereby freeing those immune cells to target cancer cells). Here we show that inhibiting PCSK9—a key protein in the regulation of cholesterol metabolism6,7,8—can boost the response of tumours to immune checkpoint therapy, through a mechanism that is independent of PCSK9's cholesterol-regulating functions. Deleting the PCSK9 gene in mouse cancer cells substantially attenuates or prevents their growth in mice in a manner that depends on cytotoxic T cells. It also enhances the efficacy of immune therapy that is targeted at the checkpoint protein PD1. Furthermore, clinically approved PCSK9-neutralizing antibodies synergize with anti-PD1 therapy in suppressing tumour growth in mouse models of cancer. Inhibiting PCSK9—either through genetic deletion or using PCSK9 antibodies—increases the expression of major histocompatibility protein class I (MHC I) proteins on the tumour cell surface, promoting robust intratumoral infiltration of cytotoxic T cells. Mechanistically, we find that PCSK9 can disrupt the recycling of MHC I to the cell surface by associating with it physically and promoting its relocation and degradation in the lysosome. Together, these results suggest that inhibiting PCSK9 is a promising way to enhance immune checkpoint therapy for cancer.
Access options
Subscribe to Journal
Get full journal access for 1 year
$199.00
only $3.90 per issue
All prices are NET prices.
VAT will be added later in the checkout.
Tax calculation will be finalised during checkout.
Rent or Buy article
Get time limited or full article access on ReadCube.
from$8.99
All prices are NET prices.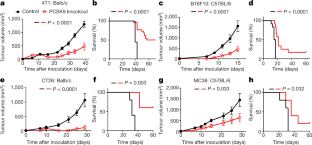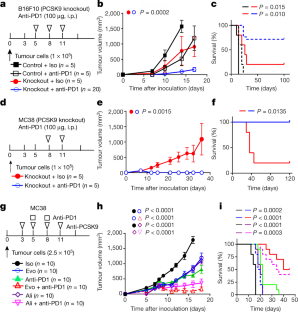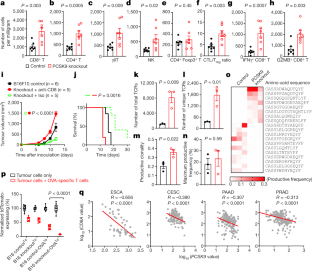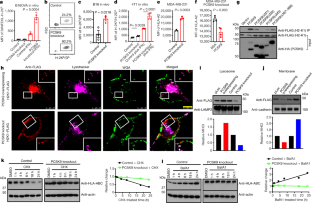 Data availability
PCSK9 and CD8A mRNA expression data from various human cancers were downloaded from the GENT (http://gent2.appex.kr/gent2/) database43. PCSK9 mRNA expression and overall survival data were from TCGA data sets included in cBioportal44,45 (https://www.cbioportal.org/) in November 2018. Western blot source data are provided in Supplementary Fig. 1. Source data for the quantitative graphs are provided for Figs. 1–4 and Extended Data Figs. 1–9. Other data in support of this study are available from the corresponding author upon reasonable request. Source data are provided with this paper.
References
1.

Topalian, S. L. et al. Safety, activity, and immune correlates of anti-PD-1 antibody in cancer. N. Engl. J. Med. 366, 2443–2454 (2012).

2.

Brahmer, J. R. et al. Safety and activity of anti-PD-L1 antibody in patients with advanced cancer. N. Engl. J. Med. 366, 2455–2465 (2012).

3.

Manguso, R. T. et al. In vivo CRISPR screening identifies Ptpn2 as a cancer immunotherapy target. Nature 547, 413–418 (2017).

4.

Pan, D. et al. A major chromatin regulator determines resistance of tumor cells to T cell-mediated killing. Science 359, 770–775 (2018).

5.

Patel, S. J. et al. Identification of essential genes for cancer immunotherapy. Nature 548, 537–542 (2017).

6.

Abifadel, M. et al. Mutations in PCSK9 cause autosomal dominant hypercholesterolemia. Nat. Genet. 34, 154–156 (2003).

7.

Cohen, J. et al. Low LDL cholesterol in individuals of African descent resulting from frequent nonsense mutations in PCSK9. Nat. Genet. 37, 161–165 (2005); corrigendum 37, 328 (2005).

8.

Cohen, J. C., Boerwinkle, E., Mosley, T. H., Jr & Hobbs, H. H. Sequence variations in PCSK9, low LDL, and protection against coronary heart disease. N. Engl. J. Med. 354, 1264–1272 (2006).

9.

Yang, W. et al. Potentiating the antitumour response of CD8+ T cells by modulating cholesterol metabolism. Nature 531, 651–655 (2016).

10.

Ma, X. et al. Cholesterol negatively regulates IL-9-producing CD8+ T cell differentiation and antitumor activity. J. Exp. Med. 215, 1555–1569 (2018).

11.

Naslavsky, N., Weigert, R. & Donaldson, J. G. Characterization of a nonclathrin endocytic pathway: membrane cargo and lipid requirements. Mol. Biol. Cell 15, 3542–3552 (2004).

12.

Benjannet, S. et al. NARC-1/PCSK9 and its natural mutants: zymogen cleavage and effects on the low density lipoprotein (LDL) receptor and LDL cholesterol. J. Biol. Chem. 279, 48865–48875 (2004).

13.

Maxwell, K. N., Fisher, E. A. & Breslow, J. L. Overexpression of PCSK9 accelerates the degradation of the LDLR in a post-endoplasmic reticulum compartment. Proc. Natl Acad. Sci. USA 102, 2069–2074 (2005).

14.

Zhang, D. W. et al. Binding of proprotein convertase subtilisin/kexin type 9 to epidermal growth factor-like repeat A of low density lipoprotein receptor decreases receptor recycling and increases degradation. J. Biol. Chem. 282, 18602–18612 (2007).

15.

Lagace, T. A. et al. Secreted PCSK9 decreases the number of LDL receptors in hepatocytes and in livers of parabiotic mice. J. Clin. Invest. 116, 2995–3005 (2006).

16.

Poirier, S. et al. Dissection of the endogenous cellular pathways of PCSK9-induced low density lipoprotein receptor degradation: evidence for an intracellular route. J. Biol. Chem. 284, 28856–28864 (2009).

17.

Poirier, S. et al. The proprotein convertase PCSK9 induces the degradation of low density lipoprotein receptor (LDLR) and its closest family members VLDLR and ApoER2. J. Biol. Chem. 283, 2363–2372 (2008).

18.

Canuel, M. et al. Proprotein convertase subtilisin/kexin type 9 (PCSK9) can mediate degradation of the low density lipoprotein receptor-related protein 1 (LRP-1). PLoS One 8, e64145 (2013).

19.

Demers, A. et al. PCSK9 induces CD36 degradation and affects long-chain fatty acid uptake and triglyceride metabolism in adipocytes and in mouse liver. Arterioscler. Thromb. Vasc. Biol. 35, 2517–2525 (2015).

20.

Jonas, M. C., Costantini, C. & Puglielli, L. PCSK9 is required for the disposal of non-acetylated intermediates of the nascent membrane protein BACE1. EMBO Rep. 9, 916–922 (2008).

21.

Blom, D. J. et al. A 52-week placebo-controlled trial of evolocumab in hyperlipidemia. N. Engl. J. Med. 370, 1809–1819 (2014).

22.

Robinson, J. G. et al. Efficacy and safety of alirocumab in reducing lipids and cardiovascular events. N. Engl. J. Med. 372, 1489–1499 (2015).

23.

Cong, L. et al. Multiplex genome engineering using CRISPR/Cas systems. Science 339, 819–823 (2013).

24.

Ran, F. A. et al. Genome engineering using the CRISPR-Cas9 system. Nat. Protocols 8, 2281–2308 (2013).

25.

Ishibashi, S. et al. Hypercholesterolemia in low density lipoprotein receptor knockout mice and its reversal by adenovirus-mediated gene delivery. J. Clin. Invest. 92, 883–893 (1993).

26.

Wolchok, J. D. et al. Nivolumab plus ipilimumab in advanced melanoma. N. Engl. J. Med. 369, 122–133 (2013).

27.

Kühnast, S. et al. Alirocumab inhibits atherosclerosis, improves the plaque morphology, and enhances the effects of a statin. J. Lipid Res. 55, 2103–2112 (2014).

28.

Chan, J. C. et al. A proprotein convertase subtilisin/kexin type 9 neutralizing antibody reduces serum cholesterol in mice and nonhuman primates. Proc. Natl Acad. Sci. USA 106, 9820–9825 (2009).

29.

Kim, K. et al. Eradication of metastatic mouse cancers resistant to immune checkpoint blockade by suppression of myeloid-derived cells. Proc. Natl Acad. Sci. USA 111, 11774–11779 (2014).

30.

Chandramohan, V. et al. Improved efficacy against malignant brain tumors with EGFRwt/EGFRvIII targeting immunotoxin and checkpoint inhibitor combinations. J. Immunother. Cancer 7, 142 (2019).

31.

Hogquist, K. A. et al. T cell receptor antagonist peptides induce positive selection. Cell 76, 17–27 (1994).

32.

Shan, L. et al. PCSK9 binds to multiple receptors and can be functionally inhibited by an EGF-A peptide. Biochem. Biophys. Res. Commun. 375, 69–73 (2008).

33.

Fasano, T., Sun, X. M., Patel, D. D. & Soutar, A. K. Degradation of LDLR protein mediated by 'gain of function' PCSK9 mutants in normal and ARH cells. Atherosclerosis 203, 166–171 (2009).

34.

Duff, C. J. et al. Antibody-mediated disruption of the interaction between PCSK9 and the low-density lipoprotein receptor. Biochem. J. 419, 577–584 (2009).

35.

Yu, Y. Y. et al. Definition and transfer of a serological epitope specific for peptide-empty forms of MHC class I. Int. Immunol. 11, 1897–1906 (1999).

36.

Zhang, L. et al. Intratumoral T cells, recurrence, and survival in epithelial ovarian cancer. N. Engl. J. Med. 348, 203–213 (2003).

37.

Carstens, J. L. et al. Spatial computation of intratumoral T cells correlates with survival of patients with pancreatic cancer. Nat. Commun. 8, 15095 (2017).

38.

Labun, K. et al. CHOPCHOP v3: expanding the CRISPR web toolbox beyond genome editing. Nucleic Acids Res. 47 (W1), W171–W174 (2019).

39.

Shalem, O. et al. Genome-scale CRISPR-Cas9 knockout screening in human cells. Science 343, 84–87 (2014).

40.

Borowicz, S. et al. The soft agar colony formation assay. J. Vis. Exp. 92, e51998 (2014).

41.

Moore, M. W., Carbone, F. R. & Bevan, M. J. Introduction of soluble protein into the class I pathway of antigen processing and presentation. Cell 54, 777–785 (1988).

42.

Curtsinger, J. M., Lins, D. C. & Mescher, M. F. CD8+ memory T cells (CD44high, Ly-6C+) are more sensitive than naive cells to (CD44low, Ly-6C−) to TCR/CD8 signaling in response to antigen. J. Immunol. 160, 3236–3243 (1998).

43.

Park, S. J., Yoon, B. H., Kim, S. K. & Kim, S. Y. GENT2: an updated gene expression database for normal and tumor tissues. BMC Med. Genomics 12 (Suppl 5), 101 (2019).

44.

Cerami, E. et al. The cBio cancer genomics portal: an open platform for exploring multidimensional cancer genomics data. Cancer Discov. 2, 401–404 (2012).

45.

Gao, J. et al. Integrative analysis of complex cancer genomics and clinical profiles using the cBioPortal. Sci. Signal. 6, pl1 (2013).
Acknowledgements
We thank J. M. Cook and colleagues at the Flow Cytometry Facility of Duke University School of Medicine for their assistance. We also thank the Duke University Light Microscopy Core Facility for professional help with confocal microscopy. We thank I. Li for proofreading our manuscript. We also thank S. Coffman of MedMedia Solutions for help with illustrations. C.-Y.L. is supported by US National Institutes of Health (NIH) grants ES024015, CA208852 and CA216876, and by a Cancer Center Support Grant (CCSG, CA014236) to Duke University. X.L. is supported by Guangdong Basic and Applied Basic Research Foundation grant 2020B1515020054 and Shenzhen Science and Technology Program grant JCYJ20190807154813511.
Ethics declarations
Competing interests
X.L. and C.-Y.L. are inventors on a patent application filed by Duke University that covers the use of anti-PCSK9 antibodies in cancer immunotherapy. The other authors declare no competing interests.
Additional information
Peer review information Nature thanks the anonymous reviewers for their contribution to the peer review of this work.
Publisher's note Springer Nature remains neutral with regard to jurisdictional claims in published maps and institutional affiliations.
Extended data figures and tables
Supplementary information
This file contains Supplementary Figure 1. Raw images of immunoblots. Uncropped images of scanned immunoblots shown in Fig. 4g, Fig 4i, Fig. 4j, Fig 4k, and 4l, Extended Data Fig. 1a, Extended Data Fig. 2a, Extended Data Fig. 3a, Extended Data 7j, Extended Data Fig. 8a, Extended Data Fig. 8f, Extended Data Fig. 9b, Extended Data Fig. 9c, and Extended Data Fig. 9d.
About this article
Cite this article
Liu, X., Bao, X., Hu, M. et al. Inhibition of PCSK9 potentiates immune checkpoint therapy for cancer. Nature 588, 693–698 (2020). https://doi.org/10.1038/s41586-020-2911-7
Received:

Accepted:

Published:

Issue Date:
Comments
By submitting a comment you agree to abide by our Terms and Community Guidelines. If you find something abusive or that does not comply with our terms or guidelines please flag it as inappropriate.