Abstract
The ubiquitous heat shock protein 70 (HSP70) family consists of ATP-dependent molecular chaperones, which perform numerous cellular functions that affect almost all aspects of the protein life cycle from synthesis to degradation1,2,3. Achieving this broad spectrum of functions requires precise regulation of HSP70 activity. Proteins of the HSP40 family, also known as J-domain proteins (JDPs), have a key role in this process by preselecting substrates for transfer to their HSP70 partners and by stimulating the ATP hydrolysis of HSP70, leading to stable substrate binding3,4. In humans, JDPs constitute a large and diverse family with more than 40 different members2, which vary in their substrate selectivity and in the nature and number of their client-binding domains5. Here we show that JDPs can also differ fundamentally in their interactions with HSP70 chaperones. Using nuclear magnetic resonance spectroscopy6,7 we find that the major class B JDPs are regulated by an autoinhibitory mechanism that is not present in other classes. Although in all JDPs the interaction of the characteristic J-domain is responsible for the activation of HSP70, in DNAJB1 the HSP70-binding sites in this domain are intrinsically blocked by an adjacent glycine-phenylalanine rich region—an inhibition that can be released upon the interaction of a second site on DNAJB1 with the HSP70 C-terminal tail. This regulation, which controls substrate targeting to HSP70, is essential for the disaggregation of amyloid fibres by HSP70–DNAJB1, illustrating why no other class of JDPs can substitute for class B in this function. Moreover, this regulatory layer, which governs the functional specificities of JDP co-chaperones and their interactions with HSP70s, could be key to the wide range of cellular functions of HSP70.
Relevant articles
Open Access articles citing this article.
Itika Saha

,

Patricia Yuste-Checa

…

Mark S. Hipp

Nature Communications Open Access 02 February 2023

Jaime Carrasco

,

Rosa Antón

…

Javier Oroz

Nature Communications Open Access 28 January 2023

Jessica Tittelmeier

,

Silke Druffel-Augustin

…

Carmen Nussbaum-Krammer

Communications Biology Open Access 08 December 2022
Access options
Access Nature and 54 other Nature Portfolio journals
Get Nature+, our best-value online-access subscription
$29.99 / 30 days
cancel any time
Subscribe to this journal
Receive 51 print issues and online access
$199.00 per year
only $3.90 per issue
Rent or buy this article
Get just this article for as long as you need it
$39.95
Prices may be subject to local taxes which are calculated during checkout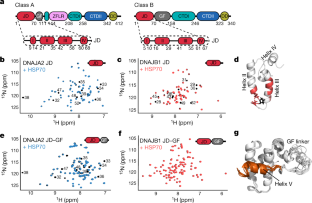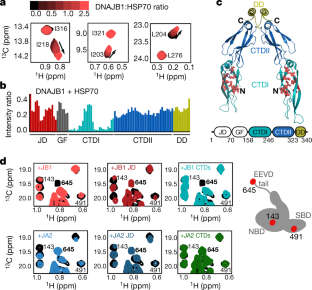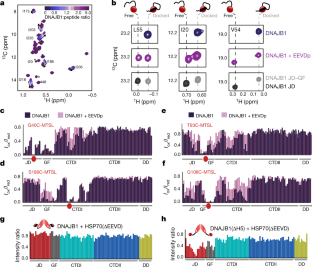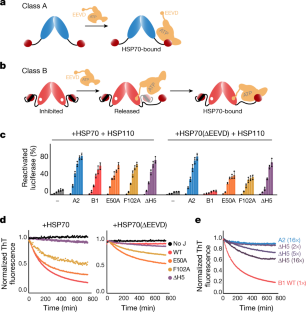 Data availability
The data that support the findings of this study are available from the corresponding authors upon reasonable request. NMR chemical shifts have been deposited in the Biological Magnetic Resonance Data Bank under the following accession codes: 50169 for DNAJB1JD, 50168 for DNAJA2JD and 50167 for DNAJB1JD–GF. The structure of DNAJB1JD–GF has been deposited to the Protein Data Bank (PDB) under accession code 6Z5N. Source data are provided with this paper.
References
Mayer, M. P. & Bukau, B. Hsp70 chaperones: cellular functions and molecular mechanism. Cell. Mol. Life Sci. 62, 670–684 (2005).

Kampinga, H. H. & Craig, E. A. The HSP70 chaperone machinery: J proteins as drivers of functional specificity. Nat. Rev. Mol. Cell Biol. 11, 579–592 (2010).

Rosenzweig, R., Nillegoda, N. B., Mayer, M. P. & Bukau, B. The Hsp70 chaperone network. Nat. Rev. Mol. Cell Biol. 20, 665–680 (2019).

Tiwari, S., Kumar, V., Jayaraj, G. G., Maiti, S. & Mapa, K. Unique structural modulation of a non-native substrate by cochaperone DnaJ. Biochemistry 52, 1011–1018 (2013).

Jiang, Y., Rossi, P. & Kalodimos, C. G. Structural basis for client recognition and activity of Hsp40 chaperones. Science 365, 1313–1319 (2019).

Tugarinov, V., Hwang, P. M., Ollerenshaw, J. E. & Kay, L. E. Cross-correlated relaxation enhanced 1H–13C NMR spectroscopy of methyl groups in very high molecular weight proteins and protein complexes. J. Am. Chem. Soc. 125, 10420–10428 (2003).

Tugarinov, V., Kanelis, V. & Kay, L. E. Isotope labeling strategies for the study of high-molecular-weight proteins by solution NMR spectroscopy. Nat. Protoc. 1, 749–754 (2006).

Kityk, R., Kopp, J. & Mayer, M. P. Molecular mechanism of J-domain-triggered ATP hydrolysis by Hsp70 chaperones. Mol. Cell 69, 227–237.e4, (2018).

Wentink, A., Nussbaum-Krammer, C. & Bukau, B. Modulation of amyloid states by molecular chaperones. Cold Spring Harb. Perspect. Biol. 11, a033969 (2019).

Schilke, B. A. et al. Broadening the functionality of a J-protein/HSP70 molecular chaperone system. PLoS Genet. 13, e1007084 (2017).

Zarouchlioti, C., Parfitt, D. A., Li, W., Gittings, L. M. & Cheetham, M. E. DNAJ proteins in neurodegeneration: essential and protective factors. Phil. Trans. R. Soc. Lond. B 373, 20160534 (2018).

Gao, X. et al. Human HSP70 disaggregase reverses Parkinson's-linked α-synuclein amyloid fibrils. Mol. Cell 59, 781–793 (2015).

Rampelt, H. et al. Metazoan HSP70 machines use HSP110 to power protein disaggregation. EMBO J. 31, 4221–4235 (2012).

Duennwald, M. L., Echeverria, A. & Shorter, J. Small heat shock proteins potentiate amyloid dissolution by protein disaggregases from yeast and humans. PLoS Biol. 10, e1001346 (2012).

Scior, A. et al. Complete suppression of Htt fibrilization and disaggregation of Htt fibrils by a trimeric chaperone complex. EMBO J. 37, 282–299 (2018).

Nachman, E. et al. Disassembly of Tau fibrils by the human Hsp70 disaggregationmachinery generates small seeding-competent species. Preprint at https://doi.org/10.1101/2019.12.16.876888 (2019).

Minami, Y., Höhfeld, J., Ohtsuka, K. & Hartl, F. U. Regulation of the heat-shock protein 70 reaction cycle by the mammalian DnaJ homolog, Hsp40. J. Biol. Chem. 271, 19617–19624 (1996).

Karzai, A. W. & McMacken, R. A bipartite signaling mechanism involved in DnaJ-mediated activation of the Escherichia coli DnaK protein. J. Biol. Chem. 271, 11236–11246 (1996).

Yan, W. & Craig, E. A. The glycine-phenylalanine-rich region determines the specificity of the yeast Hsp40 Sis1. Mol. Cell. Biol. 19, 7751–7758 (1999). │

Shen, Y. & Bax, A. Protein backbone and sidechain torsion angles predicted from NMR chemical shifts using artificial neural networks. J. Biomol. NMR 56, 227–241 (2013).

Mesleh, M. F., Veglia, G., DeSilva, T. M., Marassi, F. M. & Opella, S. J. Dipolar waves as NMR maps of protein structure. J. Am. Chem. Soc. 124, 4206–4207 (2002).

Qian, Y. Q., Patel, D., Hartl, F. U. & McColl, D. J. Nuclear magnetic resonance solution structure of the human Hsp40 (HDJ-1) J-domain. J. Mol. Biol. 260, 224–235 (1996).

Yu, H. Y. et al. Roles of intramolecular and intermolecular interactions in functional regulation of the Hsp70 J-protein co-chaperone Sis1. J. Mol. Biol. 427, 1632–1643 (2015).

Li, J., Wu, Y., Qian, X. & Sha, B. Crystal structure of yeast Sis1 peptide-binding fragment and Hsp70 Ssa1 C-terminal complex. Biochem. J. 398, 353–360 (2006).

Craig, E. A. & Marszalek, J. How do J-proteins get Hsp70 to do so many different things? Trends Biochem. Sci. 42, 355–368 (2017).

Yu, H. Y., Ziegelhoffer, T. & Craig, E. A. Functionality of class A and class B J-protein co-chaperones with Hsp70. FEBS Lett. 589, 2825–2830 (2015).

Battiste, J. L. & Wagner, G. Utilization of site-directed spin labeling and high-resolution heteronuclear nuclear magnetic resonance for global fold determination of large proteins with limited nuclear Overhauser effect data. Biochemistry 39, 5355–5365 (2000).

Clore, G. M. & Iwahara, J. Theory, practice, and applications of paramagnetic relaxation enhancement for the characterization of transient low-population states of biological macromolecules and their complexes. Chem. Rev. 109, 4108–4139 (2009).

Suzuki, H. et al. Peptide-binding sites as revealed by the crystal structures of the human Hsp40 Hdj1 C-terminal domain in complex with the octapeptide from human Hsp70. Biochemistry 49, 8577–8584 (2010).

Wentink, A. S. et al. Molecular dissection of amyloid disaggregation by human HSP70. Nature https://doi.org/10.1038/s41586-020-2904-6 (2020).

Karamanos, T. K., Tugarinov, V. & Clore, G. M. Unraveling the structure and dynamics of the human DNAJB6b chaperone by NMR reveals insights into Hsp40-mediated proteostasis. Proc. Natl Acad. Sci. USA 116, 21529–21538 (2019).

Ruggieri, A. et al. Complete loss of the DNAJB6 G/F domain and novel missense mutations cause distal-onset DNAJB6 myopathy. Acta Neuropathol. Commun. 3, 44 (2015).

Shen, Y. & Hendershot, L. M. ERdj3, a stress-inducible endoplasmic reticulum DnaJ homologue, serves as a cofactor for BiP's interactions with unfolded substrates. Mol. Biol. Cell 16, 40–50 (2005).

Gelis, I. et al. Structural basis for signal-sequence recognition by the translocase motor SecA as determined by NMR. Cell 131, 756–769 (2007).

Gans, P. et al. Stereospecific isotopic labeling of methyl groups for NMR spectroscopic studies of high-molecular-weight proteins. Angew. Chem. Int. Ed. 49, 1958–1962 (2010).

Delaglio, F. et al. NMRPipe: a multidimensional spectral processing system based on UNIX pipes. J. Biomol. NMR 6, 277–293 (1995).

Goddard, T. D. & Kneller, D. G. SPARKY 3 (University of California, San Francisco, 2002).

Vranken, W. F. et al. The CCPN data model for NMR spectroscopy: development of a software pipeline. Proteins 59, 687–696 (2005).

Karagöz, G. E. et al. N-terminal domain of human Hsp90 triggers binding to the cochaperone p23. Proc. Natl Acad. Sci. USA 108, 580–585 (2011).

Sekhar, A., Rosenzweig, R., Bouvignies, G. & Kay, L. E. Mapping the conformation of a client protein through the Hsp70 functional cycle. Proc. Natl Acad. Sci. USA 112, 10395–10400 (2015).

Constantine, K. L. et al. Aliphatic 1H and 13C resonance assignments for the 26-10 antibody VL domain derived from heteronuclear multidimensional NMR spectroscopy. J. Biomol. NMR 3, 41–54 (1993).

Farrow, N. A. et al. Backbone dynamics of a free and phosphopeptide-complexed Src homology 2 domain studied by 15N NMR relaxation. Biochemistry 33, 5984–6003 (1994).

Lyons, B. A., Tashiro, M., Cedergren, L., Nilsson, B. & Montelione, G. T. An improved strategy for determining resonance assignments for isotopically enriched proteins and its application to an engineered domain of staphylococcal protein A. Biochemistry 32, 7839–7845 (1993).

Logan, T. M., Olejniczak, E. T., Xu, R. X. & Fesik, S. W. A general method for assigning NMR spectra of denatured proteins using 3D HC(CO)NH-TOCSY triple resonance experiments. J. Biomol. NMR 3, 225–231 (1993).

Yamazaki, T., Formankay, J. D. & Kay, L. E. Two-dimensional NMR experiments for correlating 13Cβ and 1Hδ/ε chemical shifts of aromatic residues in 13C-labeled proteins via scalar couplings. J. Am. Chem. Soc. 115, 11054–11055 (1993).

Tugarinov, V., Choy, W. Y., Orekhov, V. Y. & Kay, L. E. Solution NMR-derived global fold of a monomeric 82-kDa enzyme. Proc. Natl Acad. Sci. USA 102, 622–627 (2005).

Zwahlen, C. et al. An NMR experiment for measuring methyl–methyl NOEs in 13C-labeled proteins with high resolution. J. Am. Chem. Soc. 120, 7617–7625 (1998).

Lakomek, N. A., Ying, J. & Bax, A. Measurement of 15N relaxation rates in perdeuterated proteins by TROSY-based methods. J. Biomol. NMR 53, 209–221 (2012).

Mandel, A. M., Akke, M. & Palmer, A. G., III. Backbone dynamics of Escherichia coli ribonuclease HI: correlations with structure and function in an active enzyme. J. Mol. Biol. 246, 144–163 (1995).

Press, W. H., Teukolsky, S. A., Vetterling, W. T. & Flannery, B. P. Numerical Recipes in C: The Art of Scientific Computing 2nd edn (Cambridge Univ. Press, 1992).

Ottiger, M., Delaglio, F. & Bax, A. Measurement of J and dipolar couplings from simplified two-dimensional NMR spectra. J. Magn. Reson. 131, 373–378 (1998).

Shen, Y. et al. Consistent blind protein structure generation from NMR chemical shift data. Proc. Natl Acad. Sci. USA 105, 4685–4690 (2008).

Shen, Y., Vernon, R., Baker, D. & Bax, A. De novo protein structure generation from incomplete chemical shift assignments. J. Biomol. NMR 43, 63–78 (2009).

Kuenze, G., Bonneau, R., Leman, J. K. & Meiler, J. Integrative protein modeling in RosettaNMR from sparse paramagnetic restraints. Structure 27, 1721–1734.e5 (2019).

Vernon, R., Shen, Y., Baker, D. & Lange, O. F. Improved chemical shift based fragment selection for CS-Rosetta using Rosetta3 fragment picker. J. Biomol. NMR 57, 117–127 (2013).

Shen, Y. & Bax, A. SPARTA+: a modest improvement in empirical NMR chemical shift prediction by means of an artificial neural network. J. Biomol. NMR 48, 13–22 (2010).

Bhattacharya, A., Tejero, R. & Montelione, G. T. Evaluating protein structures determined by structural genomics consortia. Proteins 66, 778–795 (2007).

Laskowski, R. A., Rullmannn, J. A., MacArthur, M. W., Kaptein, R. & Thornton, J. M. AQUA and PROCHECK-NMR: programs for checking the quality of protein structures solved by NMR. J. Biomol. NMR 8, 477–486 (1996).

Nillegoda, N. B. et al. Crucial HSP70 co-chaperone complex unlocks metazoan protein disaggregation. Nature 524, 247–251 (2015).

Tsai, J. & Douglas, M. G. A conserved HPD sequence of the J-domain is necessary for YDJ1 stimulation of Hsp70 ATPase activity at a site distinct from substrate binding. J. Biol. Chem. 271, 9347–9354 (1996).

Suh, W. C., Lu, C. Z. & Gross, C. A. Structural features required for the interaction of the Hsp70 molecular chaperone DnaK with its cochaperone DnaJ. J. Biol. Chem. 274, 30534–30539 (1999).
Acknowledgements
We thank T. Scherf for NMR support and the Clore Institute for High-Field Magnetic Resonance Imaging and Spectroscopy; and D. Fass for discussions and advice. R.R. is supported by the European Research Council starting grant (ERC-2018-STG 802001), the Minerva Foundation, and a research grant from the Blythe Brenden-Mann New Scientist Fund. B.B. is supported by the Deutsche Forschungsgemeinschaft grant (SFB 1036, BU617/19-1) and the Helmholtz-Gemeinschaft (German-Israeli Helmholtz Research School in Cancer; AmPro) to B.B. and R.R. M.M. acknowledges the support of the Helmholtz International Graduate School for Cancer Research at the DKFZ. N.L. is the incumbent of the Alan and Laraine Fischer Career Development Chair, and is supported by the Israel Science Foundation (grant no. 2462/19).
Ethics declarations
Competing interests
The authors declare no competing interests.
Additional information
Peer review information Nature thanks the anonymous reviewers for their contribution to the peer review of this work.
Extended data figures and tables
Supplementary information
The file contains Supplementary Table 1 and Supplementary Fig. 1. Supplementary Table 1 - NMR and refinement statistics for DnaJB1JD-GF NMR structure. Supplementary Fig. 1 | Gel source data for Extended Data Fig. 10g. The content of Extended Data Fig. 10g is highlighted in a box. The experiment was repeated two times with similar results.
About this article
Cite this article
Faust, O., Abayev-Avraham, M., Wentink, A.S. et al. HSP40 proteins use class-specific regulation to drive HSP70 functional diversity. Nature 587, 489–494 (2020). https://doi.org/10.1038/s41586-020-2906-4
Received:

Accepted:

Published:

Issue Date:

DOI: https://doi.org/10.1038/s41586-020-2906-4
Comments
By submitting a comment you agree to abide by our Terms and Community Guidelines. If you find something abusive or that does not comply with our terms or guidelines please flag it as inappropriate.