Abstract
Genome introgressions drive evolution across the animal1, plant2 and fungal3 kingdoms. Introgressions initiate from archaic admixtures followed by repeated backcrossing to one parental species. However, how introgressions arise in reproductively isolated species, such as yeast4, has remained unclear. Here we identify a clonal descendant of the ancestral yeast hybrid that founded the extant Saccharomyces cerevisiae Alpechin lineage5, which carries abundant Saccharomyces paradoxus introgressions. We show that this clonal descendant, hereafter defined as a 'living ancestor', retained the ancestral genome structure of the first-generation hybrid with contiguous S. cerevisiae and S. paradoxus subgenomes. The ancestral first-generation hybrid underwent catastrophic genomic instability through more than a hundred mitotic recombination events, mainly manifesting as homozygous genome blocks generated by loss of heterozygosity. These homozygous sequence blocks rescue hybrid fertility by restoring meiotic recombination and are the direct origins of the introgressions present in the Alpechin lineage. We suggest a plausible route for introgression evolution through the reconstruction of extinct stages and propose that genome instability allows hybrids to overcome reproductive isolation and enables introgressions to emerge.
Relevant articles
Open Access articles citing this article.
Veronica Guerrini

,

Alessio Conte

…

Lorenzo Tattini

Algorithms for Molecular Biology Open Access 03 August 2023

Samuel O'Donnell

,

Jia-Xing Yue

…

Gilles Fischer

Nature Genetics Open Access 31 July 2023

Verónica Mixão

,

Juan Carlos Nunez-Rodriguez

…

Toni Gabaldón

BMC Biology Open Access 11 May 2023
Access options
Access Nature and 54 other Nature Portfolio journals
Get Nature+, our best-value online-access subscription
$29.99 / 30 days
cancel any time
Subscribe to this journal
Receive 51 print issues and online access
$199.00 per year
only $3.90 per issue
Rent or buy this article
Prices vary by article type
from$1.95
to$39.95
Prices may be subject to local taxes which are calculated during checkout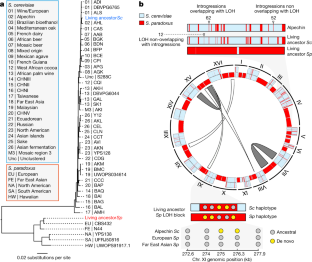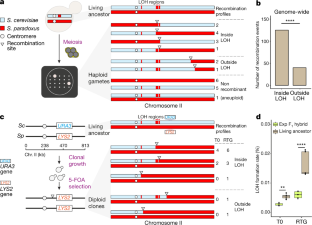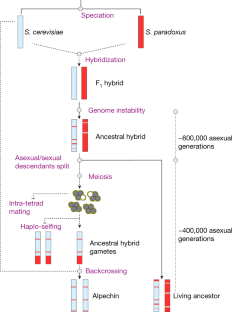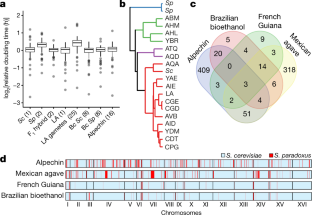 Data availability
The genome sequences generated in this study are available at Sequence Read Archive (SRA), NCBI under the accession codes BioProject ID PRJNA594913, Biosample ID SAMN13540515–SAMN13540586. Re-analysed sequencing data are available as part of the project ERP014555 in the Sequence Read Archive. The phenotype data are available within the Supplementary Information files. All the strains generated in this work are freely available upon request. Source data are provided with this paper.
References
Edelman, N. B. et al. Genomic architecture and introgression shape a butterfly radiation. Science 366, 594–599 (2019).

Arnold, B. J. et al. Borrowed alleles and convergence in serpentine adaptation. Proc. Natl Acad. Sci. USA 113, 8320–8325 (2016).

Sun, Y. et al. Large-scale introgression shapes the evolution of the mating-type chromosomes of the filamentous ascomycete Neurospora tetrasperma. PLoS Genet. 8, e1002820 (2012).

Greig, D. Reproductive isolation in Saccharomyces. Heredity 102, 39–44 (2009).

Peter, J. et al. Genome evolution across 1,011 Saccharomyces cerevisiae isolates. Nature 556, 339–344 (2018).

Wolf, A. B. & Akey, J. M. Outstanding questions in the study of archaic hominin admixture. PLoS Genet. 14, e1007349–e14 (2018).

Harrison, R. G. & Larson, E. L. Hybridization, introgression, and the nature of species boundaries. J. Hered. 105 (Suppl. 1), 795–809 (2014).

Mallet, J. Hybridization as an invasion of the genome. Trends Ecol. Evol. 20, 229–237 (2005).

Martin, S. H. & Jiggins, C. D. Interpreting the genomic landscape of introgression. Curr. Opin. Genet. Dev. 47, 69–74 (2017).

Morales, L. & Dujon, B. Evolutionary role of interspecies hybridization and genetic exchanges in yeasts. Microbiol. Mol. Biol. Rev. 76, 721–739 (2012).

Marsit, S. et al. Evolutionary biology through the lens of budding yeast comparative genomics. Nat. Rev. Genet. 18, 581–598 (2017).

Hunter, N., Chambers, S. R., Louis, E. J. & Borts, R. H. The mismatch repair system contributes to meiotic sterility in an interspecific yeast hybrid. EMBO J. 15, 1726–1733 (1996).

Kao, K. C., Schwartz, K. & Sherlock, G. A genome-wide analysis reveals no nuclear dobzhansky-muller pairs of determinants of speciation between S. cerevisiae and S. paradoxus, but suggests more complex incompatibilities. PLoS Genet. 6, e1001038 (2010).

Greig, D., Louis, E. J., Borts, R. H. & Travisano, M. Hybrid speciation in experimental populations of yeast. Science 298, 1773–1775 (2002).

Liti, G., Barton, D. B. H. & Louis, E. J. Sequence diversity, reproductive isolation and species concepts in Saccharomyces. Genetics 174, 839–850 (2006).

Liti, G. et al. Population genomics of domestic and wild yeasts. Nature 458, 337–341 (2009).

Almeida, P. et al. A Gondwanan imprint on global diversity and domestication of wine and cider yeast Saccharomyces uvarum. Nat. Commun. 5, 4044 (2014).

Barbosa, R. et al. Evidence of natural hybridization in Brazilian wild lineages of Saccharomyces cerevisiae. Genome Biol. Evol. 8, 317–329 (2016).

Gallone, B. et al. Interspecific hybridization facilitates niche adaptation in beer yeast. Nat. Ecol. Evol. 3, 1562–1575 (2019).

Langdon, Q. K. et al. Fermentation innovation through complex hybridization of wild and domesticated yeasts. Nat. Ecol. Evol. 3, 1576–1586 (2019).

Lee, H.-Y. et al. Incompatibility of nuclear and mitochondrial genomes causes hybrid sterility between two yeast species. Cell 135, 1065–1073 (2008).

Pontes, A., Čadež, N., Gonçalves, P. & Sampaio, J. P. A quasi-domesticate relic hybrid population of Saccharomyces cerevisiae × S. paradoxus adapted to olive brine. Front. Genet. 10, 449 (2019).

Bergström, A. et al. A high-definition view of functional genetic variation from natural yeast genomes. Mol. Biol. Evol. 31, 872–888 (2014).

Yue, J.-X. et al. Contrasting evolutionary genome dynamics between domesticated and wild yeasts. Nat. Genet. 49, 913–924 (2017).

Symington, L. S., Rothstein, R. & Lisby, M. Mechanisms and regulation of mitotic recombination in Saccharomyces cerevisiae. Genetics 198, 795–835 (2014).

Dutta, A. et al. Genome dynamics of hybrid Saccharomyces cerevisiae during vegetative and meiotic divisions. G3 (Bethesda) 7, 3669–3679 (2017).

Tattini, L. et al. Accurate tracking of the mutational landscape of diploid hybrid genomes. Mol. Biol. Evol. 36, 2861–2877 (2019).

Dunn, B. et al. Recurrent rearrangement during adaptive evolution in an interspecific yeast hybrid suggests a model for rapid introgression. PLoS Genet. 9, e1003366 (2013).

Smukowski Heil, C. S. et al. Loss of heterozygosity drives adaptation in hybrid yeast. Mol. Biol. Evol. 34, 1596–1612 (2017).

Bozdag, G. O. et al. Engineering recombination between diverged yeast species reveals genetic incompatibilities. Preprint at https://doi.org/10.1101/755165 (2019).

Hou, J., Friedrich, A., de Montigny, J. & Schacherer, J. Chromosomal rearrangements as a major mechanism in the onset of reproductive isolation in Saccharomyces cerevisiae. Curr. Biol. 24, 1153–1159 (2014).

Rogers, D. W., McConnell, E., Ono, J. & Greig, D. Spore-autonomous fluorescent protein expression identifies meiotic chromosome mis-segregation as the principal cause of hybrid sterility in yeast. PLoS Biol. 16, e2005066 (2018).

Laureau, R. et al. Extensive recombination of a yeast diploid hybrid through meiotic reversion. PLoS Genet. 12, e1005781 (2016).

McClure, A. W., Jacobs, K. C., Zyla, T. R. & Lew, D. J. Mating in wild yeast: delayed interest in sex after spore germination. Mol. Biol. Cell 29, 3119–3127 (2018).

Kaniewski, D. et al. Primary domestication and early uses of the emblematic olive tree: palaeobotanical, historical and molecular evidence from the Middle East. Biol. Rev. Camb. Philos. Soc. 87, 885–899 (2012).

Greig, D., Borts, R. H., Louis, E. J. & Travisano, M. Epistasis and hybrid sterility in Saccharomyces. Proc. Biol. Sci. 269, 1167–1171 (2002).

Charron, G., Marsit, S., Hénault, M., Martin, H. & Landry, C. R. Spontaneous whole-genome duplication restores fertility in interspecific hybrids. Nat. Commun. 10, 4126–10 (2019).

Tsai, I. J., Bensasson, D., Burt, A. & Koufopanou, V. Population genomics of the wild yeast Saccharomyces paradoxus: quantifying the life cycle. Proc. Natl Acad. Sci. USA 105, 4957–4962 (2008).

Magwene, P. M. et al. Outcrossing, mitotic recombination, and life-history trade-offs shape genome evolution in Saccharomyces cerevisiae. Proc. Natl Acad. Sci. USA 108, 1987–1992 (2011).

Huerta-Sánchez, E. et al. Altitude adaptation in Tibetans caused by introgression of Denisovan-like DNA. Nature 512, 194–197 (2014).

Enard, D. & Petrov, D. A. Evidence that RNA viruses drove adaptive introgression between Neanderthals and modern humans. Cell 175, 360–371.e13 (2018).

Prüfer, K. et al. The complete genome sequence of a Neanderthal from the Altai Mountains. Nature 505, 43–49 (2014).

Slon, V. et al. The genome of the offspring of a Neanderthal mother and a Denisovan father. Nature 561, 113–116 (2018).

Liti, G., Warringer, J. & Blomberg, A. Isolation and laboratory domestication of natural yeast strains. Cold Spring Harb. Protoc. 2017, pdb.prot089052–6 (2017).

Haber, J. E. Mating-type genes and MAT switching in Saccharomyces cerevisiae. Genetics 191, 33–64 (2012).

Vázquez-García, I. et al. Clonal heterogeneity influences the fate of new adaptive mutations. Cell Rep. 21, 732–744 (2017).

De Chiara, M. et al. Domestication reprogrammed the budding yeast life cycle. Preprint at https://doi.org/10.1101/2020.02.08.939314 (2020).

Beltran, G., Novo, M., Rozès, N., Mas, A. & Guillamón, J. M. Nitrogen catabolite repression in Saccharomyces cerevisiae during wine fermentations. FEMS Yeast Res. 4, 625–632 (2004).

Zackrisson, M. et al. Scan-o-matic: high-resolution microbial phenomics at a massive scale. G3 (Bethesda) 6, 3003–3014 (2016).

Barré, B. et al. Intragenic repeat expansion in the cell wall protein gene HPF1 controls yeast chronological aging. Genome Res. 30, 697–710 (2020).

Simpson, J. T. et al. ABySS: a parallel assembler for short read sequence data. Genome Res. 19, 1117–1123 (2009).

Yue, J.-X. & Liti, G. Long-read sequencing data analysis for yeasts. Nat. Protocols 13, 1213–1231 (2018).

Koren, S. et al. Canu: scalable and accurate long-read assembly via adaptive k-mer weighting and repeat separation. Genome Res. 27, 722–736 (2017).

Chin, C.-S. et al. Nonhybrid, finished microbial genome assemblies from long-read SMRT sequencing data. Nat. Methods 10, 563–569 (2013).

Walker, B. J. et al. Pilon: an integrated tool for comprehensive microbial variant detection and genome assembly improvement. PLoS ONE 9, e112963 (2014).

Kurtz, S. et al. Versatile and open software for comparing large genomes. Genome Biol. 5, R12 (2004).

Lechner, M. et al. Proteinortho: detection of (co-)orthologs in large-scale analysis. BMC Bioinformatics 12, 124 (2011).

McLaren, W. et al. The Ensembl variant effect predictor. Genome Biol. 17, 122 (2016).

Fay, J. C. & Benavides, J. A. Evidence for domesticated and wild populations of Saccharomyces cerevisiae. PLoS Genet. 1, 66–71 (2005).

Rolland, T. & Dujon, B. Yeasty clocks: dating genomic changes in yeasts. C. R. Biol. 334, 620–628 (2011).

Bradley, R. K. et al. Fast statistical alignment. PLOS Comput. Biol. 5, e1000392 (2009).

Slater, G. S. C. & Birney, E. Automated generation of heuristics for biological sequence comparison. BMC Bioinformatics 6, 31 (2005).

Capella-Gutiérrez, S., Silla-Martínez, J. M. & Gabaldón, T. trimAl: a tool for automated alignment trimming in large-scale phylogenetic analyses. Bioinformatics 25, 1972–1973 (2009).

Bouckaert, R. et al. BEAST 2.5: An advanced software platform for Bayesian evolutionary analysis. PLOS Comput. Biol. 15, e1006650 (2019).

Hasegawa, M., Kishino, H. & Yano, T. Dating of the human-ape splitting by a molecular clock of mitochondrial DNA. J. Mol. Evol. 22, 160–174 (1985).

Drummond, A. J. & Suchard, M. A. Bayesian random local clocks, or one rate to rule them all. BMC Biol. 8, 114 (2010).

Heled, J. & Drummond, A. J. Bayesian inference of species trees from multilocus data. Mol. Biol. Evol. 27, 570–580 (2010).

Shen, X.-X. et al. Tempo and mode of genome evolution in the budding yeast subphylum. Cell 175, 1533–1545.e20 (2018).

Pan, J. et al. A hierarchical combination of factors shapes the genome-wide topography of yeast meiotic recombination initiation. Cell 144, 719–731 (2011).

Ruderfer, D. M., Pratt, S. C., Seidel, H. S. & Kruglyak, L. Population genomic analysis of outcrossing and recombination in yeast. Nat. Genet. 38, 1077–1081 (2006).

Gerke, J., Lorenz, K. & Cohen, B. Genetic interactions between transcription factors cause natural variation in yeast. Science 323, 498–501 (2009).

Roncoroni, M. et al. The yeast IRC7 gene encodes a β-lyase responsible for production of the varietal thiol 4-mercapto-4-methylpentan-2-one in wine. Food Microbiol. 28, 926–935 (2011).
Acknowledgements
We thank A. Bergström, G. Fischer, B. Llorente, S. Mozzachiodi and L. Tattini for critical reading of the manuscript. This work was supported by Agence Nationale de la Recherche (ANR-11-LABX-0028-01, ANR-13-BSV6-0006-01, ANR-15-IDEX-01, ANR-16-CE12-0019 and ANR-18-CE12-0004) and the Swedish Research Council (2014-6547, 2014-4605 and 2018-03638). We thank the Institut Curie NGS platform for generating the sequence data. J.S. is a fellow of the University of Strasbourg Institute for Advanced Study and a member of the Institut Universitaire de France.
Ethics declarations
Competing interests
The authors declare no competing interests.
Additional information
Peer review information Nature thanks the anonymous reviewer(s) for their contribution to the peer review of this work.
Publisher's note Springer Nature remains neutral with regard to jurisdictional claims in published maps and institutional affiliations.
Extended data figures and tables
Supplementary information
This file contains Supplementary Discussions 1-4 and Supplementary References.
This file contains Supplementary Tables 1-10.
About this article
Cite this article
D'Angiolo, M., De Chiara, M., Yue, JX. et al. A yeast living ancestor reveals the origin of genomic introgressions. Nature 587, 420–425 (2020). https://doi.org/10.1038/s41586-020-2889-1
Received:

Accepted:

Published:

Issue Date:

DOI: https://doi.org/10.1038/s41586-020-2889-1
Comments
By submitting a comment you agree to abide by our Terms and Community Guidelines. If you find something abusive or that does not comply with our terms or guidelines please flag it as inappropriate.