Abstract
Deciphering how neuronal diversity is established and maintained requires a detailed knowledge of neuronal gene expression throughout development. In contrast to mammalian brains1,2, the large neuronal diversity of the Drosophila optic lobe3 and its connectome4,5,6 are almost completely characterized. However, a molecular characterization of this neuronal diversity, particularly during development, has been lacking. Here we present insights into brain development through a nearly complete description of the transcriptomic diversity of the optic lobes of Drosophila. We acquired the transcriptome of 275,000 single cells at adult and at five pupal stages, and built a machine-learning framework to assign them to almost 200 cell types at all time points during development. We discovered two large neuronal populations that wrap neuropils during development but die just before adulthood, as well as neuronal subtypes that partition dorsal and ventral visual circuits by differential Wnt signalling throughout development. Moreover, we show that the transcriptomes of neurons that are of the same type but are produced days apart become synchronized shortly after their production. During synaptogenesis we also resolved neuronal subtypes that, although differing greatly in morphology and connectivity, converge to indistinguishable transcriptomic profiles in adults. Our datasets almost completely account for the known neuronal diversity of the Drosophila optic lobes, and serve as a paradigm to understand brain development across species.
Relevant articles
Open Access articles citing this article.
Gordon Wiegleb

,

Susanne Reinhardt

…

Nico Posnien

Frontiers in Zoology Open Access 12 November 2022

Seungjae Lee

,

Yen-Chung Chen

…

Eric C. Lai

Nature Communications Open Access 13 September 2022

Noah Dillon

,

Ben Cocanougher

…

Chris Q. Doe

Neural Development Open Access 24 August 2022
Access options
Access Nature and 54 other Nature Portfolio journals
Get Nature+, our best-value online-access subscription
$29.99 / 30 days
cancel any time
Subscribe to this journal
Receive 51 print issues and online access
$199.00 per year
only $3.90 per issue
Rent or buy this article
Get just this article for as long as you need it
$39.95
Prices may be subject to local taxes which are calculated during checkout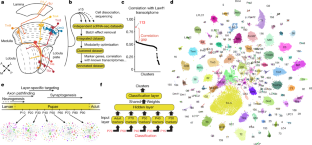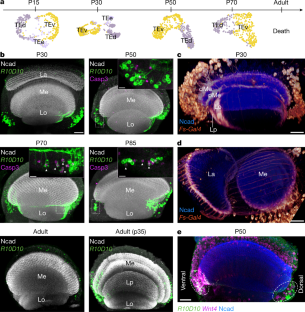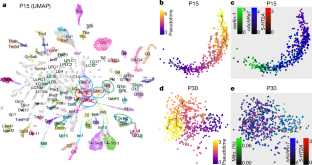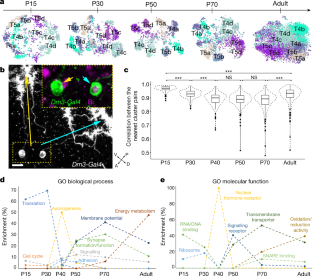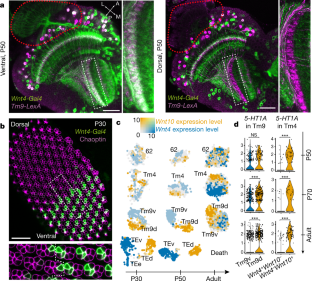 Data availability
All raw and processed data referenced were uploaded to the GEO with accession number GSE142789. The following publicly accessible datasets were also used: GSE103771, GSE103772 and GSE116969.
References
Lodato, S. & Arlotta, P. Generating neuronal diversity in the mammalian cerebral cortex. Annu. Rev. Cell Dev. Biol. 31, 699–720 (2015).

Cembrowski, M. S. & Spruston, N. Heterogeneity within classical cell types is the rule: lessons from hippocampal pyramidal neurons. Nat. Rev. Neurosci. 20, 193–204 (2019).

Fischbach, K. F. & Dittrich, A. P. M. The optic lobe of Drosophila melanogaster. I. A Golgi analysis of wild-type structure. Cell Tissue Res. 258, 441–475 (1989).

Takemura, S. Y. et al. Synaptic circuits and their variations within different columns in the visual system of Drosophila. Proc. Natl Acad. Sci. USA 112, 13711–13716 (2015).

Rivera-Alba, M. et al. Wiring economy and volume exclusion determine neuronal placement in the Drosophila brain. Curr. Biol. 21, 2000–2005 (2011).

Shinomiya, K. et al. Comparisons between the ON- and OFF-edge motion pathways in the Drosophila brain. eLife 8, e40025 (2019).

Nern, A., Pfeiffer, B. D. & Rubin, G. M. Optimized tools for multicolor stochastic labeling reveal diverse stereotyped cell arrangements in the fly visual system. Proc. Natl Acad. Sci. USA 112, E2967–E2976 (2015).

Otsuna, H. & Ito, K. Systematic analysis of the visual projection neurons of Drosophila melanogaster. I. Lobula-specific pathways. J. Comp. Neurol. 497, 928–958 (2006).

Panser, K. et al. Automatic segmentation of Drosophila neural compartments using GAL4 expression data reveals novel visual pathways. Curr. Biol. 26, 1943–1954 (2016).

Raghu, S. V. & Borst, A. Candidate glutamatergic neurons in the visual system of Drosophila. PLoS ONE 6, e19472 (2011).

Varija Raghu, S., Reiff, D. F. & Borst, A. Neurons with cholinergic phenotype in the visual system of Drosophila. J. Comp. Neurol. 519, 162–176 (2011).

Wu, M. et al. Visual projection neurons in the Drosophila lobula link feature detection to distinct behavioral programs. eLife 5, e21022 (2016).

Erclik, T. et al. Integration of temporal and spatial patterning generates neural diversity. Nature 541, 365–370 (2017).

Ngo, K. T., Andrade, I. & Hartenstein, V. Spatio-temporal pattern of neuronal differentiation in the Drosophila visual system: A user's guide to the dynamic morphology of the developing optic lobe. Dev. Biol. 428, 1–24 (2017).

Özel, M. N. et al. Serial synapse formation through filopodial competition for synaptic seeding factors. Dev. Cell 50, 447–461.e8 (2019).

Hiesinger, P. R. et al. Activity-independent prespecification of synaptic partners in the visual map of Drosophila. Curr. Biol. 16, 1835–1843 (2006).

Holguera, I. & Desplan, C. Neuronal specification in space and time. Science 362, 176–180 (2018).

Konstantinides, N. et al. Phenotypic convergence: distinct transcription factors regulate common terminal features. Cell 174, 622–635.e13 (2018).

Davie, K. et al. A single-cell transcriptome atlas of the aging Drosophila brain. Cell 174, 982–998.e20 (2018).

Davis, F. P. et al. A genetic, genomic, and computational resource for exploring neural circuit function. eLife 9, e50901 (2020).

Stuart, T. et al. Comprehensive integration of single-cell data. Cell 177, 1888–1902.e21 (2019).

Butler, A., Hoffman, P., Smibert, P., Papalexi, E. & Satija, R. Integrating single-cell transcriptomic data across different conditions, technologies, and species. Nat. Biotechnol. 36, 411–420 (2018).

Hewes, R. S., Gu, T., Brewster, J. A., Qu, C. & Zhao, T. Regulation of secretory protein expression in mature cells by DIMM, a basic helix–loop–helix neuroendocrine differentiation factor. J. Neurosci. 26, 7860–7869 (2006).

Bertet, C. et al. Temporal patterning of neuroblasts controls Notch-mediated cell survival through regulation of Hid or Reaper. Cell 158, 1173–1186 (2014).

Hay, B. A., Wolff, T. & Rubin, G. M. Expression of baculovirus P35 prevents cell death in Drosophila. Development 120, 2121–2129 (1994).

Lin, H. V., Rogulja, A. & Cadigan, K. M. Wingless eliminates ommatidia from the edge of the developing eye through activation of apoptosis. Development 131, 2409–2418 (2004).

Pentek, J., Parker, L., Wu, A. & Arora, K. Follistatin preferentially antagonizes activin rather than BMP signaling in Drosophila. Genesis 47, 261–273 (2009).

Ting, C. Y. et al. Photoreceptor-derived activin promotes dendritic termination and restricts the receptive fields of first-order interneurons in Drosophila. Neuron 81, 830–846 (2014).

Hasegawa, E. et al. Concentric zones, cell migration and neuronal circuits in the Drosophila visual center. Development 138, 983–993 (2011).

Soriano, E. & Del Río, J. A. The cells of Cajal–Retzius: still a mystery one century after. Neuron 46, 389–394 (2005).

Yu, F., Kuo, C. T. & Jan, Y. N. Drosophila neuroblast asymmetric cell division: recent advances and implications for stem cell biology. Neuron 51, 13–20 (2006).

Hofbauer, A. & Campos-Ortega, J. A. Proliferation pattern and early differentiation of the optic lobes in Drosophila melanogaster. Rouxs Arch. Dev. Biol. 198, 264–274 (1990).

Apitz, H. & Salecker, I. A region-specific neurogenesis mode requires migratory progenitors in the Drosophila visual system. Nat. Neurosci. 18, 46–55 (2015).

Selleck, S. B. & Steller, H. The influence of retinal innervation on neurogenesis in the first optic ganglion of Drosophila. Neuron 6, 83–99 (1991).

Monastirioti, M. et al. Drosophila Hey is a target of Notch in asymmetric divisions during embryonic and larval neurogenesis. Development 137, 191–201 (2010).

Xu, J. et al. Prevention of medulla neuron dedifferentiation by Nerfin-1 requires inhibition of Notch activity. Development 144, 1510–1517 (2017).

Nien, C.-Y. et al. Temporal coordination of gene networks by Zelda in the early Drosophila embryo. PLoS Genet. 7, e1002339 (2011).

Cao, J. et al. The single-cell transcriptional landscape of mammalian organogenesis. Nature 566, 496–502 (2019).

Langen, M. et al. The developmental rules of neural superposition in Drosophila. Cell 162, 120–133 (2015).

Özel, M. N., Langen, M., Hassan, B. A. & Hiesinger, P. R. Filopodial dynamics and growth cone stabilization in Drosophila visual circuit development. eLife 4, e10721 (2015).

Maisak, M. S. et al. A directional tuning map of Drosophila elementary motion detectors. Nature 500, 212–216 (2013).

Pinto-Teixeira, F. et al. Development of concurrent retinotopic maps in the fly motion detection circuit. Cell 173, 485–498.e11 (2018).

Apitz, H. & Salecker, I. Spatio-temporal relays control layer identity of direction-selective neuron subtypes in Drosophila. Nat. Commun. 9, 2295 (2018).

Li, H. et al. Classifying Drosophila olfactory projection neuron subtypes by single-cell RNA sequencing. Cell 171, 1206–1220.e22 (2017).

Wernet, M. F., Perry, M. W. & Desplan, C. The evolutionary diversity of insect retinal mosaics: common design principles and emerging molecular logic. Trends Genet. 31, 316–328 (2015).

Kurmangaliyev, Y. Z., Yoo, J., Valdes-Aleman, J., Sanfilippo, P. & Zipursky, S.L. Transcriptional programs of circuit assembly in the Drosophila visual system. Neuron https://doi.org/10.1016/j.neuron.2020.10.006 (2020).

Lancichinetti, A. & Fortunato, S. Limits of modularity maximization in community detection. Phys. Rev. E 84, 066122 (2011).

Stoeckius, M. et al. Cell hashing with barcoded antibodies enables multiplexing and doublet detection for single cell genomics. Genome Biol. 19, 224 (2018).

Ilicic, T. et al. Classification of low quality cells from single-cell RNA-seq data. Genome Biol. 17, 29 (2016).

Srivastava, N., Hinton, G., Krizhevsky, A., Sutskever, I. & Salakhutdinov, R. Dropout: a simple way to prevent neural networks from overfitting. J. Mach. Learn. Res. 15, 1929–1958 (2014).

Yarin, G. & Zoubin, G. Dropout as a Bayesian approximation: representing model uncertainty in deep learning. In Proc. 33rd International Conference on Machine Learning Vol. 48 (eds Balcan, M. F. and Weinberger, K. Q.) 1050–1059 (MLResearch Press, 2016).

Kurmangaliyev, Y. Z., Yoo, J., LoCascio, S. A. & Zipursky, S. L. Modular transcriptional programs separately define axon and dendrite connectivity. eLife 8, e50822 (2019).

Supek, F., Bošnjak, M., Škunca, N. & Šmuc, T. REVIGO summarizes and visualizes long lists of gene ontology terms. PLoS ONE 6, e21800 (2011).

Kuznetsova, I., Lugmayr, A., Siira, S. J., Rackham, O. & Filipovska, A. CirGO: an alternative circular way of visualising gene ontology terms. BMC Bioinformatics 20, 84 (2019).

Karuppudurai, T. et al. A hard-wired glutamatergic circuit pools and relays UV signals to mediate spectral preference in Drosophila. Neuron 81, 603–615 (2014).

Johnston, R. J., Jr et al. Interlocked feedforward loops control cell-type-specific rhodopsin expression in the Drosophila eye. Cell 145, 956–968 (2011).
Acknowledgements
We thank all members of the Desplan laboratory, S.-y. Takemura and F. P. Davis for discussions; L. Luo, C. Doe, F. Pinto Teixeira, J. Slabbaert and S. Cordoba for critical reading of the manuscript; and I. Salecker and R. Hiesinger for reagents. The C.D. laboratory is supported by NYSTEM (DOH01-C32604GG), the National Eye Institute (R01 EY017916) and by ADHPG-CGSB1 to the CGSB of the NYU Abu Dhabi Research Institute. M.N.O. is a Leon Levy Neuroscience Fellow. F.S. and Y.-C.C. are supported by New York University (MacCracken Fellowship). S.J. is supported by the Swedish Research Council (Vetenskapsrådet VR grant 2016- 06726). I.H. is supported by a Human Frontier Science Program postdoctoral fellowship (LT000757/2017). J.A.M is supported by the National Eye Institute (F32 F32EY028012). N.K. is supported by the National Eye Institute (K99 EY029356-01).
Ethics declarations
Competing interests
The authors declare no competing interests.
Additional information
Peer review information Nature thanks Stein Aerts and the other, anonymous, reviewer(s) for their contribution to the peer review of this work.
Publisher's note Springer Nature remains neutral with regard to jurisdictional claims in published maps and institutional affiliations.
Extended data figures and tables
Supplementary information
About this article
Cite this article
Özel, M.N., Simon, F., Jafari, S. et al. Neuronal diversity and convergence in a visual system developmental atlas. Nature 589, 88–95 (2021). https://doi.org/10.1038/s41586-020-2879-3
Received:

Accepted:

Published:

Issue Date:

DOI: https://doi.org/10.1038/s41586-020-2879-3
Comments
By submitting a comment you agree to abide by our Terms and Community Guidelines. If you find something abusive or that does not comply with our terms or guidelines please flag it as inappropriate.