Abstract
Whole-genome sequencing projects are increasingly populating the tree of life and characterizing biodiversity1,2,3,4. Sparse taxon sampling has previously been proposed to confound phylogenetic inference5, and captures only a fraction of the genomic diversity. Here we report a substantial step towards the dense representation of avian phylogenetic and molecular diversity, by analysing 363 genomes from 92.4% of bird families—including 267 newly sequenced genomes produced for phase II of the Bird 10,000 Genomes (B10K) Project. We use this comparative genome dataset in combination with a pipeline that leverages a reference-free whole-genome alignment to identify orthologous regions in greater numbers than has previously been possible and to recognize genomic novelties in particular bird lineages. The densely sampled alignment provides a single-base-pair map of selection, has more than doubled the fraction of bases that are confidently predicted to be under conservation and reveals extensive patterns of weak selection in predominantly non-coding DNA. Our results demonstrate that increasing the diversity of genomes used in comparative studies can reveal more shared and lineage-specific variation, and improve the investigation of genomic characteristics. We anticipate that this genomic resource will offer new perspectives on evolutionary processes in cross-species comparative analyses and assist in efforts to conserve species.
Relevant articles
Open Access articles citing this article.
Katherine Carbeck

,

Peter Arcese

…

Jennifer Walsh

Nature Communications Open Access 07 November 2023

Liudmila Zinevich

,

Mátyás Prommer

…

Gábor Sramkó

Scientific Reports Open Access 18 October 2023

Jianhua Wang

&

Guan-Zhu Han

Nature Communications Open Access 17 August 2023
Access options
Access Nature and 54 other Nature Portfolio journals
Get Nature+, our best-value online-access subscription
$29.99 / 30 days
cancel any time
Subscribe to this journal
Receive 51 print issues and online access
$199.00 per year
only $3.90 per issue
Rent or buy this article
Prices vary by article type
from$1.95
to$39.95
Prices may be subject to local taxes which are calculated during checkout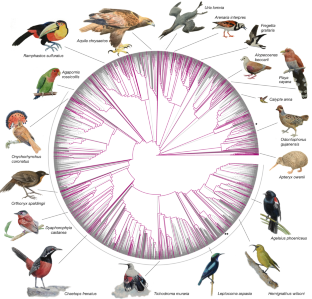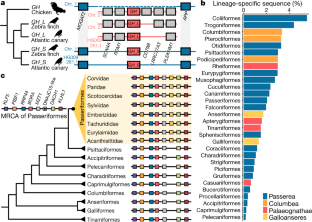 Data availability
All data released with this Article can be freely used. The B10K consortium is organizing phylogenomic analyses and other analyses with the whole-genome alignment, and we encourage persons to contact us for collaboration. Genome sequencing data, the genome assemblies and annotations of 267 species generated in this study have been deposited in the NCBI SRA and GenBank under accession PRJNA545868. The above data have also been deposited in the CNSA (https://db.cngb.org/cnsa/) of CNGBdb with accession number CNP0000505. The mitochondrial genomes and annotations of 336 species have been deposited in the NCBI GenBank under PRJNA545868. Sample information for each genome and the genome statistics can also be viewed online at https://b10k.scifeon.cloud/. The whole-genome alignment of the 363 birds in HAL format, along with a UCSC browser hub for all 363 species, is available at https://cglgenomics.ucsc.edu/data/cactus/. The Supplementary Data, which contains the tree file in Newick format for all 10,135 species of birds, is also available on Mendeley Data (https://doi.org/10.17632/fnpwzj37gw). The tree was pruned from the synthesis tree by excluding all subspecies, operational taxonomic units and unaccepted species as described in the Supplementary Information. Other data generated and analysed during this study, including Supplementary Tables 1–15, are also available on Mendeley Data (https://doi.org/10.17632/fnpwzj37gw). The study used publicly available data for species confirmation from the Barcode of Life Data (BOLD) (http://www.barcodinglife.org) and NCBI (https://www.ncbi.nlm.nih.gov/). The reference genomes, gene sets and published RNA-sequencing data used in the gene annotation and alignment construction of this study are available from Ensembl (http://www.ensembl.org) and NCBI. The databases used in functional annotation are available in InterPro (https://www.ebi.ac.uk/interpro), SwissProt (https://www.uniprot.org) and KEGG (https://www.genome.jp/kegg). The database used in the transposable elements annotation is available online (http://www.repeatmasker.org). The 77-way MULTIZ alignment, RefSeq genes and lncRNA gene set used in the selection analysis is available in UCSC Genome Browser (http://www.genome.ucsc.edu) and NONCODEv.5 database (http://www.noncode.org). The JASPAR2020 CORE vertebrate database used to identify transcription factor binding motifs is available online (http://jaspar2020.genereg.net).
References
Lewin, H. A. et al. Earth BioGenome project: sequencing life for the future of life. Proc. Natl Acad. Sci. USA 115, 4325–4333 (2018).

Genome 10K Community of Scientists. Genome 10K: a proposal to obtain whole-genome sequence for 10,000 vertebrate species. J. Hered. 100, 659–674 (2009).

i5K Consortium. The i5K initiative: advancing arthropod genomics for knowledge, human health, agriculture, and the environment. J. Hered. 104, 595–600 (2013).

Cheng, S. et al. 10KP: a phylodiverse genome sequencing plan. Gigascience 7, 1–9 (2018).

Prum, R. O. et al. A comprehensive phylogeny of birds (Aves) using targeted next-generation DNA sequencing. Nature 526, 569–573 (2015).

Zhang, G. et al. Bird sequencing project takes off. Nature 522, 34 (2015).

Boomsma, J. J. et al. The Global Ant Genomics Alliance (GAGA). Myrmecol. News 25, 61–66 (2017).

Chen, L. et al. Large-scale ruminant genome sequencing provides insights into their evolution and distinct traits. Science 364, eaav6202 (2019).

Jarvis, E. D. et al. Whole-genome analyses resolve early branches in the tree of life of modern birds. Science 346, 1320–1331 (2014).

Zhang, G. et al. Comparative genomics reveals insights into avian genome evolution and adaptation. Science 346, 1311–1320 (2014).

Dickinson, E. C. & Remsen, J. V. (eds) The Howard and Moore Complete Checklist of the Birds of the World Volume 1: Non-passerines 4th edn (Aves, 2013).

Dickinson, E. C. & Christidis, L. (eds) The Howard and Moore Complete Checklist of the Birds of the World Volume 2: Passerines 4th edn (Aves, 2014).

BirdLife International. Leucopsar rothschildi. https://doi.org/10.2305/IUCN.UK.2018-2.RLTS.T22710912A129874226.en (The IUCN Red List of Threatened Species, 2018).

Meredith, R. W., Zhang, G., Gilbert, M. T. P., Jarvis, E. D. & Springer, M. S. Evidence for a single loss of mineralized teeth in the common avian ancestor. Science 346, 1254390 (2014).

Deutekom, E. S., Vosseberg, J., van Dam, T. J. P. & Snel, B. Measuring the impact of gene prediction on gene loss estimates in Eukaryotes by quantifying falsely inferred absences. PLOS Comput. Biol. 15, e1007301 (2019).

Plotkin, J. B. & Kudla, G. Synonymous but not the same: the causes and consequences of codon bias. Nat. Rev. Genet. 12, 32–42 (2011).

Armstrong, J. et al. Progressive Cactus is a multiple-genome aligner for the thousand-genome era. Nature https://doi.org/10.1038/s41586-020-2871-y (2020).

Armstrong, J. Enabling Comparative Genomics at the Scale of Hundreds of Species. PhD thesis, Univ. California Santa Cruz  (2019).

Blanchette, M. et al. Aligning multiple genomic sequences with the threaded blockset aligner. Genome Res. 14, 708–715 (2004).

Pegueroles, C., Laurie, S. & Albà, M. M. Accelerated evolution after gene duplication: a time-dependent process affecting just one copy. Mol. Biol. Evol. 30, 1830–1842 (2013).

Yuri, T., Kimball, R. T., Braun, E. L. & Braun, M. J. Duplication of accelerated evolution and growth hormone gene in passerine birds. Mol. Biol. Evol. 25, 352–361 (2008).

Armstrong, J., Fiddes, I. T., Diekhans, M. & Paten, B. Whole-genome alignment and comparative annotation. Annu. Rev. Anim. Biosci. 7, 41–64 (2019).

Schusdziarra, C., Blamowska, M., Azem, A. & Hell, K. Methylation-controlled J-protein MCJ acts in the import of proteins into human mitochondria. Hum. Mol. Genet. 22, 1348–1357 (2013).

Zhang, B., Peñagaricano, F., Driver, A., Chen, H. & Khatib, H. Differential expression of heat shock protein genes and their splice variants in bovine preimplantation embryos. J. Dairy Sci. 94, 4174–4182 (2011).

Mlitz, V. et al. Trichohyalin-like proteins have evolutionarily conserved roles in the morphogenesis of skin appendages. J. Invest. Dermatol. 134, 2685–2692 (2014).

Riede, T., Suthers, R. A., Fletcher, N. H. & Blevins, W. E. Songbirds tune their vocal tract to the fundamental frequency of their song. Proc. Natl Acad. Sci. USA 103, 5543–5548 (2006).

Drake, J. A. et al. Conserved noncoding sequences are selectively constrained and not mutation cold spots. Nat. Genet. 38, 223–227 (2006).

McLean, C. Y. et al. Human-specific loss of regulatory DNA and the evolution of human-specific traits. Nature 471, 216–219 (2011).

Mank, J. E., Axelsson, E. & Ellegren, H. Fast-X on the Z: rapid evolution of sex-linked genes in birds. Genome Res. 17, 618–624 (2007).

Axelsson, E., Webster, M. T., Smith, N. G. C., Burt, D. W. & Ellegren, H. Comparison of the chicken and turkey genomes reveals a higher rate of nucleotide divergence on microchromosomes than macrochromosomes. Genome Res. 15, 120–125 (2005).

Haeussler, M. et al. The UCSC Genome Browser database: 2019 update. Nucleic Acids Res. 47, D853–D858 (2019).

Cooper, G. M., Brudno, M., Green, E. D., Batzoglou, S. & Sidow, A. Quantitative estimates of sequence divergence for comparative analyses of mammalian genomes. Genome Res. 13, 813–820 (2003).

Benjamini, Y. & Hochberg, Y. Controlling the false discovery rate: a practical and powerful approach to multiple testing. J. R. Stat. Soc. B 57, 289–300 (1995).

Gelabert, P. et al. Evolutionary history, genomic adaptation to toxic diet, and extinction of the Carolina parakeet. Curr. Biol. 30, 108–114.e5 (2020).

Feng, S. et al. The genomic footprints of the fall and recovery of the crested ibis. Curr. Biol. 29, 340–349.e7 (2019).

Brown, J. W., Wang, N. & Smith, S. A. The development of scientific consensus: analyzing conflict and concordance among avian phylogenies. Mol. Phylogenet. Evol. 116, 69–77 (2017).

Luo, R. et al. SOAPdenovo2: an empirically improved memory-efficient short-read de novo assembler. Gigascience 1, 18 (2012).

Gnerre, S. et al. High-quality draft assemblies of mammalian genomes from massively parallel sequence data. Proc. Natl Acad. Sci. USA 108, 1513–1518 (2011).

Simão, F. A., Waterhouse, R. M., Ioannidis, P., Kriventseva, E. V. & Zdobnov, E. M. BUSCO: assessing genome assembly and annotation completeness with single-copy orthologs. Bioinformatics 31, 3210–3212 (2015).

Dierckxsens, N., Mardulyn, P. & Smits, G. NOVOPlasty: de novo assembly of organelle genomes from whole genome data. Nucleic Acids Res. 45, e18 (2017).

Meng, G., Li, Y., Yang, C. & Liu, S. MitoZ: a toolkit for animal mitochondrial genome assembly, annotation and visualization. Nucleic Acids Res. 47, e63 (2019).

Benson, G. Tandem repeats finder: a program to analyze DNA sequences. Nucleic Acids Res. 27, 573–580 (1999).

Smit, A. F. A. and Hubley, R. and Green, P. RepeatMasker Open-4.0. http://www.repeatmasker.org/ (2013–2015)

Smit, A. F. A. & Hubley, R. RepeatModeler Open-1.0. http://www.repeatmasker.org/RepeatModeler/ (2008–2015).

Revell, L. J. phytools: an R package for phylogenetic comparative biology (and other things). Methods Ecol. Evol. 3, 217–223 (2012).

Faircloth, B. C. et al. Ultraconserved elements anchor thousands of genetic markers spanning multiple evolutionary timescales. Syst. Biol. 61, 717–726 (2012).

Faircloth, B. C. PHYLUCE is a software package for the analysis of conserved genomic loci. Bioinformatics 32, 786–788 (2016).

Kozlov, A. M., Aberer, A. J. & Stamatakis, A. ExaML version 3: a tool for phylogenomic analyses on supercomputers. Bioinformatics 31, 2577–2579 (2015).

Fitch, W. M. Distinguishing homologous from analogous proteins. Syst. Zool. 19, 99–113 (1970).

Fitch, W. M. Homology: a personal view on some of the problems. Trends Genet. 16, 227–231 (2000).

Dewey, C. N. Positional orthology: putting genomic evolutionary relationships into context. Brief. Bioinform. 12, 401–412 (2011).

Fernández, R., Gabaldon, T. & Dessimoz, C. in Phylogenetics in the Genomic Era (eds. Scornavacca, C. et al.) 2.4:1–2.4:14 (2020).

Jolliffe, I. T. & Greenacre, M. J. Theory and applications of correspondence analysis. Biometrics 42, 223 (1986).

Wright, F. The 'effective number of codons' used in a gene. Gene 87, 23–29 (1990).

Bao, W., Kojima, K. K. & Kohany, O. Repbase update, a database of repetitive elements in eukaryotic genomes. Mob. DNA 6, 11 (2015).

Hubisz, M. J., Pollard, K. S. & Siepel, A. PHAST and RPHAST: phylogenetic analysis with space/time models. Brief. Bioinform. 12, 41–51 (2011).

Charlesworth, B., Coyne, J. A. & Barton, N. H. The relative rates of evolution of sex chromosomes and autosomes. Am. Nat. 130, 113–146 (1987).

Pollard, K. S., Hubisz, M. J., Rosenbloom, K. R. & Siepel, A. Detection of nonneutral substitution rates on mammalian phylogenies. Genome Res. 20, 110–121 (2010).

Zerbino, D. R., Johnson, N., Juettemann, T., Wilder, S. P. & Flicek, P. WiggleTools: parallel processing of large collections of genome-wide datasets for visualization and statistical analysis. Bioinformatics 30, 1008–1009 (2014).

Fang, S. et al. NONCODEV5: a comprehensive annotation database for long non-coding RNAs. Nucleic Acids Res. 46, D308–D314 (2018).

Fornes, O. et al. JASPAR 2020: update of the open-access database of transcription factor binding profiles. Nucleic Acids Res. 48, D87–D92 (2020).

Katoh, K. & Standley, D. M. MAFFT multiple sequence alignment software version 7: improvements in performance and usability. Mol. Biol. Evol. 30, 772–780 (2013).

R Core Team. R: a language and environment for statistical computing. http://www.R-project.org/ (R Foundation for Statistical Computing, 2013).

Nguyen, L.-T., Schmidt, H. A., von Haeseler, A. & Minh, B. Q. IQ-TREE: a fast and effective stochastic algorithm for estimating maximum-likelihood phylogenies. Mol. Biol. Evol. 32, 268–274 (2015).

Slater, G. S. C. & Birney, E. Automated generation of heuristics for biological sequence comparison. BMC Bioinformatics 6, 31 (2005).
Acknowledgements
The B10K Project would not be possible without the efforts of field collectors, curators and staff at the institutions listed in Supplementary Table 1. We thank J. Klicka (Burke Museum), J. B. Kristensen (Natural History Museum of Denmark), A. T. Peterson (Biodiversity Institute of the University of Kansas), M. B. Robbins (Biodiversity Institute of the University of Kansas), F. Robertson (University of Otago), T. King (University of Otago), K. C. Rowe (Museums Victoria), K. Winker (University of Alaska Museum) and the late A. Baker (Royal Ontario Museum) for providing tissue samples; B. J. Novak for sample coordination; Dovetail Genomics for the assembly of Caloenas nicobarica; T. Riede for helpful discussions of the mechanism and evolution of the vocal tract filter in songbirds; and China National Genebank at BGI for contributing to the sequencing for the B10K Project. The final version of the manuscript was approved by H. G. Spencer (University of Otago), in place of the late I.G.J. This work was supported by Strategic Priority Research Program of the Chinese Academy of Sciences (XDB31020000), International Partnership Program of Chinese Academy of Sciences (no. 152453KYSB20170002), Carlsberg Foundation (CF16-0663) and Villum Foundation (no. 25900) to G.Z. This work was also supported in part by National Natural Science Foundation of China no. 31901214 to S.F., ERC Consolidator Grant 681396 to M.T.P.G. and Howard Hughes Medical Institute funds to E.D.J., the National Institutes of Health (award numbers 5U54HG007990, 5T32HG008345-04, 1U01HL137183, R01HG010053, U01HL137183 and U54HG007990) to B. Paten. Supercomputing was partially performed using the DeiC National Life Science Supercomputer, Computerome, at the Technical University of Denmark. Portions of this research were also conducted with high-performance computing resources provided by Louisiana State University (http://www.hpc.lsu.edu). Parts of this work and its text were included in J.A.'s PhD thesis18.
Ethics declarations
Competing interests
The authors declare no competing interests.
Additional information
Peer review information Nature thanks Javier Herrero, Sushma Reddy and the other, anonymous, reviewer(s) for their contribution to the peer review of this work.
Publisher's note Springer Nature remains neutral with regard to jurisdictional claims in published maps and institutional affiliations.
Extended data figures and tables
Supplementary information
About this article
Cite this article
Feng, S., Stiller, J., Deng, Y. et al. Dense sampling of bird diversity increases power of comparative genomics. Nature 587, 252–257 (2020). https://doi.org/10.1038/s41586-020-2873-9
Received:

Accepted:

Published:

Issue Date:

DOI: https://doi.org/10.1038/s41586-020-2873-9
Comments
By submitting a comment you agree to abide by our Terms and Community Guidelines. If you find something abusive or that does not comply with our terms or guidelines please flag it as inappropriate.