Abstract
Germinal centres, the structures in which B cells evolve to produce antibodies with high affinity for various antigens, usually form transiently in lymphoid organs in response to infection or immunization. In lymphoid organs associated with the gut, however, germinal centres are chronically present. These gut-associated germinal centres can support targeted antibody responses to gut infections and immunization1. But whether B cell selection and antibody affinity maturation take place in the face of the chronic and diverse antigenic stimulation characteristic of these structures under steady state is less clear2,3,4,5,6,7,8. Here, by combining multicolour 'Brainbow' cell-fate mapping and sequencing of immunoglobulin genes from single cells, we find that 5–10% of gut-associated germinal centres from specific-pathogen-free (SPF) mice contain highly dominant 'winner' B cell clones at steady state, despite rapid turnover of germinal-centre B cells. Monoclonal antibodies derived from these clones show increased binding, compared with their unmutated precursors, to commensal bacteria, consistent with antigen-driven selection. The frequency of highly selected gut-associated germinal centres is markedly higher in germ-free than in SPF mice, and winner B cells in germ-free germinal centres are enriched in 'public' clonotypes found in multiple individuals, indicating strong selection of B cell antigen receptors even in the absence of microbiota. Colonization of germ-free mice with a defined microbial consortium (Oligo-MM12) does not eliminate germ-free-associated clonotypes, yet does induce a concomitant commensal-specific B cell response with the hallmarks of antigen-driven selection. Thus, positive selection of B cells can take place in steady-state gut-associated germinal centres, at a rate that is tunable over a wide range by the presence and composition of the microbiota.
Relevant articles
Open Access articles citing this article.
Rodrigo García-Valiente

,

Elena Merino Tejero

…

Antoine H. C. van Kampen

npj Systems Biology and Applications Open Access 16 March 2023

Anna S. Weiss

,

Anna G. Burrichter

…

Bärbel Stecher

The ISME Journal Open Access 02 December 2021
Access options
Access Nature and 54 other Nature Portfolio journals
Get Nature+, our best-value online-access subscription
$29.99 / 30 days
cancel any time
Subscribe to this journal
Receive 51 print issues and online access
$199.00 per year
only $3.90 per issue
Rent or buy this article
Prices vary by article type
from$1.95
to$39.95
Prices may be subject to local taxes which are calculated during checkout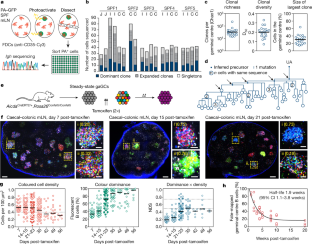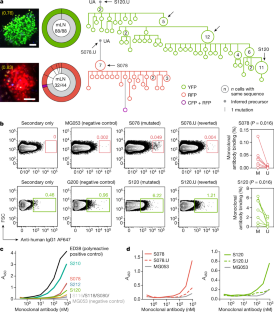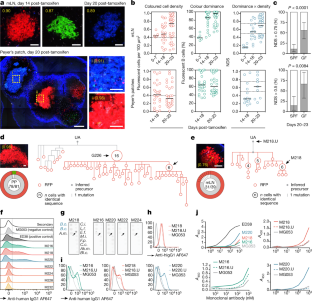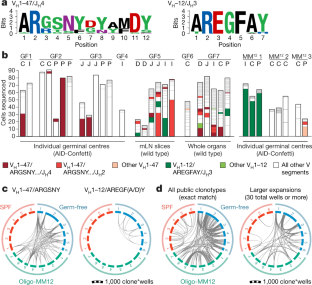 References
Bergqvist, P. et al. Re-utilization of germinal centers in multiple Peyer's patches results in highly synchronized, oligoclonal, and affinity-matured gut IgA responses. Mucosal Immunol. 6, 122–135 (2013).

Casola, S. et al. B cell receptor signal strength determines B cell fate. Nat. Immunol. 5, 317–327 (2004).

Yeap, L. S. et al. Sequence-intrinsic mechanisms that target AID mutational outcomes on antibody genes. Cell 163, 1124–1137 (2015).

Bunker, J. J. et al. Natural polyreactive IgA antibodies coat the intestinal microbiota. Science 358, eaan6619 (2017).

Reboldi, A. & Cyster, J. G. Peyer's patches: organizing B cell responses at the intestinal frontier. Immunol. Rev. 271, 230–245 (2016).

Bemark, M. et al. Somatic hypermutation in the absence of DNA-dependent protein kinase catalytic subunit (DNA-PK(cs)) or recombination-activating gene (RAG)1 activity. J. Exp. Med. 192, 1509–1514 (2000).

Biram, A. et al. B cell diversification is uncoupled from SAP-mediated selection forces in chronic germinal cnters within Peyer's patches. Cell Rep. 30, 1910–1922 (2020).

Bunker, J. J. & Bendelac, A. IgA responses to microbiota. Immunity 49, 211–224 (2018).

Casola, S. & Rajewsky, K. B cell recruitment and selection in mouse GALT germinal centers. Curr. Top. Microbiol. Immunol. 308, 155–171 (2006).

Biram, A. et al. BCR affinity differentially regulates colonization of the subepithelial dome and infiltration into germinal centers within Peyer's patches. Nat. Immunol. 20, 482–492 (2019).

Tas, J. M. et al. Visualizing antibody affinity maturation in germinal centers. Science 351, 1048–1054 (2016).

Victora, G. D. et al. Germinal center dynamics revealed by multiphoton microscopy with a photoactivatable fluorescent reporter. Cell 143, 592–605 (2010).

Livet, J. et al. Transgenic strategies for combinatorial expression of fluorescent proteins in the nervous system. Nature 450, 56–62 (2007).

Shinnakasu, R. et al. Regulated selection of germinal-center cells into the memory B cell compartment. Nat. Immunol. 17, 861–869 (2016).

Meyer-Hermann, M., Binder, S. C., Mesin, L. & Victora, G. D. Computer simulation of multi-color Brainbow staining and clonal evolution of B cells in germinal centers. Front. Immunol. 9, 2020 (2018).

Tiller, T., Busse, C. E. & Wardemann, H. Cloning and expression of murine Ig genes from single B cells. J. Immunol. Methods 350, 183–193 (2009).

Meffre, E. et al. Surrogate light chain expressing human peripheral B cells produce self-reactive antibodies. J. Exp. Med. 199, 145–150 (2004).

Pollard, M. in Germinal Centers in Immune Responses (eds Odartchenko, N. et al.) 343–348 (Springer, 1967).

Brugiroux, S. et al. Genome-guided design of a defined mouse microbiota that confers colonization resistance against Salmonella enterica serovar Typhimurium. Nat. Microbiol. 2, 16215 (2016).

Esterházy, D. et al. Compartmentalized gut lymph node drainage dictates adaptive immune responses. Nature 569, 126–130 (2019).

Greiff, V. et al. Systems analysis reveals high genetic and antigen-driven predetermination of antibody repertoires throughout B cell development. Cell Rep. 19, 1467–1478 (2017).

Chen, H. et al. BCR selection and affinity maturation in Peyer's patch germinal centres. Nature 582, 421–425 (2020).

Madisen, L. et al. A robust and high-throughput Cre reporting and characterization system for the whole mouse brain. Nat. Neurosci. 13, 133–140 (2010).

Dogan, I. et al. Multiple layers of B cell memory with different effector functions. Nat. Immunol. 10, 1292–1299 (2009).

Liu, K. et al. In vivo analysis of dendritic cell development and homeostasis. Science 324, 392–397 (2009).

Shulman, Z. et al. T follicular helper cell dynamics in germinal centers. Science 341, 673–677 (2013).

Trombetta, J. J. et al. Preparation of single-cell RNA-seq libraries for next generation sequencing. Curr. Protoc. Mol. Biol. 107, 4.22.1-17 (2014).

Mesin, L. et al. Restricted clonality and limited germinal center reentry characterize memory B cell reactivation by boosting. Cell 180, 18–20 (2020).

Lefranc, M. P. et al. IMGT, the international ImMunoGeneTics information system. Nucleic Acids Res. 37, D1006–D1012 (2009).

Masella, A. P., Bartram, A. K., Truszkowski, J. M., Brown, D. G. & Neufeld, J. D. PANDAseq: paired-end assembler for illumina sequences. BMC Bioinformatics 13, 31 (2012).

Retter, I., Althaus, H. H., Münch, R. & Müller, W. VBASE2, an integrative V gene database. Nucleic Acids Res. 33, D671–D674 (2005).

DeWitt, W. S., III, Mesin, L., Victora, G. D., Minin, V. N. & Matsen, F. A., IV. Using genotype abundance to improve phylogenetic inference. Mol. Biol. Evol. 35, 1253–1265 (2018).

Notredame, C., Higgins, D. G. & Heringa, J. T-Coffee: a novel method for fast and accurate multiple sequence alignment. J. Mol. Biol. 302, 205–217 (2000).

Crooks, G. E., Hon, G., Chandonia, J. M. & Brenner, S. E. WebLogo: a sequence logo generator. Genome Res. 14, 1188–1190 (2004).

Gupta, N. T. et al. Change-O: a toolkit for analyzing large-scale B cell immunoglobulin repertoire sequencing data. Bioinformatics 31, 3356–3358 (2015).

Krzywinski, M. et al. Circos: an information aesthetic for comparative genomics. Genome Res. 19, 1639–1645 (2009).

Pasqual, G., Angelini, A. & Victora, G. D. Triggering positive selection of germinal center B cells by antigen targeting to DEC-205. Methods Mol. Biol. 1291, 125–134 (2015).

Palm, N. W. et al. Immunoglobulin A coating identifies colitogenic bacteria in inflammatory bowel disease. Cell 158, 1000–1010 (2014).

Mouquet, H. et al. Polyreactivity increases the apparent affinity of anti-HIV antibodies by heteroligation. Nature 467, 591–595 (2010).

Chao, A. Nonparametric-estimation of the number of classes in a population. Scand. J. Stat. 11, 265–270 (1984).

Colwell, R. K. EstimateS: Statistical estimation of species richness and shared species from samples. Version 9. http://purl.oclc.org/estimates (2013).
Acknowledgements
We thank all members of the Victora and Mucida laboratories, past and present, for assistance with experiments, fruitful discussions and critical reading of the manuscript. In particular we thank: A. Rogoz and G. Fayzikhodjaeva for maintaining gnotobiotic mice; S. Gonzalez for maintaining SPF mice; K. Gordon and K. Chhosphel for FACS; the Rockefeller University Genomics Center for RNA sequencing; and employees of the Rockefeller University for continuous assistance. We thank A. Vale (Universidade Federal do Rio de Janeiro, Brazil) for help with analysis of public clonotypes; K. McCoy (University of Calgary, Canada), S. Y. Wong and K. Cadwell (New York University, USA) for providing Oligo-MM12 strains; J. Faith (Mount Sinai School of Medicine, USA) for other bacterial strains; and J Däbritz and E. Wirthgen (University of Rostock, Germany) for contributing to the training and supervision of C.W. This work was supported by National Institutes of Health (NIH)/National Institute of Allergy and Infectious Diseases (NIAID) grants R01AI119006 and R01AI139117 (to G.D.V.), and NIH/NIAID/National Institute of Diabetes and Digestive and Kidney Diseases (NIDDK) grants R01DK093674, R01DK113375 and R21AI144827 (to D.M.), with additional support from NIH grant DP1AI144248 (Pioneer Award) and from the Robertson Foundation to G.D.V. and NIH grant R01DK116646 (Transformative Award) to D.M. C.R.N. is a Human Frontier of Science Program postdoctoral fellow. G.P.D. is a Robert Black Fellow of the Damon Runyon Cancer Research Foundation. A.S. is a Boehringer-Ingelheim Fonds PhD fellow. G.D.V. and D.M. are Burroughs-Wellcome Investigators in the Pathogenesis of Infectious Disease. G.D.V. is a Searle Scholar, a Pew-Stewart Scholar, and a MacArthur Fellow.
Ethics declarations
Competing interests
The authors declare no competing financial interests.
Additional information
Peer review information Nature thanks Ramy Arnaout, Rachael Bashford-Rogers and Hai Qi for their contribution to the peer review of this work.
Publisher's note Springer Nature remains neutral with regard to jurisdictional claims in published maps and institutional affiliations.
Extended data figures and tables
Supplementary information
About this article
Cite this article
Nowosad, C.R., Mesin, L., Castro, T.B.R. et al. Tunable dynamics of B cell selection in gut germinal centres. Nature 588, 321–326 (2020). https://doi.org/10.1038/s41586-020-2865-9
Received:

Accepted:

Published:

Issue Date:

DOI: https://doi.org/10.1038/s41586-020-2865-9
Comments
By submitting a comment you agree to abide by our Terms and Community Guidelines. If you find something abusive or that does not comply with our terms or guidelines please flag it as inappropriate.