Abstract
The anterolateral pathway consists of ascending spinal tracts that convey pain, temperature and touch information from the spinal cord to the brain1,2,3,4. Projection neurons of the anterolateral pathway are attractive therapeutic targets for pain treatment because nociceptive signals emanating from the periphery are channelled through these spinal projection neurons en route to the brain. However, the organizational logic of the anterolateral pathway remains poorly understood. Here we show that two populations of projection neurons that express the structurally related G-protein-coupled receptors (GPCRs) TACR1 and GPR83 form parallel ascending circuit modules that cooperate to convey thermal, tactile and noxious cutaneous signals from the spinal cord to the lateral parabrachial nucleus of the pons. Within this nucleus, axons of spinoparabrachial (SPB) neurons that express Tacr1 or Gpr83 innervate distinct sets of subnuclei, and strong optogenetic stimulation of the axon terminals induces distinct escape behaviours and autonomic responses. Moreover, SPB neurons that  express Gpr83 are highly sensitive to cutaneous mechanical stimuli and receive strong synaptic inputs from both high- and low-threshold primary mechanosensory neurons. Notably, the valence associated with activation of SPB neurons that express Gpr83 can be either positive or negative, depending on stimulus intensity. These findings reveal anatomically, physiologically and functionally distinct subdivisions of the SPB tract that underlie affective aspects of touch and pain.
Relevant articles
Open Access articles citing this article.
Josef Turecek

,

Brendan P. Lehnert

&

David D. Ginty

Nature Open Access 23 November 2022

Ruining Hu

&

Rongfeng K. Hu

Signal Transduction and Targeted Therapy Open Access 31 August 2022

Fuqin Sun

,

Qifeng Lu

…

Ting Zhang

npj Flexible Electronics Open Access 13 August 2022
Access options
Access Nature and 54 other Nature Portfolio journals
Get Nature+, our best-value online-access subscription
$29.99 / 30 days
cancel any time
Subscribe to this journal
Receive 51 print issues and online access
$199.00 per year
only $3.90 per issue
Rent or buy this article
Get just this article for as long as you need it
$39.95
Prices may be subject to local taxes which are calculated during checkout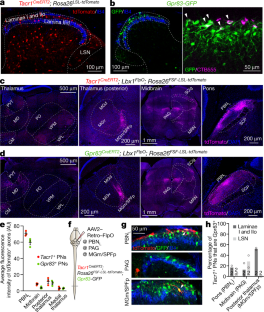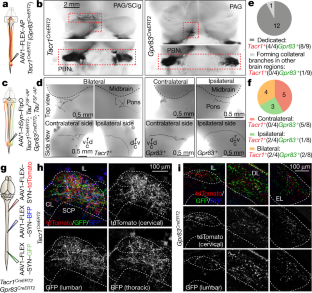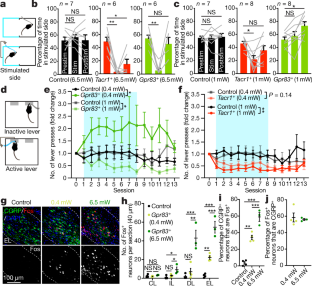 Data availability
The data generated in this study are available from the corresponding author upon reasonable request. Source data are provided with this paper.
References
Abraira, V. E. & Ginty, D. D. The sensory neurons of touch. Neuron 79, 618–639 (2013).

Basbaum, A. I., Bautista, D. M., Scherrer, G. & Julius, D. Cellular and molecular mechanisms of pain. Cell 139, 267–284 (2009).

Todd, A. J. Neuronal circuitry for pain processing in the dorsal horn. Nat. Rev. Neurosci. 11, 823–836 (2010).

Wercberger, R. & Basbaum, A. I. Spinal cord projection neurons: a superficial, and also deep, analysis. Curr. Opin. Physiology 11, 109–115 (2019).

Owens, D. M. & Lumpkin, E. A. Diversification and specialization of touch receptors in skin. Cold Spring Harb. Perspect. Med. 4, a013656 (2014).

Häring, M. et al. Neuronal atlas of the dorsal horn defines its architecture and links sensory input to transcriptional cell types. Nat. Neurosci. 21, 869–880 (2018).

Gong, S. et al. A gene expression atlas of the central nervous system based on bacterial artificial chromosomes. Nature 425, 917–925 (2003).

Huang, T. et al. Identifying the pathways required for coping behaviours associated with sustained pain. Nature 565, 86–90 (2019).

Sabatier, C. et al. The divergent Robo family protein rig-1/Robo3 is a negative regulator of slit responsiveness required for midline crossing by commissural axons. Cell 117, 157–169 (2004).

Bourane, S. et al. Gate control of mechanical itch by a subpopulation of spinal cord interneurons. Science 350, 550–554 (2015).

Abraira, V. E. et al. The cellular and synaptic architecture of the mechanosensory dorsal horn. Cell 168, 295–310 (2017).

Palmiter, R. D. The parabrachial nucleus: CGRP neurons function as a general alarm. Trends Neurosci. 41, 280–293 (2018).

Fulwiler, C. E. & Saper, C. B. Subnuclear organization of the efferent connections of the parabrachial nucleus in the rat. Brain Res. 319, 229–259 (1984).

Han, S., Soleiman, M. T., Soden, M. E., Zweifel, L. S. & Palmiter, R. D. Elucidating an affective pain circuit that creates a threat memory. Cell 162, 363–374 (2015).

Chiang, M. C. et al. Divergent neural pathways emanating from the lateral parabrachial nucleus mediate distinct components of the pain response. Neuron 106, 927–939.e5 (2020).

Langford, D. J. et al. Coding of facial expressions of pain in the laboratory mouse. Nat. Methods 7, 447–449 (2010).

Craig, A. D., Krout, K. & Andrew, D. Quantitative response characteristics of thermoreceptive and nociceptive lamina I spinothalamic neurons in the cat. J. Neurophysiol. 86, 1459–1480 (2001).

Hachisuka, J. et al. Semi-intact ex vivo approach to investigate spinal somatosensory circuits. eLife 5, e22866 (2016).

Bester, H., Chapman, V., Besson, J. M. & Bernard, J. F. Physiological properties of the lamina I spinoparabrachial neurons in the rat. J. Neurophysiol. 83, 2239–2259 (2000).

Andrew, D. Quantitative characterization of low-threshold mechanoreceptor inputs to lamina I spinoparabrachial neurons in the rat. J. Physiol. (Lond.) 588, 117–124 (2010).

Liu, Q. et al. Molecular genetic visualization of a rare subset of unmyelinated sensory neurons that may detect gentle touch. Nat. Neurosci. 10, 946–948 (2007).

Li, L. et al. The functional organization of cutaneous low-threshold mechanosensory neurons. Cell 147, 1615–1627 (2011).

Rau, K. K. et al. Mrgprd enhances excitability in specific populations of cutaneous murine polymodal nociceptors. J. Neurosci. 29, 8612–8619 (2009).

Kalueff, A. V., Aldridge, J. W., LaPorte, J. L., Murphy, D. L. & Tuohimaa, P. Analyzing grooming microstructure in neurobehavioral experiments. Nat. Protocols 2, 2538–2544 (2007).

McGlone, F., Wessberg, J. & Olausson, H. Discriminative and affective touch: sensing and feeling. Neuron 82, 737–755 (2014).

Foerster, O., Breslau, O. & Gagel, O. Die Vorderseitenstrangdurchschneidung beim Menschen: eine klinisch-patho-physiologisch-anatomische Studie. Z. Gesamte Neurol. Psychiatr. 138, 1–92 (1932).

Lahuerta, J., Bowsher, D., Campbell, J. & Lipton, S. Clinical and instrumental evaluation of sensory function before and after percutaneous anterolateral cordotomy at cervical level in man. Pain 42, 23–30 (1990).

Hill, R. NK1 (substance P) receptor antagonists—why are they not analgesic in humans? Trends Pharmacol. Sci. 21, 244–246 (2000).

Baseer, N., Al-Baloushi, A. S., Watanabe, M., Shehab, S. A. & Todd, A. J. Selective innervation of NK1 receptor-lacking lamina I spinoparabrachial neurons by presumed nonpeptidergic Aδ nociceptors in the rat. Pain 155, 2291–2300 (2014).

Gomes, I. et al. Identification of GPR83 as the receptor for the neuroendocrine peptide PEN. Sci. Signal. 9, ra43 (2016).

Hooks, B. M., Lin, J. Y., Guo, C. & Svoboda, K. Dual-channel circuit mapping reveals sensorimotor convergence in the primary motor cortex. J. Neurosci. 35, 4418–4426 (2015).

Kim, J. C. et al. Linking genetically defined neurons to behavior through a broadly applicable silencing allele. Neuron 63, 305–315 (2009).

Niederkofler, V. et al. Identification of serotonergic neuronal modules that affect aggressive behavior. Cell Rep. 17, 1934–1949 (2016).

Zhou, X. et al. Deletion of PIK3C3/Vps34 in sensory neurons causes rapid neurodegeneration by disrupting the endosomal but not the autophagic pathway. Proc. Natl Acad. Sci. USA 107, 9424–9429 (2010).

Rutlin, M. et al. The cellular and molecular basis of direction selectivity of Aδ-LTMRs. Cell 159, 1640–1651 (2014).

Vrontou, S., Wong, A. M., Rau, K. K., Koerber, H. R. & Anderson, D. J. Genetic identification of C fibres that detect massage-like stroking of hairy skin in vivo. Nature 493, 669–673 (2013).

Pivetta, C., Esposito, M. S., Sigrist, M. & Arber, S. Motor-circuit communication matrix from spinal cord to brainstem neurons revealed by developmental origin. Cell 156, 537–548 (2014).

Fenno, L. E. et al. Targeting cells with single vectors using multiple-feature Boolean logic. Nat. Methods 11, 763–772 (2014).

Tervo, D. G. et al. A designer AAV Variant permits efficient retrograde access to projection neurons. Neuron 92, 372–382 (2016).

Lin, J. Y., Knutsen, P. M., Muller, A., Kleinfeld, D. & Tsien, R. Y. ReaChR: a red-shifted variant of channelrhodopsin enables deep transcranial optogenetic excitation. Nat. Neurosci. 16, 1499–1508 (2013).

Lopes, G. et al. Bonsai: an event-based framework for processing and controlling data streams. Front. Neuroinform. 9, 7 (2015)
Acknowledgements
We thank all members of the Ginty laboratory for discussions and critical feedback during the course of the project; D. Paul and C. Woolf for feedback and critical evaluation of the manuscript; S. Dymecki for providing Rosa26LSL-FSF-TeTx and Rosa26FSF-LSL-SYN-GFP mouse lines; L. Crawford and T. Dickendesher for help with initial characterization of the Calca-FlpE BAC transgenic and AvilFlpO knock-in mouse lines, respectively; C. Cepko for providing AAV1-FLEX-PLAP viruses; S. Arber for providing Cre-dependent AAV expression vector encoding synaptophysin-GFP; C. Guo and the Gene Targeting and Transgenic Facility at the Janelia Research Campus of the Howard Hughes Medical Institute for generating mouse lines; and B. Kun, M. Streeter, C. Breton and O. Gabriel for their assistance with mouse husbandry and histological and behavioural experiments. This work was supported by the Alice and Joseph E. Brooks Funds (S.C.), the Blavatnik Biomedical Accelerator Fund (S.C., D.D.G.), NIH grants NS097344 and AT011447 (D.D.G.), AR063772 (S.E.R.), NS096705 (H.R.K.) and NS111643 (M.G.), the Bertarelli Foundation (D.D.G.), The Hock E. Tan and Lisa Yang Center for Autism Research at Harvard University (D.D.G.) and the Edward R. and Anne G. Lefler Center for Neurodegenerative Disorders (D.D.G). D.D.G. is an investigator of the Howard Hughes Medical Institute.
Ethics declarations
Competing interests
The authors declare no competing interests.
Additional information
Peer review information Nature thanks Robert Gereau, Richard Palmiter and the other, anonymous, reviewer(s) for their contribution to the peer review of this work.
Publisher's note Springer Nature remains neutral with regard to jurisdictional claims in published maps and institutional affiliations.
Extended data figures and tables
Supplementary information
About this article
Cite this article
Choi, S., Hachisuka, J., Brett, M.A. et al. Parallel ascending spinal pathways for affective touch and pain. Nature 587, 258–263 (2020). https://doi.org/10.1038/s41586-020-2860-1
Received:

Accepted:

Published:

Issue Date:

DOI: https://doi.org/10.1038/s41586-020-2860-1
Comments
By submitting a comment you agree to abide by our Terms and Community Guidelines. If you find something abusive or that does not comply with our terms or guidelines please flag it as inappropriate.