Abstract
Cancer arises from malignant cells that exist in dynamic multilevel interactions with the host tissue. Cancer therapies aiming to directly kill cancer cells, including oncogene-targeted therapy and immune-checkpoint therapy that revives tumour-reactive cytotoxic T lymphocytes, are effective in some patients1,2, but acquired resistance frequently develops3,4. An alternative therapeutic strategy aims to rectify the host tissue pathology, including abnormalities in the vasculature that foster cancer progression5,6; however, neutralization of proangiogenic factors such as vascular endothelial growth factor A (VEGFA) has had limited clinical benefits7,8. Here, following the finding that transforming growth factor-β (TGF-β) suppresses T helper 2 (TH2)-cell-mediated cancer immunity9, we show that blocking TGF-β signalling in CD4+ T cells remodels the tumour microenvironment and restrains cancer progression. In a mouse model of breast cancer resistant to immune-checkpoint or anti-VEGF therapies10,11, inducible genetic deletion of the TGF-β receptor II (TGFBR2) in CD4+ T cells suppressed tumour growth. For pharmacological blockade, we engineered a bispecific receptor decoy by attaching the TGF-β-neutralizing TGFBR2 extracellular domain to ibalizumab, a non-immunosuppressive CD4 antibody12,13, and named it CD4 TGF-β Trap (4T-Trap). Compared with a non-targeted TGF-β-Trap, 4T-Trap selectively inhibited TH cell TGF-β signalling in tumour-draining lymph nodes, causing reorganization of tumour vasculature and cancer cell death, a process dependent on the TH2 cytokine interleukin-4 (IL-4). Notably, the 4T-Trap-induced tumour tissue hypoxia led to increased VEGFA expression. VEGF inhibition enhanced the starvation-triggered cancer cell death and amplified the antitumour effect of 4T-Trap. Thus, targeted TGF-β signalling blockade in helper T cells elicits an effective tissue-level cancer defence response that can provide a basis for therapies directed towards the cancer environment.
Access options
Subscribe to Journal
Get full journal access for 1 year
$199.00
only $3.90 per issue
All prices are NET prices.
VAT will be added later in the checkout.
Rent or Buy article
Get time limited or full article access on ReadCube.
from$8.99
All prices are NET prices.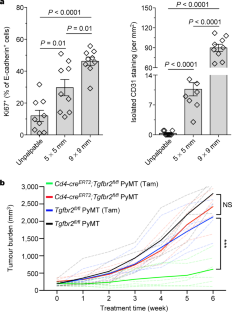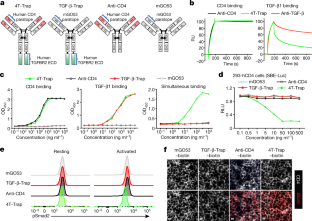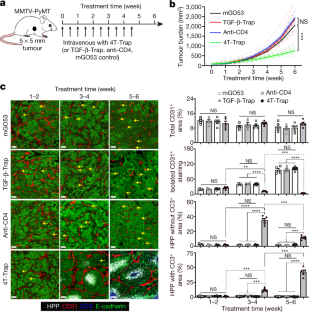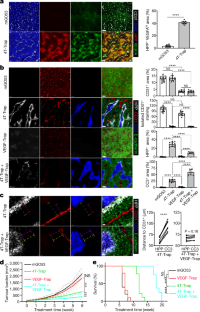 Data availability
Data generated in this study are included within the paper (and its Supplementary Information files) or are available from the corresponding authors upon reasonable request. Source data are provided with this paper.
References
1.

Sawyers, C. L. Shifting paradigms: the seeds of oncogene addiction. Nat. Med. 15, 1158–1161 (2009).

2.

Allison, J. P. Checkpoints. Cell 162, 1202–1205 (2015).

3.

Sabnis, A. J. & Bivona, T. G. Principles of resistance to targeted cancer therapy: lessons from basic and translational cancer biology. Trends Mol. Med. 25, 185–197 (2019).

4.

Sharma, P., Hu-Lieskovan, S., Wargo, J. A. & Ribas, A. Primary, adaptive, and acquired resistance to cancer immunotherapy. Cell 168, 707–723 (2017).

5.

Folkman, J. Tumor angiogenesis: therapeutic implications. N. Engl. J. Med. 285, 1182–1186 (1971).

6.

Carmeliet, P. & Jain, R. K. Molecular mechanisms and clinical applications of angiogenesis. Nature 473, 298–307 (2011).

7.

Bergers, G. & Hanahan, D. Modes of resistance to anti-angiogenic therapy. Nat. Rev. Cancer 8, 592–603 (2008).

8.

Apte, R. S., Chen, D. S. & Ferrara, N. VEGF in signaling and disease: beyond discovery and development. Cell 176, 1248–1264 (2019).

9.

Liu, M. et al. TGF-β suppresses type 2 immunity to cancer. Nature https://doi.org/10.1038/s41586-020-2836-1 (2020).

10.

Spitzer, M. H. et al. Systemic immunity is required for effective cancer immunotherapy. Cell 168, 487–502 (2017).

11.

Rigamonti, N. et al. Role of angiopoietin-2 in adaptive tumor resistance to VEGF signaling blockade. Cell Rep. 8, 696–706 (2014).

12.

Burkly, L. C. et al. Inhibition of HIV infection by a novel CD4 domain 2-specific monoclonal antibody. Dissecting the basis for its inhibitory effect on HIV-induced cell fusion. J. Immunol. 149, 1779–1787 (1992).

13.

Song, R. et al. Epitope mapping of ibalizumab, a humanized anti-CD4 monoclonal antibody with anti-HIV-1 activity in infected patients. J. Virol. 84, 6935–6942 (2010).

14.

Bissell, M. J. & Hines, W. C. Why don't we get more cancer? A proposed role of the microenvironment in restraining cancer progression. Nat. Med. 17, 320–329 (2011).

15.

Huang, S. Tumor progression: chance and necessity in Darwinian and Lamarckian somatic (mutationless) evolution. Prog. Biophys. Mol. Biol. 110, 69–86 (2012).

16.

Dvorak, H. F. Tumors: wounds that do not heal. Similarities between tumor stroma generation and wound healing. N. Engl. J. Med. 315, 1650–1659 (1986).

17.

Sledzińska, A. et al. TGF-β signalling is required for CD4+ T cell homeostasis but dispensable for regulatory T cell function. PLoS Biol. 11, e1001674 (2013).

18.

Donkor, M. K. et al. T cell surveillance of oncogene-induced prostate cancer is impeded by T cell-derived TGF-β1 cytokine. Immunity 35, 123–134 (2011).

19.

Sarkar, A., Donkor, M. K. & Li, M. O. T cell- but not tumor cell-produced TGF-β1 promotes the development of spontaneous mammary cancer. Oncotarget 2, 1339–1351 (2011).

20.

Donkor, M. K., Sarkar, A. & Li, M. O. TGF-β1 produced by activated CD4+ T cells antagonizes T cell surveillance of tumor development. OncoImmunology 1, 162–171 (2012).

21.

Killeen, N., Sawada, S. & Littman, D. R. Regulated expression of human CD4 rescues helper T cell development in mice lacking expression of endogenous CD4. EMBO J. 12, 1547–1553 (1993).

22.

Semenza, G. L. Oxygen sensing, hypoxia-inducible factors, and disease pathophysiology. Annu. Rev. Pathol. 9, 47–71 (2014).

23.

Holash, J. et al. VEGF-Trap: a VEGF blocker with potent antitumor effects. Proc. Natl Acad. Sci. USA 99, 11393–11398 (2002).

24.

Flavell, R. A., Sanjabi, S., Wrzesinski, S. H. & Licona-Limón, P. The polarization of immune cells in the tumour environment by TGFβ. Nat. Rev. Immunol. 10, 554–567 (2010).

25.

Pickup, M. W., Owens, P. & Moses, H. L. TGF-β, bone morphogenetic protein, and activin signaling and the tumor microenvironment. Cold Spring Harb. Perspect. Biol. 9, a022285 (2017).

26.

Colak, S. & Ten Dijke, P. Targeting TGF-β signaling in cancer. Trends Cancer 3, 56–71 (2017).

27.

Batlle, E. & Massagué, J. Transforming growth factor-β signaling in immunity and cancer. Immunity 50, 924–940 (2019).

28.

Lan, Y. et al. Enhanced preclinical antitumor activity of M7824, a bifunctional fusion protein simultaneously targeting PD-L1 and TGF-β. Sci. Transl. Med. 10, eaan5488 (2018).

29.

Ravi, R. et al. Bifunctional immune checkpoint-targeted antibody-ligand traps that simultaneously disable TGFβ enhance the efficacy of cancer immunotherapy. Nat. Commun. 9, 741 (2018).

30.

Jiao, S. et al. Differences in tumor microenvironment dictate T helper lineage polarization and response to immune checkpoint therapy. Cell 179, 1177–1190 (2019).

31.

Ouyang, W., Beckett, O., Ma, Q. & Li, M. O. Transforming growth factor-β signaling curbs thymic negative selection promoting regulatory T cell development. Immunity 32, 642–653 (2010).

32.

Franklin, R. A. et al. The cellular and molecular origin of tumor-associated macrophages. Science 344, 921–925 (2014).

33.

Oh, S. A. et al. Foxp3-independent mechanism by which TGF-β controls peripheral T cell tolerance. Proc. Natl Acad. Sci. USA 114, E7536–E7544 (2017).

34.

Mouquet, H., Warncke, M., Scheid, J. F., Seaman, M. S. & Nussenzweig, M. C. Enhanced HIV-1 neutralization by antibody heteroligation. Proc. Natl Acad. Sci. USA 109, 875–880 (2012).

35.

Zhou, S., Zawel, L., Lengauer, C., Kinzler, K. W. & Vogelstein, B. Characterization of human FAST-1, a TGF-β and activin signal transducer. Mol. Cell 2, 121–127 (1998).

36.

Clipstone, N. A. & Crabtree, G. R. Identification of calcineurin as a key signalling enzyme in T-lymphocyte activation. Nature 357, 695–697 (1992).
Acknowledgements
We thank members of the M.O.L. laboratory for helpful discussions and S. Gong for help with the recombineering technique and BAC DNA purification. This work was supported by a Howard Hughes Medical Institute Faculty Scholar Award (M.O.L.), an award from Mr William H. and Mrs Alice Goodwin and the Commonwealth Foundation for Cancer Research and the Center for Experimental Therapeutics at Memorial Sloan Kettering Cancer Center (M.O.L.) and a Cancer Center Support Grant (P30 CA08748). S.L., C.C. and X.Z. are Cancer Research Institute Irvington Fellows supported by the Cancer Research Institute. M.H.D. and B.G.N. are recipients of F31 CA210332 and F30 AI29273-03 awards from National Institutes of Health. E.G.S. is a recipient of a Fellowship from the Alan and Sandra Gerry Metastasis and Tumour Ecosystems Center of Memorial Sloan Kettering Cancer Center.
Ethics declarations
Competing interests
Memorial Sloan Kettering Cancer Center has filed a patent application with the U.S. Patent and Trademark Office directed toward methods and compositions for targeting TGF-β signaling in CD4+ helper T cell for cancer immunotherapy.
Additional information
Peer review information Nature thanks Eduard Batlle and the other, anonymous, reviewer(s) for their contribution to the peer review of this work.
Publisher's note Springer Nature remains neutral with regard to jurisdictional claims in published maps and institutional affiliations.
Extended data figures and tables
Supplementary information
This file contains the uncropped blots.
About this article
Cite this article
Li, S., Liu, M., Do, M.H. et al. Cancer immunotherapy via targeted TGF-β signalling blockade in TH cells. Nature 587, 121–125 (2020). https://doi.org/10.1038/s41586-020-2850-3
Received:

Accepted:

Published:

Issue Date:
Further reading
Nature Reviews Drug Discovery (2020)

Ming Liu

,

Fengshen Kuo

,

Kristelle J. Capistrano

,

Davina Kang

,

Briana G. Nixon

,

Wei Shi

,

Chun Chou

,

Mytrang H. Do

,

Efstathios G. Stamatiades

,

Shengyu Gao

,

Shun Li

,

Yingbei Chen

,

James J. Hsieh

,

A. Ari Hakimi

,

Ichiro Taniuchi

,

Timothy A. Chan

&

Ming O. Li

Nature (2020)
Comments
By submitting a comment you agree to abide by our Terms and Community Guidelines. If you find something abusive or that does not comply with our terms or guidelines please flag it as inappropriate.